Homemade Cinnamon Churros with Lemon Cream
This post may include affiliate links. As an Amazon Associate I earn from qualifying purchases.
These Churro Lemon Cream Sandwiches feature crispy homemade churros that are coated with cinnamon sugar on the outside and are pillowy soft on the inside, piled high with a whipped lemon cream cheese frosting. This is the ultimate dessert to celebrate Mexican Independence Day or Cinco de Mayo.
Raise your hand if you love churros! Seriously, who doesn't? Cinnamon churros and funnel cakes are my weakness. They are the sweet treats that I just have to buy when I'm at a festival or theme park. Just the smell of the frying dough makes me run to find the nearest vendor.
This churros recipe is a fusion of them both – churro dough piped in a spiral similar to a funnel cake – with whipped lemon cream cheese frosting sandwiched between two. Genius, right?
Churros traditionally get coated with cinnamon-sugar on the outside. They should be crispy on the outside and soft and pillowy on the inside. While they taste great on their own, they are beyond spectacular with the addition of a whipped lemony cream cheese filling.
Making the Lemon Cream
The filling is tangy, sweet and a perfect partner for the cinnamon churros. It is bright with a fresh lemon flavor, and becomes super luscious with the addition of whipped cream. Be sure to gently fold the whipped cream into the cream cheese mixture to keep it light and fluffy.
TIP: While these are best served the day you make them, you can make the lemon cream up to a week ahead and refrigerate in a tightly lidded container.
Making the homemade churros
These churros are made with Land O Lakes® Unsalted Butter, giving them the perfect crunch on the outside and keeping them tender in the inside, even when they are cold. That's very important, as there is nothing worse than a dry or stale-tasting churro.
Churro dough has an interesting process. To make the dough, you'll first need to melt the butter with water, sugar and salt. Then you add in the flour and cook it, stirring vigorously with a wooden spoon until it pulls cleanly away from the sides of your pan, about 10 minutes.
TIP: Be sure to allow this stage of the dough to rest for at least 10 minutes before continuing so as not to accidentally scramble your eggs!
Piping the dough is also a bit challenging. When you pipe, be prepared to squeeze your little heart out. You might even be sore from the bicep workout! But after all that hard work, you deserve to treat yourself to a couple of these churro sandwiches. They're worth every calorie.
TIP: Use a large star tip to get the distinctive ridges on the churros. Not only does it help to give the churros their traditional look, it also results in a crispier exterior.
You can serve these churros open-faced with the slightly sweet and tangy lemon topping or with the topping sandwiched between two sugary fried pastries for a churro sandwich. The way I see it, two homemade churros are better than one, but that's just me.
TIP: Be sure to roll the churros in cinnamon sugar while they're still hot to ensure it sticks!
This dessert is celebration worthy!
I served these Churro Lemon Cream Sandwiches for Easter last year and they were a huge hit. I plan to make them again to celebrate all Mexican holidays like Mexican Independence Day and Cinco de Mayo. I'm sure by now you know that Cinco de Mayo is not Mexico's Independence Day. For me and my family, it is a day to share everything we love about Mexico.
I love Mexico, Mexican food and Mexican culture. I am excited to share my love for it with you. If this is your first time to the site, welcome! These homemade churros with lemon cream are an excellent celebration of my Mexican and American heritage.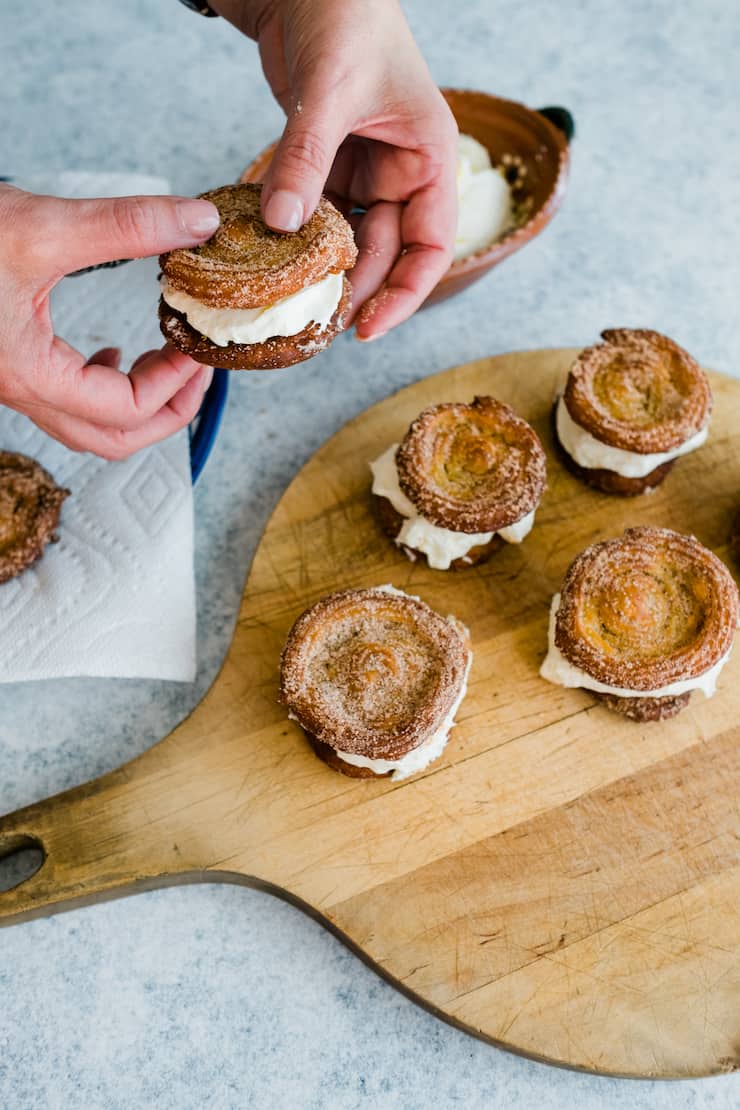 TIP: If you don't want to make the lemon cream, you can always substitute your favorite flavor of ice cream. If you get a pint, you can use a serrated knife to cut perfect slices right from the container!
LIKE THIS RECIPE? YOU'LL LOVE THESE, TOO:

Be sure to Pin this recipe for later! You're definitely going to want to make it for your next celebration.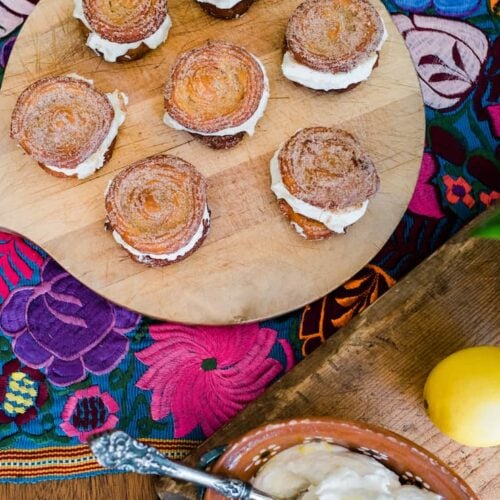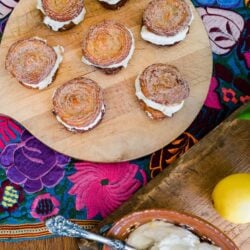 Homemade Cinnamon Churros with Lemon Cream
These Churro Lemon Cream Sandwiches are perfect for your Cinco de Mayo and Easter celebrations. They feature homemade cinnamon churros that are crisp on the outside and soft on the inside, and are stuffed with a luscious whipped lemon cream cheese frosting.
Ingredients
Lemon Whipped Cream Frosting:
1/2 cup heavy cream or whipping cream
2 (8 ounce) packages cream cheese, softened
1 cup sour cream
3/4 cup granulated sugar
1 tablespoon finely grated lemon zest
2 teaspoon lemon extract
Instructions
Lemon Whipped Cream Frosting:
In a bowl, using a hand mixer, whip heavy cream until stiff peaks form. In a separate bowl whip cream cheese until fluffy, and slowly add sour cream and sugar. Mix until well incorporated, add lemon zest and extract.

Carefully fold in whipped cream and refrigerate.
Churros:
In a wide dish, mix the granulated sugar and cinnamon and set aside.

In a medium saucepan, combine water, butter, brown sugar, and salt. Bring to a boil over medium heat, then add flour all at once, stirring vigorously with a wooden spoon. Cook and stir until mixture forms a ball and pulls away from the sides of the pan. Remove from heat. Cool for 10 minutes.

In a separate mixing bowl, mix together the eggs and vanilla extract. Add to the cooled flour mixture, beating well with a wooden spoon.

Fill a decorating bag fitted with a 1M large star tip with some of the churro dough. (The star tip helps create the ridges on the outside of the churro.)

On a baking sheet, pipe dough in 2-inch spirals. If necessary, freeze dough until firm enough to lift from the baking sheet.

Heat 2 inches of oil and the lemon peel in a deep saucepan to 375 degrees F. Try testing the oil by dropping in a small amount of dough. If it bubbles quickly then it is probably ready. If you have a candy thermometer test the temperature. (When lemon peel becomes crispy remove from oil and discard.)

As soon as your oil is hot enough, fry churros about 5 to 6 minutes or until puffed and golden brown, turning once.

Drain churros on a paper-lined plate. While churros are still warm and as soon as you are able to handle them, toss each one in the sugar-cinnamon mixture.

Cool completely on a wire rack.

Sandwich one small scoop lemon filling between two churros.
Notes
Use a 1M large star tip to create the ridges on the outside of the churro.
Serve immediately or cover and refrigerate (unassembled) for 1 week.
You can always substitute your favorite ice cream for the lemon cream.
Calories: 293kcal, Carbohydrates: 40g, Protein: 4g, Fat: 14g, Saturated Fat: 8g, Cholesterol: 65mg, Sodium: 174mg, Potassium: 67mg, Fiber: 1g, Sugar: 23g, Vitamin A: 462IU, Vitamin C: 1mg, Calcium: 38mg, Iron: 1mg
Photography by Jenna Sparks
This post is in partnership with Land O Lakes. As always, thank you for reading and for supporting companies I partner with, which allows me to create more unique content and recipes for you. All opinions are always my own.
Originally published: April 2019.