Spicy, Crispy Tostones Chips
This post may include affiliate links. As an Amazon Associate I earn from qualifying purchases.
These highly addictive Spicy, Crispy Tostones Chips are the ideal fiesta or game-watching food. With a crisp golden exterior, creamy, starchy interior, and just the right amount of heat, these twice-fried green plantain chips are practically begging to be dipped in guacamole before devouring them.
What Are Tostones?
Tostones (pronounced "toe-STOW-nays") are a staple of Latin American countries and the Caribbean. Also known as patacones, tostones are green (unripe) plantains that are cut into sections, fried, flattened, and then fried again. While you might expect them to taste sweet or banana-y, they actually taste like a cross between potato chips and french fries.
Why? Well, when the plantains are still green and unripe, the starches haven't yet turned into sugars (which is what you'd find in maduros, or fried sweet plantains). The flavor of the plantain flesh when they are still green is pretty plain with an underlying hint of bitterness.
However, when fried, flattened, and then fried again until crispy and golden before being sprinkled with salt, the neutral flavor of the fruit ends up tasting a LOT like cooked potatoes. Since they're still relatively thick in the center after smashing into half-dollar-sized coins, the edges get crisp like potato chips but the centers are soft and starchy like fries.
Why I Love This Recipe
Tostones are an exceptionally popular dish across Latin America and the Caribbean, and not just because plantains are widely available. Aside from being completely delicious, this tostones recipe also happens to be:
Quick & Easy. They'll be ready for munching in under 30 minutes!
Made with Just 4 Ingredients. All you need to make traditional tostones are plantains, oil and salt. My version turns the traditional Latin recipe into spicy plantain chips with the addition of some crushed red pepper flakes for some feisty sabor.
Budget-Friendly – Plantains are usually well less than a dollar per piece, meaning a big batch for 6-8 people won't cost more than about $4 including the oil and spices.
Allergen-Friendly – They're naturally vegan, gluten-free, nut-free, dairy-free, and soy-free, meaning just about everyone can get in on the tasty fun.
Homemade plantain chips are easy to make, crowd-pleasing, and wholesome appetizers. Seriously, just give them a try!
Equipment
If you haven't done much deep frying in the past, you might be concerned that making tostones requires a bunch of specialty equipment. I'm happy to report that that just isn't the case! Here's what you'll actually need:
Paring Knife – While plantains look a lot like bananas, their skin is considerably thicker and tougher. Make sure you have a sharp paring knife on hand to help you negotiate the fruit out of their peels.
Tostone Press – Traditionally, tostones are flattened with a tostonera, which is a special device created specifically for this culinary purpose. The hinged gadget looks a lot like a mini tortilla press. If you don't own one, don't fret — a cup with a large, flat bottom works great.
Heavy Skillet – A heavy-bottomed skillet will distribute heat more evenly than a thin one. I recommend using cast-iron for frying as they maintain heat for longer than other materials. You are also welcome to use a countertop deep fryer if you prefer!
Spider or Slotted Spoon – To get the fried plantains out of the hot oil without taking too much of the oil with them!
Paper Towels – You'll want to drain the fried tostones on paper towels to absorb any excess oil before seasoning and serving them.
Ingredients & Substitutions
As promised, my spicy tostones are made using just 4 ingredients. Here's what to grab:
Corn Oil – Any neutral-flavored, high-smoke point oil will work here. Other options include peanut oil, vegetable oil, canola oil, grapeseed oil, or avocado oil.
Green Plantains – The skins should still be quite green and the fruits should feel firm to the touch. Save the yellow and brown spotted plantains for sweet applications like maduros.
Coarse Salt – Salt is necessary to give these savory snacks their full flavor potential. Feel free to swap in any wide grain salt (like kosher salt) if you prefer.
Crushed Red Pepper – Technically optional, but totally delicious and spicy. Feel free to swap in other spice powders like Tajin for some flavor variety.
How To Make Fried Tostones
Making tostones chips from scratch is easier than you might think. Watch this video to see how it's done:
Step 1: Prep. Heat oil in a heavy skillet over medium heat. Remove plantain skins and cut into roughly 1-inch pieces.
Step 2: First Fry slices in the hot oil for 1 to 2 minutes on each side. They should be a light golden color and semi-soft. Remove the plantain slices with a slotted spoon and drain on paper towels.
Step 3: Smash. When the plantain slices are cool enough to handle (about 1 minute), smash them into flat rounds with a tostonera or large bottom cup.
Step 4: Second Fry the rounds in the hot oil for 1 to 3 minutes on each side. They will turn crisp and golden brown.
Step 5: Drain, Season, & Serve. Transfer the flattened fried tostones to a paper towel-lined to drain and sprinkle them generously with coarse salt and crushed red pepper. Serve immediately.
Optional Variations
While I love my spicy, crispy fried tostones just the way they are, there is always room for some customization. Here are a few ideas to get your creative juices flowing:
Air Fryer Tostones – To make tostones a little lighter, consider air-frying them instead of deep frying. After peeling and cutting the plantains into chunks, soak them in salted water for approximately 20 minutes (this will help keep the from drying out in the air fryer). Next, brush them with a thin layer of oil before air frying at 375 degrees F for 3-6 minutes per side, or until somewhat softened. Remove them from the air fryer, allow them to cool enough to handle, then smash into discs. Brush with another thin layer of oil, then refry them in the air fryer at 400 degrees F for 3-4 minutes per side or until crisp and golden.
Chicken Tostones – For this fun variation, you'll basically be making chicken nachos, but with tostones as your base instead of tortilla chips. Make the tostones as instructed, then, while they are still hot, top with shredded chicken, cheese, guacamole, and any other toppings you like. Enjoy immediately.
Shrimp Tostones – Top each hot tostone with a dollop of my guacamole al pastor and a medium-large Camarones al Mojo de Ajo (Mexican-Style Garlic Shrimp). Serve immediately.
Tostones Rellenos – These stuffed fried plantain cups are excellent for an appetizer bar. After the first fry, use a manual lime squeezer to press the plantains into cups instead of discs. Follow the rest of the recipe as written, refrying, draining and seasoning them. While they're still hot, fill with your choice of yumminess like picadillo or shredded brisket and your choice of toppings.
Pana Tostones – Breadfruit tostones are quite popular. To make them, you can follow basically the same recipe as for plantain tostones — peel and cut unripe panapen into chunks, do an initial fry until soft, then smash and refry before seasoning and serving.
Baked Tostones – Cut unripe plantains into 1-inch pieces, then brush lightly with oil. Bake at 425 degrees F on a parchment-lined baking sheet for 15 minutes, then remove from the oven and smash into discs. Brush with another layer of oil and bake for another 12-15 minutes, or until golden and crispy. Sprinkle with seasonings and serve.
Expert Tips
Get The Greenest Plantains Possible: For tostones to come out perfectly, you need green, unripe plantains. Get the greenest ones in the bunch for the best results!
How To Peel A Plantain: If you have never worked with plantains, you should know: they do not peel like a banana. The skin is thick and the fruit is firm. Green plantains, and sometimes yellow, can be somewhat tricky to peel. Cut off the ends of the plantain and discard the tips. Hold the plantain firmly and using the tip of the knife, slit the peel along the length of the plantain. Only cut as deep as the peel is thick and remove the plantain peel.
Season While Hot: After the second fry and a quick interlude on a paper towel-lined plate to drain, make sure you sprinkle on the salt and pepper flakes while the tostones are still hot. Hot oil will help the seasoning stick. As they cool, anything you sprinkle on will just fall right off.
Serving Suggestions
If you're wondering what to eat with tostones, have no fear. There are lots of different dipping sauces for tostones that are delightful, and they're also excellent when topped with meat, fish, or avocado salad. Here are a few of my favorite ways to serve these plantain chips:
Many countries serve Chimichuri Sauce or a garlic sauce for tostones called mojo de ajo or aji verde. Next time I make Camarones al Mojo de Ajo, I will serve with a side of tostones!
Other dipping sauces include a black bean dip or a ketchup-mayo combo. I think they pair very well with the black bean stew known as Brazilian Feijoada.
I prefer serving a traditional Mexican creamy guacamole to pair with these tostones if I am serving them as an appetizer.
You can also use tostones like nachos and top them with cheese and your choice of meat. They can also be pressed into individual cups to fill with your choice of ingredients (like shrimp ceviche).
You can make extra large plantain chips to turn into tostones burgers or sliders.
Frequently Asked Questions
What's the difference between tostones vs maduros?
Tostones are made using green, unripe, starchy plantains whereas maduros are made using sweet, ripe plantains. Tostones are also fried, flattened, and then fried again, but maduros are only fried once and kept in roughly inch-long pieces.
What is the difference between Cuban Tostones, Dominican Tostones, and Puerto Rican Tostones?
For the actual tostones themselves, there isn't really a difference. They are all made using the same base three ingredients – green plantains, oil, and salt – and are made using the double frying method.
What cocktail do you pair with tostones?
I personally love tostones served with a Classic Mojito.
More Tasty Appetizer Recipes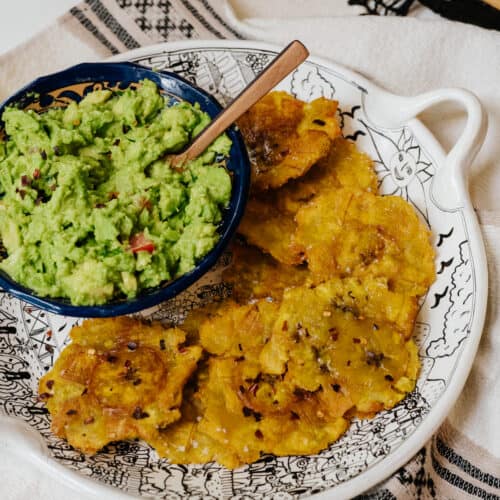 Crispy Spicy Tostones
These highly addictive Crispy Spicy Tostones scream fiesta or game-watching food while crushed red pepper flakes give these tostones a little heat without making them overly spicy!
Ingredients
1 cup corn oil
3 green plantains, peeled, and 1-inch slices
Coarse salt
Crushed red pepper
Instructions
Heat oil in a heavy skillet over medium heat.

Fry slices in the hot oil for 1 to 2 minutes on each side. They should be a light golden color and semi-soft.

Remove the plantain slices with a slotted spoon and drain on paper towels.

When the plantain slices are cool enough to handle (about 1 minute), smash them into flat rounds with a tostonera or large bottom cup.

Fry the rounds in the hot oil for 1 to 3 minutes on each side. They will turn crisp and golden brown.

Transfer them to a paper towel-lined to drain and sprinkle them generously with coarse salt and crushed red pepper. Serve immediately.
Notes
Feel free to serve these topped with cheese as an appetizer, or with shrimp ceviche, pulled chicken, or avocado salad. 
Calories: 142kcal, Carbohydrates: 29g, Protein: 1g, Fat: 4g, Saturated Fat: 1g, Sodium: 4mg, Potassium: 447mg, Fiber: 2g, Sugar: 13g, Vitamin A: 1009IU, Vitamin C: 16mg, Calcium: 3mg, Iron: 1mg
Photography by Jenna Sparks
Originally published: August 2016.