Slow Cooker Beef Brisket
This post may include affiliate links. As an Amazon Associate I earn from qualifying purchases.
This simple Slow Cooker Beef Brisket recipe is a perfect "set it and forget it" recipe. Simply add everything to the base of your crockpot and let the magic happen! If you're wanting to feed a crowd and enjoy your company, this easy recipe has your name all over it.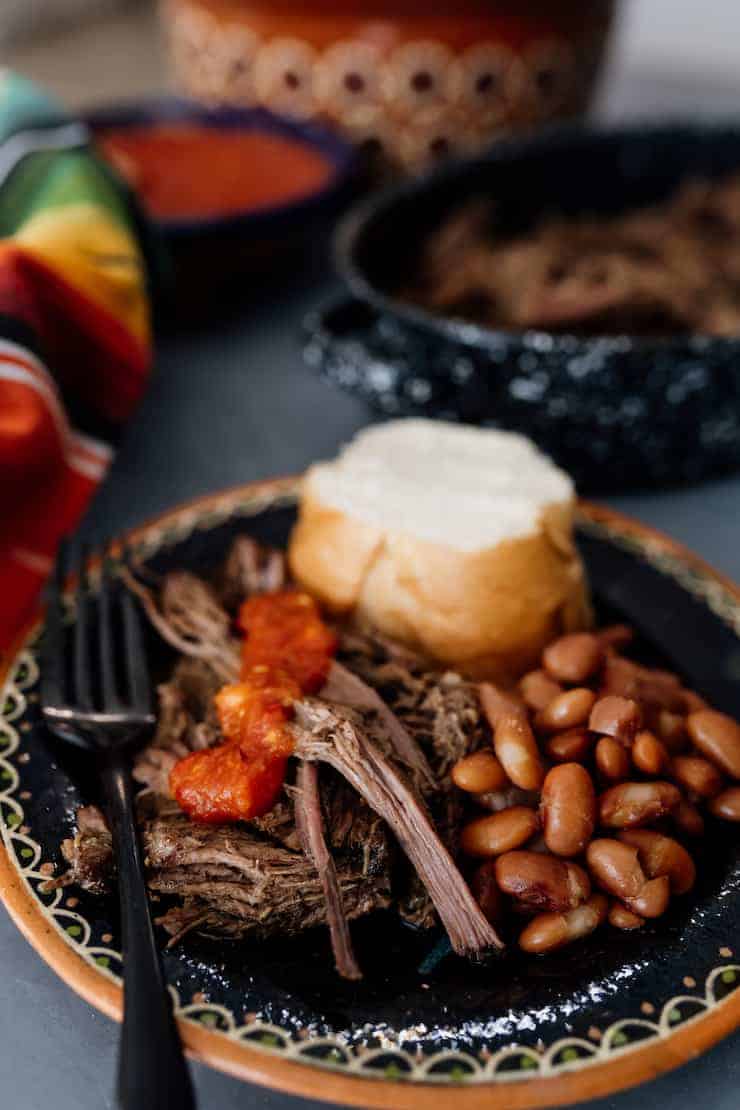 Growing up, brisket was our go-to meal for when we had big family gatherings. It was simple for my mom to put together, and everyone loved it. This recipe is our family favorite. Serve it as a main dish or as a filling to make tacos, nachos, flautas, sopes, and more! Leftover brisket is also great for breakfast to make Machaca con Huevo (Machaca with Eggs).
Beef brisket reminds me of family gatherings back home in El Paso. Our birthday parties were nothing like the parties my kids attend. We didn't have theme parties at Chuck E. Cheese's or at the bowling alley.
Instead, we had a big family gathering with all the cousins, aunts, uncles, grandparents, and anyone else we considered family. If you were a friend, we soon gave you a title of cousin or tia, and you were in. Our little birthday party quickly went from a tiny potluck to a full blown fiesta.
As soon as everyone arrived, the pans of shredded brisket, or carne deshebrada, came out of nowhere. After that came the huge bowls of potato salad, frijoles de la olla, rajas con queso, basket of bolillos and tortilla chips, and of course the twenty million types of salsa and chiles. Before you knew it, everyone was feeling fat and happy.
Why Slow Cooked Brisket is Boss
Brisket, like other roasts, generally comes as a large cut of meat. This means that one recipe will make enough for tens of meals! Whether you opt to share with guests or save the goodness for your own family, beef brisket is a dish that will feed the masses.
As a working mother, I love preparing dishes that keep on giving for a couple more meals. Beef brisket is a favorite in our home. I love this recipe because my slow cooker does all the work for me. Once I've made a batch of this slow cooker brisket recipe, we usually enjoy it as tacos the first night and then continue using it throughout the week.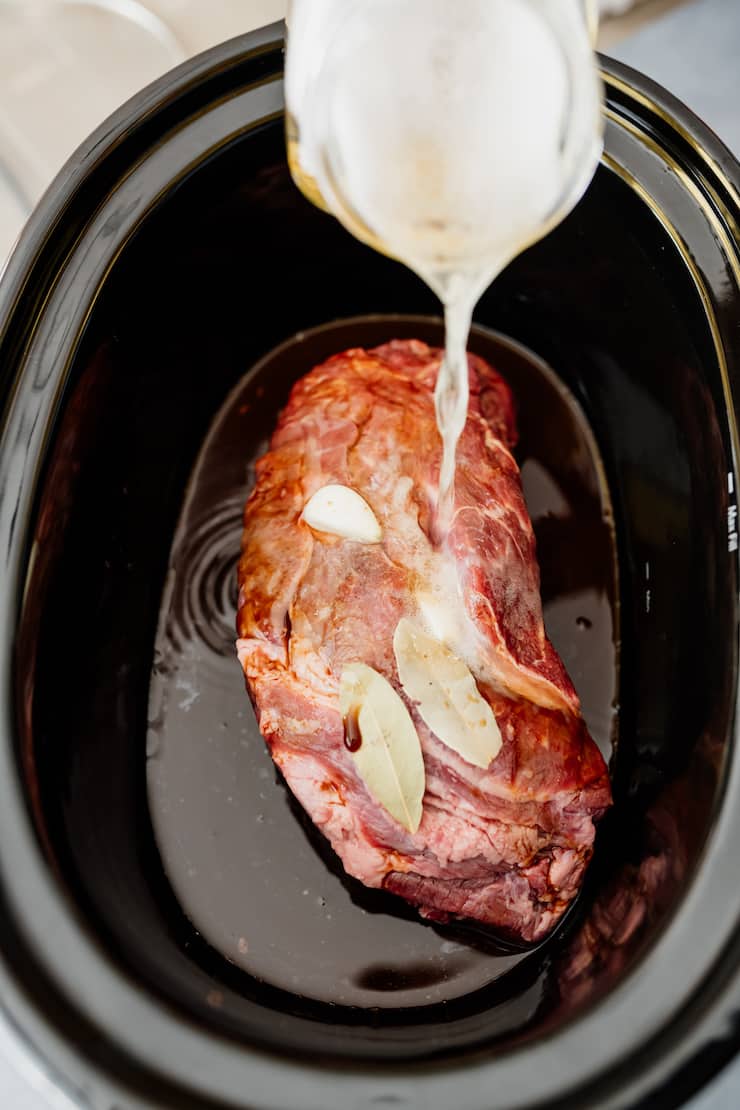 Why This Recipe Is Delicious
This slow cooker beef brisket recipe requires just four simple ingredients, making it easy enough to throw together even on the craziest of mornings. That said, since there are just four, it's important to get the good stuff.
If you are not yet familiar with Claude's Sauces BBQ Brisket Marinade, it's time we changed that. Claude's started in El Paso, Texas (my hometown!) in the 1970s — their delicious brisket marinade is the key to a perfect brisket. If you're someone who likes to make everything from scratch, I urge you to make an exception for this exceptional product.
Hundreds of years ago, native Indians in the Southwest region of the U.S. were using a marinade to help break down tough cuts of meat like brisket. That recipe was then adopted by local homesteaders. Passed down from generation to generation, Claude's turned the recipe into a business back in the 70s and it has been our family secret for making delicious brisket since then.
If you are unable or unwilling to use this bottled of liquid gold, you can use this recipe instead. Just know that the juicy delicious smoky flavor of Claude's will be missing. If you're worried about it, I should also note that Claude's is fully Kosher. Seriously. Just do yourself a favor and get some.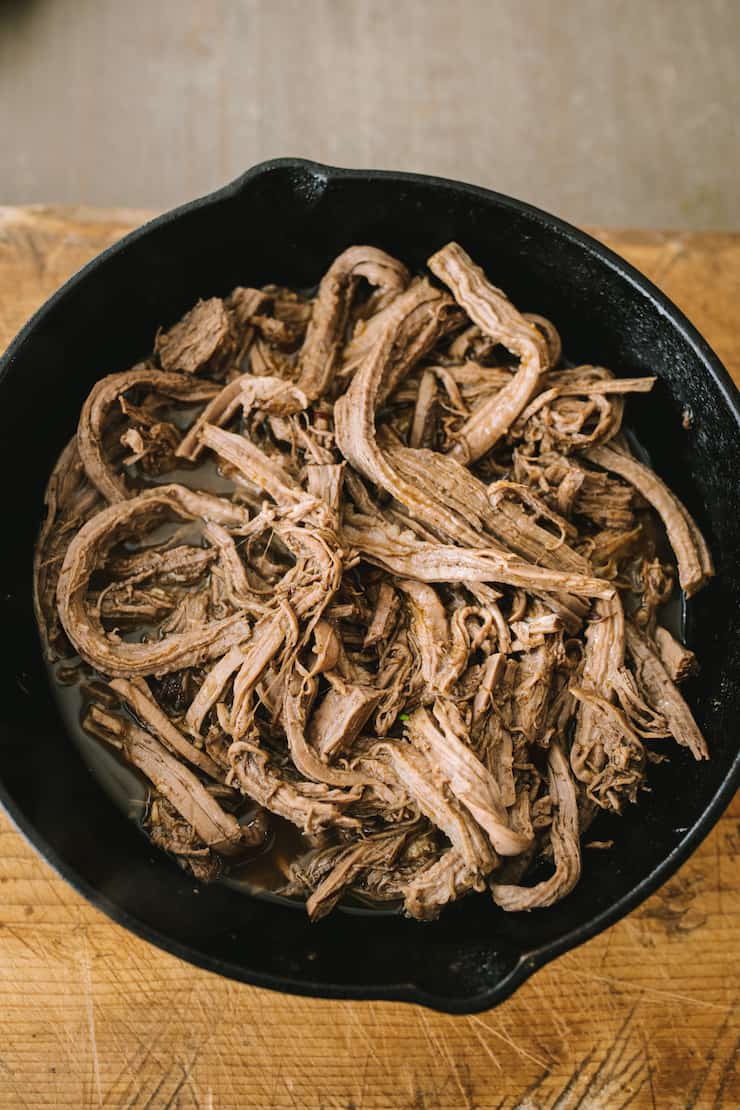 How to Make Brisket in the Crockpot
This recipe couldn't get any easier if it tried. The hardest part of the process is measuring, so when I'm feeling particularly tired, I just eyeball it!
The morning before you plan on serving brisket, toss your meat, brisket marinade, bay leaves, garlic (optional), and beer into the crockpot. Put the lid on, then set it for 8 to 10 hours on low. Go about your day as normal.
Come dinnertime, simply shred the meat with two forks, removing any fatty bits. Serve as an entree or over nachos, in
tacos
, burrito bowls,
flautas
or
sopes
. Dinner has never been so simple!
Frequently Asked Questions
Are there any good substitutes for brisket?
Back in the day, brisket used to be a super inexpensive cut of beef. Nowadays, however, word has gotten out about how yummy it is, and as a result, brisket prices are quite high. If you're looking for a more economical alternative, you can replace the brisket with chuck roast. Here's a fun video that compares the two cuts!
What should I serve with brisket?
Depending on what kind of feast you're setting up, there are plenty of options!
If you're planning on serving it as an entrée, I suggest offering a basket of bolillos, or Mexican rolls. As a kid it was my job to slice bolillos so there would be enough for everyone! Serve with Frijoles de la Olla, Mexican Rice or Potato Salad and Chile de Arbol Salsa.
You can also swap out your buffet to keep guests on their toes. I love serving this yummy brisket as the basis for tacos, nachos, sopes, and more! Use your theme to inspire what you should put out.
Check out these delicious recipes to pair with your brisket:
If you tried this yummy Slow Cooker Beef Brisket recipe, please let me know how it turned out for you by commenting below.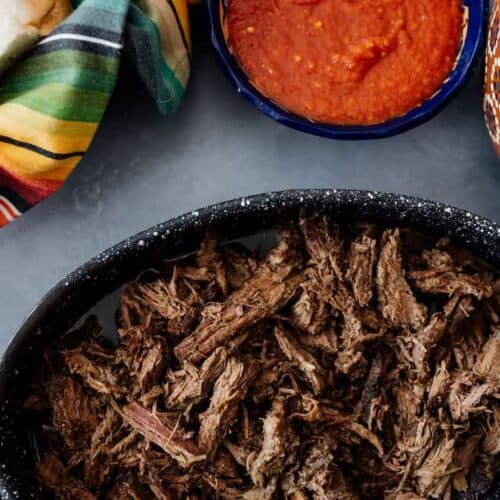 Slow Cooker Beef Brisket
Here is our favorite recipe for easy beef brisket. Simply toss everything in the crockpot, set it and forget it! Come home to a delicious dinner with zero fuss.
Ingredients
2 to 4 pounds beef brisket
2 ounces Brisket Marinade Sauce per pound of meat, (recommend Claude's Brisket Marinade Sauce)
2 bay leaves
2 garlic cloves, (optional)
12 ounces beer, (recommend lager or light beer)
Instructions
Place the brisket, marinade sauce, bay leaves, garlic cloves (if using), and beer in a slow cooker. Cook on low for 8 to 10 hours.

Remove the brisket and shred the meat and discard fat pieces. Serve as the basis for tacos, nachos, sopes, flautas or more!
Notes
Nutrition facts do not include any toppings, chips, breads or tortillas.
Cooked brisket will keep for up to a week in the refrigerator. You can also freeze cooked brisket for up to three months.
Feel free to swap chuck roast for brisket as a more economical piece of meat.
No Claude's Brisket Marinade Sauce? Substitute with beef broth plus a splash of liquid smoke. 
Serving: 1taco, Calories: 194kcal, Carbohydrates: 14g, Protein: 18g, Fat: 6g, Saturated Fat: 2g, Cholesterol: 47mg, Sodium: 162mg, Potassium: 305mg, Fiber: 2g, Sugar: 2g, Calcium: 26mg, Iron: 2mg
Photography by Jenna Sparks
This recipe is also published in the Muy Bueno cookbook.