Homemade Corn Tortillas + Video
This post may include affiliate links. As an Amazon Associate I earn from qualifying purchases.
Make Homemade Corn Tortillas at home with only three ingredients — masa harina (corn flour), salt, and warm water.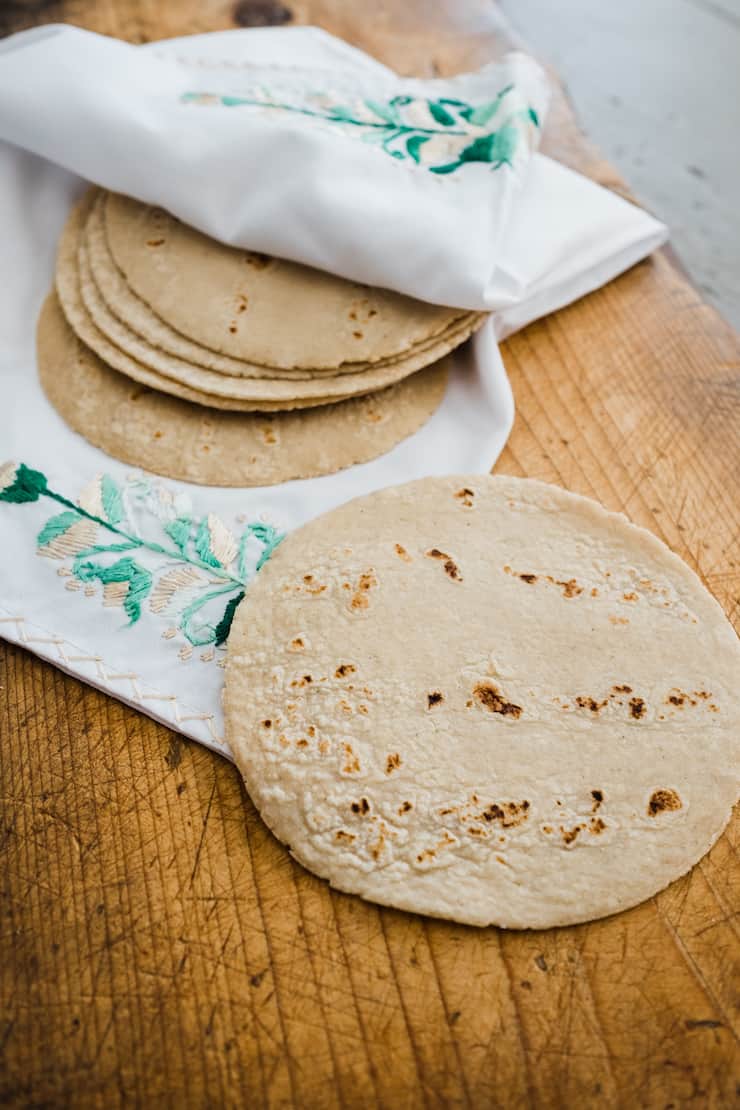 Making homemade corn tortillas is not difficult and they taste so delicious when they are freshly made and warm. In addition, corn tortillas are naturally gluten-free and are lower in sugar and saturated fat, compared to flour tortillas.
My favorite way to enjoy them is with a couple of creamy slices of avocado sprinkled with salt. Homemade corn tortillas are also great for your favorite taco recipes.
Tools to make homemade corn tortillas
To make corn tortillas you will need a couple essential tools — a tortilla press and a comal.
Tortilla press
My grandma didn't use a tortilla press, she used to make homemade corn tortillas completely by hand, by forming a patty with the dough between her hands and slapping her hands back and forth until flattened into a perfect circle.
A wooden or cast iron tortilla press can be purchased at a Mexican market or online. If you don't own a tortilla press you can use a heavy iron skillet.
Comal (Cast Iron Griddle)
A comal is perfect for cooking corn tortillas. You can use a heavy bottomed sauté pan, but there is no real substitute for the quality that a cast iron griddle brings, and this is a great inexpensive investment for any kitchen.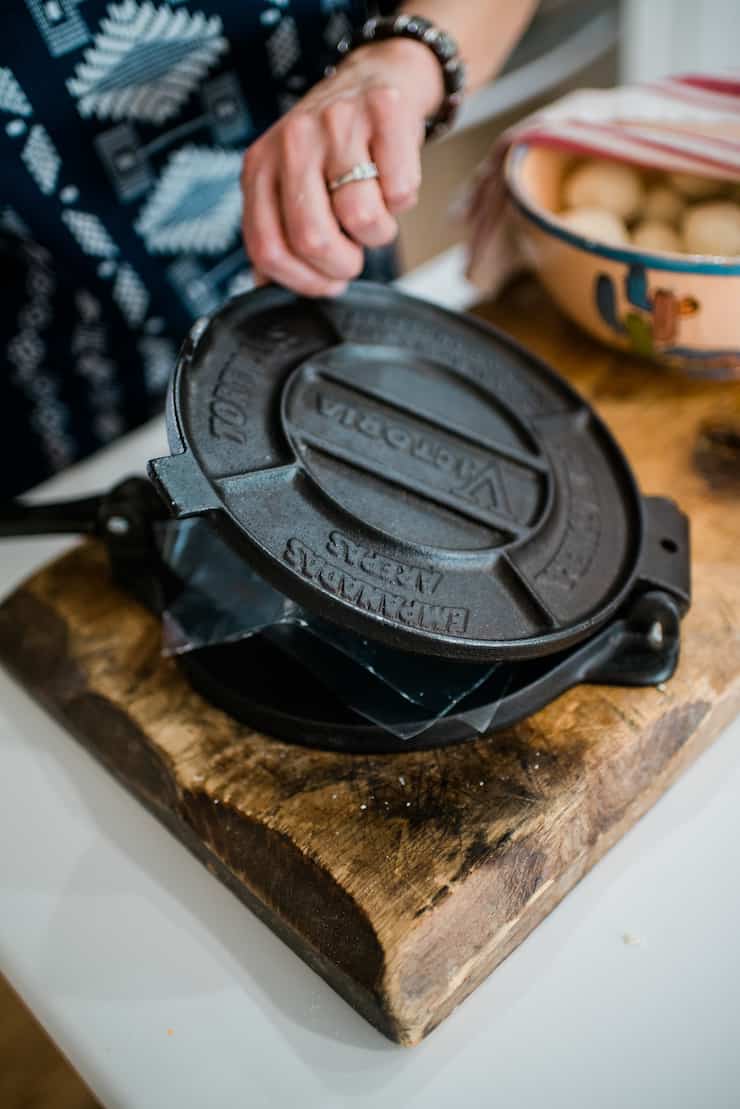 Tortilla Warmer
A colorful handmade palm tortilla warmer makes a pretty display and is perfect for keeping tortillas fresh and warm.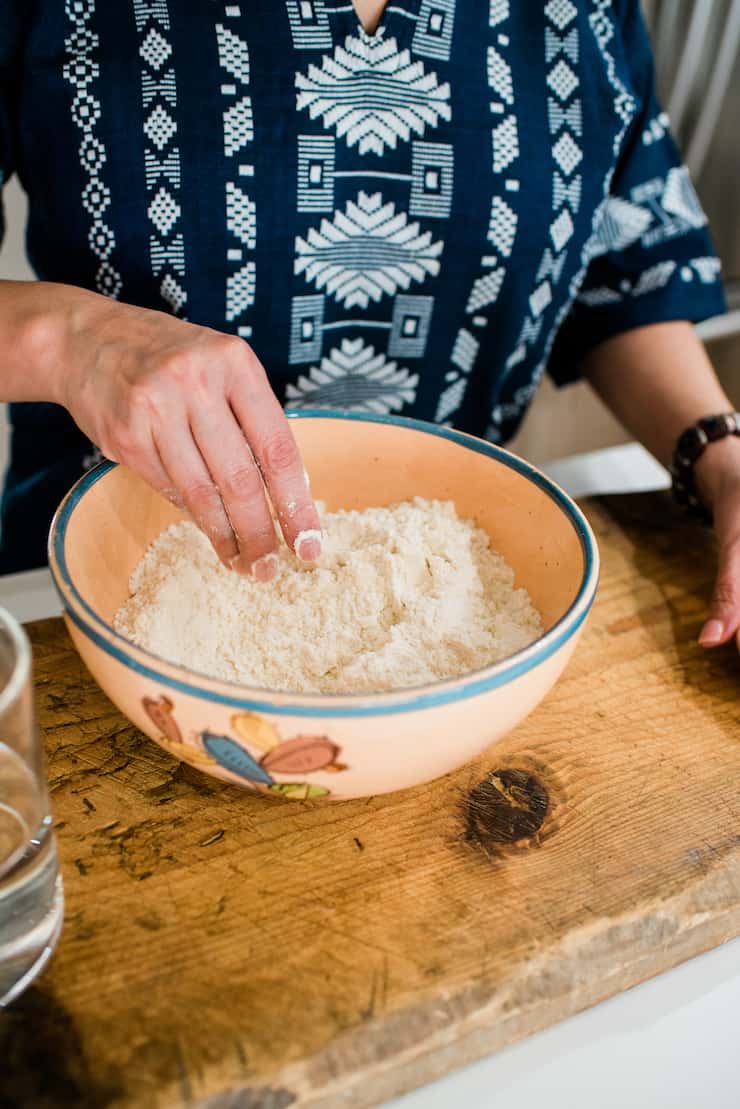 What is masa harina?
You'll need a special corn flour called masa harina for making corn tortillas. In fact, masa harina is corn flour that has been treated with calcium hydroxide or "lime".
Where to buy masa harina
Masa harina can be found at Mexican markets or online.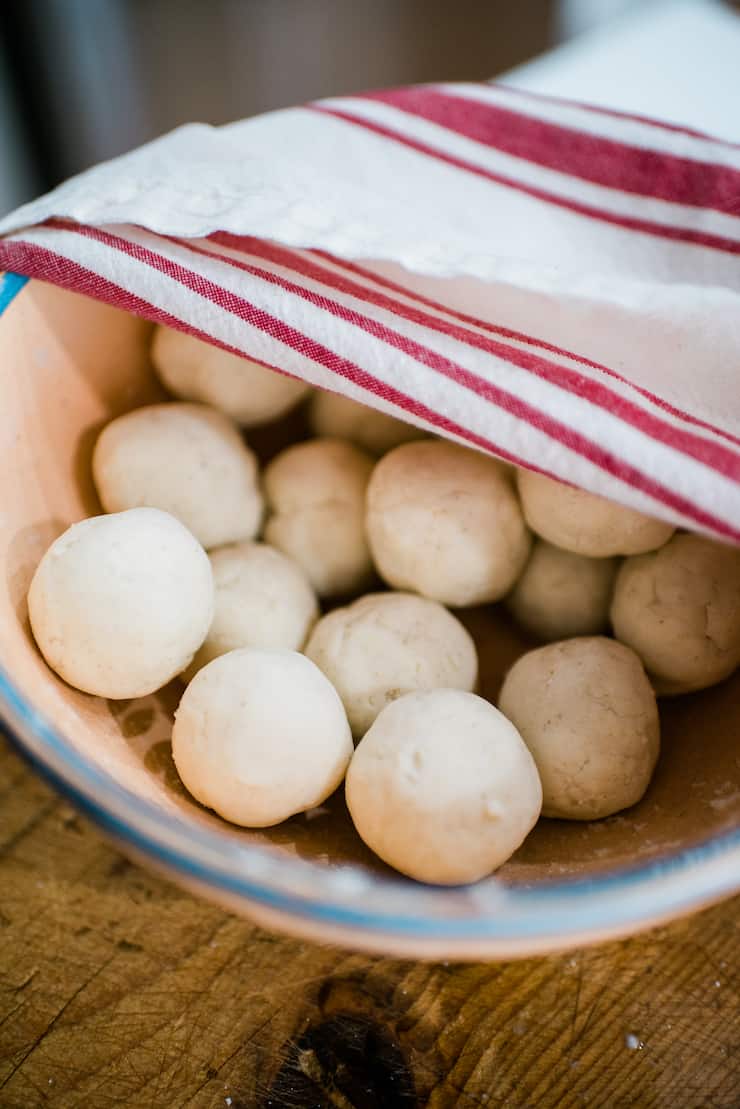 Pressing homemade corn tortillas
Cut two pieces of plastic from a plastic freezer bag to the size of the surface of the tortilla press.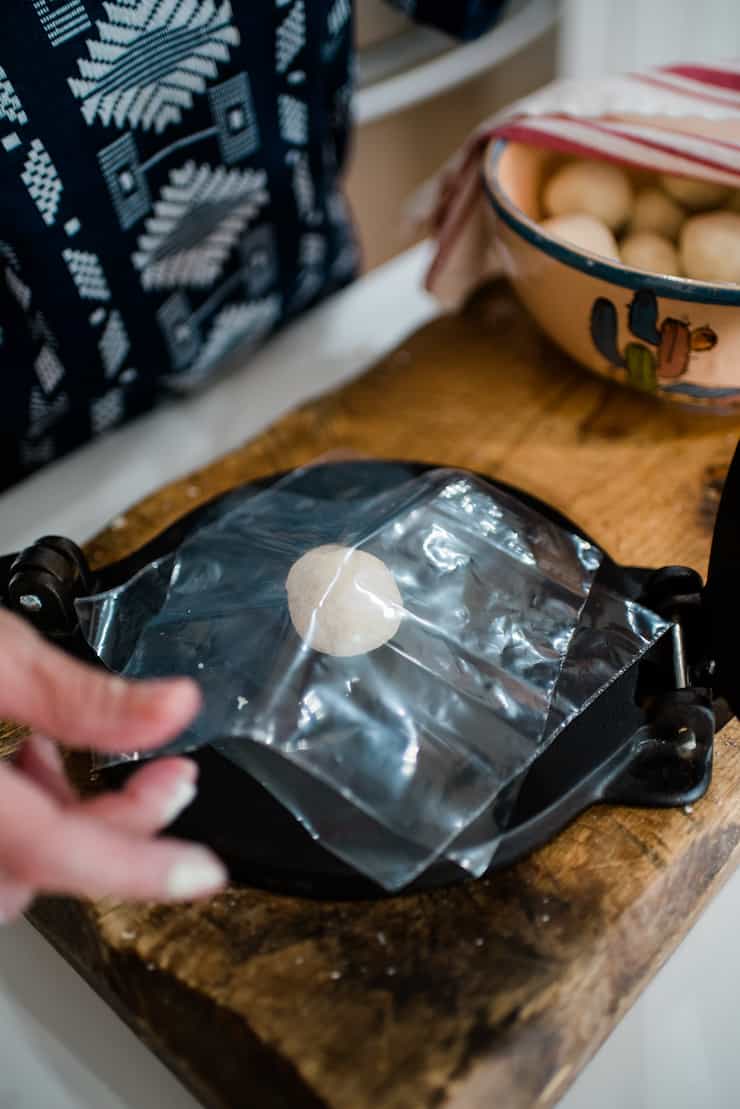 Open the tortilla press and lay one piece of plastic on the press. Place ball of dough in the center of plastic sheet and place another plastic piece on top of masa ball. Lastly, close the tortilla press and press.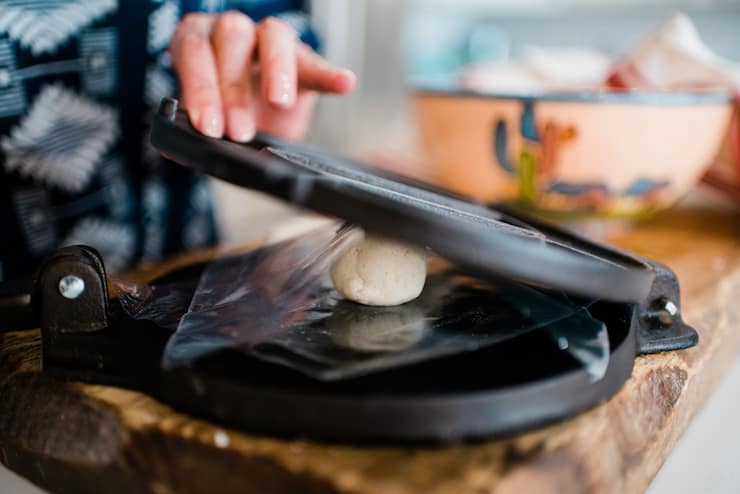 Vegan & Gluten-Free Homemade corn tortillas
This homemade corn tortillas recipe is gluten-free and vegan. And watch this video to see how simple it is to make.
Looking for some taco recipes?
Did you make these homemade corn tortillas? Rate the recipe and leave me a comment to let me know how it turned out!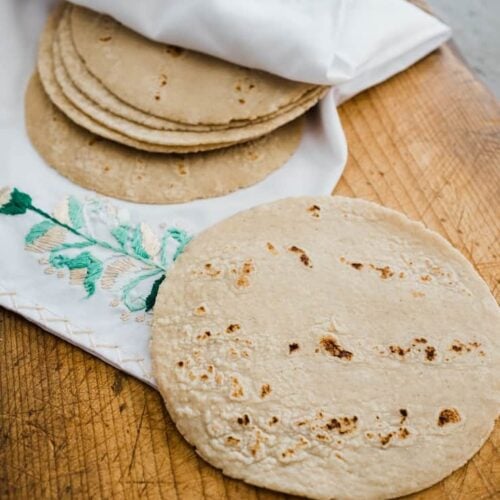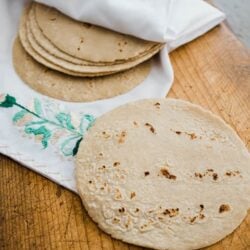 Homemade Corn Tortillas (Tortillas de Maiz)
Making Homemade Corn Tortillas is very easy. All you need is masa harina (corn flour), salt, water, a tortilla press and a comal (griddle).
Instructions
Place a

comal

(griddle or cast-iron skillet) over medium heat and allow it to heat up.

In a large mixing bowl mix flour, salt, and water for about 4 minutes. If the masa (dough) doesn't come together well add 1 tablespoon of water at a time and mix some more.

Divide the masa into 12 to 14 dough balls. Keep the masa covered with a dishtowel so it does not dry out while you press the tortillas.

Use a

tortilla press

when making corn tortillas. Place a piece of plastic wrap over each end of the tortilla press. The ball of masa will sit between the two pieces of plastic wrap during the pressing process. Place a ball of masa on one end of the tortilla press, directly on the plastic wrap. Close the tortilla press and press down on the handle, flattening the masa and creating a corn tortilla. Open the press and you should have a corn tortilla beautifully pressed.

Place the corn tortilla on the hot comal to cook for approximately 30 seconds, or until browned and slightly puffy. Turn tortilla over to brown on second side for approximately 30 seconds more, and then transfer to a tortilla warmer or basket lined with a dish towel. This is how Grandma stored hers. Continue making tortillas with the remaining masa balls.
Notes
Texture of masa: The texture of the masa should feel like Play-Doh. If the dough feels too wet and is sticking to your hands, add in a few extra tablespoons of flour. If it feels too dry, add in an extra tablespoon or two of warm water.
Making tortillas without a press: You can try flattening the tortillas beneath a heavy skillet.
Cook on medium heat: If the tortillas are getting singed with black spots quickly, then turn down the heat a bit.
How to store tortillas: Keep tortillas warm and covered. Place tortillas in a tortilla warmer lined with a dish towel or wrap them in a dish towel to keep them warm.
I recommend storing leftovers in a ziplock bag (with the excess air pressed out) in the refrigerator for up to 2 to 3 days.
How to serve: Serve immediately or refrigerate and reheat.
Calories: 69kcal, Carbohydrates: 14g, Protein: 2g, Fat: 1g, Saturated Fat: 1g, Sodium: 99mg, Potassium: 50mg, Fiber: 1g, Vitamin A: 41IU, Calcium: 26mg, Iron: 1mg
Photos by Jenna Sparks / Video by Pure Cinematography
Originally published: September 2014. This recipe is also published in the Muy Bueno cookbook.