Beef Tacos de Lengua
This post may include affiliate links. As an Amazon Associate I earn from qualifying purchases.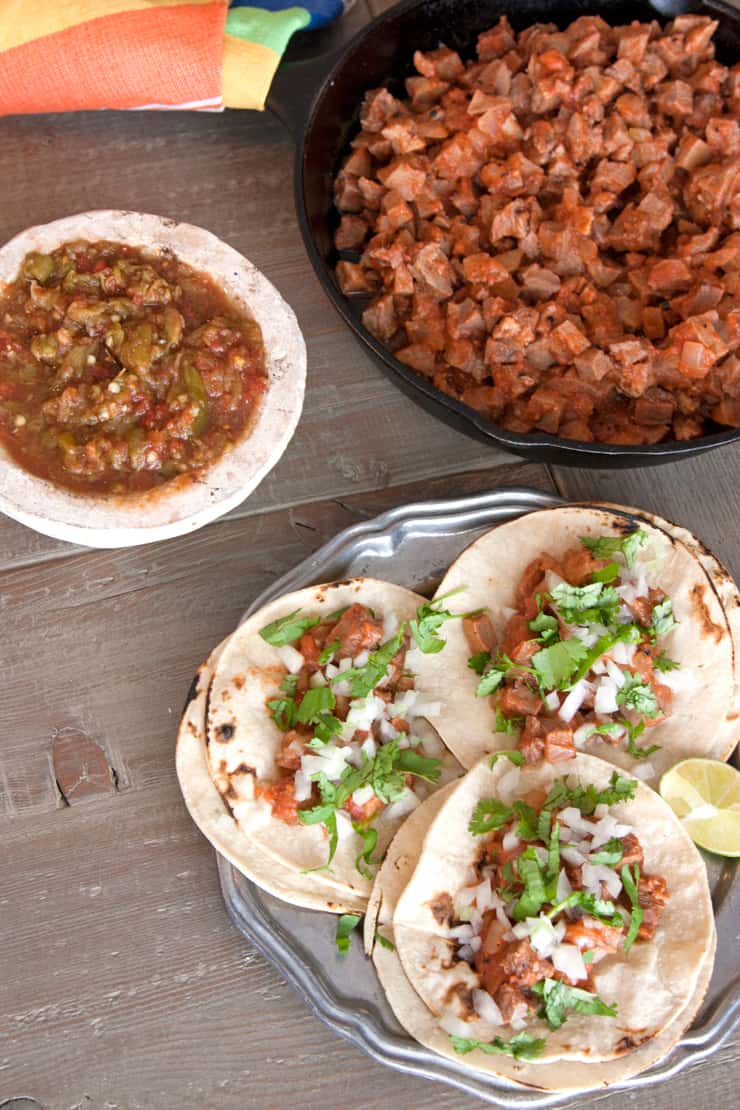 So many friends ask me, "How is it that your kids are not picky eaters?" I think it's because I'm always experimenting in the kitchen. My kids are either helping me or see the cooking process, and are always eager to try new flavors. I'm very thankful that they are open to trying anything.
For example, my son has been requesting cow tongue for weeks. He gets a kick out of telling his friends that we eat tongue tacos. For those of you who did not grow up eating lengua (tongue) I'm sure you might be cringing or feeling squeamish.
You might think it tastes gamey or has a yucky organ meat flavor, but actually it is quite the opposite. This meat when slow cooked is very tender and mild. There is no weird aftertaste. If you didn't know it was tongue you'd think you were eating a great cut of rich, tender, flavorful meat.
Believe me, I know how busy life is. With both of my kids in sports I'm either in the kitchen cooking or in my car playing taxi. I know that not everyone has the time to cook and that's why I wanted to share this very simple dish that can be made in a slow cooker.
Once the tongue is slow cooked, then all you have to do is peel off the outer layer of skin, dice the meat and sauté it with onions, garlic, and tomatoes.
This recipe is published in the Muy Bueno cookbook and can be used as a filling for gorditas, sopes, or tucked into warm corn tortillas like these classic Mexican tacos de lengua topped with onion, cilantro, and salsa casera.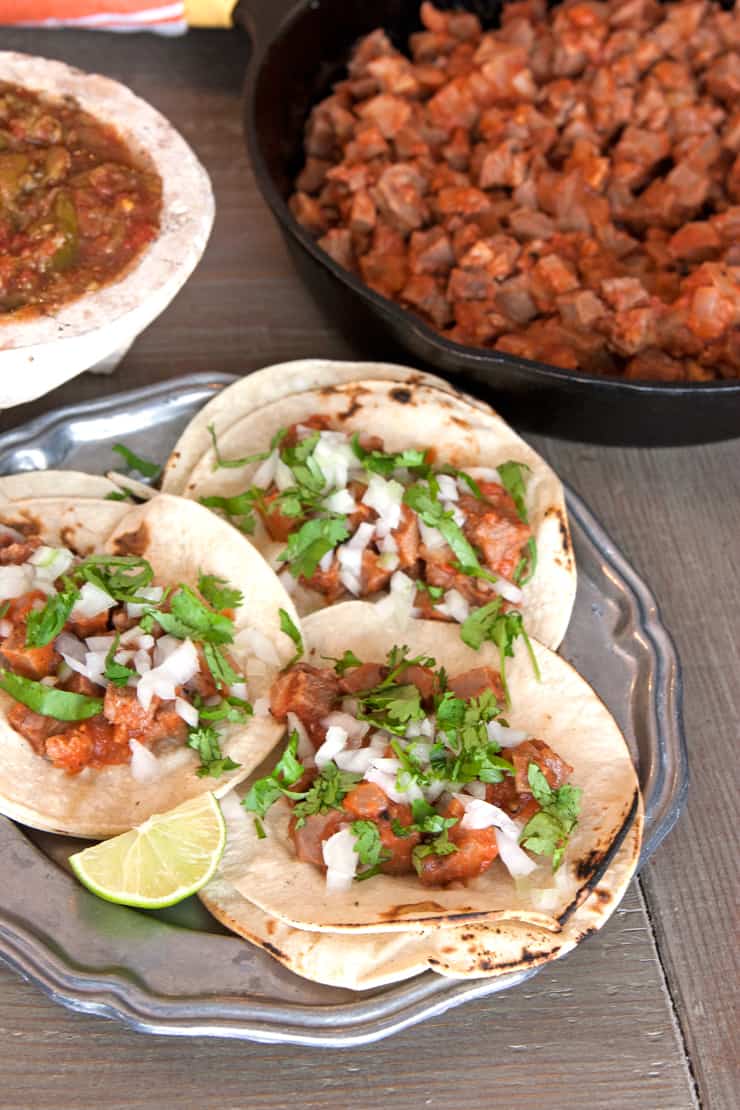 Beef Tongue with Tomatoe (LENGUA ENTOMATADA)
Lengua (beef tongue) is a delicious delicacy. It must be boiled for several hours, making it quite tender. Once it's boiled all you do is sauté it with onions, garlic, and tomatoes, allowing the lengua to just melt in your mouth.


Ingredients
2 1/2 beef tongue, or up to 3 pounds
3 cups water
1 small onion, quartered
5 cloves garlic
2 teaspoons sea salt
Tacos:
corn tortillas
chopped cilantro, optional
chopped white onions, optional
salsa of choice, optional
Instructions
Place beef tongue, water, onion, garlic, and sea salt in a slow cooker. Cook on low for 6 to 8 hours.

Once it's tender, take the tongue out of the stock to cool off. Peel off the outer layer of skin when you are able to handle the tongue. It's easier to take the skin off while the tongue is warm. Dice tongue into 1⁄2-inch cubes and set aside.

Strain the stock and set aside. It's always better to refrigerate the stock so you can skim the fat off and discard. If you have a fat separator then you don't have to refrigerate. Puree tomatoes in a food processor or blender and set aside.

In a large skillet, heat oil over medium heat. Add onion and sauté until translucent, about 2 minutes. Add flour and stir for 2 minutes. Add pureed tomatoes and let come to a boil as you stir.

Add diced tongue, 1⁄2 cup reserved stock, black pepper, and garlic powder. Lower heat and simmer for 5 minutes to thicken. If it's too dry you can add more stock, however, this recipe should not be runny if using as a filling.

Warm the corn tortillas. Place lengua in tortillas and add your favorite toppings.
VARIATION:
This recipe can also be used to make a beef lengua chile stew by adding more stock and 1⁄2 cup

salsa casera

.
Notes
The nutrition facts do not include tortillas or any optional toppings. 
Calories: 464.19kcal, Carbohydrates: 4.56g, Protein: 0.64g, Fat: 2.39g, Saturated Fat: 0.34g, Sodium: 783.18mg, Potassium: 49.77mg, Fiber: 0.52g, Sugar: 1.19g, Vitamin C: 2.79mg, Calcium: 14.54mg, Iron: 0.14mg