Master Retreat Renovation
This post may include affiliate links. As an Amazon Associate I earn from qualifying purchases.
This is a sponsored post written by me on behalf of Pergo. All opinions are 100% mine.
I am blessed that I can work from home…I can even work in my PJs and write blog posts and answer emails or scroll through Instagram while I sip coffee and eat avena in bed. Shhhh, don't tell the kiddos I eat in our bedroom. It's a big no-no in our house.
As 2020 was fast approaching, I looked around our bedroom and realized how uninspiring it was. I have been so preoccupied decluttering and decorating other rooms in our home (like our family room and cocina), that I forgot the most important room in the house…our bedroom — the room where I begin and end my day.
My grandma and mom always said it's important to start a new year with a clean house. It's a classic way to ensure good fortune in the upcoming year. The idea is, you sweep out the negative energy and bad vibes that last year brought, and make way for the good things the new year will bring.
Declutter and decorate with neutral bedding and furniture
I took their advice and decluttered our bedroom, closet, and bathroom. I then painted the walls, bought new bedding, sold our old clunky and outdated dark furniture, and purchased a couple new pieces.
Add pieces you love and plants to give life to a room
I also added touches of my love of Mexico into our bedroom, which were sadly missing, and now it gives the space life and personality. Things like Mexican textiles I collect when I travel, thrift-store finds, and house plants.
Placing items you love in every room of your home can "bring you joy" and create a space that is full of life and passion.
Personal style and pops of color
My passion for Mexico is not only reflected in my food, but also in my personal style and décor. And now I have finally been able to extend that same style into the décor of my bedroom.
My new space is clean and neutral allowing my love of the color turquoise and Mexican accents to really pop.
Pergo Flooring
The major transformation came to life with new floors! I am so excited to share with you my completed master bedroom with a Latin twist in collaboration with Pergo. Look at these Pergo TimberCraft waterproof floors! Can you believe these floors are laminate wood? Our new space feels fresh and lighter thanks to the great color and look that these floors provide.
Choosing the right floor type
Pergo laminate flooring is durable, beautiful, and waterproof -– which is a huge deal, especially in a bathroom. Pergo TimberCraft has WetProtect technology that locks out spills and mishaps. Not to mention they look just like premium hardwood.
Flooring color selection
Pergo has so many beautiful choices – it was a hard choice, but we ultimately selected Ocean View Oak.
Easy install
Pergo is all about worry-free floors so you can live life without pause. And speaking of pause – these floors were installed in less than two days.
Worry-free floors
Our new Pergo flooring gives me assurance that we won't have to deal with warped floors every time a drink is knocked over. Now, I don't have to worry about carpet spills, because believe me, nasty 20-year-old carpet was easy to say goodbye to.
Now with these new worry-free floors, I can focus on my passion of writing great content in an inspiring space. My bedroom is one I love to wake up in and retreat to, as it is clutter-free with a Zen vibe and is the perfect sanctuary.
Flooring shopping
Do you want to change your flooring for a product that's easier to maintain, cleaner, and lasts longer? Do as I did, and consider Pergo laminate flooring.
Shopping for flooring can be a daunting task. With that said, you can count on Lowe's to provide expert knowledge and insight.
Pergo TimberCraft has superior durability. It is scratch-resistant as well as wear, fade and stain proof. Plus, it has a lifetime warranty.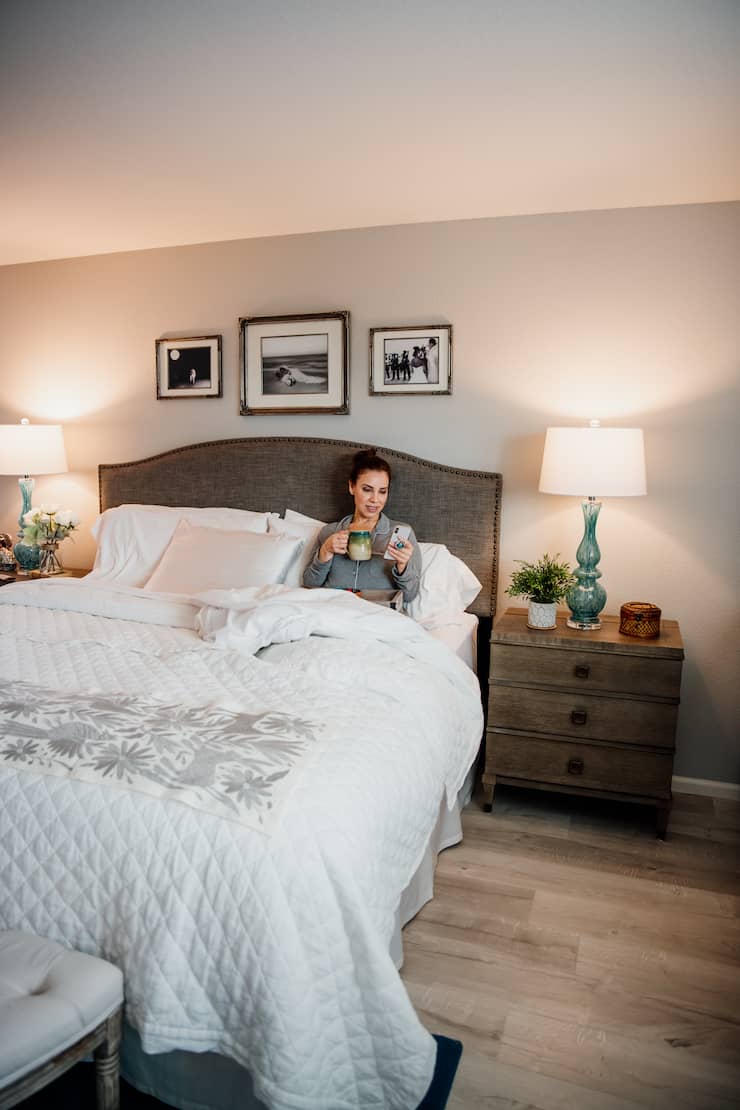 Get the look:
I'd love to hear from you. Do you have a project you have been longing to tackle? I would love to hear more about it – leave me a comment below!
Photography by Jenna Sparks
This post is in partnership with Pergo. As always, thank you for reading and for supporting companies I partner with, which allows me to create more unique content and recipes for you. All opinions are always my own.