Mexican Hot Chocolate Cookies
This post may include affiliate links. As an Amazon Associate I earn from qualifying purchases.
These Mexican Hot Chocolate Cookies are inspired by our favorite cozy beverage — melty chocolate with a hint of cinnamon and chili spice. Crisp on the outside, fudgy in the center, and flecked with chocolate chips, these are the perfect Mexican Christmas cookie!
I don't know about you, but this time of year has me yearning to bake all the tasty things. I don't know if it's the colder weather, the first flakes of snow, or the promise of Christmas, but this is prime cookie-making time at our house.
What is Mexican Hot Chocolate?
Mexican hot chocolate is one of my absolute favorite things about wintertime. I'm not talking about the powdered stuff you add hot water to. I'm talking real hot chocolate made with actual chocolate. And the best kind of chocolate to make a hot beverage with is by far Mexican chocolate.
Hot chocolate is actually credited to the ancient Mayans, with the first hot chocolate originating as early as 500 BC. The Mayans, who were some of the original inhabitants of Mexico, also liked their chocolate with a touch of chili, likely informing the way Mexicans in the present day make their hot chocolate.
Mexican hot chocolate is a family tradition at our house. My Mom made this cozy drink for me when I was young and now my children always ask for it on chilly winter evenings. This tasty Latin American drink combines creamy hot milk, decadent chocolate, and just a hint of spice from cinnamon and chili powder. The result is decadent, warming and perfect for a Christmas movie marathon night on the couch.
Why I Love This Recipe
Now that you know my love of Mexican hot chocolate, you'll understand why I had to come up with another way to enjoy it. These cookies are an absolutely perfect vessel for the chocolatey flavors, with a crispy exterior and a melty center that evokes all the wonderful feelings of a cozy winter night spent with my family.
One thing I love about these Mexican chocolate cookies is that they are simple enough to whip together in under 20 minutes, and they are something I have always been able to make with my kids. This simple recipe requires just 14 ingredients (most of which are probably already in your pantry) and 10 minutes of active prep time.
You also don't need a ton of equipment to make this simple drop cookie recipe. Measuring cups and spoons, a few mixing bowls, baking sheets, and an electric mixer are all you need. Please note that while I prefer using a stand mixer because it's easier to multi-task, a hand mixer will do just fine.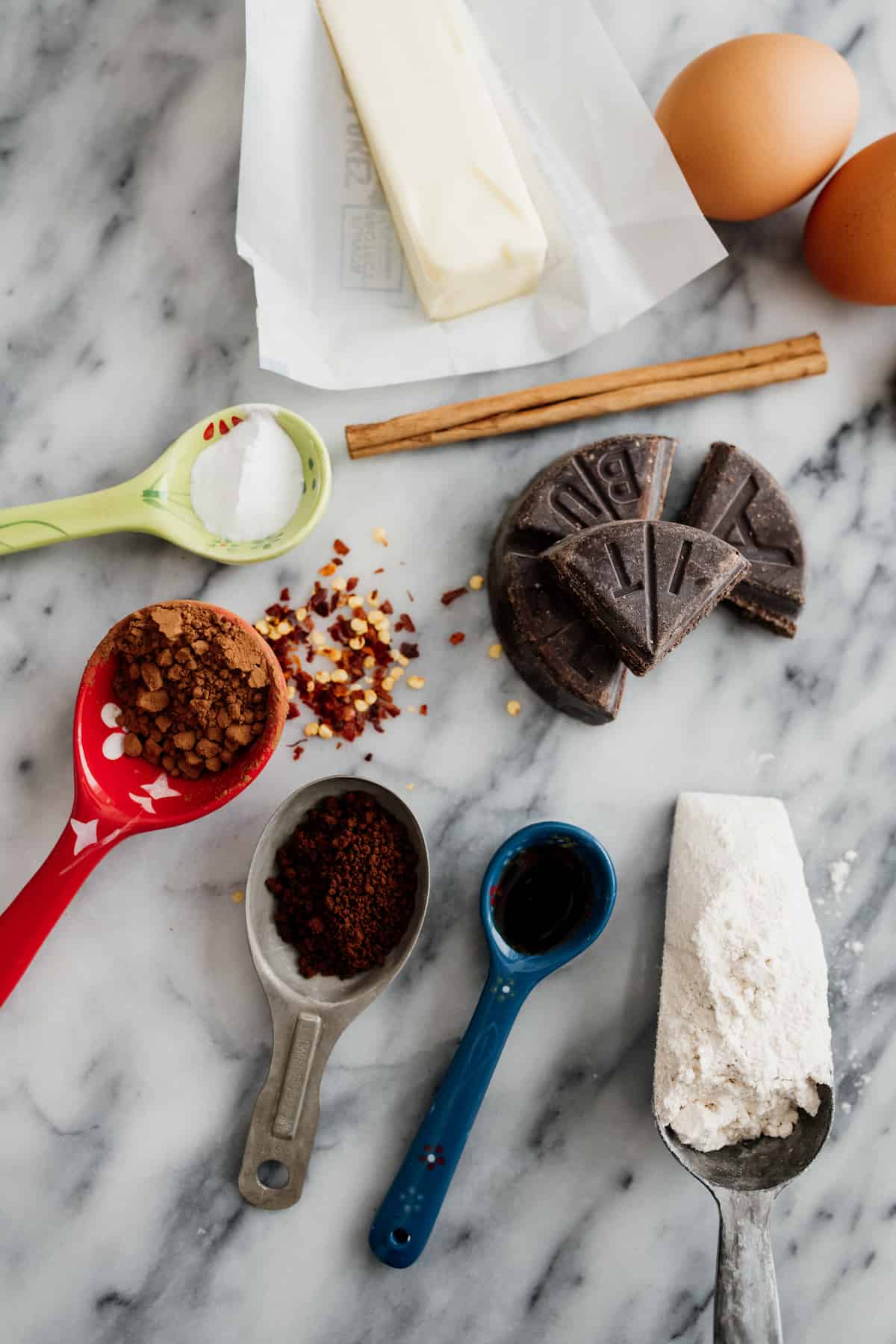 Ingredients & Substitutions
As promised, this Mexican hot chocolate cookie recipe is made with mostly pantry ingredients. Here's what you'll need:
How to Make Mexican Hot Chocolate Cookies
These simple and spicy chocolate cookies are a snap to make. Here's how it's done:
Step 1: Cream Butter & Sugar. To properly cream the butter and sugar, use the mixer on medium speed for several minutes, then scrape down the sides of your bowl and repeat. The end result should be a fluffy, pale yellow mix several shades lighter than the original stick of butter.
Step 2: Add Wet Ingredients. Using a low speed, add in eggs, vanilla and milk, and mix until well incorporated. Be sure to scrape down the sides and bottom of the bowl to ensure even mixing.
Step 3: Sift Dry Ingredients, including the flour, cocoa, cinnamon, chili powder, baking soda, espresso powder and salt together in a medium bowl.
Step 4: Mix Wet & Dry. With the mixer on low speed, slowly add the dry ingredients to the wet. Mix until just incorporated, scraping the sides of the bowl as necessary.
Step 5: Add Texture & Chill. Using a sturdy silicone spatula or wooden spoon, fold in your chocolate chips and Mexican chocolate until evenly distributed. The dough will be a bit loose, so refrigerate it for at least an hour and up to overnight to make it easier to scoop.
Step 6: Scoop & Bake. When ready to bake, preheat the oven to 325F. Once the dough is firm enough to handle, use a small ice cream scoop (about 2 tablespoons in size) to portion out your dough. Place the cookie dough balls at least 2 inches apart on a parchment-lined baking sheet. Bake one sheet at a time for 14 minutes, rotating halfway through. The cookies should be puffy and fairly soft when you remove them from the oven.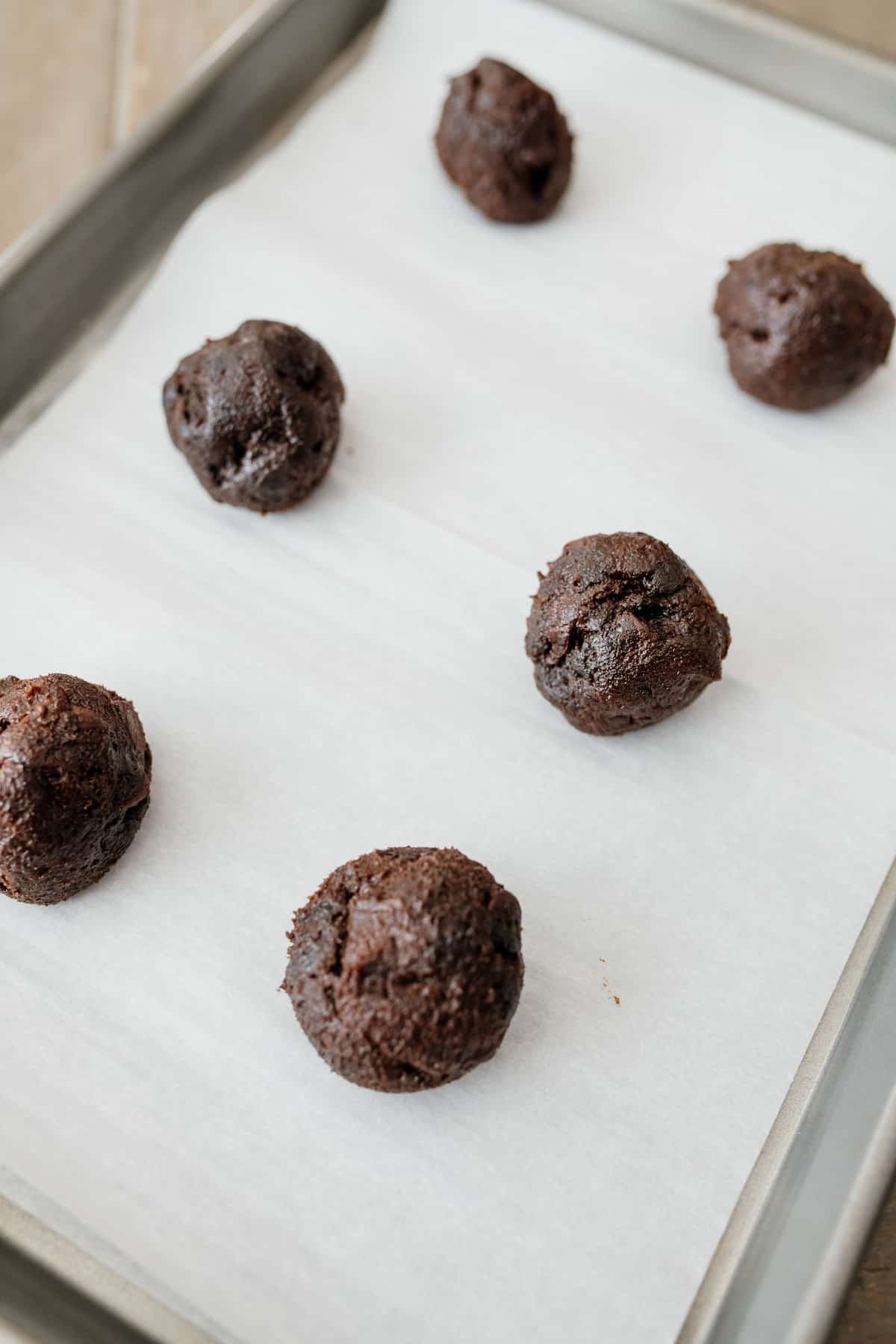 Step 7: Cool & Enjoy! Immediately slide the parchment onto a cooling rack and wait 5 to 10 minutes before consuming. These Mexican Hot Chocolate Cookies are best when they are still warm from the oven, but they will keep up to three days in an airtight container.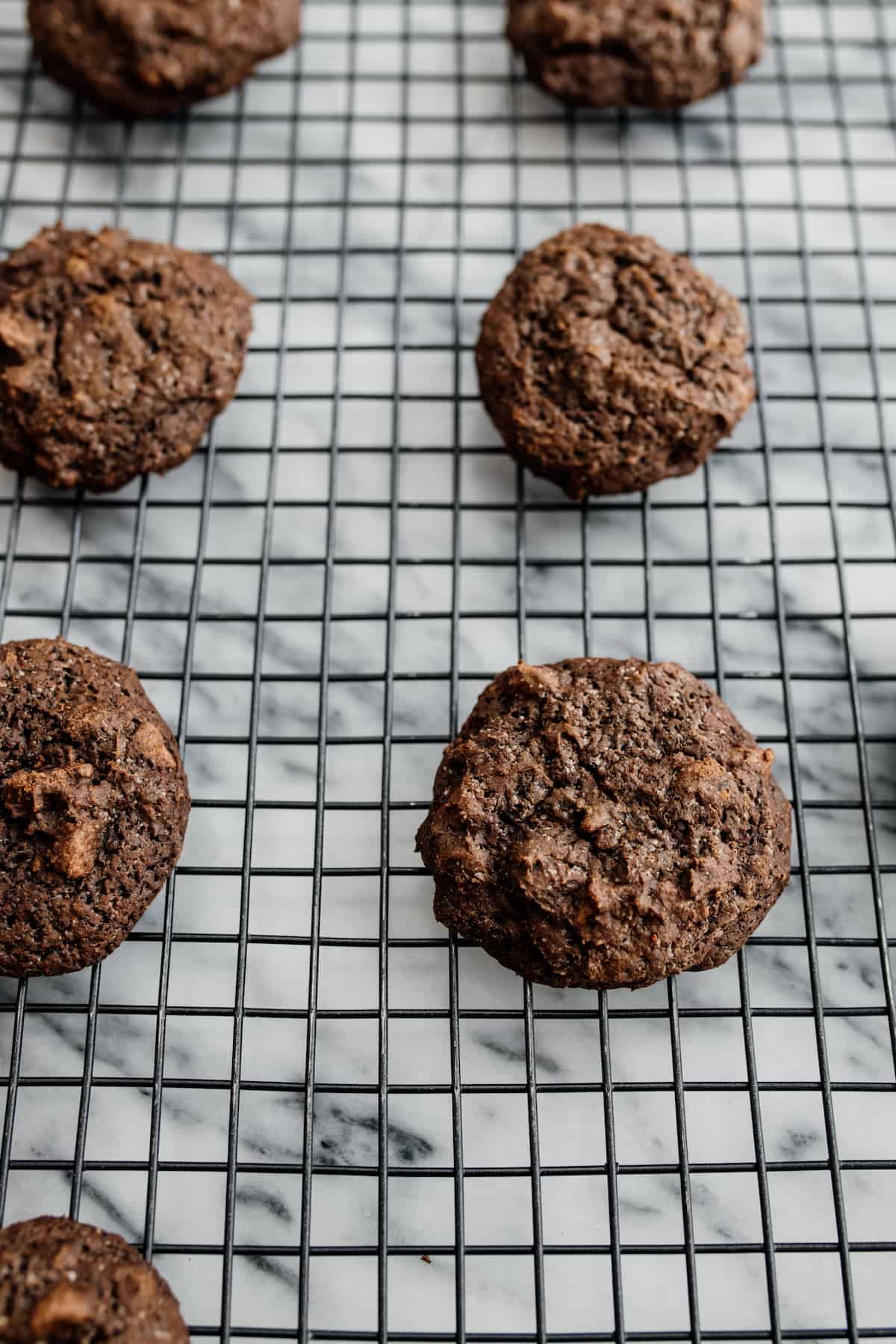 Optional Variations
While I think this Mexican hot chocolate cookies recipe is perfect just the way it is written, there is always room for you to make any customizations you and your family might need. Here are a few ideas to consider:
Expert Tips
Frequently Asked Questions
Do I have to use instant coffee?
Coffee and chocolate are a match made in heaven. Something about the flavor of coffee helps to enrich the flavor of chocolate, so I definitely recommend using instant coffee or espresso powder. If you are concerned about caffeine intake, a decaffeinated version will have the same effect.
How do I grate Mexican chocolate?
I use a box grater to grate Mexican chocolate, but you can also use a microplane rasp or a food processor fitted with the shredding blade.
Can I double this recipe?
Absolutely, though I wouldn't advise making larger than a double batch at a time. Unless you have a professional mixer, a larger batch will exhaust your mixer engine and your beaters will not be able to reach through to the bottom for even mixing.
What makes Mexican chocolate different?
Aside from being packaged in rounds instead of rectangular bars, the primary differences between Mexican chocolate like Abuelita and regular bar chocolate comes down to flavor and texture. Mexican chocolate has a higher sugar content, which makes the chocolate somewhat grainy (pleasantly so, if you ask me!), and it includes warming spices like cinnamon and cayenne.
More Christmas Cookies
Need more holiday cookie inspiration? Check out these other yummy recipes that would make perfect additions to your spread: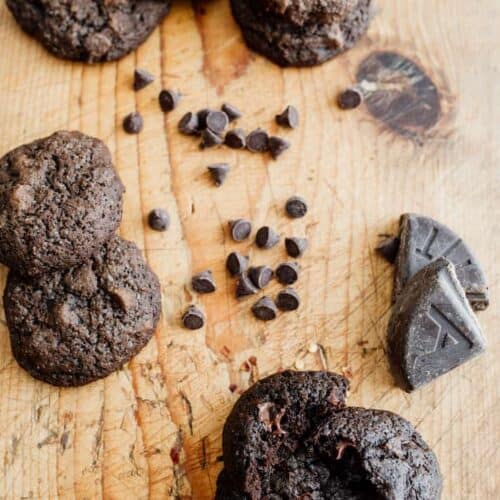 Mexican Hot Chocolate Cookies
Mexican hot chocolate is a family tradition. My mom made this hot drink for me when I was young and now my children always ask for it on chilly winter evenings. These Mexican Hot Chocolate Cookies are inspired by our favorite cozy beverage — melty chocolate with a hint of cinnamon and chili spice. They are the perfect Mexican Christmas cookie!
Instructions
Preheat the oven to 325 degrees F. 

In the bowl of a stand mixer fitted with the paddle attachment (or a hand-held mixer), beat butter and sugar at medium speed with an electric mixer until light and fluffy.

Add vanilla extract, eggs, and milk on low speed until well combined. 

In a medium bowl sift together the flour, cocoa powder, cinnamon, chili powder, baking soda, coffee, and salt. 

Add the dry ingredients to the batter and mix on low speed until well-combined and no visible flour remains. Fold in the Mexican chocolate and chocolate chips with a rubber spatula or wooden spoon. 

Refrigerate dough to scoop or roll easier for 1 hour or overnight.

Scoop balls of dough (preferably using a small ice cream scoop with a spring handle, about 2 tablespoon size) or roll balls of dough onto a parchment-lined sheet pan, leaving at least 2 inches of space between each cookie. Bake the cookies, one pan at a time, for approximately 14 minutes, rotating the pan halfway through cooking time. The cookies should be puffy and still fairly soft when removed from the oven. 

Immediately slide the cookies, still on the parchment paper, onto a wire cooling rack. Cool just a bit before serving, 5 to 10 minutes. 
Notes
Cookies can be stored in airtight container for up to three days, but I prefer them on the day they are baked.
Cookie dough can be made ahead and frozen for up to three months.
Calories: 138kcal, Carbohydrates: 14g, Protein: 2g, Fat: 9g, Saturated Fat: 5g, Cholesterol: 26mg, Sodium: 106mg, Potassium: 102mg, Fiber: 2g, Sugar: 5g, Vitamin A: 197IU, Calcium: 19mg, Iron: 1mg
Photography by Jenna Sparks
Originally published: December 2020.