Mexican Chocolate Crinkle Cookies
This post may include affiliate links. As an Amazon Associate I earn from qualifying purchases.
If you are a lover of all things chocolate, try my Mexican Chocolate Crinkle Cookie recipe this holiday season! These yummy cookies have a perfectly fudgy interior, a lightly crisp exterior, and are flavored with warming spices and my favorite spicy indulgence — Mexican chocolate.
If you're looking for a way to connect with your loved ones this holiday season, whipping up a bunch of these fudgy crinkle cookies to share is a great way to start. They are a perfect addition to any cookie plate, and I can guarantee that Santa will welcome this flavorful diversion from his regular sugar cookies.
If you have been reading the blog for a while, you know I'm a big fan of chocolate. You should also know that my love language is food. Cooking, baking, and eating with friends and family are the best ways I know to feel connected with my community.
I encourage you to reach out to your tribe by delivering the next best thing to a hug: homemade Mexican Chocolate Crinkle Cookies.
Why These Cookies are Perfect
For most people, you either fall into the chewy cookie or the crispy cookie camp. What I love about these spicy chocolate cookies is that they check both boxes. They're fudgy in the center and crisp around the edges. Oh, and that brownie-like interior? It'll remain gooey and chocolaty for days after baking them.
The flavors remind me of my Mexican chocolate brownies and Mexican chocolate fudge combined. In other words, they're a bite of pure heaven! And, as a bonus? You don't even have to get your mixer out — the entire recipe can be made by hand.
I am also a huge fan of how quickly these cookies bake up. In just 8 minutes, you can have two full sheet trays of Mexican chocolate-flavored yumminess ready to go. Sometimes folks avoid making cookies because they take multiple batches and draw out the baking process. With these, you can work with two trays at once and make the whole batch in under an hour.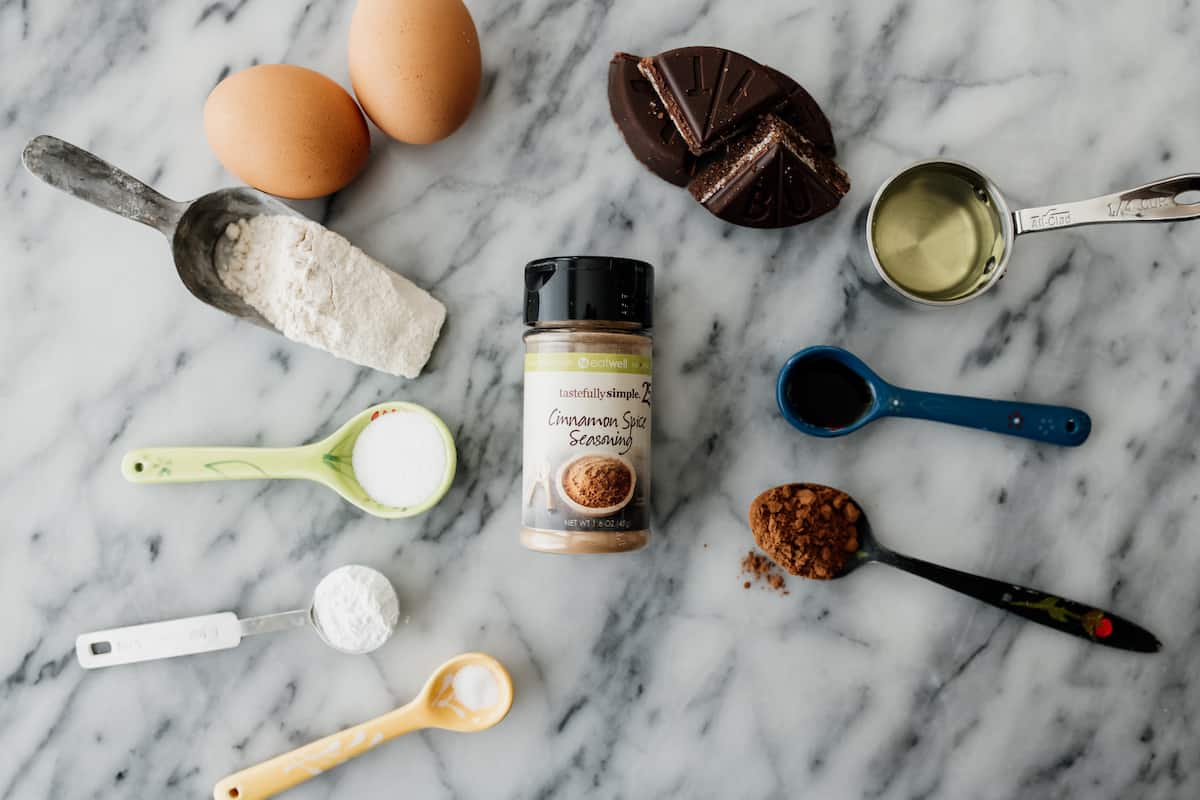 My Mexican-inspired Christmas crinkle cookies are also made using only 11 simple pantry staples. They're inexpensive to make, but I guarantee they taste like a million bucks! So, what are you waiting for? Let's get to the kitchen and fix a batch of these yummy Mexican Christmas cookies.
Ingredients & Substitutions
As promised, you only need a few pantry staples to make this Mexican cookies recipe. Here's what to grab:
All-Purpose Flour – Regular white flour is all you need. Feel free to swap in your favorite gluten-free AP flour mix if needed.
Tastefully Simple® Cinnamon Spice Seasoning – Made with a mix of cinnamon, warming spices and orange peel, this is a great spice blend to keep on hand during the holidays. Feel free to swap in plain cinnamon or pumpkin pie spice and add a few grates of orange zest for brightness.
Unsweetened Cocoa – I prefer using Dutch-processed cocoa powder because it is less bitter than other varieties. That said, regular cocoa powder, black cocoa powder, or even organic raw cacao powder can all be used here.
Mexican Chocolate – Sold in round tablets and made with a distinctively grainy texture, Mexican chocolate is one of my favorite pantry staples. You should be able to find either Ibarra or Abuelita brands at any well-stocked regular grocery store.
Baking Powder – For leavening.
Salt – For a nice contrast to the sweet, spicy flavors.
Canola Oil – Feel free to use any neutral-flavored oil you prefer including avocado, peanut, corn, grapeseed, or vegetable oil.
Granulated Sugar – White sugar is neutrally-flavored, meaning the chocolate and spices will truly shine. Feel free to swap in organic cane sugar or coconut sugar if you prefer.
Large Eggs – Let them come to room temperature to make it easier for them to mix into the cookie dough.
Pure Vanilla Extract – For rich complexity. Feel free to swap in an equal amount of vanilla powder or vanilla paste, or use about half as much ground vanilla. You're also welcome to use almond extract for a fun twist on the flavor!
Powdered Sugar – You can't get the beautiful crinkled appearance without the assistance of powdered sugar. If you're fresh out, make your own using plain white sugar, cornstarch, and your trusty food processor.
How to Make Mexican Chocolate Crinkle Cookies
This simple chocolate crinkle recipe is so easy to whip up any time! Here's how it's done:
Step 1: Dry Ingredients. Whisk together the flour, cocoa powder, Mexican chocolate, baking powder, and salt in a bowl and set aside.
Step 2: Wet Ingredients. Mix the oil and sugar together in a separate bowl until well combined. To this mix, add in the eggs and vanilla and whisk again until uniform.
Step 3: Mix Wet & Dry. Slowly pour your wet ingredients into your dry ingredients and stir with a sturdy silicone spatula or wooden spoon until well combined.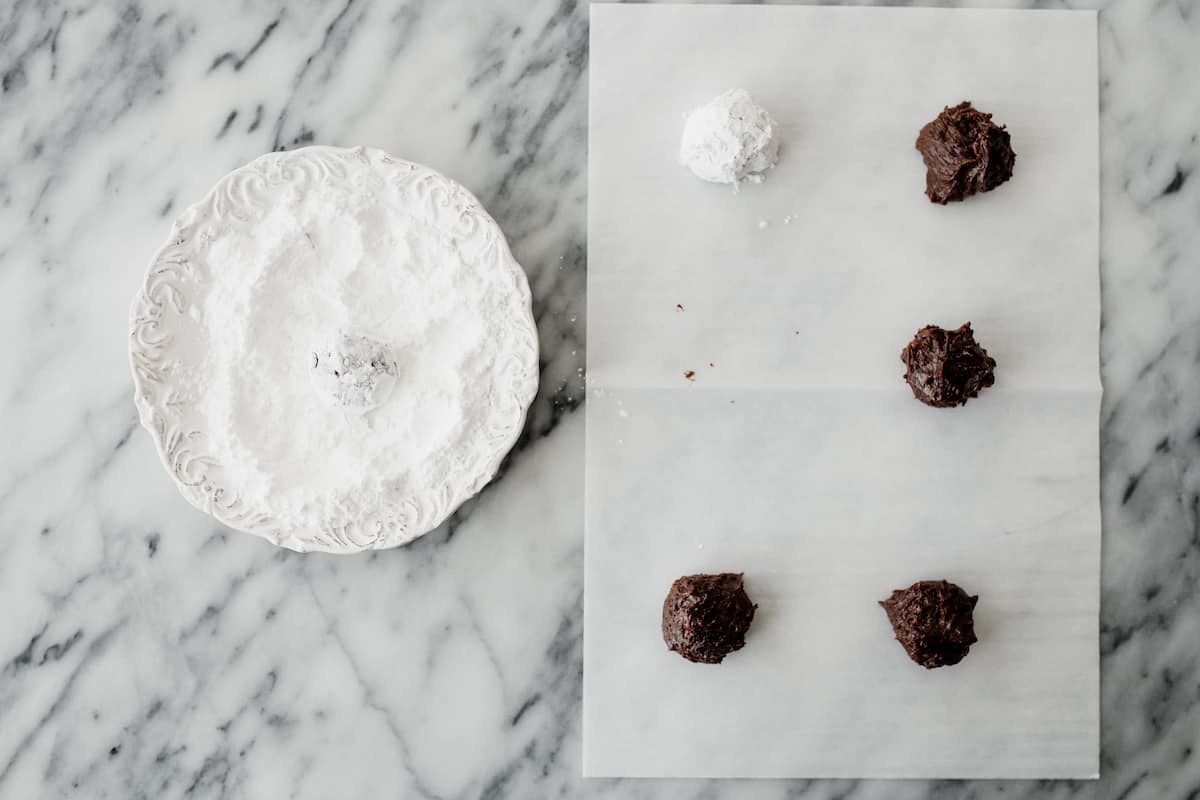 Step 4: Refrigerate. The crinkle cookie dough is going to be quite soft (which is what makes for such a fudgy cookie!), so cover and refrigerate it for at least an hour, and up to overnight.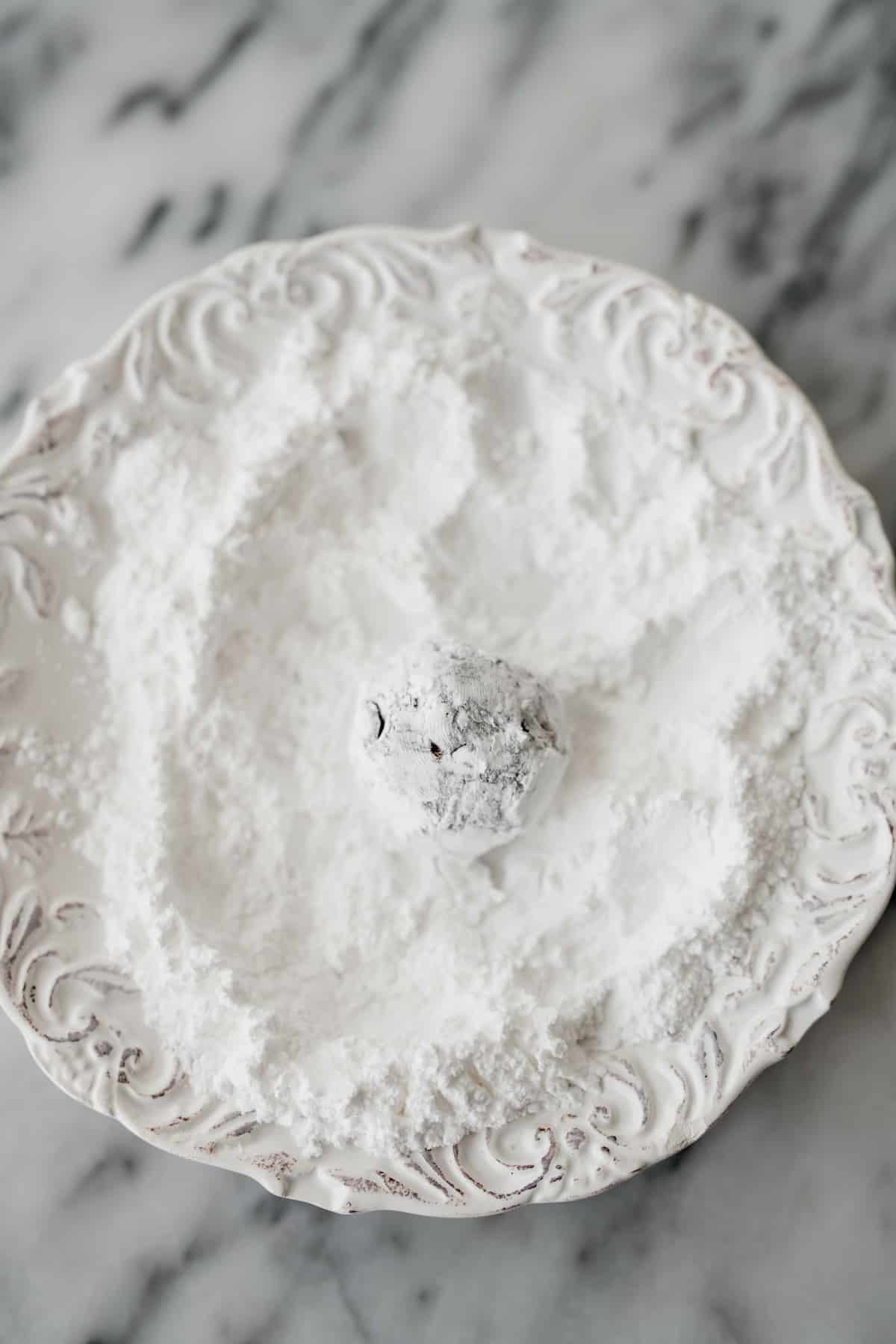 Step 5: Prep & Roll. When you're ready to bake, preheat the oven to 350°F. Shape the dough into balls using a tablespoon. Put powdered sugar on a plate and roll each ball to cover.
Step 6: Bake. Place the cookie dough balls on a parchment-lined cookie sheet with at least 2" of space between them. Bake for 8 to 10 minutes, or until they are slightly crisp around the edges and soft and gooey in the center.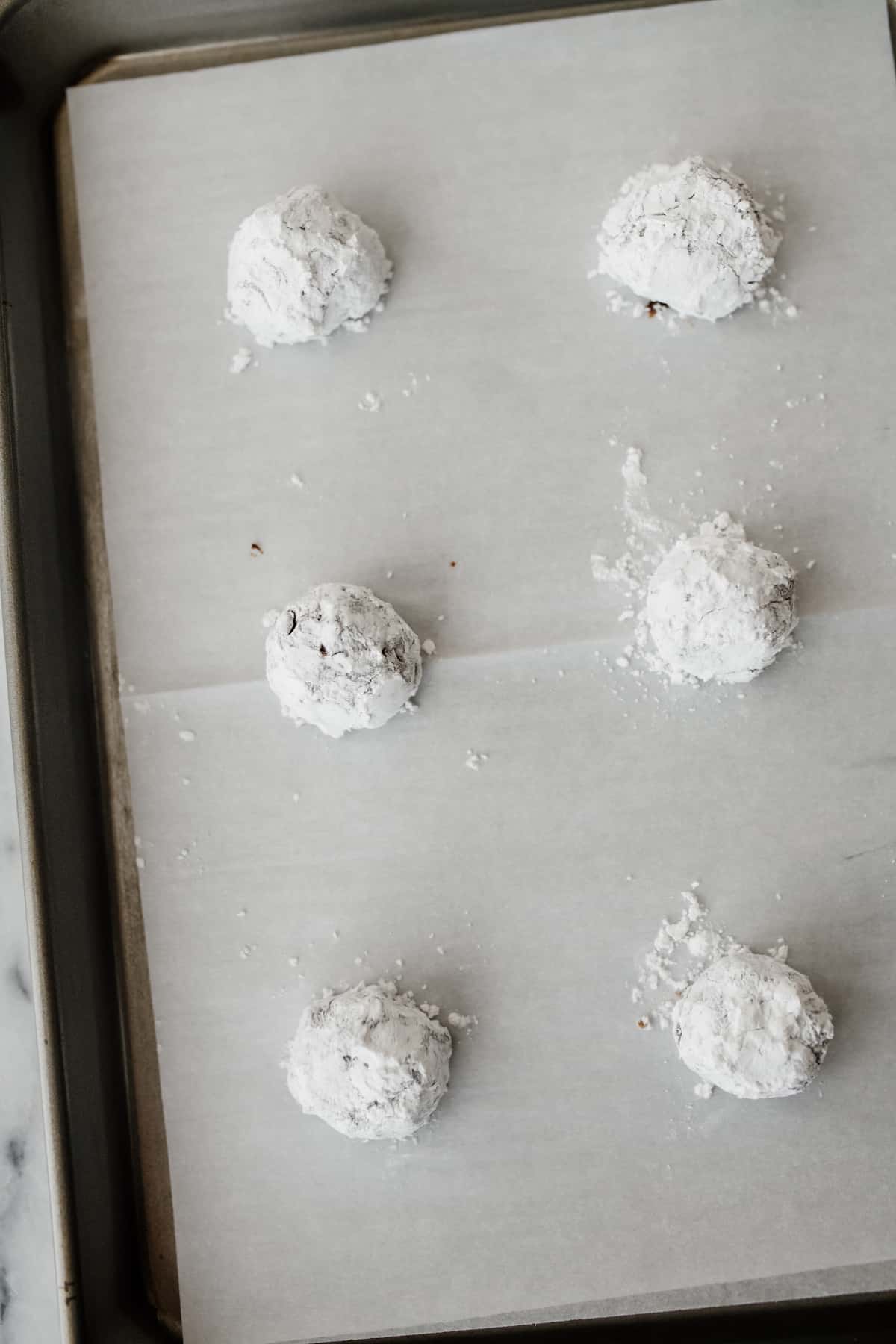 Step 7: Cool. Allow the baked crinkle cookies to cool on the pan for 2 minutes, then slide the parchment onto a wire rack to finish cooling.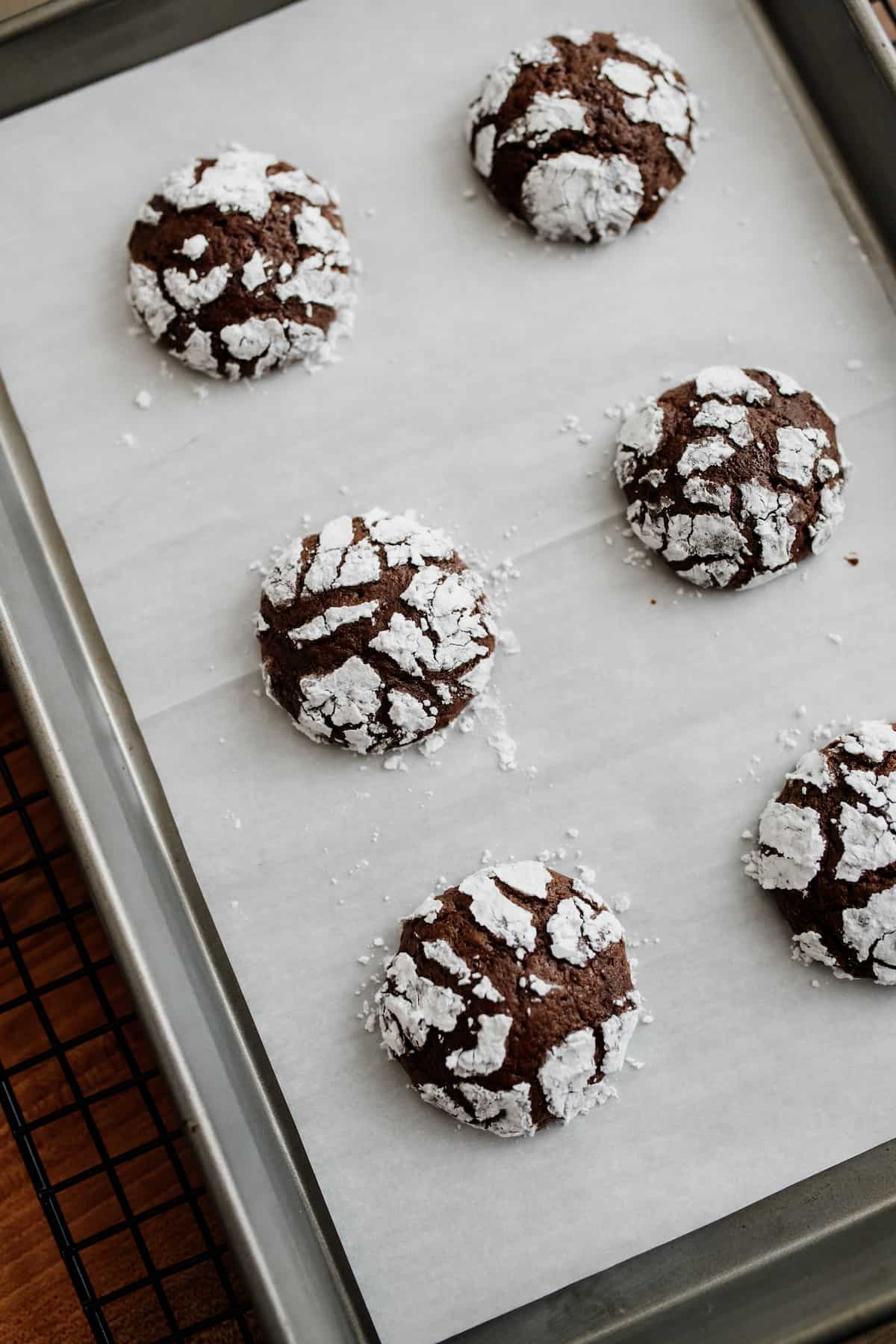 If you're more of a visual person, check out this video to see how simple it is to make my delicious Mexican Chocolate Crinkle Cookies in real-time. You'll get to see them rise and "crinkle" while baking — it is pure Christmas magic!
Please note: I used a stand mixer in the video, but feel free to use a hand mixer, or, as I mentioned earlier, this recipe can be made by hand without any fancy tools.
Optional Variations
These naturally dairy-free chocolate crinkle cookies are delightful as written, but can easily be customized to fit your family's particular dietary needs. Here are a few variations to consider:
Gluten-Free Crinkle Cookies – Simply swap in your favorite measure-for-measure GF all-purpose flour blend for the wheat flour.
Vegan Crinkle Cookies – Use your favorite plant-based egg substitute (e.g. JUST Eggs) to make these vegan-friendly.
Diabetic-Friendly – Cut down on the added sugar by swapping in your favorite sugar and powdered sugar alternatives (e.g. Truvia or Splenda).
Edible Mexican Chocolate Cookie Dough – If you're someone who believes cookie dough > actual cookies, you can easily make this dough safe for eating by heat-treating your flour and using plant-based or pasteurized eggs.
Expert Tips
Whisking (or sifting) together your dry ingredients in baking recipes ensures that the flavors and leavening are distributed evenly throughout your dough or batter. If this isn't part of your normal workflow, try adding in this simple step and see how your baking improves!
While you can use a whisk from start to finish when making a cake batter, cookie dough is usually too dense for a whisk. Once you combine the wet and dry ingredients, do yourself a favor and switch to a sturdy wooden spoon.
Don't skip the refrigeration step. Not only does it allow your flour time to absorb liquid from the dough (which contributes to more even baking), but will also prevent the soft dough from spreading too far and making the cookies too crisp instead of fudgy.
For cakier cookies, add 2 to 3 minutes onto your bake time.
Frequently Asked Questions
Can I make these crinkle cookies ahead of time?
Since the dough requires at least one hour of resting time, the answer is YES! You can either make the dough and refrigerate it overnight, or you can freeze the dough for up to three months. Be sure to allow the frozen cookie dough to thaw overnight in the refrigerator prior to scooping and baking. Alternatively, feel free to freeze the cookie dough in balls first so you can bake them directly from the freezer.
How long do these cookies last?
My Mexican chocolate crinkle cookies will last for 5 days if stored at room temperature in an airtight container. To extend the shelf life for a few more days, place in the fridge.
How should I grate Mexican chocolate?
I personally use the large holes on the side of a box grater.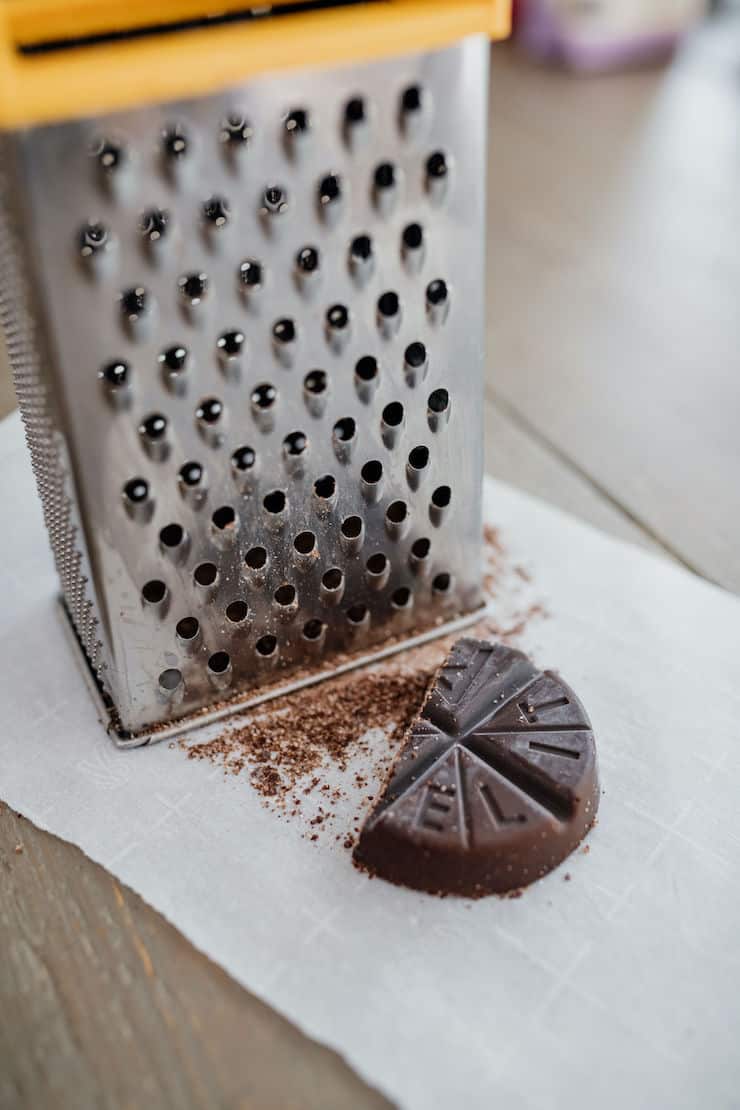 What if I don't have Tastefully Simple Cinnamon Spice Seasoning?
While I absolutely adore TS's spice seasoning, you can replace it with plain ground cinnamon for these cookies.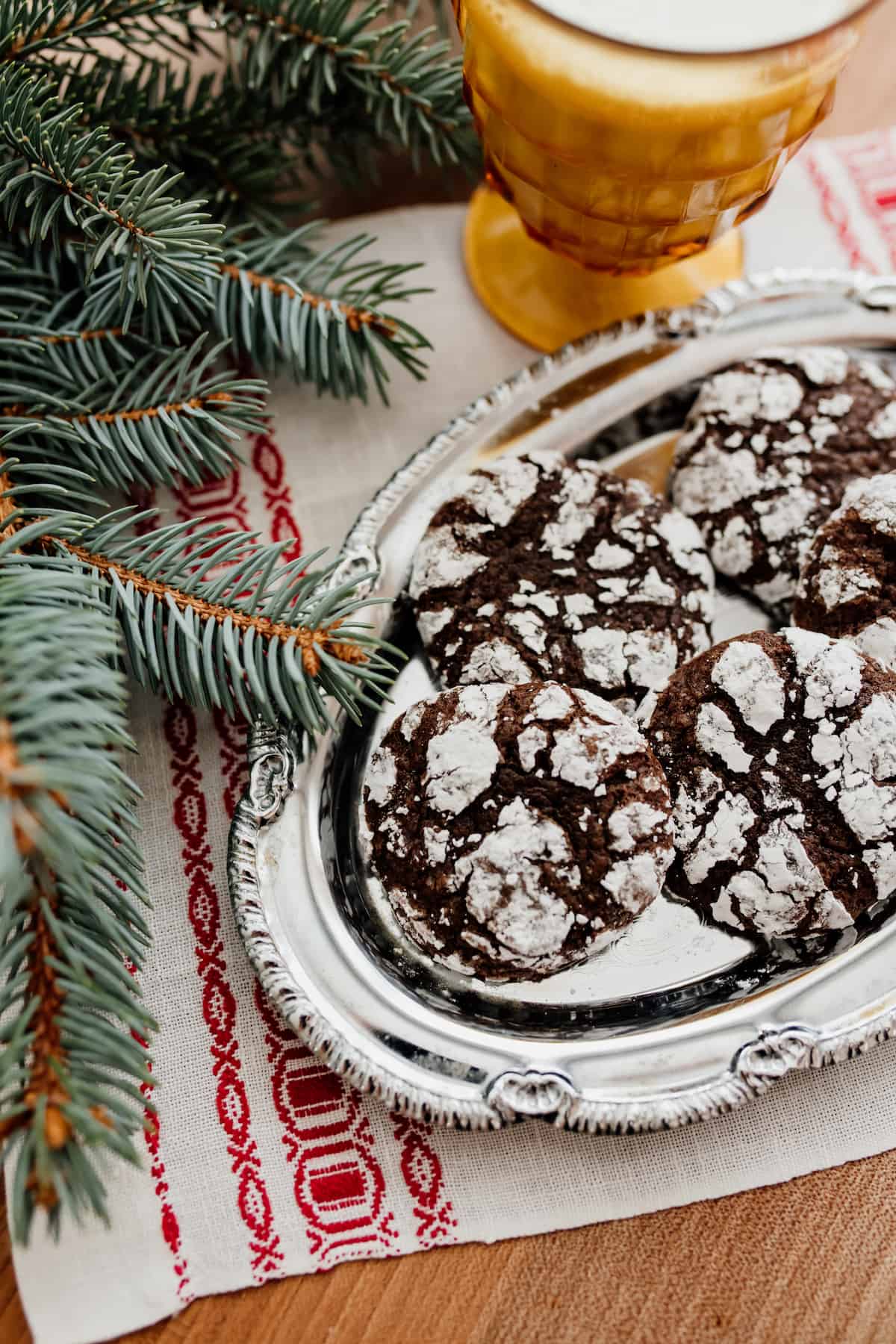 Need more holiday inspiration?
Check out my Favorite Holiday Cookies and these other perfect cookie plate recipes:
If you made this recipe for Mexican Chocolate Crinkle Cookies, please be sure to rate and review it below! I'd love to know how they turned out for you.
If you want more delicious recipe inspiration delivered straight to your inbox, sign up for my email newsletter. You can also follow me on Instagram, Pinterest, or Facebook if you're feeling social!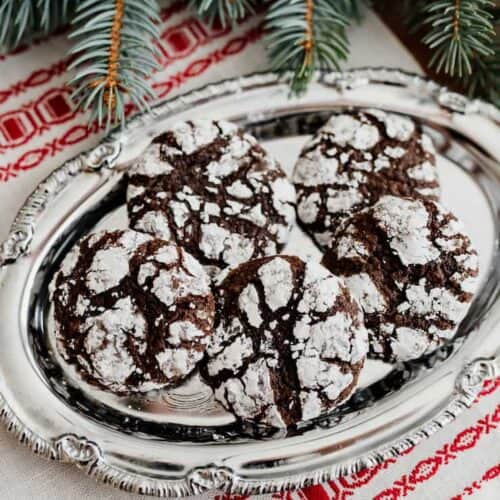 Mexican Chocolate Crinkle Cookies
These yummy cookies have a perfectly fudgy interior, a lightly crisp exterior, and are flavored with cinnamon spice and Mexican chocolate. If you are also a lover of all thing's chocolate, try my Mexican Chocolate Crinkle Cookie recipe this holiday season!
Ingredients
1 cup all-purpose flour
1 teaspoon ground cinnamon, recommend Tastefully Simple® Cinnamon Spice Seasoning
1/4 cup unsweetened cocoa
3 ounces Mexican chocolate, grated
1 teaspoon baking powder
1/2 teaspoon salt
1/4 cup canola oil
1/3 cup granulated sugar
2 large eggs
2 teaspoons pure vanilla extract
1/2 cup powdered sugar, for coating cookies, (more if needed)
Instructions
Whisk together flour, cocoa powder, Mexican chocolate, baking powder, and salt in a bowl and set aside.

In a separate bowl (or stand mixer), mix oil and sugar until combined.

Add in eggs and vanilla and whisk until well combined. 

Slowly pour the flour mixture into the sugar mixture and stir until well combined. 

Chill the dough in the refrigerator for at least 1 hour.

Preheat the oven to 350° F. 

Shape dough into 1 1/2-inch balls using a tablespoon. 

Place powdered sugar on a small plate and roll each cookie in the sugar. 

Place cookies onto a baking sheet lined with parchment paper. 

Bake 8 to 10 minutes, or until the cookies are slightly crisp around the edges and soft in the middle. Allow to cool on the pan for 2 minutes, and then transfer to a cooling rack. 
Notes
No Tastefully Simple® Cinnamon Spice Seasoning? Simply replace with ground cinnamon.
For cakier cookies, add 2 to 3 minutes onto your bake time.
Calories: 87kcal, Carbohydrates: 12g, Protein: 1g, Fat: 4g, Saturated Fat: 1g, Cholesterol: 14mg, Sodium: 55mg, Potassium: 51mg, Fiber: 1g, Sugar: 7g, Vitamin A: 20IU, Calcium: 13mg, Iron: 1mg
Photos by Jenna Sparks / Video by Pure Cinematography
Originally published: November 2020