Vintage Paper Pinwheel Garland
This post may include affiliate links. As an Amazon Associate I earn from qualifying purchases.
For my recent Day of the Dead party we decorated our little hearts out. You might have noticed the paper flowers, but did you notice these simple and elegant paper pinwheels? They are actually intricate fanned out pages from an antique psalms and proverbs book. The pages are folded accordion style and simply strung with ribbon or raffia to make a unique paper garland for an altar.
These garlands would also look lovely hung on a fireplace mantle for Christmas made with old music paper.
Pinwheels are a great way to decorate for a special event. Make pinwheels in a variety of sizes and colors and eliminate the ribbons and hang them directly on a wall to match your theme for birthdays, weddings, or dessert tables. Learn how to make them below.
Supplies:
Scissors
Small clear rubber bands
Ruler
Small wooden clothes pins
Paper/book pages
Raffia or ribbon
Glue stick and glue pen
Tear-out pages from any book or use paper of any kind. In this example, we cut off the jagged edges and used a glue stick to secure 4 pages for a total width of 6 x 12-inches. Be sure the printed margins line-up for a polished look.
Accordion fold each page.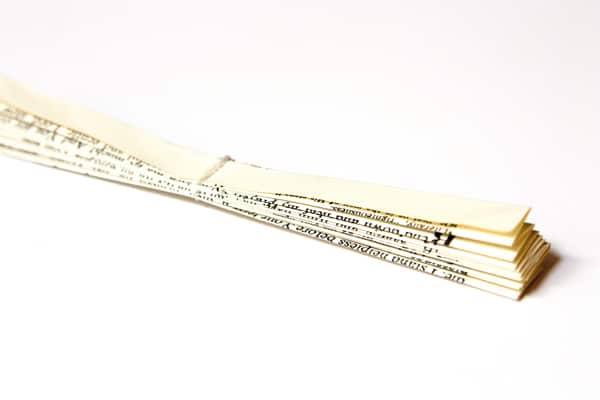 We used a small, clear rubber band to secure the center.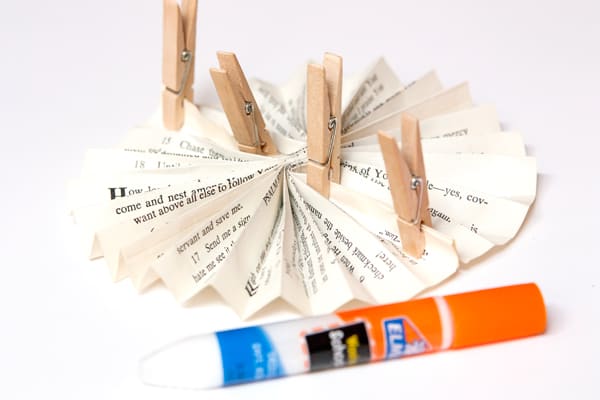 Gently pull and with a glue pen, glue each pages ends to one another. Secure the glued ends with mini clothespins and allow to dry. Be sure to leave at least ¼ inch unglued around the center for next step.
After the glue sets, string raffia or ribbon through the center holes as shown. Add more pinwheels to your garland leaving a couple of inches in between each; you can always adjust the space or distance at any time, so see what looks best to you!
Please keep in touch and subscribe to Muy Bueno and follow me on Twitter, Facebook, Instagram, Pinterest and subscribe to Muy Bueno on YouTube.
DIY: Thrifty Rehab / Photos by Abby Watkins & Yvette