What to Teach Your Children About Day of the Dead
This post may include affiliate links. As an Amazon Associate I earn from qualifying purchases.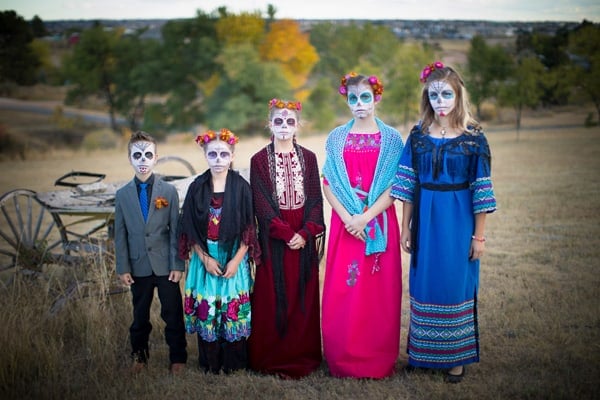 I'll never forget the first time my son saw my daughters face painted for Día de los Muertos (Day of the Dead). It was 2013 — you can read all about that celebration here: Dia de los Muertos (Day of the Dead) Altar Honoring Departed Loved Ones + Video
When he saw her, he freaked out (and not in a good way). He was only five years old. He has always been scared of clowns and I think when he saw her with a white face, he assumed she was a clown, and ran away hysterical.
I had talked to him about the holiday prior to that, but I realized I hadn't really sat down to explain it to him. We read books, cooked traditional dishes, but it wasn't until I showed him an animated short film about Dia de los Muertos with a little girl who visits the land of the dead that he really understood the true meaning of the Mexican holiday. After he watched that video his eyes lit up and he was eager to learn more. I recommend sharing that beautiful video with your children.
It's actually very easy to celebrate Día de los Muertos with your children. No, you do not have to be Mexican or Catholic to introduce this cultural tradition into your home. This celebration is especially beautiful if you've lost a loved one in your family since it can help children learn to celebrate that person's life and how they are loved and remembered.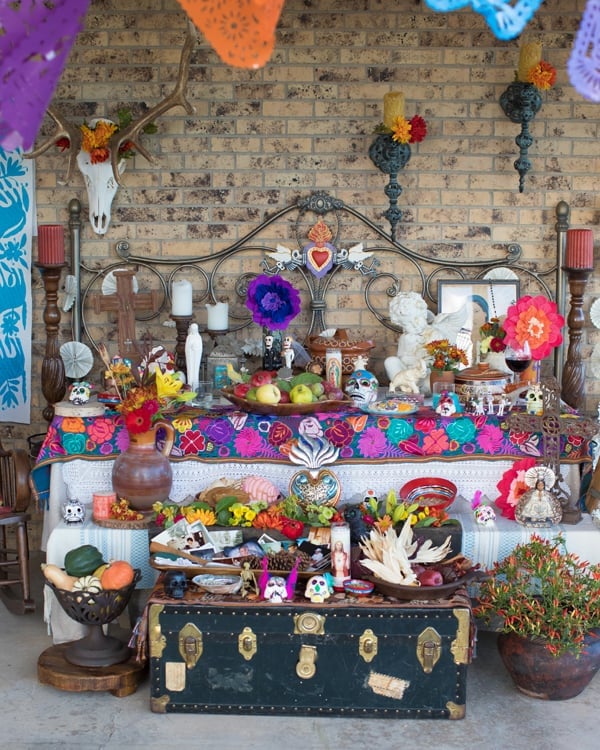 Every year we set up a home altar — Read this blog post to learn about Day of the Dead altar elements.
My son is now eight years old and loves Día de los Muertos. He loves to teach classmates, friends, and family what the holiday is all about. This year he wanted to narrate our Day of the Dead video below and I couldn't be more proud of him.

Let me introduce you to the children and mothers who made this video so special.
This is my handsome son Blake – the narrator of the video. When he first saw the edited video he cried. He was practicing reading his lines for a full week and was very nervous, but at the same time very excited. I think he did an incredible job narrating the video and I am beyond proud of him. This year he honored his great grama Anita, my paternal grandma. My grama Anita was an amazing cook. You could always find her in the kitchen cooking or in her backyard tending to her beautiful flowers and plants. My grama was always perfectly coiffed – hair and nails always flawless. She was such an elegant woman and her home was always so tidy. Just like my other grandma, she took great joy in feeding visitors. My husband loved visiting her – I think he enjoyed being spoiled and served. He loved her cooking, and so did I. My children only visited my grama Anita a handful of times, but Blake has a wonderful memory of her pulling out some old toy cars from a bedroom and letting him play with them; she was even bending over to show him how they worked. Blake was only four years old when she passed away. I am so happy he remembers who she was and has a very fond memory of her.
This is my smart and beautiful daughter Maya. This year she honored her big grandma, Jesusita. As you might know, my maternal grandma is the one who inspired this blog and our cookbook. She put her heart and soul into preparing meals for our family, and her recipes and hospitality were legendary. She passed away in 2004 when Maya was only one year old. I have a feeling Maya would have enjoyed sitting at her kitchen table as she cooked just like I used to when I was a little girl. I loved her homemade flour tortillas and empanadas and I know Maya would have loved them too. I have a feeling my grandma would have adored Maya's big heart, and is watching over her and feeling proud to be honored.
This is cute Danica, my cousin Brenda's daughter. I usually refer to her as my niece, because it feels odd to say she's my little cousin, since Brenda is like a sister to me. Danica honored her grandpa Wolfgang. As you can tell by the name he was a German man. Wolfgang loved anything and everything Mexican. He appreciated everything about his wife's culture. I remember as a little girl I always admired that about him. You would think he was Mexican – he could sing Spanish songs, had the best grito, could dance, and boy did he enjoy cerveza. He was the life of the party. I have a feeling he was watching our fiesta from the heavens with a very large smile on his face feeling very proud of his daughter and the beautiful children she is raising.
This is Zeta – my dear friend Karen's daughter. How about those gorgeous eyes right? This little girl has a heart of gold. She honored her great-grandpa Gabriel. Her grandma, Nadine and her siblings were very touched with the video. Zeta never met her great-grandpa, but through stories shared we all heard about how creative he was, about his amazing garden, and how important family was to him. He was known to help everyone – he was always there for anyone who needed help.
This is lovely Alycia, she is my daughters age and they look and act like sisters. Alycia honored her grandpa Frank. From the stories we heard he was a very kind and loving grandpa who always had a smile on his face. He passed away when Alycia was only three years old, so she did not have the opportunity to get to know him, but I have a feeling his stories will live on.
I hope you are inspired to celebrate the lives of your departed loved ones. Will you be introducing a joyful Day of the Dead celebration in your family? Trust me, everything is full of color, beauty, and magic.
Special thanks to everyone who assisted to make this day possible.
Video: Pure Cinematography / Photography:Abby Watkins / Children: Blake, Maya, Danica, Zeta, Alycia / Song: El Haru Kuroi / MUA: Jill Scott & Christina Acosta-Montoya / Hair Design: Karen & Brenda / Costume Design: Yvette & Karen / Set Design & Decor: Thrifty Rehab, Yvette, Karen / Falconer: Rylan Stone / Production Assistants Bill & George