Picadillo Zucchini Boats
This post may include affiliate links. As an Amazon Associate I earn from qualifying purchases.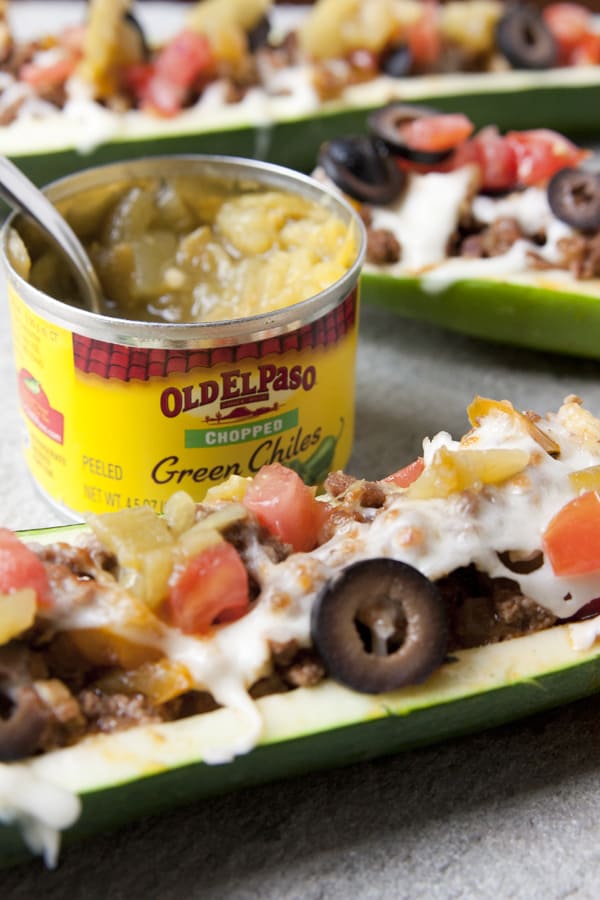 We didn't eat a lot of beef growing up, but when we did, it was usually ground beef, and to be honest I got sick of it. We ate it a lot because it was an affordable option. My grandma would make carne molida (ground beef) tacos at least once a week. She would send me to the store to buy potatoes, "para que rinda," which meant to make the dish go further. She would boil potatoes and then chop them up and mash them with the ground beef.
She made Tex-Mex style tacos by deep-frying corn tortillas until they were crispy and then filled them with picadillo (a mixture of ground beef and potatoes). Next we would garnish the tacos with lettuce, tomatoes, cheese, and salsa. Sound delicious, right? And they are, but for some reason as a kid I was tired of them.
I'll never forget one day I was not allowed to leave the kitchen table until I ate all of my three tacos. I remember sitting there for what seemed to be forever. Once my grandma left the kitchen I wrapped them up in a paper napkin and placed them deep down in the garbage can. Oh gosh, I was so nervous when she walked back in the kitchen, I was afraid to be caught. I'm pretty sure my grandma figured out what I did, but I guess she figured she had tortured me enough.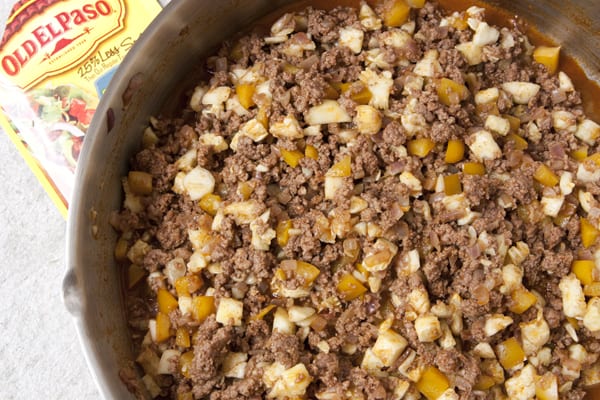 When I left El Paso I never purchased ground beef. I even preferred spaghetti without it and I was not a fan of dishes like meatloaf.
Once I moved to Colorado I had a change of heart. I met my hubby and he introduced me to ground buffalo and now it has become a staple in our kitchen. It's very economical, and at the same time healthy, and very flavorful.
Check out some recipes I often make with ground buffalo: chili, green chile cheeseburgers, Portobello mushrooms stuffed with picadillo, poblanos stuffed with picadillo, rolled taquitos (Chico's Tacos), and even meatloaf.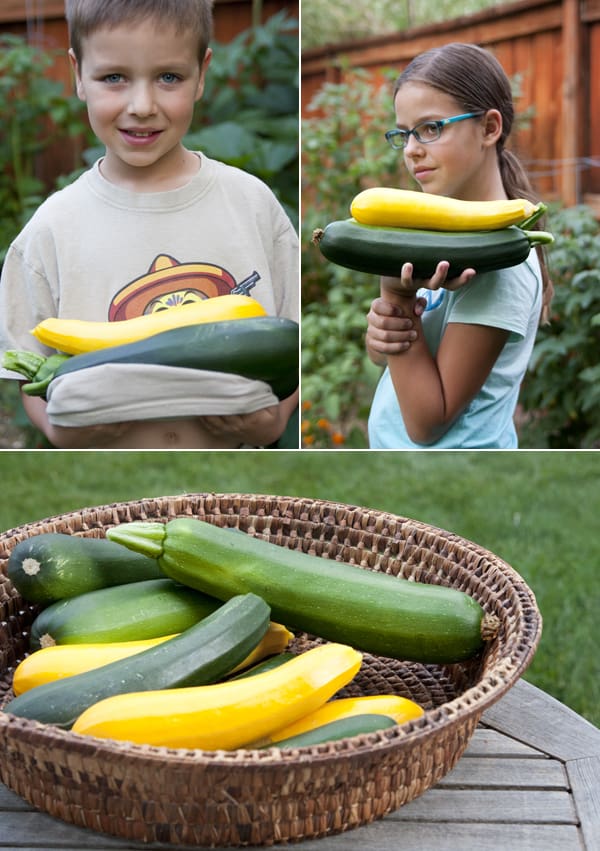 When I made these zucchini boats I was reminiscing about those tacos grandma used to make. It's funny how the dishes you might not have loved in your childhood become a special memory and a dish you crave as an adult.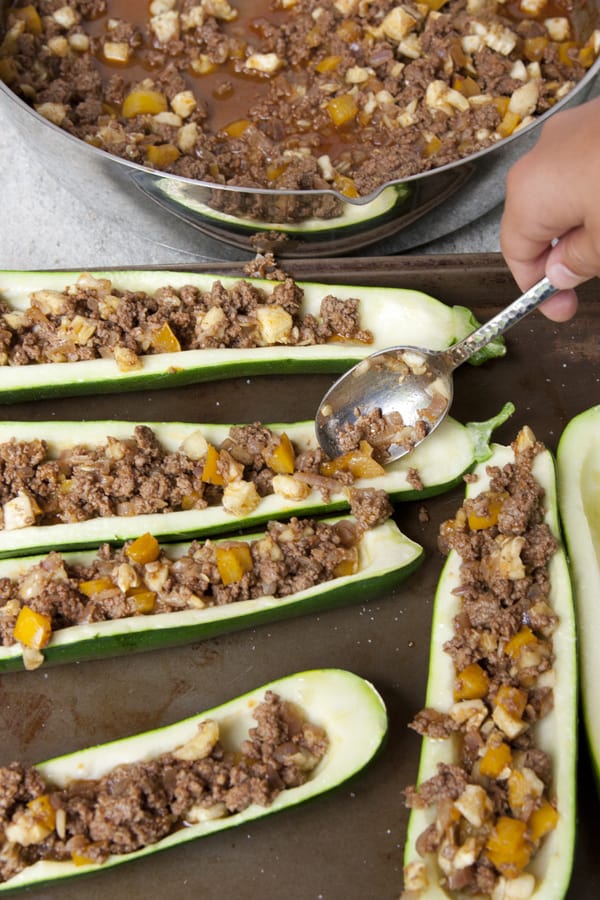 ­­
And since we have an abundance of zucchinis in our garden this recipe was a perfect idea. The zucchinis are cut lengthwise, hollowed out, and then roasted. They are then filled with a picadillo mixture made of ground buffalo cooked with zucchini and bell peppers, para que rinda and seasoned with Old El Paso Taco Seasoning Mix. If you do not have access to ground buffalo, you can substitute with organic ground beef or ground turkey.
Sprinkle with Oaxaca cheese and bake till cheese is melted and garnish with tomatoes and Old El Paso Green Chile. They reminded me of all the flavors of grandma's weekly picadillo tacos. It's a comforting dish without the carbs. Your family will love them. I know my family did.
Picadillo Zucchini Boats
Rock the boat with these Tex-Mex stuffed zucchini boats.
Ingredients
Picadillo:
1 tablespoon extra-virgin olive oil
1 small red onion, chopped
1 yellow bell pepper, cored and chopped
1 garlic clove, minced
1 pound ground buffalo, ground beef, or ground turkey
2/3 cup water
1 1 ounce packet Old El Paso Taco Seasoning
Toppings:
1 cup grated Oaxaca cheese
1 large tomato, chopped
1 2.25-ounce can sliced black olives
1 4.5-ounce can Old El Paso Chopped Green Chilies
Instructions
Zucchini boats:
Preheat the broiler. Scoop out the seeds from the zucchini, leaving a ¼-inch thick shell. Chop scooped out zucchini and set aside.

Brush the zucchini all over with olive oil and season with salt. Transfer to a baking sheet and broil until soft, about 2 minutes per side; set aside.
Picadillo:
In a large skillet heat oil over medium heat. Add onion, bell peppers, and garlic and cook for about 2 minutes until onion is translucent and peppers are tender.

Brown beef and drain. Stir in water and seasoning mix, bring to boiling. Add chopped zucchini and reduce heat; simmer uncovered 3 to 4 minutes, stirring often, until thickened.

Spoon picadillo into zucchini boats. Top with cheese and return to the broiler until cheese melts and golden brown, about 1 to 2 minutes.
Serve:
To serve, Top with tomatoes, black olives, and green chile.
Notes
If you do not have access to ground buffalo, you can substitute with organic ground beef or ground turkey. Ground chicken would probably also work. 
Calories: 586kcal, Carbohydrates: 14g, Protein: 37g, Fat: 43g, Saturated Fat: 22g, Cholesterol: 101mg, Sodium: 649mg, Potassium: 1036mg, Fiber: 3g, Sugar: 7g, Vitamin A: 731IU, Vitamin C: 96mg, Calcium: 88mg, Iron: 4mg
Disclosure: This post is in partnership with Old El Paso, but all my opinions are my own.