Rustic Fig Galette Topped with Chantilly Cream
This post may include affiliate links. As an Amazon Associate I earn from qualifying purchases.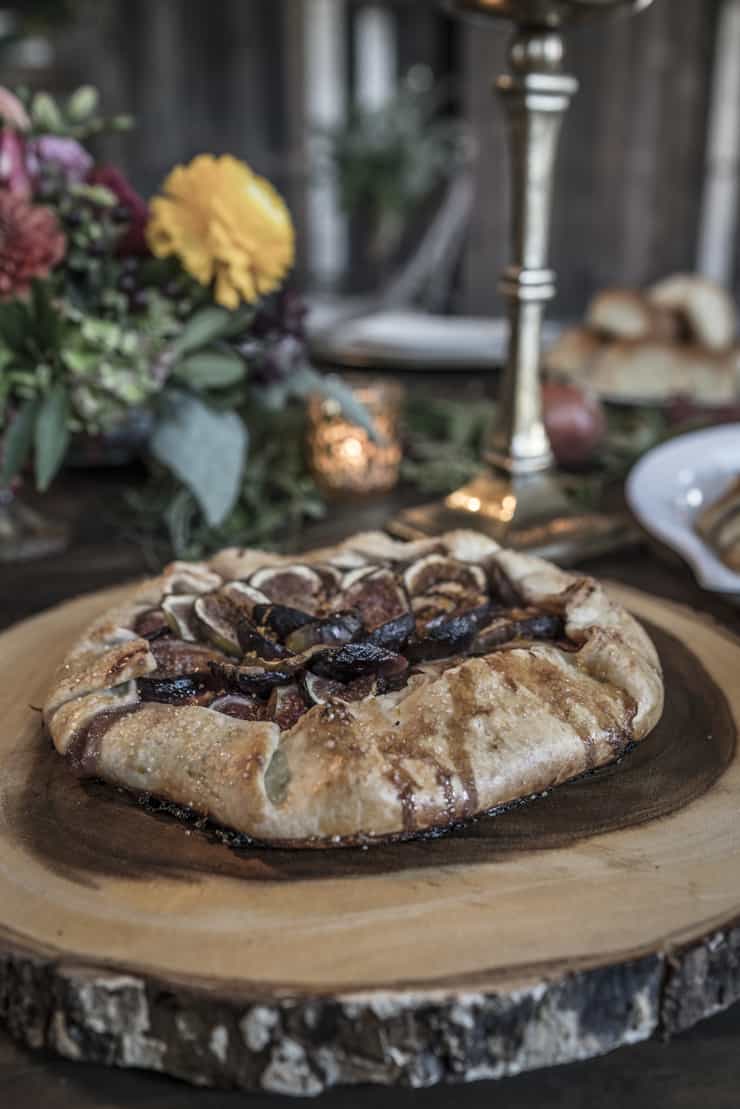 Woohoo Thanksgiving is almost here and I can't wait! I'll be hosting this year and I'm so excited. I always love an excuse to entertain, and hosting Thanksgiving is one I don't often get to do, so I am extra excited.
You might remember that I shared this fig-spiced turkey recipe, and today I want to share another fig inspired dish.
Are you wondering why I'm getting figgy with it? While on my trip to Austin with Honeysuckle White I met D.H. (yup, that's his name) and his lovely wife Karen. They are independent turkey farmers and raise turkeys for Honeysuckle White. Not only did I learn everything about turkeys, but I also got a lesson in love, family, and traditions.
But what does any of this have to do with figs you ask? While visiting their beautiful home and the turkey farms, D.H. walked me around their property. It was so peaceful and I felt like I had stepped back in time. I felt like I was on Little House on the Prairie. If you know me, you know that I love Little House, so I was in heaven. Acres and acres of beautiful land – so peaceful, so quiet. As we walked around the property I noticed a huge fig tree that stopped me in my tracks. D.H. told me that fig tree had been in their family for year and that it was over 200 years old. As soon as I saw that fig tree I knew it had a story to tell.
After our farm tour, me and two other bloggers, Amy and Tanya were asked to create a Thanksgiving meal the farmers would never forget. As you can imagine I was so inspired to dive into the kitchen and make something with figs to honor D.H. and his family. I'd love for you to watch this video and meet the farmers we met and hear their stories. With full plates and full hearts, we shared, laughed, and learned that for every delicious dish, there's always a meaningful story behind it.
https://youtu.be/VzRDYln-j1Y
D.H. and I talked a lot about turkeys, but we also talked a lot about family. D.H. and his brother, Tim started their turkey farming business together in early 2000 and he told me about their partnership, which I truly respected and admired. He told me working with family is like a marriage — it takes work. His brother is 11 years younger than he is, and he said because of their family business they are finally close. Once his brother finished college he moved overseas as a petroleum engineer and so they didn't really have the chance to have a close relationship, but they always reunited for Thanksgiving.
He said, "Mothers and grandmothers are the glue that bring everyone back together. The American family is losing that glue."
When he said those words I began to cry. Luckily, he didn't see me fighting the tears under my sunglasses. But those words really hit me. They are so true and it's sad.
How I wish we could spend every Thanksgiving with my immediate family, but nowadays it's so challenging when we all live so far away and have to split our time between families. Thankfully, I have cousins nearby who are like my sisters and I feel blessed to be hosting them this year.
Whether you spend Thanksgiving with family or friends make it beautifully memorable. This year lets all be thankful for the people who make us happy and lets all take the time to thank independent family farmers who put everything they have into raising turkeys with care.
Thank you D.H. and Karen for welcoming me into your beautiful home and thank you Honeysuckle White for hosting such an elegant and rustic honest meal I'll never forget.
Rustic Fig Galette Topped with Chantilly Cream
Sweet fresh bubbling figs meet their match with this simple homemade piecrust. A galette is a free-form tart and can be prepared ahead of time (up to several hours) and chilled until ready to bake. To make this rustic galette, the outer edge of dough is folded over the fruit and then loosely pleated. Add a bit of orange zest, ground cinnamon, sweeten with a drizzle of honey, and dust with raw sugar for a sweet sugary crust. If figs are not in season select other fall fruits such as sliced apples or pears.
Ingredients
PASTRY:
1 cup all-purpose flour
1/4 teaspoon salt
1 1/2 teaspoons sugar
1/3 cup all-vegetable shortening
3 to 5 tablespoons warm water
TOPPING:
¼ cup homemade or store bought fig or apricot preserves
1 1/2 pounds ripe figs, stemmed and sliced lengthwise
¼ cup evaporated milk
1 tablespoon orange zest
2 tablespoons honey
1/2 teaspoon ground cinnamon
1 tablespoon raw sugar
CHANTILLY CREAM:
1 cup heavy cream
1/2 tablespoon vanilla extract
1 tablespoon fine granulated sugar
Instructions
In a bowl, combine all the dry ingredients. Add the shortening and combine until you have the consistency of small crumbs.

Slowly drizzle water by the tablespoon until the dough holds together enough to form a ball. If too dry, add the remaining water, and combine until the dough comes together.

Place dough on a lightly floured parchment sheet, roll out the pastry to a 12 x 14-inch circle and transfer to a large rimmed baking sheet.

Preheat oven to 400 degrees F.

Spread preserves on the rolled out dough, leaving a 2-inch border along the edges.

Decoratively arrange the fig slices on top, again leaving a 2-inch border. Fold the pastry edge up and over the figs.

Brush evaporated milk onto crust.

Add orange zest and drizzle honey and sprinkle cinnamon over figs. Dust raw sugar over dough and figs.

Bake galette for 40 to 45 minutes, until the pastry is nicely browned and crisp, and all of the fruit is tender. Serve warm or at room temperature with a dollop of Chantilly cream.
CHANTILLY CREAM:
Put cream, vanilla, and sugar in the bowl of an electric mixer and beat until soft peaks begin to form. Cover and refrigerate until serving.
Notes
To make this vegan, use coconut condensed milk instead of evaporated milk, maple syrup instead of honey, and serve with coconut whipped cream.
This galette would be delicious with apricots if you cannot find fresh figs. 
Calories: 496.43kcal, Carbohydrates: 60.87g, Protein: 4.64g, Fat: 27.43g, Saturated Fat: 12.57g, Cholesterol: 57.44mg, Sodium: 130.7mg, Potassium: 358.35mg, Fiber: 4.2g, Sugar: 37.35g, Vitamin A: 769.62IU, Vitamin C: 5.32mg, Calcium: 99.27mg, Iron: 1.46mg
Recipe by Yvette / Photos by Honeysuckle White
This post is in partnership with Honeysuckle White Turkey. As always, thank you for reading and for supporting companies I partner with, which allows me to create more unique content and recipes for you. All opinions are always my own.