Summer Tajín Platter
This post may include affiliate links. As an Amazon Associate I earn from qualifying purchases.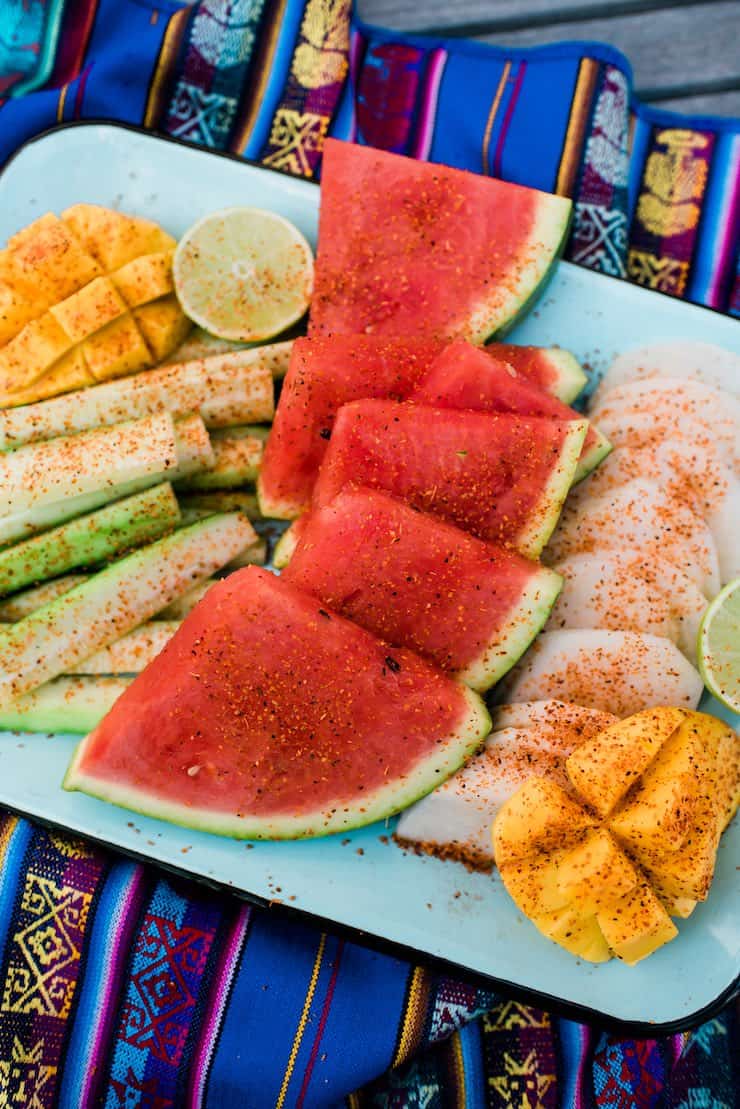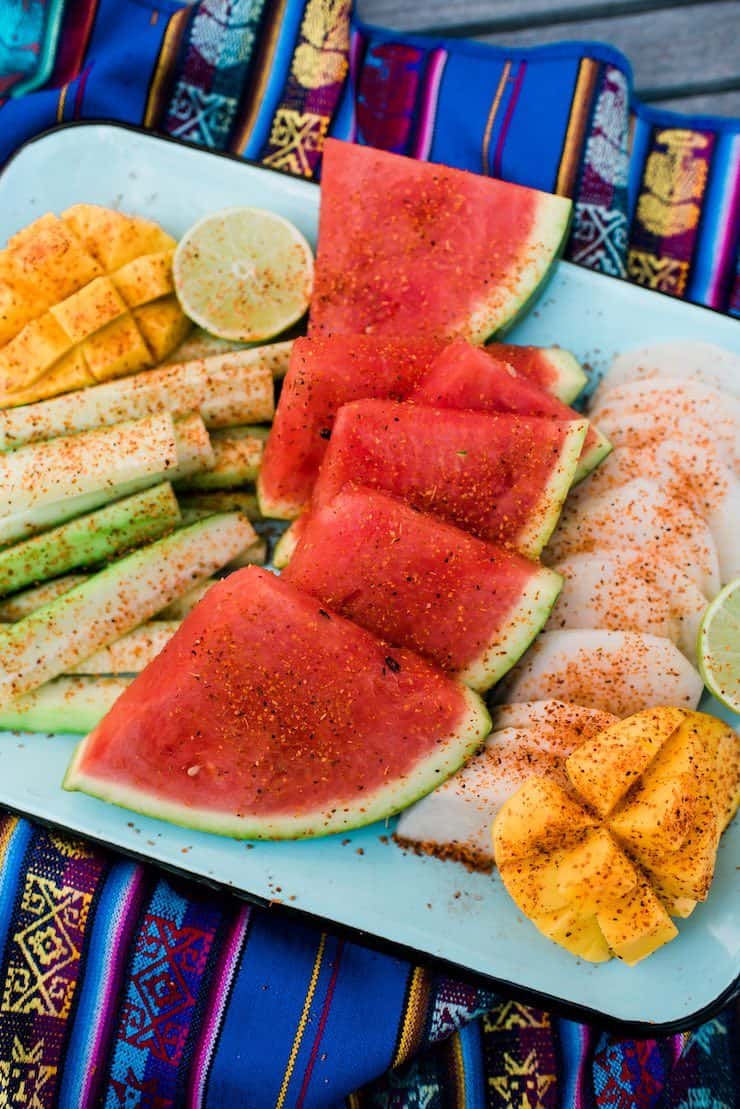 Oh, summer how I love thee! I love outdoor cookouts and all the lovely fruits of the season.
I am a huge fan of fruit sprinkled with Tajín, like this Mango, Jicama, and Cucumber Salad. I often serve it for summer gatherings and it is always a hit.
I wanted to share another option where you don't have to go through the process of chopping and mixing everything up. After all, it is hot outside, and the last thing you want to do is be chopping and cooking.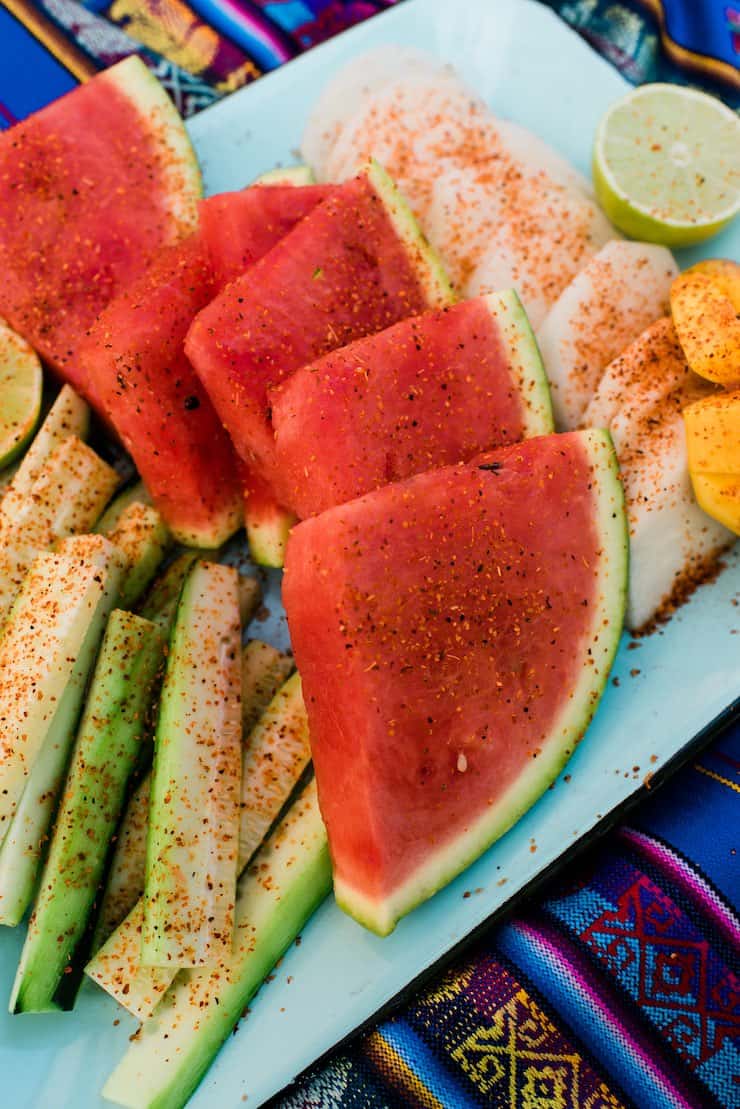 Instead, slice up watermelon, jicama, cucumber sticks, and mangos and arrange them on a platter. Easy peasy! Drizzle everything with fresh lime juice and sprinkle with Tajín. Let your guests enjoy this platter by letting them serve themselves their favorite fruit.
Guys, I'm serious, Tajín is truly the secret ingredient. Fruit sprinkled with Tajín always transports me to food vendors in Mexico.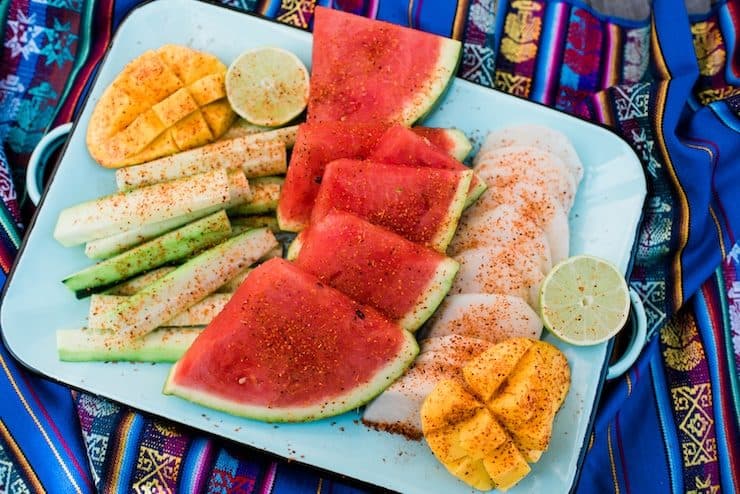 I recently read an article in the New York Times that was super interesting: Tajín Is a Lifestyle': An Appreciation of the Mexican Seasoning Mix. If you have never tried Tajín, I highly recommend you read all about the fascination.
What is Tajín made of?
What I love most about Tajín is that it does not contain any artificial flavors, artificial colors, sugar, or difficult-to-pronounce ingredients. It is a simple seasoning made of mild chili peppers, sea salt, and lime.
Types of Tajín
Their most popular product is Tajín Clásico. For anyone concerned about sodium there is a low-sodium product called Tajín Clásico Low Sodium. And if you like spicy, there is Tajín Habanero for a bolder kick. Either of these products will make your mouth pucker with a zesty and savory citrus taste, then it ends with a mild heat.
More Recipes with a sprinkle of Tajín: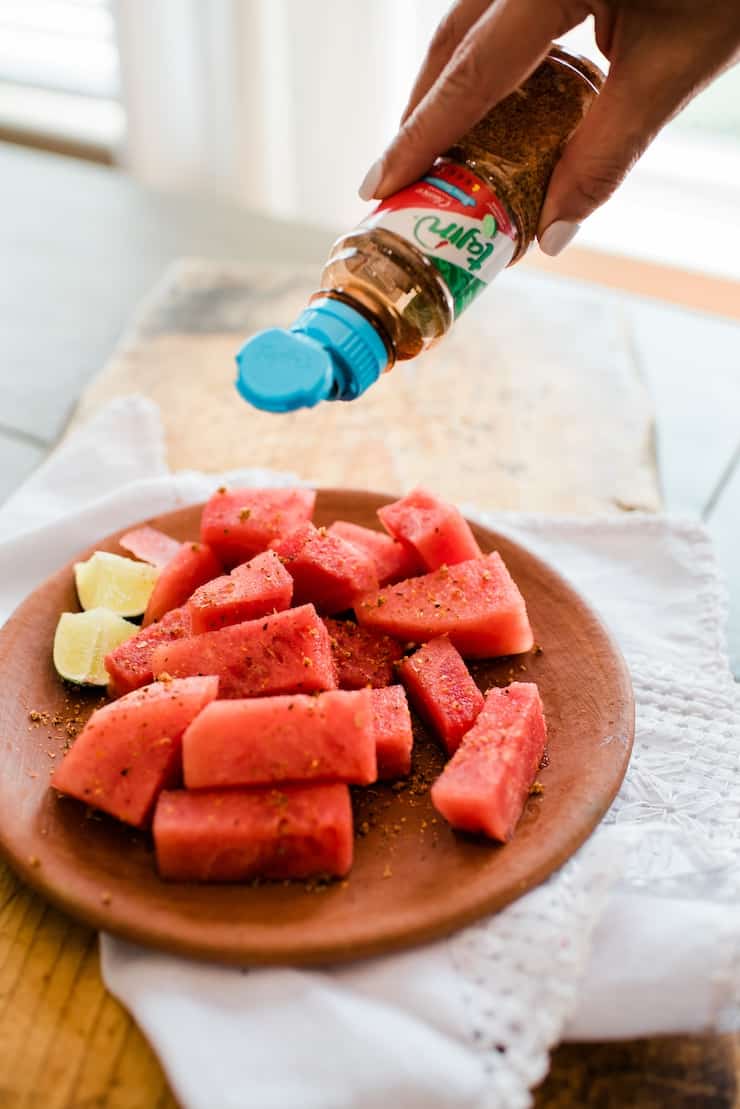 Summer Tajín Platter
Watermelon, jicama, cucumber, and mango drizzled with lime juice and sprinkled with Tajín will make your mouth pucker with a zesty and savory citrus taste, and ends with a mild heat.
Ingredients
1 to 2 mangos, peeled and cut
Jicama, peeled and sliced
English cucumber, peeled, seeded, and cut into thick sticks
Watermelon, sliced
Fresh lime juice
Instructions
On a platter, arrange mango, jicama, cucumbers, and watermelon.

Drizzle with fresh lime juice and sprinkle with Tajín and serve.

Notes
The nutrition values are for 1/3 cup of each fruit/veg per person.
Calories: 63kcal, Carbohydrates: 15g, Protein: 1g, Fat: 1g, Saturated Fat: 1g, Sodium: 3mg, Potassium: 239mg, Fiber: 3g, Sugar: 11g, Vitamin A: 795IU, Vitamin C: 30mg, Iron: 1mg
Photography by Jenna Sparks