Sweet, Savory, and Spicy Empanadas
This post may include affiliate links. As an Amazon Associate I earn from qualifying purchases.
Empanadas, also known as hand pies, are tiny pockets made of dough, baked or fried, and stuffed with a delicious filling. These tasty Latin-American-style turnovers originated in Spain back in the 1500's but can now be found enjoyed all over the world, from Indonesia to Italy to the U.S., with each region putting their own spin on the recipe.
I prefer my empanadas baked, but I do like molotes fried (see recipes below). I take full advantage of their versatility when it comes to what goes inside the dough. I have made empanadas with sweet fruit preserves, savory roasted green chiles, and spicy chorizo. Empanadas are even great as leftovers as they can be conveniently and individually wrapped and frozen for months.
Feeling inspired to make one of these tiny irresistible treats? Keep reading on for a list of some of my favorite empanada recipes – there's one for every occasion. So if you're looking for big flavor without the fuss then look no further. One tip though…better make plenty, as your empanadas will disappear fast.
Guava Empanadas
Sweet but not too sweet these exotic wonton-shaped empanadas are filled with delicious homemade guava preserves and are perfect to serve at a party.
Empanadas de Membrillo (Quince Empanadas)
Encased in a lightly sweet and flaky dough the homemade floral quince jam makes a lovely deep orange filling for these mouth-watering hand pies.
Apple Empanadas
A great alternative to the traditional apple pie these flaky pastry empanadas are baked and filled with tart warm green apples finished off with a coating of sugar and cinnamon that lends an irresistible crunch to the crust.
Hatch Green Chile and Cheese Empanadas
Featuring roasted green chiles and Oaxaca cheese these tender and savory empanadas in a flaky beer-dough pastry are perfect for breakfast, lunch, or dinner.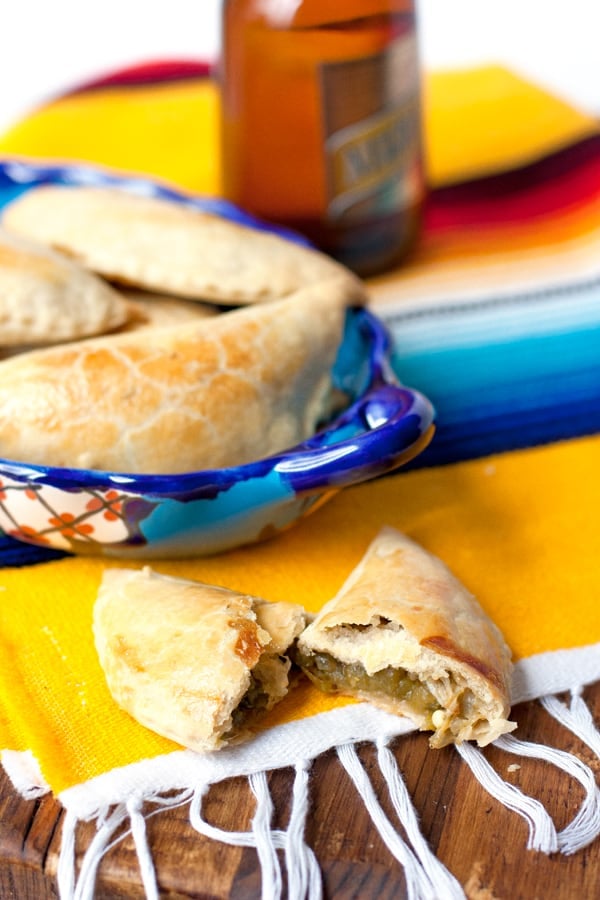 Pineapple Empanadas
Individually portioned, mess free, and easy to pack, these heavenly pineapple filled empanadas are just bursting with flavor.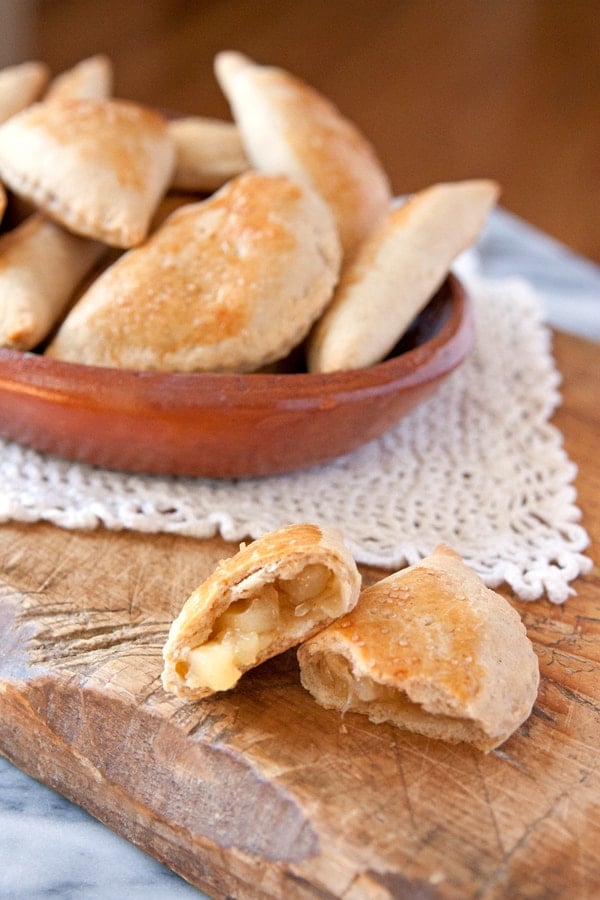 Persimmon Empanadas
These empanadas filled with a cinnamon persimmon purée taste like an explosion of fall and winter holiday flavors all in one delicious bite.
Chorizo and Black Bean Empanadas with Grilled Corn Salsa
Enjoyed as an appetizer or an after school snack these slightly spicy turnovers, packed with traditional and authentic flavors of Mexico, are filled with a mixture of chorizo, refried black beans, and colorful bell peppers and topped with gooey Oaxaca cheese.
Huckleberry Empanadas
Tasting very similar to blueberries, these snack size pillows of pastry filled with huckleberry are bursting with tart yet sweet flavors and are perfect for a chilly fall night.
Arrachera (Flank Steak) and Mushroom Empanadas
These easy to make, hearty hand pies feature flavorful arrachera, thinly cut flank steak rubbed with a bright blend of lemon, lime, oregano, rosemary, and thyme.

Heart-Shaped Strawberry Empanadas
Perfect for the upcoming holiday, these heart-shaped treats for your valentine are stuffed with a sweet but not overly sweet strawberry preserve making them delicious and comforting for that special someone.
Sweet Tomato Turnovers (Empanadas)
Surprisingly delicious and packed with a tangy yet sweet flavor these empanadas are made with homemade sweet tomato preserves that are unexpectedly perfect served as a dessert.
Empanadas de Durazno (Peach Hand Pies) A La Mode
These light and sweet empanadas taste like winter with a hint of summer and remind me of a bite-size peach pie or peach cobbler. Best served with a scoop of vanilla ice cream.
Pumpkin Empanadas
Super simple to make these totally addicting pastry treats are filled with the freshest spices and are perfect with a cup of Mexican coffee before breakfast or after dinner.
Molotes (Masa Empanadas)
Molotes filled with Mushrooms, Roasted Green Chiles, and Cheese
A dough made of masa harina (corn flour) and baked as a healthier alternative to the traditional, these savory pockets of dough are filled with an earthy and spicy mixture of sautéed mushrooms, roasted green chiles, and Oaxaca cheese fantastically finished with a drizzle of crema Mexicana or red chile sauce.
Chicken Tinga Molotes
These Oaxacan masa empanadas are filled with shredded chicken in a tomato and chili chipotle sauce. The dough is made from corn masa and lightly fried in oil. In some areas molotes are rolled into cigar-shapes or ovals, these are half-moons similar to empanadas.
Cochinita Pibil Veal Molotes
Molotes filled with tender flavorful veal combined with pickled red onions.