Tomatillo Avocado Salsa (Salsa de Tomatillo y Aguacate) + Video
This post may include affiliate links. As an Amazon Associate I earn from qualifying purchases.
This delicious homemade avocado salsa, also known as Salsa de Guacamole or Guacamole Salsa, is a triumph. The creaminess of the avocados combined with tangy and roasted tomatillos, and the pop of spice from jalapeños and serranos make this salsa irresistible.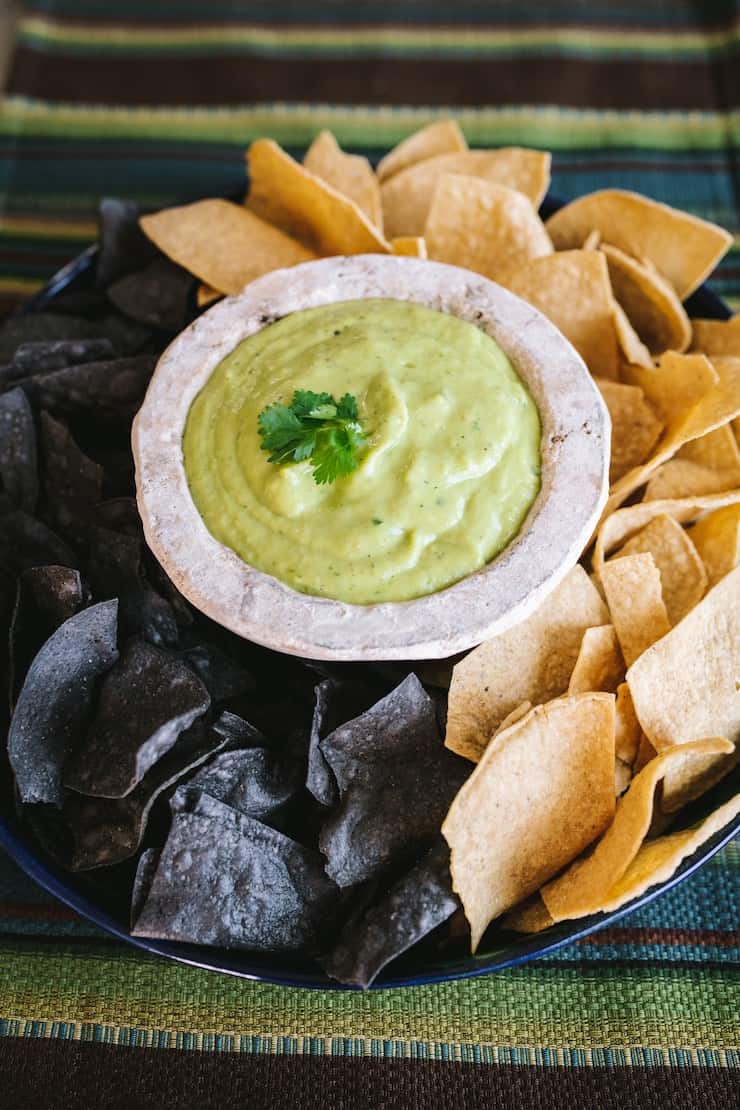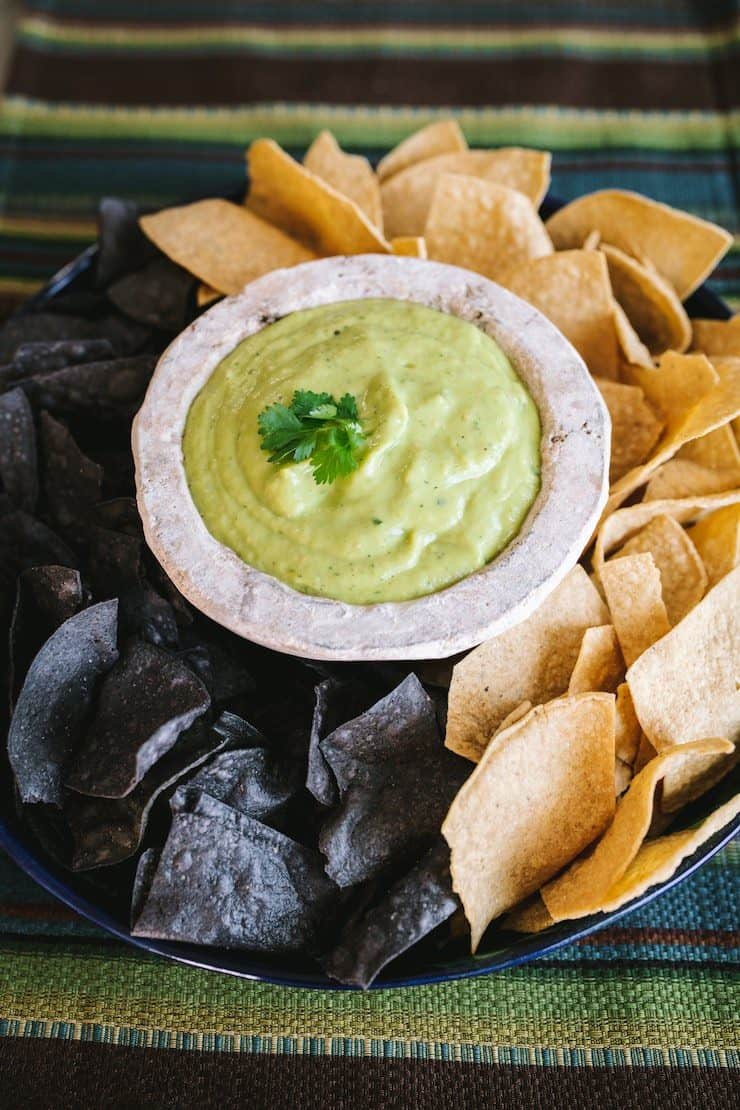 A warning—this Tomatillo Avocado Salsa can be addictive! I first tasted guacamole salsa in my 20's in Ixtapa, Mexico, and I just had to figure out how to make it myself at home.
Fortunately, it is actually a very simple homemade salsa. It tastes great with tortilla chips or as a topping on brisket flautas, tacos de carnitas, or sopes.
This homemade salsa recipe was originally published in the Muy Bueno cookbook and now I'm sharing it here on the blog. Exciting, right?
I often make avocado tomatillo salsa instead of guacamole. Not only does it save money (avocados can be expensive!), but it also has a wonderful tanginess from the tomatillos that my tastebuds crave. I also love the pourable consistency, making it bridge the gap between guacamole and salsa.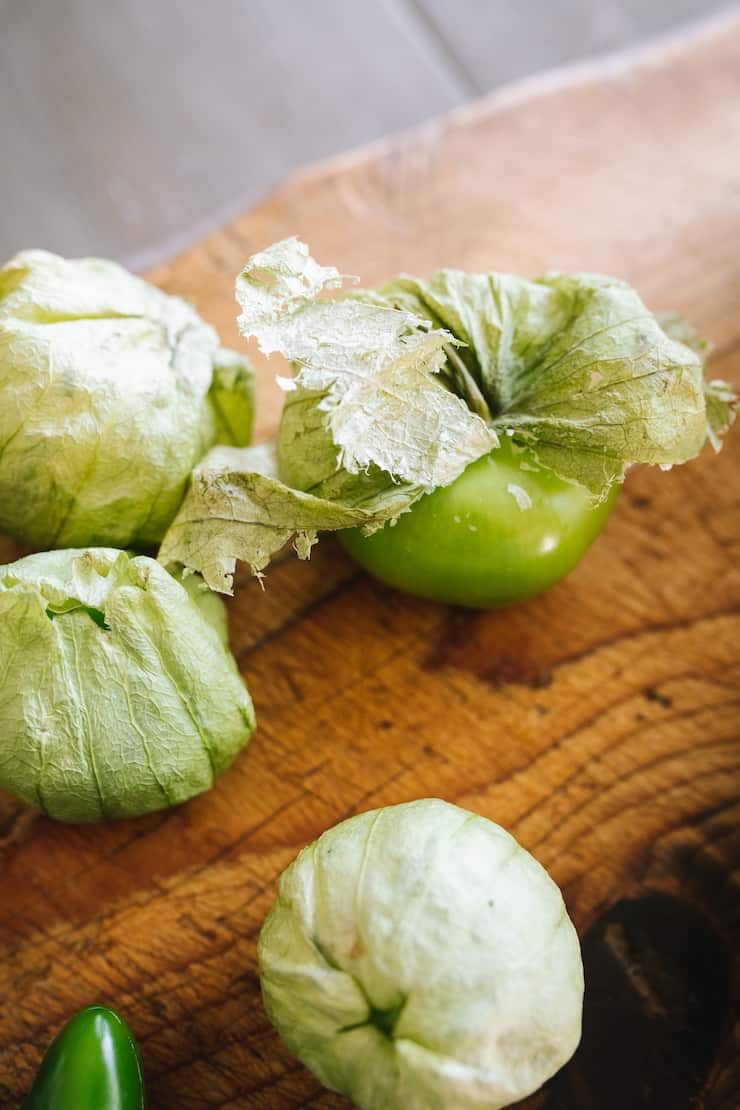 When should I make Guacamole Salsa?
Salsa de guacamole is great to make when tomatillos are in peak season from early Summer through late Fall. Tomatillo avocado salsa is so flavorful, so addicting, and so delicious that you'll want to make it every week.
It is great as a dip or as a topping and it stretches your avocados a long way. All that is needed is three avocados and about eight tomatillos to make four delicious cups of salsa. And the best part? Because of all of the acidity in the tomatillos, this salsa won't brown and oxidize like traditional guacamole so you can make it ahead!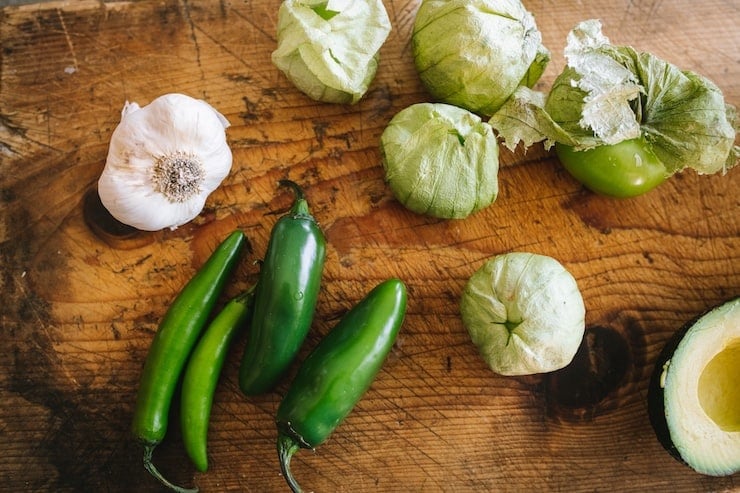 TIP: Fresh tomatillos, also known as husk tomatoes, have an outer husk that you need to remove before using. The surface of the tomatillo will feel sticky after you remove it, but all you need to do is rinse it clean. EASY!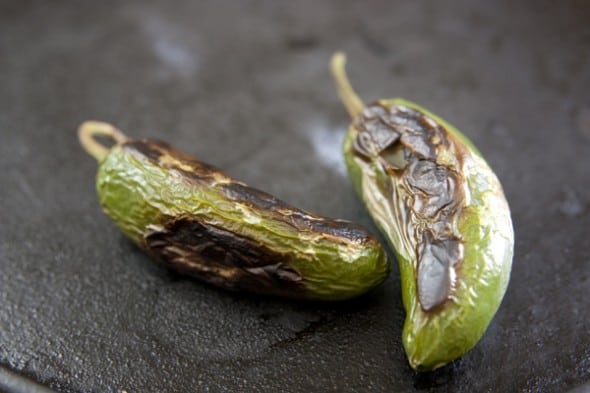 How to make this easy guacamole salsa
Creamy avocado salsa starts with roasting tomatillos, garlic cloves, serrano peppers, and jalapeños together on a grill, in the broiler, or on the stovetop on a comal (cast iron griddle). Once roasted, puree with a handful of cilantro, salt, ripe avocados, and water.
TIP: Roasted pepper skins should be removed prior to blending. While they are still hot after roasting, put them in a covered bowl or plastic bag to steam. The skins should now slide off easily.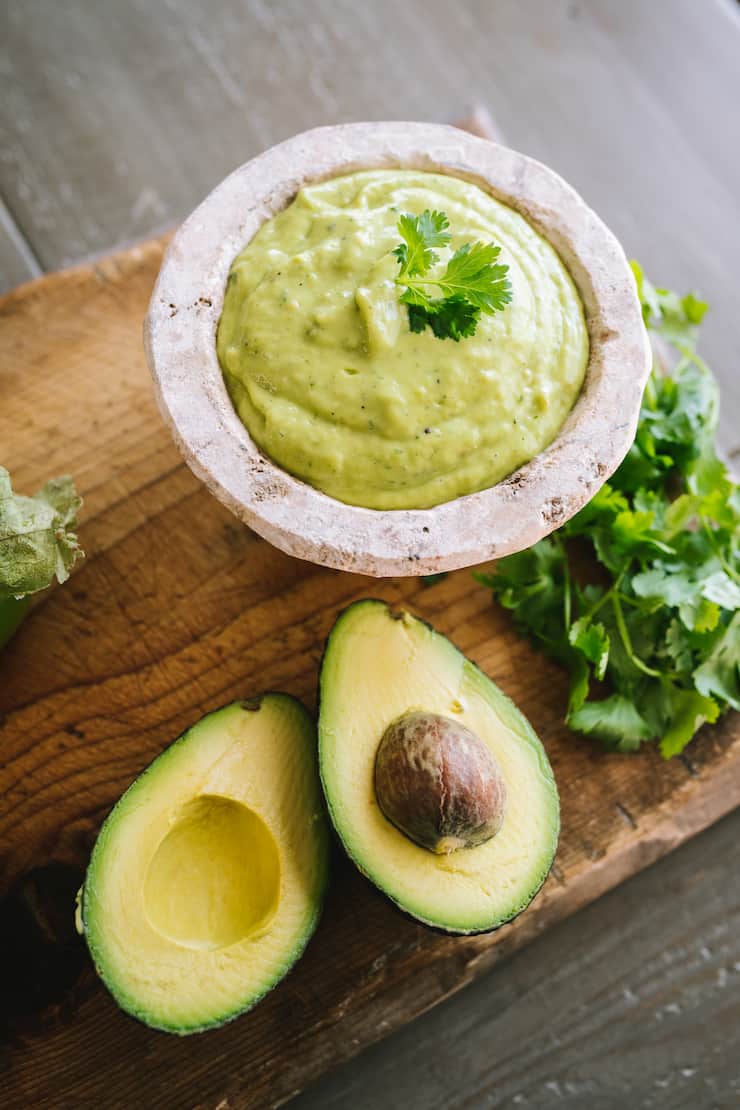 TIP: If you don't love spicy foods, but still love salsa, you're in luck. Roasting the peppers will make them less spicy, but still have some bite (about a medium salsa heat). Looking for a mild salsa? Simply remove the seeds and ribs from the peppers after roasting.
How to store this tomatillo avocado salsa
The acidity of the tomatillos preserves the avocados and keeps this guacamole salsa fresh for up to one week in the refrigerator. It tastes best at room temperature, though, so give it a few minutes to warm up if you have any leftover. That said, I'll be shocked if you can resist eating the whole batch in one sitting!
Watch the video below to see step-by-step instructions on how to make this beautiful green salsa.
Love to eat salsa? You may also like these recipes!
If you loved this recipe and are eager for more delicious Mexican recipes, be sure to follow me on Pinterest, Facebook and Instagram!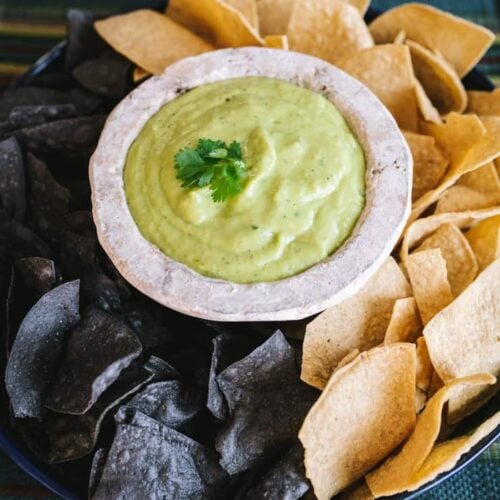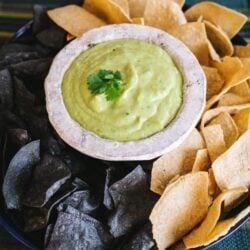 Tomatillo Avocado Salsa (Salsa de Tomatillo y Aguacate)
This Tomatillo Avocado Salsa is often called Salsa de Tomatillo y Aguacate, Avocado Green Salsa, Salsa Verde con Aguacate, Salsa de Guacamole, or Guacamole Salsa. The creaminess of the avocados combined with tangy and roasted tomatillos, and the pop of spice from jalapeños and serranos make this salsa irresistible.
Ingredients
8 tomatillos, husks removed, rinsed
1 Serrano peppers, stemmed - or up to 2
2 jalapeño peppers, stemmed
1 unpeeled clove garlic
3 large avocados, pitted and peeled
1 handful cilantro
1-2 cups water
1 teaspoon salt
Instructions
Preheat oven to broil. Roast the tomatillos, serrano peppers, jalapeño peppers, and garlic on a foil-lined baking sheet until blackened all over, about 5 minutes. Flip them over and roast the other sides for an additional 4 to 5 minutes. Watch carefully to prevent the tomatillos from burning.

Place roasted peppers in a plastic bag, close the bag and allow the peppers to steam until the skins loosen, about 10 minutes.

While the peppers are cooling off, peel off skin from garlic and discard. After the peppers have steamed, peel skin off and discard.

Place in a blender the cooled tomatillos, roasted and peeled peppers, roasted garlic, avocados, cilantro, add water slowly and blend until desired consistency. Season with salt.
Notes
I especially love this salsa when freshly made and served at room temperature. If you make it ahead of time, just allow some time to bring it to room temperature from the refrigerator.
This salsa will keep for up to one week in the refrigerator.
This recipe yields a medium heat salsa. If you prefer mild salsa, simply remove the ribs and seeds of the peppers before pureeing.
Serving: 1cup, Calories: 267kcal, Carbohydrates: 18g, Protein: 4g, Fat: 23g, Saturated Fat: 3g, Sodium: 600mg, Potassium: 931mg, Fiber: 12g, Sugar: 4g, Vitamin A: 421IU, Vitamin C: 32mg, Calcium: 27mg, Iron: 1mg
Photography by Jenna Sparks
This Tomatillo Avocado Salsa recipe was originally published October 2019 and published in the Muy Bueno cookbook. I have added a video, rewritten, updated photos, and republished it to share frequently asked questions.