Crispy Potato Tacos + Video
This post may include affiliate links. As an Amazon Associate I earn from qualifying purchases.
Crispy potato tacos are also known as "Tacos Dorados de Papa" or "Tacos de Papa" in Spanish. If you're looking for a vegetarian taco idea, try these crispy tacos stuffed with a flavorful and cheesy mashed potato mixture. This taco recipe needs to be on your rotating list of easy, cheap dinner ideas!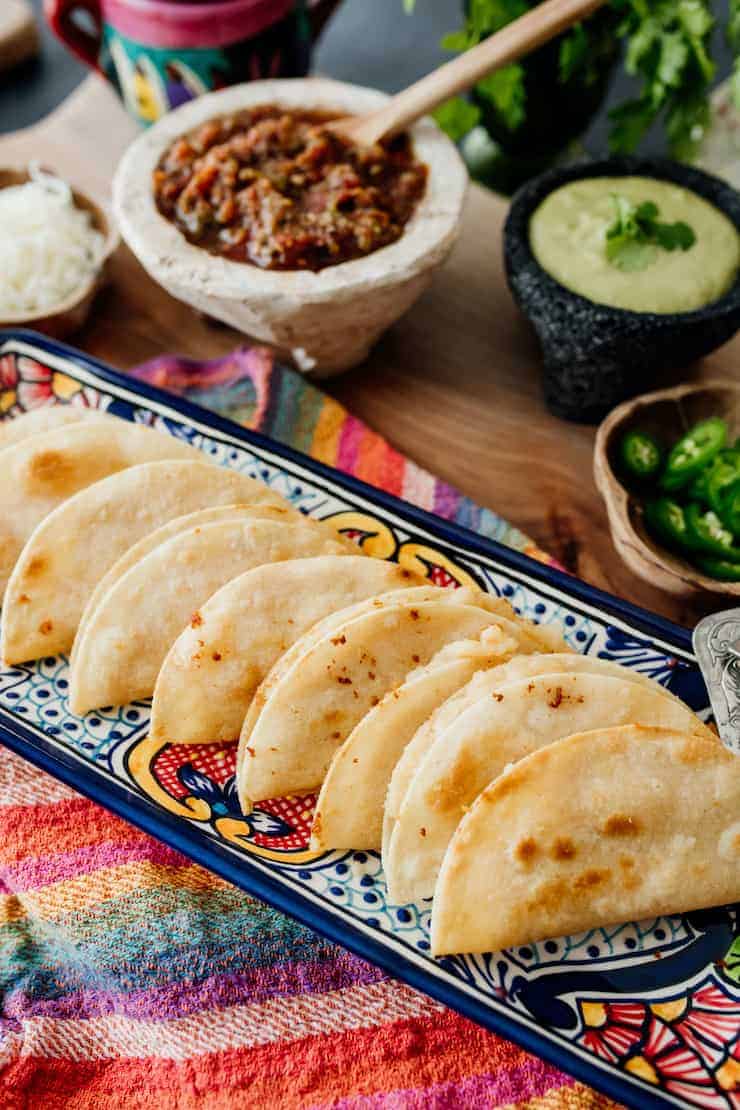 A cheap and easy dinner recipe
These potato tacos are great for feeding your family on a budget. All you need are russet potatoes that are mashed with rich butter, garlic (optional), smoky paprika, Mexican cheese, salt, and tortillas. You can find all the affordable ingredients at all family of Kroger stores.
The filling is ready in about 20 minutes. Frying the tortillas only takes a couple minutes per batch, making this a quick recipe for your busy weeknights.
How to make crispy vegetarian potato tacos
This taco recipe is so simple and really only requires four steps.
First, make mashed potatoes.
Second, spread mixture onto half of the softened tortilla and fold over to seal.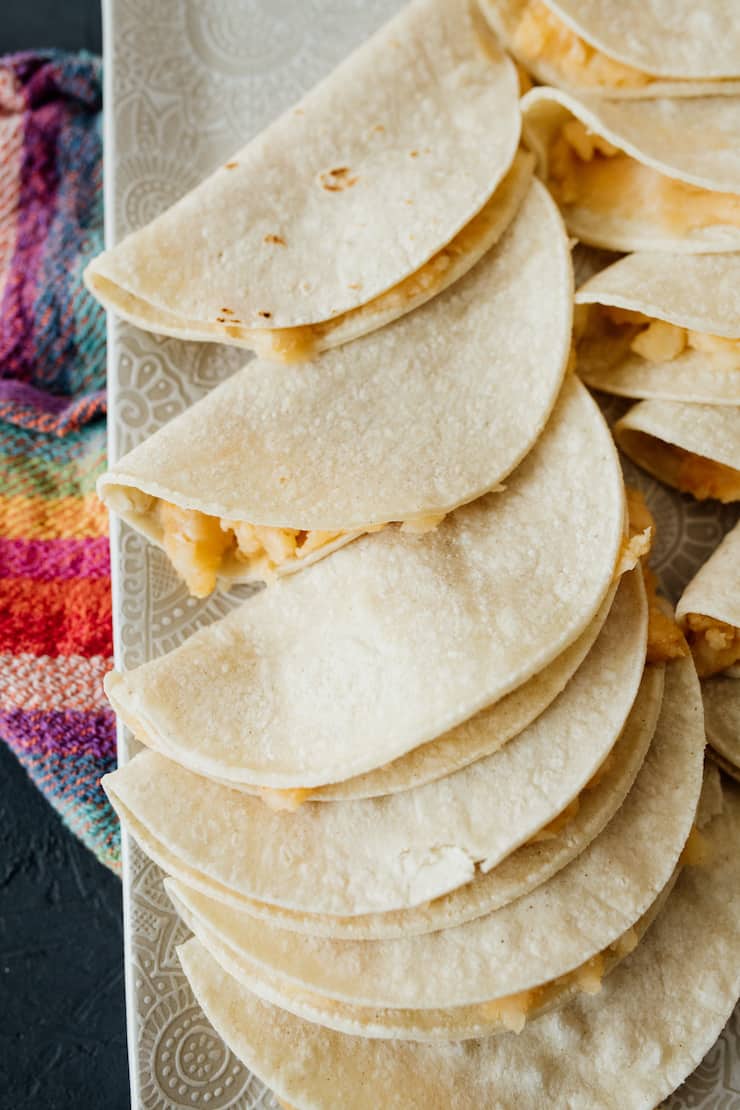 Third, pan fry tacos until golden and crispy. Serve tacos and top them with anything your heart desires.
What is a taco?
From its beginnings in Mexico to its migration into the United States, the taco has a rich and storied history. No one can deny its spot as one of America's all-time-favorite foods.
Tacos are a traditional Mexican hand-held food formed using a tortilla filled with any number of a variety of items. It is a versatile dish that has expanded in the American melting pot, with fusion tacos for nearly every conceivable cuisine. There are almost as many taco ideas out there as people!
Tacos have their own holiday on October 4 during National Hispanic Heritage Month. If you want to try out a new taco idea, these cheesy potato tacos are sure to delight the whole family.
When to enjoy vegetarian tacos
These potato tacos are traditionally eaten for dinner during the Lenten season when Catholic families abstain from eating meat. That said, we love them all year round at our house! They are comfort food to the max! Who doesn't love carbs on carbs?
These vegetarian tacos are also a great way to recognize Hispanic Heritage Month, and as a double bonus, for celebrating National Taco Day on October 4th!
If you use Taco Tuesday as part of your weekly meal planning template, these vegetarian tacos are a great way to mix things up. They are also a great rent week meal when your budget is tight. You can feed your whole family for about $5!
Make ahead
These potato tacos can be prepared ahead of time and reheated in the oven.
You can make the mashed potatoes ahead and refrigerated a couple days before assembling and frying tacos.
Customizable taco ideas:
Healthy potato tacos. Bake tacos instead of frying. Lightly brush tortillas with olive oil before assembling. Bake at 400 degrees F for 10 mins, or until the tacos are crispy.
Vegan potato tacos. Substitute vegan butter and cheese.
Breakfast tacos. These would be amazing for breakfast! For added protein, add some scrambled eggs, smoked salmon, or black beans.
Sweet potato tacos. You can replace russet potatoes for sweet potatoes.
Change up the veggies. Garnish with shredded cabbage or pico de gallo for added crunch and veggies.
Make them spicy. Add roasted green chile, such as poblanos to the mashed potato mixture for delicious potatoes and green chile tacos.
Add meat. For a smoky and decadent addition, add crispy chopped bacon, leftover shredded chicken, or cooked spicy chorizo to the mashed potatoes.
Make them extra cheesy. Add extra cheese or another favorite cheese. You can't go wrong!
Watch this video to see how simply this meal comes together.

How to serve
These tacos are lightly fried to create the perfect crispy crunchy on the outside and a flavorful creamy and cheesy interior. Stuff them with shredded iceberg lettuce, cheese, and salsa of choice for a decadent meat free dinner.
I usually serve them with salsa casera and guacamole salsa. Feel free to garnish with toppings of your choice. Avocado, sour cream or even queso could be served to make these rich potato tacos even more decadent.
More homemade vegetarian taco recipes
Not all tacos are carnivore dominant! There are a variety of taco ideas that please vegetarian taste buds. Apart from tacos de papa, you will find tacos de migas stuffed with eggs and crunchy tortilla chips, tacos de nopales, or fried avocado tacos. Below are vegetarian Mexican recipes even meat eaters will love.
Other Vegetarian Meal Ideas
Have you ever had potato tacos? If you answered no, follow me for more traditional Mexican recipe ideas!
If you made this recipe and love it, please be sure to rate it below!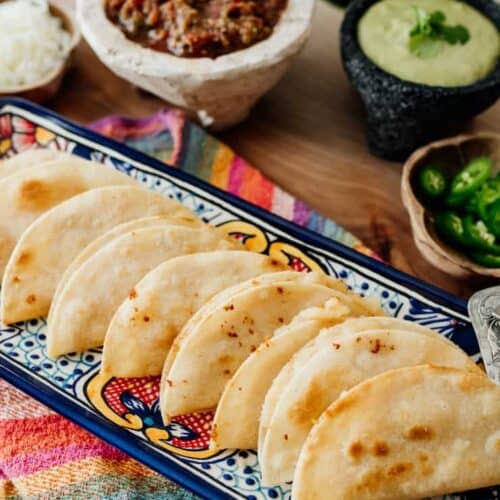 Crispy Potato Tacos
Crispy potato tacos are also known as "Tacos Dorados de Papa" or "Tacos de Papa" in Spanish. If you're looking for a vegetarian taco recipe, try these crispy tacos stuffed with a flavorful and cheesy mashed potato mixture.
Ingredients
Crispy Potato Tacos
4 Russet potatoes, peeled and chopped
2 tablespoons salt, divided
4 tablespoons butter, unsalted
2 garlic cloves, minced (optional)
1 teaspoon paprika powder
1 cup queso Oaxaca, shredded
1 cup canola oil, for frying tacos
20 corn tortillas
Toppings
Shredded cheese
Shredded iceberg
Salsa of your choice 
Instructions
Place the potatoes and 1 tablespoon of salt in a large pot of water and boil over high heat. Lower the heat to medium and continue to boil until potatoes are soft when pierced with a fork, about 15 to 20 minutes.

Strain potatoes and put them back into the pot. Add butter, 1 tablespoon salt, garlic, if using, and paprika. Using a potato masher, mash the potatoes. Mix well until all the ingredients are well combined and potatoes have a whipped consistency. Sprinkle in cheese and combine. Taste and add salt if needed. 

Heat corn tortillas until soft and pliable or on a hot griddle to prevent cracking. Lay tortilla flat and fill half with about 1 tablespoon of the mashed potatoes. Fold in half. Continue until all the tortillas have been filled.

Meanwhile heat the canola oil in a frying pan until very hot. Test oil by dipping an edge of the tortilla in the oil, if it sizzles it's ready for the tacos.

Using tongs, carefully place about 3 to 4 tacos into the hot oil. If available, cover with a splatter screen to avoid the hot oil from splattering. Fry for about 2 minutes, just until tortilla looks crunchy, turn over and fry the other side.

Remove tacos from the oil and place on a paper-towel lined plate to drain. Continue to fry the rest of the tacos. 

Serve tacos with toppings of your choice, such as shredded iceberg lettuce, cheese, and salsa of choice.
Notes
Mashed potatoes can be made ahead and refrigerated and tacos assembled and fried.
Do not overfill the filling.
Use your cheese of choice.
Nutrition does not include toppings and garnishes.
Calories: 228kcal, Carbohydrates: 20g, Protein: 4g, Fat: 16g, Saturated Fat: 3g, Cholesterol: 10mg, Sodium: 777mg, Potassium: 236mg, Fiber: 2g, Sugar: 1g, Vitamin A: 168IU, Vitamin C: 3mg, Calcium: 62mg, Iron: 1mg
Photography by Jenna Sparks
This post is in partnership with Kroger. As always, thank you for reading and for supporting companies I partner with, which allows me to create more unique content and recipes for you. All opinions are always my own.