Avocado Toast
This post may include affiliate links. As an Amazon Associate I earn from qualifying purchases.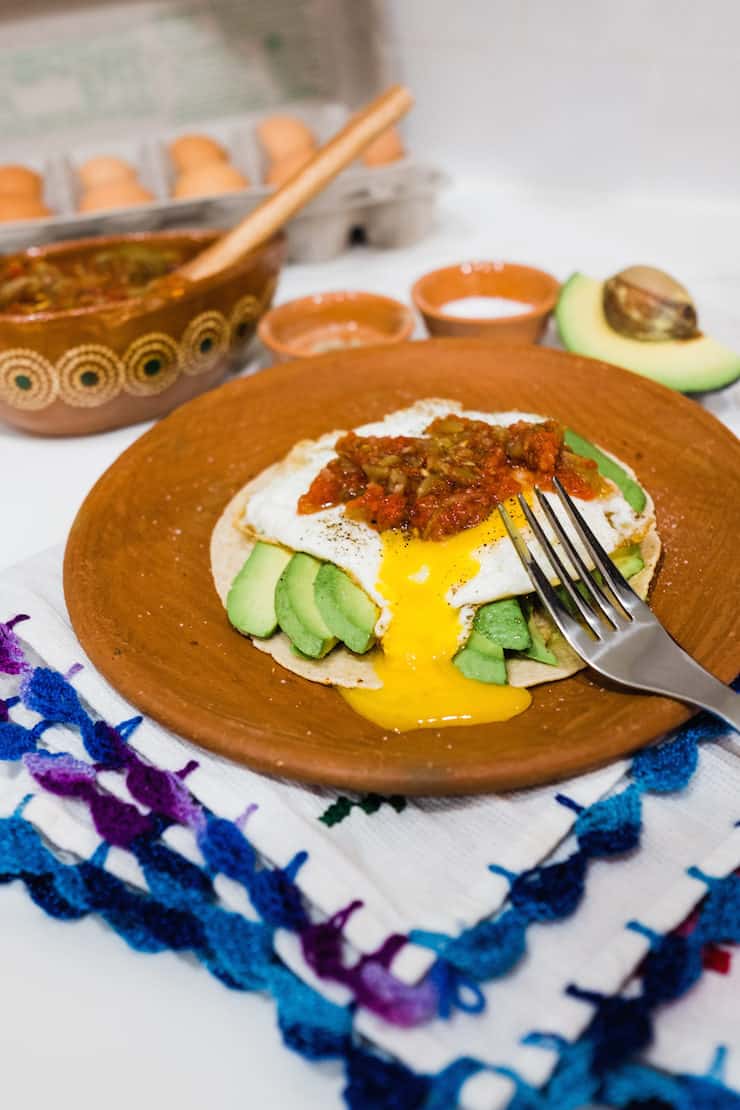 Have you seen the avocado toast craze? It's everywhere! Everyone is placing slices of avocado or mashed avocado on a piece of toast and voila…its "avocado toast".
Some people get very fancy by adding all kinds of exotic ingredients.
I love avocado toast and so do my kids. Forget the PB&J and instead slather fresh avocado on warm toasted bread. It's the perfect snack!
When I'm at home working I usually have some form of avocado toast for lunch. But, I actually prefer my avocado on a soft warm corn tortilla instead of bread. I especially love it with a dash of Valentina hot sauce or drizzled with guacamole salsa, but the best is with a fried egg and salsa casera accompanied with a warm glass of hibiscus-cinnamon tea.
This is the way I "avocado toast". How do you like your avocado toast?
Fried Egg on Corn Tortilla with Salsa Casera
This is the way I "avocado toast".
Ingredients
1 corn tortilla
1 avocado pitted, peeled, and sliced
1 tablespoon olive oil
1 egg
salt and pepper
Salsa casera or salsa of your choice.
Instructions
Place a warm corn tortilla on a plate, and arrange slices of avocado and sprinkle with salt.

Heat a small non-stick skillet over medium-low heat. Fry the egg over-easy and place over avocado slices.

Season with salt and pepper.

Spoon salsa casera over egg.
Calories: 570.18kcal, Carbohydrates: 30.29g, Protein: 11.31g, Fat: 48.42g, Saturated Fat: 7.71g, Cholesterol: 163.68mg, Sodium: 215.43mg, Potassium: 1135.23mg, Fiber: 15.43g, Sugar: 2.43g, Vitamin A: 617.46IU, Vitamin C: 20.1mg, Calcium: 69.82mg, Iron: 2.2mg
Photography: Jenna Sparks