Oven Baked Chicken Breasts
This post may include affiliate links. As an Amazon Associate I earn from qualifying purchases.
This Oven Baked Chicken Breast recipe is our spicy, tangy family favorite! Bake a batch on your meal prep day and enjoy juicy, delicious chicken all week long.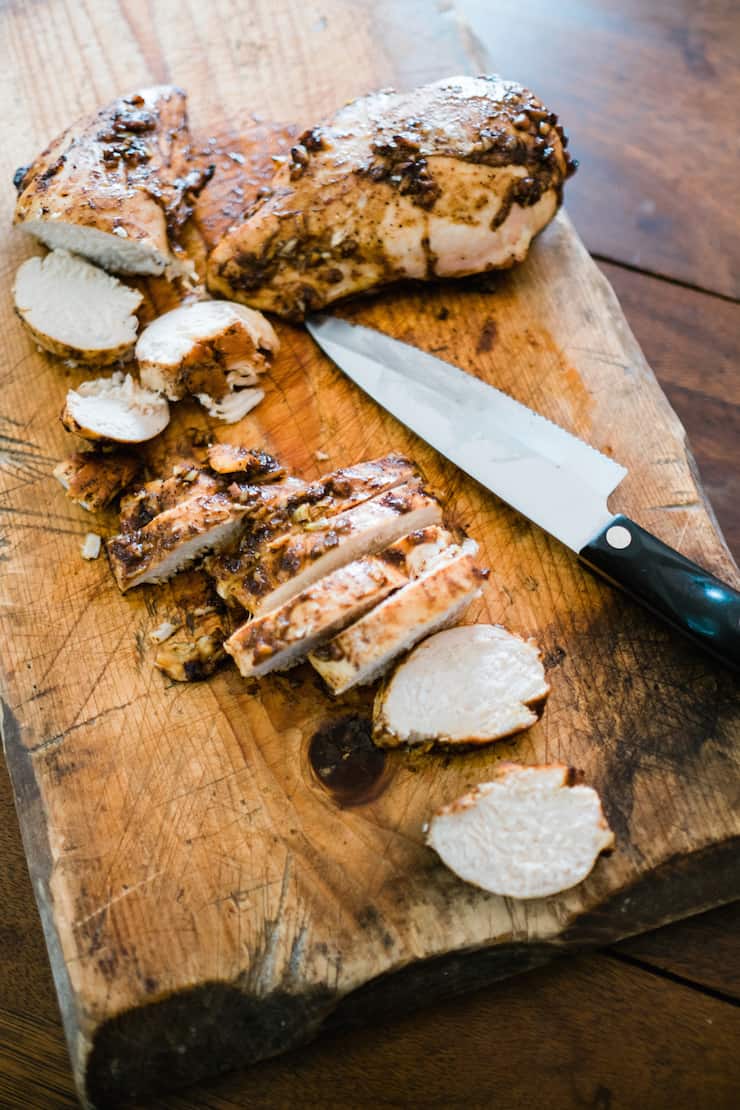 Chicken breasts are always on my grocery list – it's my go-to protein. I like to cook it in advance and have it sliced or shredded in the fridge for easy salads and lunch wraps for the entire week. I also love making them when I need dinner on the table quickly and without any fuss.
Why choose chicken breasts?
I think it's safe to say that chicken breasts are often dry and flavorless. But they don't have to be! White meat has less fat than dark meat, which is why I usually purchase it. With my oven baked chicken breast recipe, you'll be able to make your chicken breasts juicy and flavorful without all the fat.
I recently found this blog post on TheKitchn.com: How To Cook Boneless, Skinless Chicken Thighs in the Oven. I made a few minor tweaks to make it work for chicken breasts.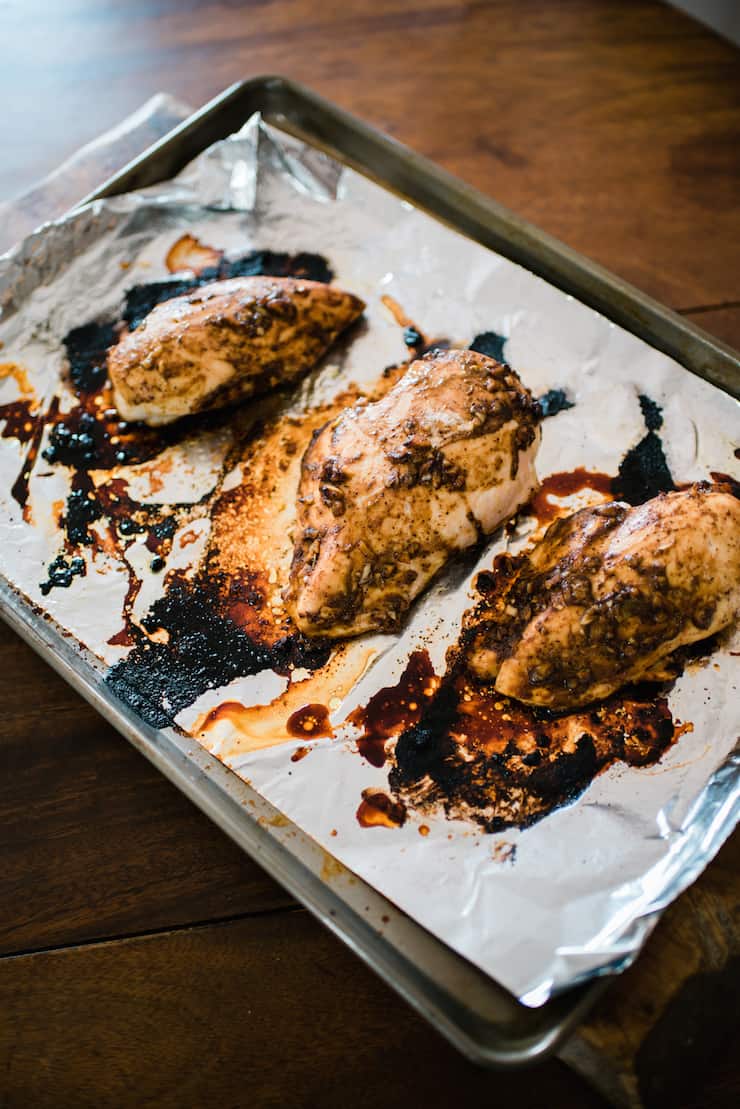 How to make perfect oven baked chicken breasts
The tangy and spicy sauce on this oven baked chicken is a new family favorite. And the best part? I have all the ingredients in my pantry and fridge, and I'd bet you do too.
Baking the chicken breasts in the oven also makes this recipe incredibly fast and easy. Stir up the ingredients for the sauce, pour it over the chicken breasts and let your oven take care of the rest. Meal prep is done in 20 minutes!
TIP: Lining the baking sheet with foil makes clean up a snap. Just toss it in the garbage after you're done.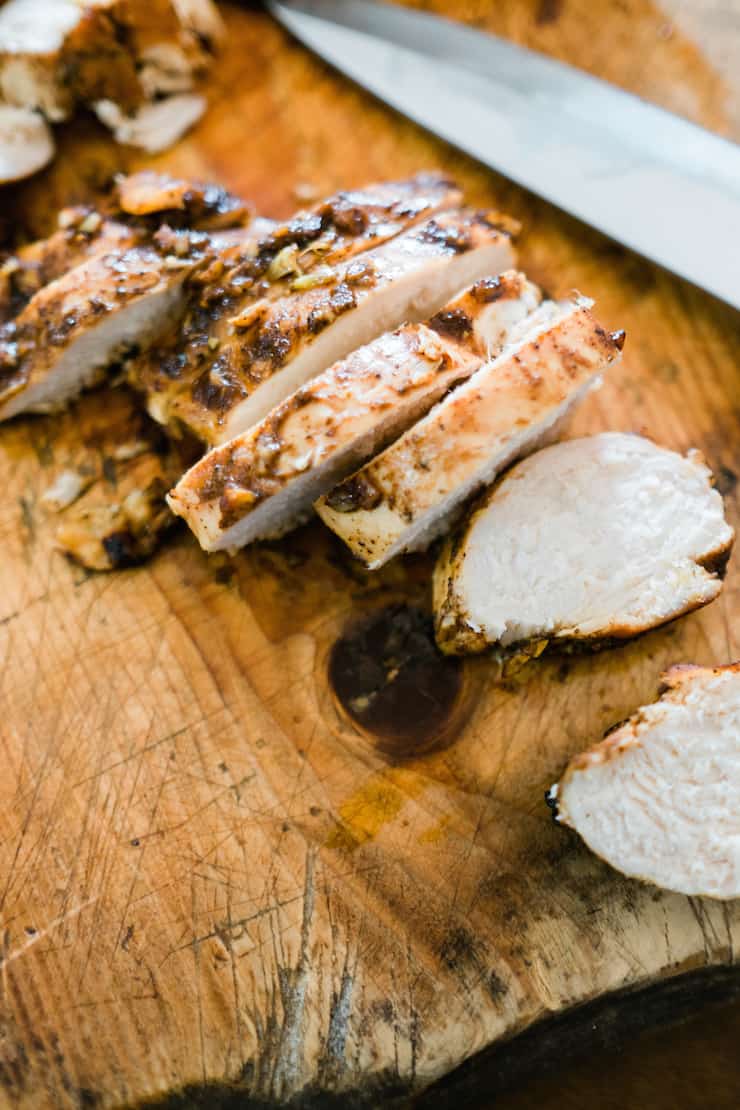 NEED MORE CHICKEN INSPIRATION? HERE YOU GO!
If you love this idea and want more like it, be sure to follow me on Facebook and Instagram.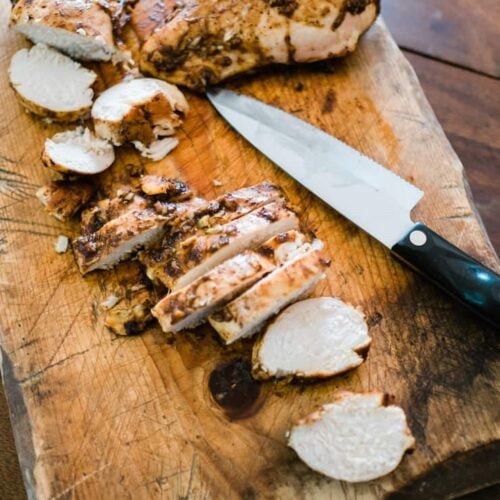 Oven Baked Chicken Breasts
The tangy and spicy sauce on this baked chicken breast recipe is a new family favorite. You probably already have all the ingredients in your pantry and fridge!
Ingredients
2 ½ pounds chicken breasts
2 1/2  tablespoons  olive oil
1  tablespoon spicy brown mustard
1  tablespoon  balsamic vinegar
1  teaspoon packed brown sugar
4  cloves garlic, minced
½ teaspoon chili powder or red pepper flakes
Instructions
Preheat oven to 425 degrees F.

Lightly salt and pepper the chicken breasts.

Whisk olive oil, mustard, balsamic vinegar, sugar, garlic, and chili in a bowl.

Pour the sauce over the chicken and toss to combine.

Place the chicken in a single layer on a foil-lined baking sheet.

Roast until the chicken has an internal temperature of 165 degrees F, about 20 minutes. If they are not ready, continue roasting and checking the temperature every 5 minutes.

Remove the baking dish from the oven, cover with aluminum foil, and let the chicken rest for 10 minutes.
Notes
You can store it sliced or shredded in the fridge for easy salads and lunch wraps for the entire week.
Line your baking sheet with foil or parchment paper for easy cleanup!
This recipe will also work well with chicken thighs if you prefer.
Calories: 415.54kcal, Carbohydrates: 2.98g, Protein: 60.59g, Fat: 16.29g, Saturated Fat: 2.83g, Cholesterol: 181.44mg, Sodium: 377.4mg, Potassium: 1060.96mg, Fiber: 0.28g, Sugar: 1.65g, Vitamin A: 159.17IU, Vitamin C: 4.34mg, Calcium: 19.61mg, Iron: 1.21mg
Photography: Jenna Sparks
Originally published: February 2018.