Roasted Sweet Potato and Acorn Squash Winter Salad
This post may include affiliate links. As an Amazon Associate I earn from qualifying purchases.
This beautiful, bright sheet pan dinner showcases some of my favorite cold weather produce – sweet acorn squash, creamy sweet potatoes, and tart pomegranate. My Winter Salad is a healthy side dish that comes together with very little effort and even less cleanup.
Just because summer has faded and cooler weather is upon us doesn't mean we can't have veggie packed salads! This hearty and filling salad features roasted squash and sweet potatoes, making it the perfect sweater weather side.
Sheet pan dinners are weeknight superstars
Rather than being sad that my fresh garden tomatoes are over for the year, I try to celebrate what this new season brings. It's the season for sassy boots, cozy blankets, and cooking with the oven. Yes, friends. The oven has a season, and that season is now.
During the summer, it feels odd to turn on the stove when we're combating the heat. But come fall and winter, turning on the oven serves a dual purpose: to do the heavy lifting when it comes to cooking, and warming the heart of the home.
For this winter salad recipe, all you have to do is prep your veggies and toss them on a sheet pan with some olive oil and salt. Place the cookie sheet in the oven, pour yourself a skinny margarita and kick up your feet because the oven is doing the rest of the work. It's literally that simple!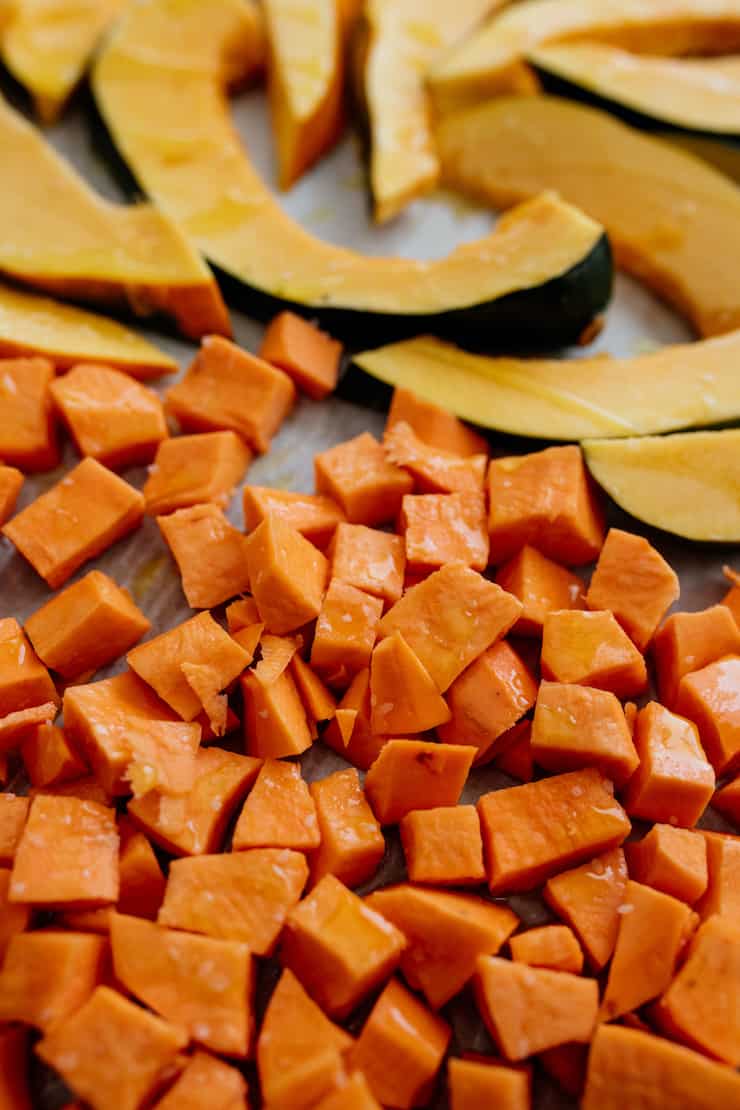 How to make sheet pan roasted vegetables
This winter salad recipe is so easy to pull off, you only have to do about 10 minutes of work. First up, gather your ingredients – a couple of sweet potatoes, an acorn squash, some olive oil, and kosher salt. Give your veggies a good wash and pull out your sharpest chef's knife.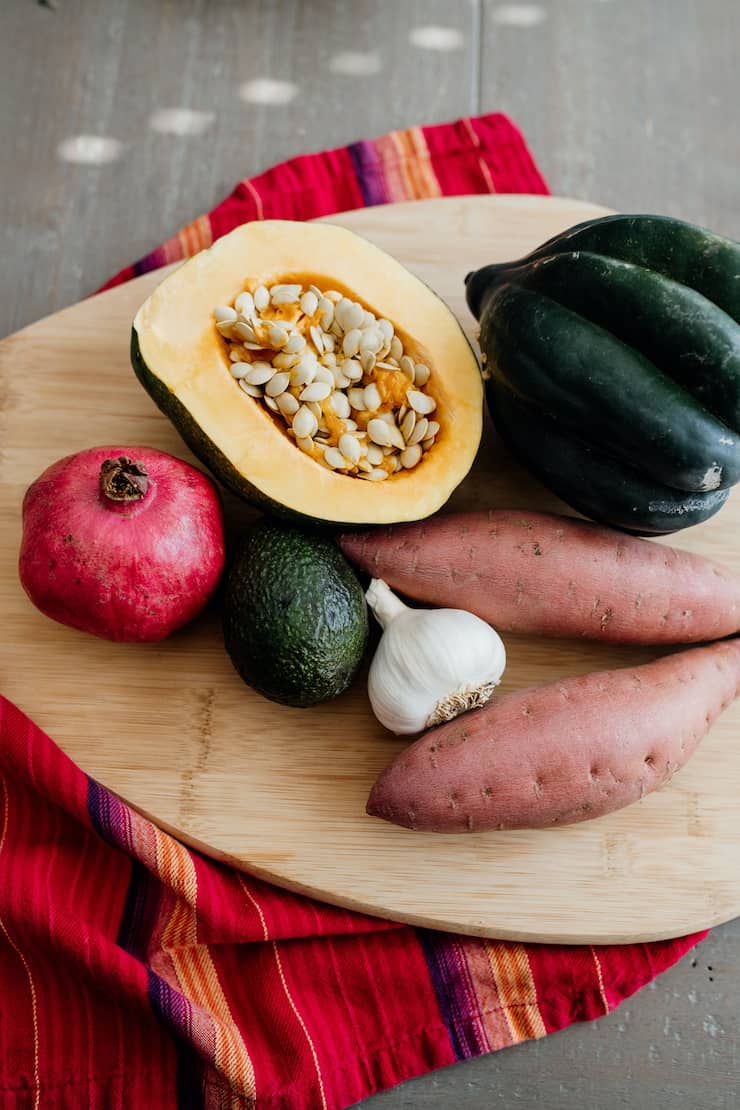 Acorn squash. Halve the squash and remove the seeds and pulp from the center. You can either toss them in the bin, or, if you're feeling ambitious, rinse the pulp from the seeds, shell them, and use them in place of pumpkin seeds in my roasted pepitas recipe to garnish this salad.
Slice the acorn squash vertically into 3/4-inch slices.
TIP: While you can peel the acorn squash, you don't have to! Roasting the acorn squash softens the skin, making it edible. The skin is packed with fiber and antioxidants.
Sweet Potatoes. Next up, peel and cube two sweet potatoes into roughly 3/4-inch cubes.
Place your veggies on a parchment lined baking sheet, drizzle with olive oil, sprinkle with salt, and toss to combine. Roast for about 30 to 35 minutes in a 400 F oven, or until fork tender and slightly caramelized.
TIP: Parchment paper is your friend, especially when it comes to sheet pan dinners. Buy some. Use it every time you cook on a baking sheet. Trust me, the clean up is infinitely easier when all you have to do is toss a sheet into the garbage!
TIP: Keep vegetables in a single layer for even cooking and flip the vegetables once or twice during cooking.

How to prepare the other ingredients
Salad dressing. While the squash and potatoes are roasting, whip together your salad dressing. Simply combine the olive oil, hot sauce, maple syrup, honey, balsamic vinegar, and garlic in a small bowl. Whisk until combined. Voila! How easy was that?
TIP: Hate peeling garlic? I did too, until I learned this awesome trick. Using the broad side of your chef's knife, thump the heel of your palm on the knife over a piece of garlic to smash it. The skin will come right off!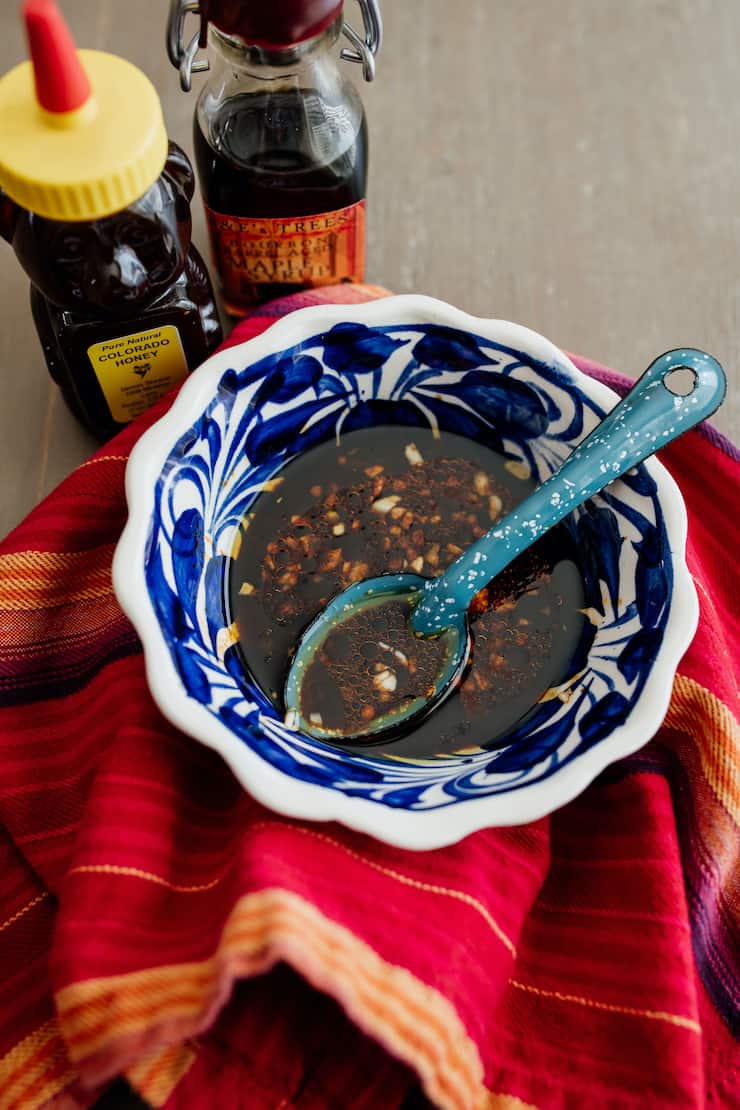 All that is left to do is cube some avocado, crumble some queso, and de-seed a pomegranate.
Pomegranate. Are you intimidated by pomegranates? Do not fear, watch my video: How to Cut and De-Seed a Pomegranate.
Assembling the winter salad
I love what a statement this gorgeous salad makes on any dinner table. I love to plate it on a huge platter so everyone can help themselves family style. And trust me, your table mates are about to inhale this yummy and healthy side dish!
Once the sweet potatoes and acorn squash are roasted, give them a few minutes to cool. Next, transfer them to a serving platter, being sure to intersperse the potatoes and the squash slices.
Drizzle with a few spoonfuls of the homemade dressing while they are still warm so they can soak up the extra flavor. Next up, top with creamy avocado cubes, tart pomegranate arils, salty feta or queso fresco, and earthy cilantro leaves. Give a final drizzle of dressing and you're good to go.
Whether you're celebrating Thanksgiving or Christmas, or just want to get more vegetables on the table during the cooler months, this winter salad should get the opportunity to grace your table at least once this oven season. Give it a shot and tell me what you think!

Frequently Asked Questions
Can I substitute a different kind of squash?
You sure can! Butternut squash would make a great substitute for the acorn squash in this application.
Should you opt for a thicker skinned squash, like kabocha, you will need to skin the squash before roasting.
Can I make this vegan?
Yes! While I absolutely love the salty hit of crumbled cheese on this salad, you could either omit it or choose a vegan cheese alternative. Simply swap agave for honey in the dressing, and you should be perfectly happy with the result.
What should I serve with this winter salad?
While I usually serve this salad as a healthy side dish or one a bed of greens, you can certainly make it the start of the show. If you want to bulk it up a bit for an entrée salad, I'd recommend serving it atop your favorite grain (e.g. rice, barley, farro, or quinoa). You can also serve it with some sliced oven roasted chicken for a full-on sheet pan dinner!
I love serving it with our traditional Thanksgiving meal (just look at those colors!!), but it goes equally well with just about anything you can think of. My view is, anytime you want more winter veggies on the table, turn to this delightful salad. It'll never disappoint.
Can I make this salad ahead of time?
You sure can! If you are preparing this salad in advance, reserve the dressing on the side and do not cut the avocado until you are ready to serve. I also recommend warming up the squash and sweet potatoes before plating and serving.
Roasted sweet potatoes and acorn squash will keep in the fridge for up to three days. Dressing will keep in the fridge for up to 10 days.
Want more yummy winter veggie ideas? Check out these other squash based recipes:
If you tried this recipe, be sure to rate and review it below so I know how it turned out! If you're looking for more delicious dinner inspiration, you can follow me on Pinterest, Instagram or Facebook!
Roasted Sweet Potato and Acorn Squash Winter Salad
Easy, simple, and the best way to roast vegetables – in the oven on a baking sheet for perfectly tender and flavorful veggies.
Ingredients
2 sweet potatoes, peeled and cubed
1 acorn squash, halved lengthwise, seeded, and cut into 3/4 inch slices
2 tablespoons olive oil
Dressing:
1 tablespoon olive oil
1 tablespoon hot sauce, recommend chipotle
2 tablespoons maple syrup
1 tablespoon honey
1 tablespoon balsamic vinegar
1 garlic cloves, minced
Garnishes:
1 avocado, pitted, peeled, and cubed
pomegranate seeds
crumbled feta or queso fresco
cilantro leaves
Instructions
Preheat oven to 400 degrees F.

Place sweet potatoes and acorn squash on a parchment-lined baking sheet.

Drizzle with olive oil and salt, and roast in the oven for 30 to 35 minutes, or until squash and potatoes are tender and golden.

Whisk together olive oil, hot sauce, maple syrup, honey, vinegar, and garlic. Set aside.

Once the squash and sweet potatoes have had a few minutes to cool, arrange on platter and drizzle with dressing.

Top with avocado, pomegranate seeds, and crumbled feta. Garnish with cilantro leaves.
Notes
If you want to peel acorn squash before roasting, poke it a few times with a fork, and pop it in the microwave for 3 to 4 minutes. The microwave softens and loosens the skin, making it easier to peel using a potato peeler. 
Nutritional facts do not include garnishes.
Turn the vegetables one to two times during cooking for even cooking.
If you are preparing this salad in advance, reserve the dressing on the side until you are ready to serve.
Roasted sweet potatoes and acorn squash will keep in the fridge for up to three days.
Dressing will keep in the fridge for up to 10 days.
Calories: 319.82kcal, Carbohydrates: 40.58g, Protein: 2.97g, Fat: 18.01g, Saturated Fat: 2.55g, Sodium: 112.37mg, Potassium: 859.15mg, Fiber: 6.94g, Sugar: 13.96g, Vitamin A: 9690.36IU, Vitamin C: 18.67mg, Calcium: 71.99mg, Iron: 1.43mg
Photography by Jenna Sparks
Originally published: February 2017.