Black Bean and Bacon Flautas + Video
This post may include affiliate links. As an Amazon Associate I earn from qualifying purchases.
These Black Bean and Bacon Flautas are warm corn tortillas that are filled with a savory, spicy, and tangy mixture of black beans, kale, and bacon, rolled-up and then deep-fried until golden and crispy.
Flautas, Taquitos, Tacos Dorados, or Rolled Tacos
Flautas, taquitos, tacos dorados, or rolled tacos – whatever you choose to call them they are amazing. They're technically just crispy, rolled-up tacos—but they're really so much more than that. Seriously, what could be better than warm, crunchy tortillas stuffed with all kinds of delicious fillings?
These boast refried black beans, tangy kale, and chopped crispy bacon. They are then pan fried until golden and crispy and drizzled with avocado and tomatillo salsa.
What Is The Difference?
Essentially, flautas, taquitos, tacos dorados, and rolled tacos are all names of deep fried or crispy tacos – whether rolled or folded. The name choice largely depends on the area you are in. For example, in South Texas "flautas" is the name to go with.
The choices for fillings, toppings, and garnishes are endless:
Fillings
Toppings and garnishes
Where Do Flautas Come From?
Flautas are essentially rolled tacos and many believe that they come from Sinaloa, a Northern Mexico state.
The name though resembles with the Spanish/Portuguese word "flauta" which means "flute" – the perfect description to the shape of the taquitos.
In fact, their shape makes flautas extra enjoyable – they are easy to grab and devour!
Black Bean and Bacon Flautas
But back to the filling – you read that right… black beans and bacon. First, I cooked bacon, chopped it and set it aside.
As a mom and a home-chef it is very important to select a bacon that is all natural, made from pork raised free from antibiotics, preservatives, MSG or added hormones.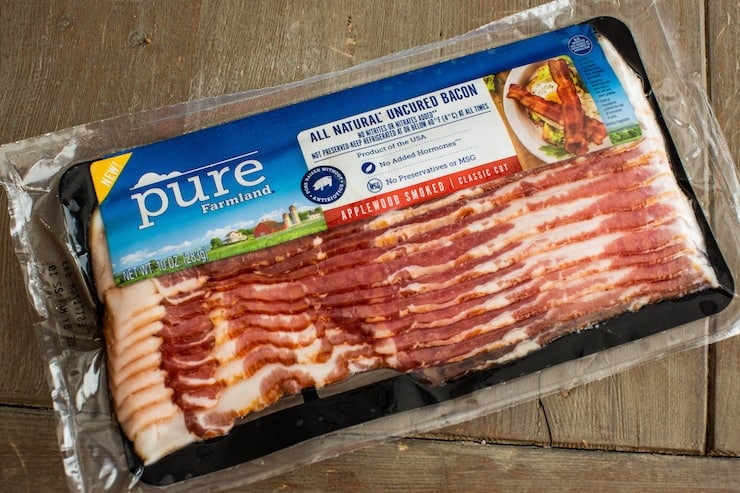 Then, in some of the leftover bacon grease I sautéed onion and garlic and added the black beans and refried them.
In fact, if you have never refried beans in bacon grease you are missing out. The flavor is out of this world!
Marinated Kale
As if that was not delicious enough, I also marinated kale with fresh lime juice, olive oil, cilantro and jalapeño.
Speaking of kale, after visiting the McGrath Family Farm, I was inspired from the beautiful lush fields of kale. So I knew I had to run to the market and buy organic kale and get cooking. Kale yeah!
After my trip, I have a new appreciation of where our food comes from and what it truly means to go from farmland to table.
Substitutes for Kale
If you need a substitute for kale here are a few good alternatives.
collard greens
green chard
spinach
Mixture of Beans and Bacon
Next, I added that mixture to the beans along with the bacon.
I mean, how could you not love these beans?!
How to Serve Bacon Flautas?
The choices for toppings and garnishes are your choice. As I mentioned in the beginning of this post, there are many different ways to enjoy the flautas!
Watch this video to see how easy these Black Bean and Bacon Flautas come together for a delicious weeknight meal.
Love Black Bean and Bacon Flautas? Try these:
Have you made these black bean and bacon flautas? Rate the recipe and leave me a comment below to let me know how it turned out! To get more Muy Bueno recipes delivered straight to your inbox, sign up for my email newsletter.
Black Bean and Bacon Flautas
These Black Bean and Bacon Flautas are warm corn tortillas that are filled with a savory, spicy, and tangy mixture of black beans, kale, and bacon, rolled-up and then deep-fried until golden and crispy.
Ingredients
1 pound bacon
1 lime, fresh lime juice
2 tablespoons olive oil
Dash of sea salt
1 small jalapeno, finely chopped (optional)
4 tablespoons cilantro, roughly chopped
4 medium leaves of kale, washed and dried, stems removed and roughly chopped into bite-sized pieces
3 15- ounce can black beans, with liquid
¼ cup chopped white onion
2 clove garlic, minced or pressed
30 corn tortillas
vegetable oil, for frying
avocado and tomatillo salsa, or salsa of your choice
radish slices
jalapeño slices
Instructions
In a large pan, over medium-low heat, add the bacon. Cook until lightly crispy, about 3 minutes per side. Remove the bacon, chop, and set aside. Reserve bacon grease.

Whisk together the lime juice, olive oil, salt, chopped jalapeño, and cilantro. Toss the chopped kale with the lime marinade in a mixing bowl. Mix well and set the bowl aside to marinate.

Heat 2 tablespoons leftover bacon grease over medium heat. Sauté onion for 2 to 3 minutes and then add garlic until tender, for an additional 2 minutes. Add beans (with liquid). Bring to a boil. Mash beans with a masher and cook until slightly thickened, 2 to 4 minutes. Add marinated kale and cooked and chopped bacon.

Warm corn tortillas on a comal (griddle) so they are pliable. Add some black bean mixture down the center of the tortillas. Roll the tortillas tightly and then add a toothpick to each to keep them rolled.

In a deep pan heat half-inch of vegetable oil over medium heat until it is very hot. Carefully place the flautas into the hot oil. Fry just long enough for the tortillas to get crispy and a light golden color. Turnover at least once using tongs and then drain upright on paper towels to allow excess oil to drain.

Garnish flautas with toppings of your choice.
Notes
Warm corn tortillas before rolling to avoid cracking.
Use toothpicks to secure the flautas and try to not use too much stuffing.
To keep the flautas warm while frying remaining batches, place them in the oven until ready to serve.
Kale substitutes: collard greens, green chard, or spinach
Serving: 1flauta, Calories: 149kcal, Carbohydrates: 16g, Protein: 5g, Fat: 8g, Saturated Fat: 2g, Cholesterol: 10mg, Sodium: 180mg, Potassium: 172mg, Fiber: 3g, Sugar: 1g, Vitamin A: 773IU, Vitamin C: 11mg, Calcium: 40mg, Iron: 1mg
Video by Pure Cinematography
Originally published: January 2019.