Clay Pan Dulce Miniatures
This post may include affiliate links. As an Amazon Associate I earn from qualifying purchases.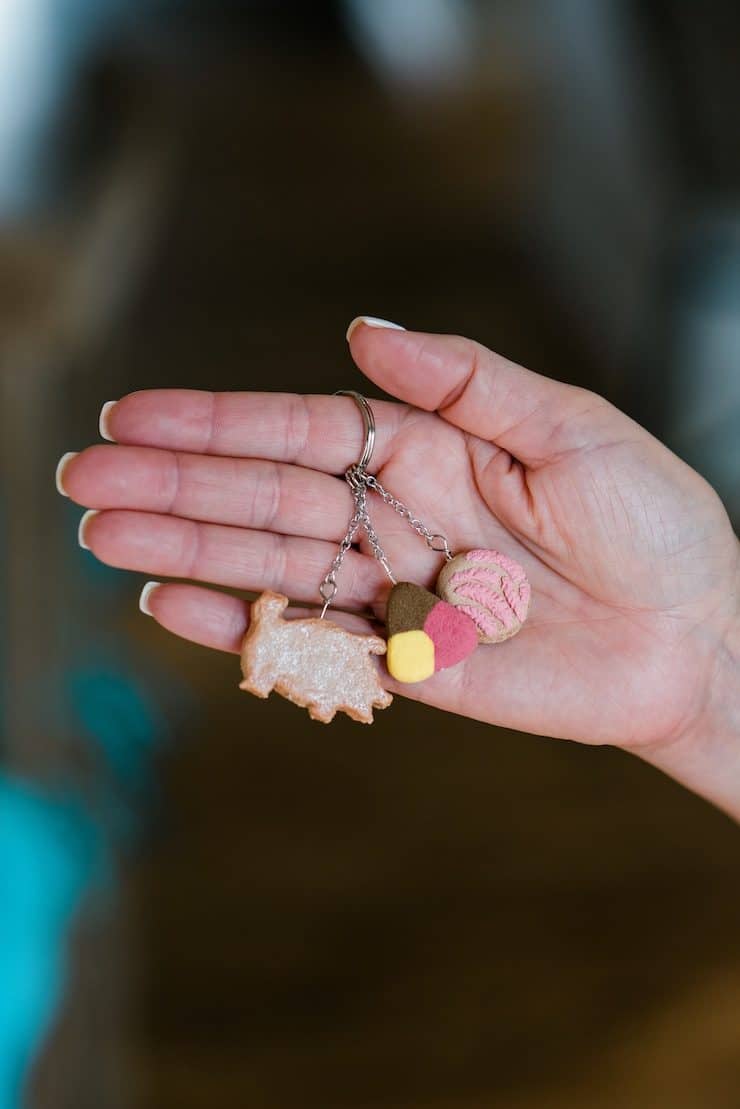 Conchas, Marranitos, y Polvorones = Does it get any sweeter than that? Have you read my recent post, detailing the varieties of Mexican Sweet Breads (Pan Dulce)? I created that blog post as an "encyclopedia" of many Mexican pastries including recipes to make at home.
When I'm too busy to bake these yummy confections, I visit my local panaderia, San Antonio Fresh Mexican Bakery in Denver.
I am a bit obsessed with pan dulce and my crafting partner, Thrifty Rehab, created this adorable non-edible pan dulce craft.

Aren't these small, polymer clay replicas precious? You don't have to be a proficient clay modeler to make these cuties. Nor do you need to make them into keychains specifically; the miniatures could possibly become earrings, charm bracelets, or remain unchanged, adorning your Dia de los Muertos altar.

Conchas:
Conchas are a round sweet bread with a colorful shell-like crunchy topping.
Marranitos:
Marranitos are gingerbread pigs flavored with molasses.
Polvorones:
Polvorones are often tri-colored, triangle cookies, commonly pink, brown, and yellow. My goal is to develop and share a recipe for these special cookies during the holiday season.
Want to save time and dinero? Buy this DIY Kit on Etsy for a shortcut!
Clay Pan Dulce Miniatures
Conchas, Marranitos, y Polvorones = Does it get any sweeter than that? Mexican mini sweet breads made of clay can be made into a keychain, earrings, charm bracelet, or decor for your Dia de los Muertos altar.
Ingredients
[Pastel chalk, brown]
Alcohol
Paint brush
Fishing line
Exacto knife
Toothbrush
Sheet of paper
Paper plate
Parchment paper
Chain
Keyring, any shape
Flat end jewelry pins
o rings
Plyers
Round tip plyer
Wire cutters
Instructions
Concha:

Roll out small balls of the light tan (flesh) clay, approximately the size of a dime. Gently press the middle with your thumb. Roll out the pink clay into a thin sheet. Create a round template using the pencil and sheet of paper the size of each concha. Carefully cut around the circle then cut strips accordingly. Place then push the edges of each pink strip on the semi-flat tan ball. Gently dab all sides with the toothbrush to add texture.


Marranitos:

Cut-out the

enclosed stencil

. Thinly roll out the beige clay approximately 1/4-inch thick. Using the

template

and an Exacto knife, carefully cut out the piggy. Gently dab all sides with the toothbrush to add texture.

Polvarones:

Roll-out crayon-like strips of the pink, brown and yellow clay as pictured. Push the colored strips together into a triangular form. Slice individual cookie piece using the fishing line. Gently dab all sides with the toothbrush to add texture.

Place each miniature on parchment paper and bake according to the clay instructions. To make each miniature look as if it has been baked, shave a small amount of the brown pastel chalk onto a paper plate. Mix with a couple of drops of alcohol. Dab paint on each miniature after it has baked and has cooled.

To make keychains or jewelry, pierce each clay miniature with a flat end jewelry pin.

With the pin in place, bake the clay according to the instructions. After miniatures have cooled, use the round tip pliers to form a loop. Use the wire cutters to cut the excess pin wire. String chain on this loop and the other end on the o ring. Slide o ring onto the keyring.