Favorite Holiday Cookies
This post may include affiliate links. As an Amazon Associate I earn from qualifying purchases.
Do you love to give homemade cookies as gifts, but need some inspiration? Let's be honest, who doesn't love cookies as gifts?! This year I put together a collection of a few of my favorite holiday cookie recipes that will inspire and motivate you to start baking for the upcoming holidays.
The intoxicating aroma that comes from the kitchen is enough to make anyone go loco. The constant smell of food always makes me hungry and excited about the holidays. Get your whole family together and enjoy some time in the kitchen as you prepare an assortment of small, yet tasty treats for friends and family.
When packaging your cookies – try placing them in a wax paper-lined festive tin then tie with a ribbon or bow. Send them, or give them, around the same time you do with holiday cards so that your recipient can enjoy their yummy treats over the holidays. With cookies on your mind and the holidays right around the corner try one, or try them all – happy baking!
Mexican Chocolate Oatmeal Cookies
Made with Mexican chocolate, chocolate chips, ground oatmeal, and a combination of chopped pecans and walnuts these soft and gooey cookies are a delicious variation on the classic chocolate chip cookies.
Pine Nut Cookies with Ground Chile
Not too sweet, a bit nutty, a smoky hint, and finished with a little kick of spice make this crumbly-chewy cookie unexpectedly rich and delicious.
Mexican Wedding Cookies
Start with biscochos but add fresh orange juice and orange liqueur to give this flaky and delicate cookie a hint of orange flavor. Sprinkle with a cinnamon-sugar-orange zest to finish it off.
Cuernitos de Nuez (Butter Pecan Cookies)
These delicate and buttery cookies get their crunchy texture from pecans and a sugar coating. They melt in your mouth and add a festive feeling to the holidays.
Raisin Filled Cookies
Similar to empanadas these super cute cookies add a bit of sweetness with nuts, plump raisins, and dates.
Mexican Chocolate Haystacks
Want easy to make cookies that can be made with your kids that don't involve baking? Mexican chocolate, chow mein noodles, and a touch of coffee make exotic and delicious haystacks!
Biscochos
The traditional Mexican Christmas and wedding cookie that gets most of its distinctive melt-in-your-mouth flavor from combining cinnamon and anise is a very popular cookie over the holidays.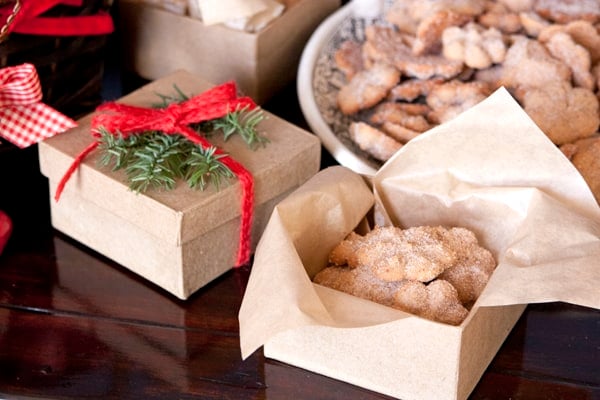 Mexican Chocolate Cinnamon Toast Crunch Cookies
This really fun cookie recipe made with a combination of Mexican chocolate, cocoa powder, and finely ground Cinnamon Toast Crunch are light and crunchy, but tender at the same time and full of flavor.
Cajeta Thumbprint Cookies
These Mexican inspired cookies, filled with cajeta which is a thick and sweet confection made from sweetened caramelized goat's milk, will melt in your mouth and melt your heart.
Alfajores (Dulce de Leche Shortbread Cookies)
These delicate little shortbread cookies dusted in powdered sugar and filled with a rich creamy caramel center are elegant looking yet extremely delicious with a hint of citrus.