How to Prep and Cook Nopales
This post may include affiliate links. As an Amazon Associate I earn from qualifying purchases.
If you're new to the concept of cooking nopales, fear not! I've created a whole guide on how to prep and cook the somewhat intimidating looking cactus paddles. You'll be a pro in no time!
What Are Nopales?
Nopales (pronounced "no-PAW-lehs") are the paddles (or leaves) of the prickly pear cactus. Much beloved in Mexico, this native ingredient tastes like a lemony green bean had a baby with okra.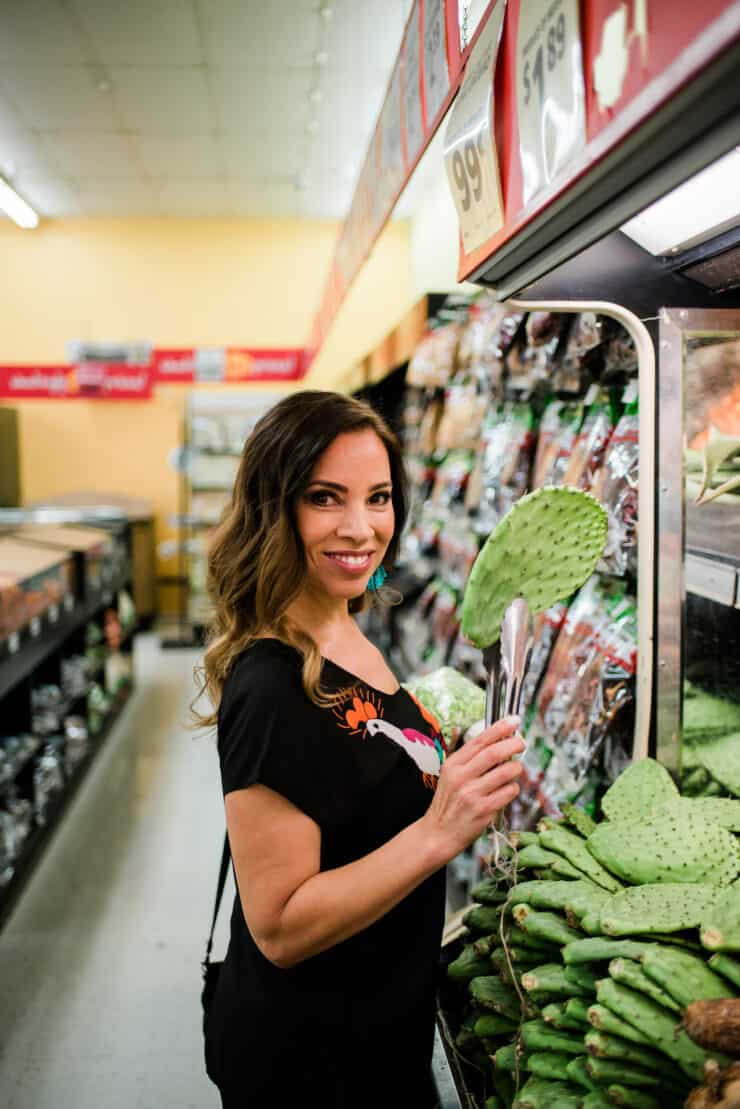 Nopales are healthy
Nopales are brimming with antioxidants like vitamins A, C, and B. They are an excellent source of fiber, and are a great way to hydrate. It has been used since ancient times as both a food and for its medicinal properties. Nopales are used to holistically treat liver conditions, ulcers, and even open wounds!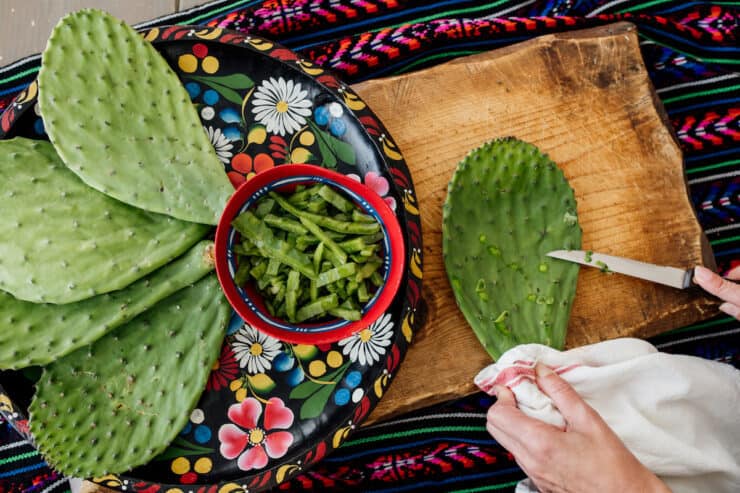 Prickly pear cactus paddles can be eaten raw or cooked, and have numerous applications for just about any meal. (I'm not kidding, you can even eat nopales for breakfast!)
Raw nopales are crunchy, similar in consistency to raw asparagus or green beans, and have a light, clean flavor. I even like adding fresh, raw nopales to my morning smoothies! When cooked, however, they have a texture that is similar to okra.
As a mucilaginous plant, cooked nopales give off a somewhat slimy goo (known as baba in Spanish) that can be off-putting. Don't worry though. If you follow my instructions below and in my detailed video, your nopales will come out perfectly delicious and slime free!
Where do you buy nopales?
I often buy nopales at a local Latin grocery store. Fresh and spineless nopales can even be purchased online! If you want the health benefits but don't want to take the time to prep and cook nopales, you also reach for jarred nopales.
How to Pick Good Nopales
Picking good, fresh nopales is actually pretty easy. You want paddles that are bright green and flexible, but not floppy. The skin should not have any wrinkles, as this can indicate the cactus has been on the shelf for too long.
As a general rule, opt for paddles that are about the size of your hand or smaller. They should be less than eight inches in length (about the length of the tip of your pinky to the tip of your thumb with an outstretched hand). If you reach for larger nopales, you run the risk of getting a stringy and tough piece.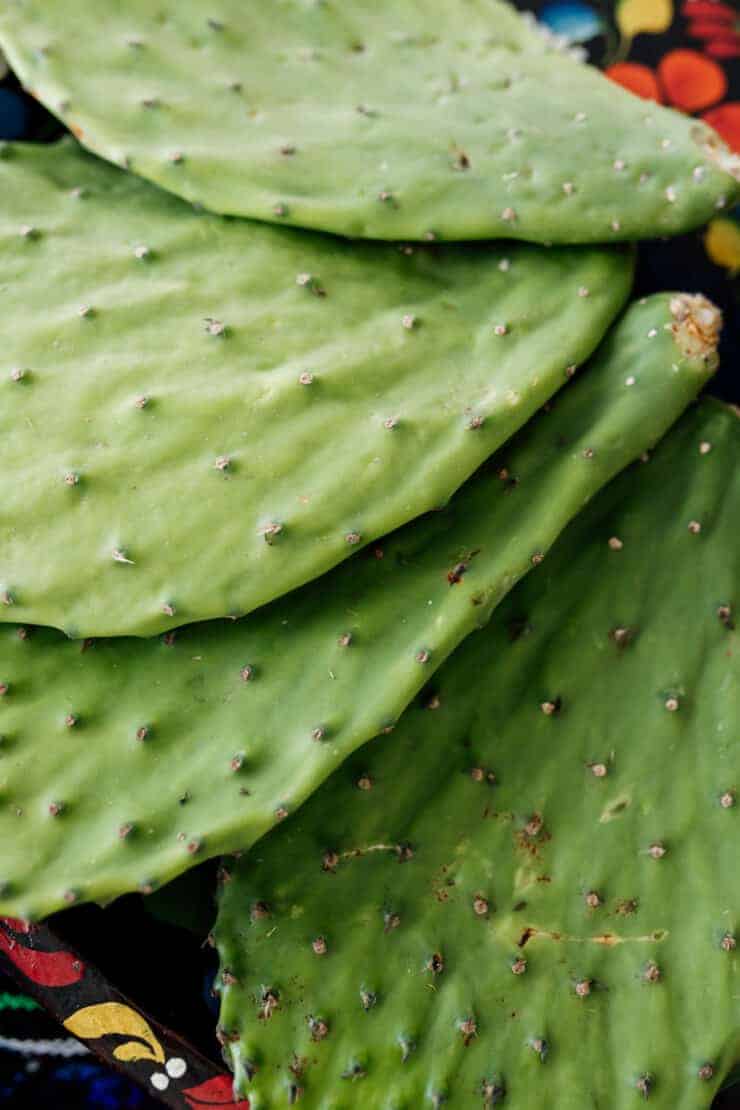 If your nopales are in good shape when you buy them, they should keep for a week or more in the refrigerator. Peak cactus season is from spring to late fall, so they are likely to not only be fresher and tastier during this time, but also cheaper to boot!
How to Prep Nopales
Since I didn't grow up preparing nopales, I wasn't really sure where to start. I found this video very helpful and highly recommend this method! (I also love how the sweet lady telling family stories reminds me of my dear Grandma, Jesusita.)
While the spikes on nopales paddles are indeed sharp, you don't need to be intimidated. Prepping this plant for eating is much easier than you think!
Most often when you purchase nopales, most of the thorns are removed. That said, there are usually tiny thorns that still need to be removed.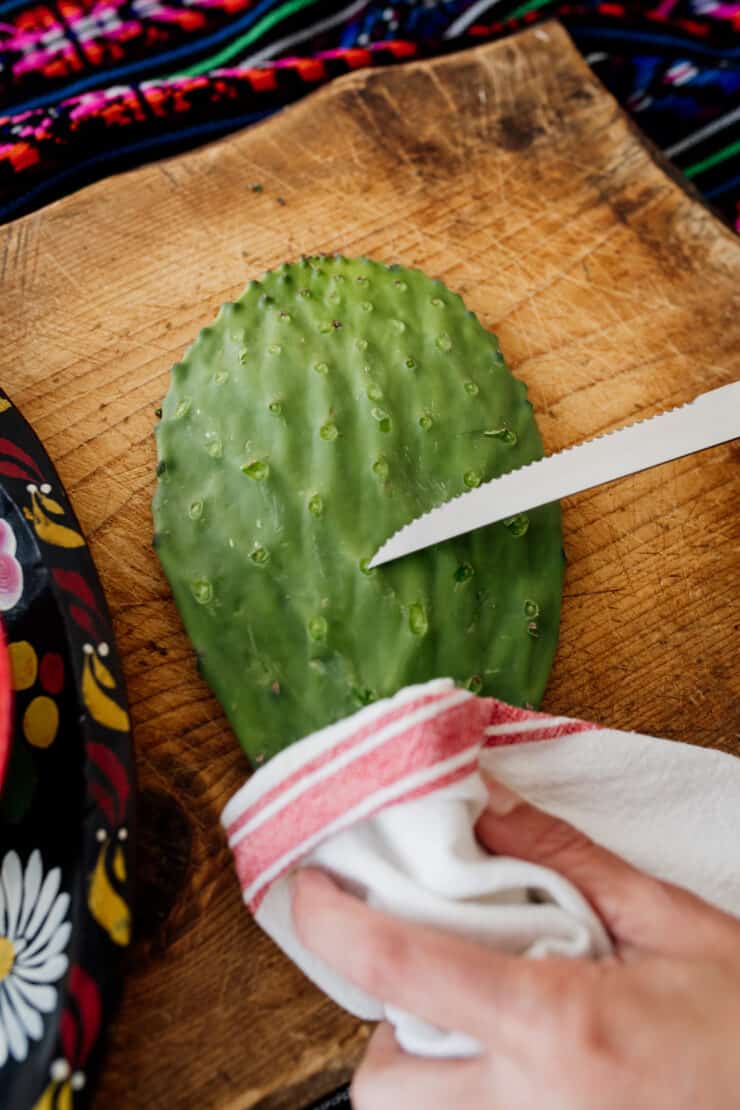 Be sure to protect your fingers and use a kitchen towel to hold the nopal at the base.
Remove any spines on the nopales by running a sharp knife against the grain of the spines. Be sure to flip the nopal and repeat the process. This is a bit time consuming, but you don't want to miss any thorns.
Next, you want to cut away the outer edge and then slice off the base of the nopal. That's where the majority of thorns are, so take your time removing them all.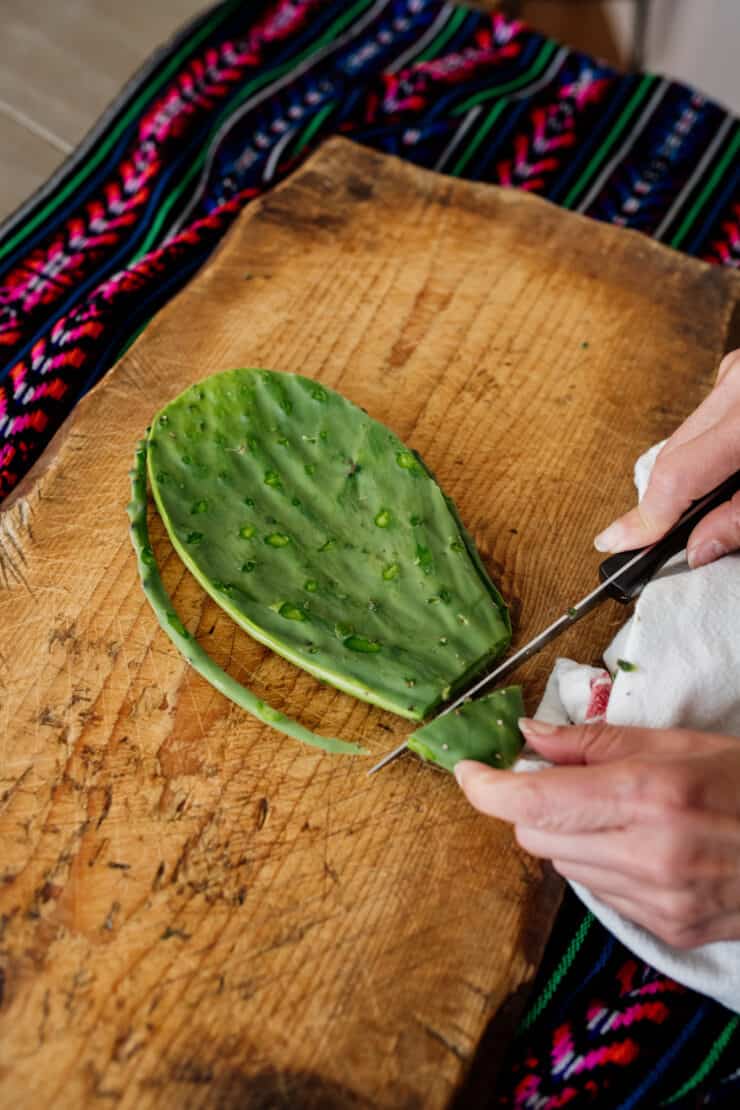 From here, you can either slice or chop the cactus to eat raw or cook them by boiling or grilling.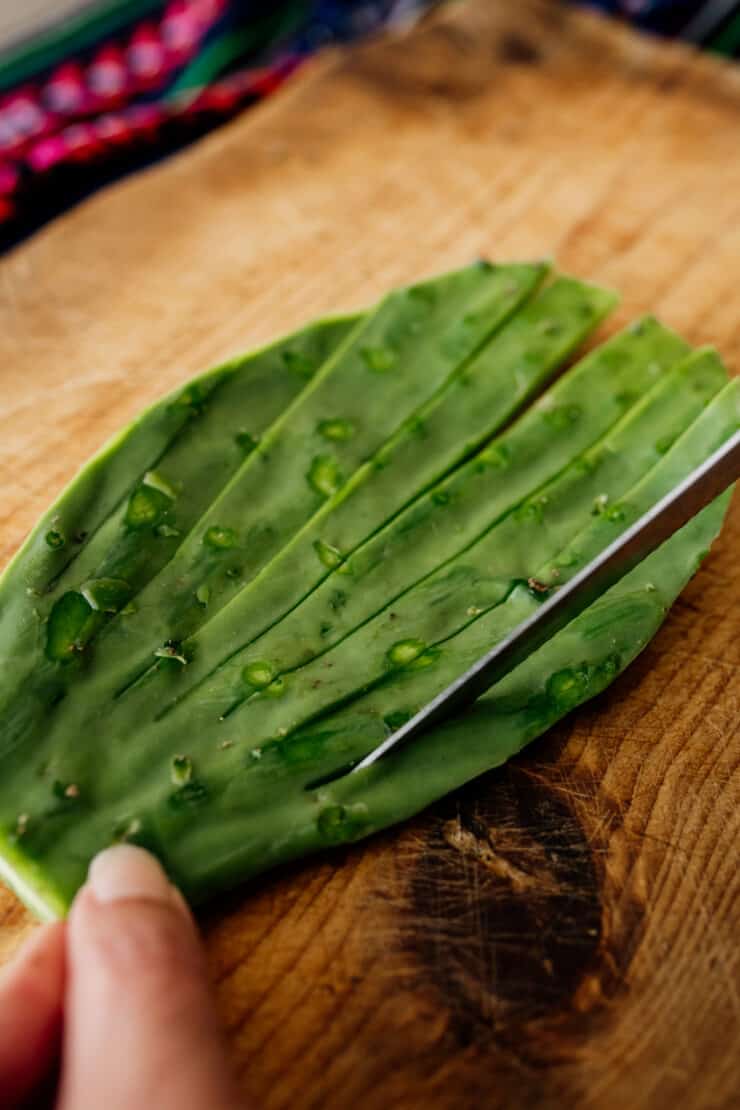 3 Ways to Eat Cactus
Grill – Slice the nopales, and lightly score them, but keep the base intact. Do you see some of that "slimy" liquid? Once cooked, that will evaporate. Generously sprinkle the grilled nopales with salt. You can cook nopales on the grill or griddle/pan on medium-high for 4 to 5 minutes per side. Feel free to cook longer if you do not want to see any baba.
You can also grill nopales whole, without slicing or scoring if you wish.
Boil – Slice or chop nopales to desired size. Place chopped nopales in water with about a tablespoon of salt and boil them for about 20 minutes. Once the nopales have changed color they are good to go! Drain and, if you wish, feel free to rinse them in cold water.
Raw – Don't forget that you can eat nopales raw! Once the spines are removed, feel free to chop and add to your salads for a bit of yummy, healthy crunch.
Recipes Using Nopales
Now that you're a nopales pro, you're ready to eat these tasty Mexican cacti! Here are some delicious recipes to get you started:
Nopal (Cactus) Quesadillas
Sautéed nopales cooked with tangy
pico de gallo
, and spicy pepper jack cheese. Some people might call these
sincronizadas
(synchronized), because two tortillas are stacked together rather than folded. Stack or fold these babies – it's truly up to you.
Get the Recipe
Tortitas de Camarón con Nopales (Mexican Dried Shrimp Patties with Red Chile Sauce and Cactus)
Today, I'm so excited to share my recipe for Tortitas de Camarón con Nopales, a traditional Mexican dish that is perfect for Lent. Chopped nopales (cactus paddles) are cooked and simmered in a slightly spicy guajillo chile sauce then poured over dried shrimp patties for a deliciously satisfying pescatarian meal.
Get the Recipe
Huevo con Nopales en Chile Colorado
Forget the classic breakfast! Prepare this easy recipe of scrambled eggs with nopalitos, bathed in red chile, served with corn tortillas.
Get the Recipe
Ensalada de Nopales Asados (Grilled Cactus Paddle Salad)
Grilled nopales and bell peppers combined with tomato, red onion, black olives, and avocado drizzled with with a tangy, salty, and smoky dressing.
Get the Recipe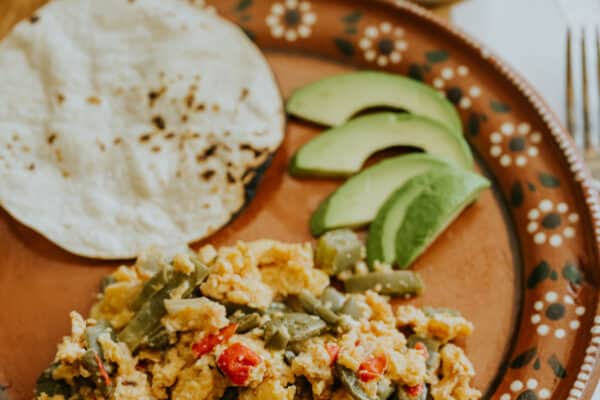 Nopales con Huevo
Nopales con huevo is a classic Mexican dish made with cactus paddles and scrambled eggs.
Get the Recipe
Licuado de Nopal (Cactus Smoothie)
Drink this smoothie every morning before you eat anything else. This juice is rich in fiber, helps speed up your metabolism, and helps eliminate grease and toxins.
Get the Recipe