National Strawberry Month is Here
This post may include affiliate links. As an Amazon Associate I earn from qualifying purchases.
May is National Strawberry Month. How will you be celebrating?
Did you know that there are an average of 200 seeds in just one strawberry? Or that strawberries are a member of the rose family? What about that just eight strawberries contain more vitamin C than an orange?
In this blog post you can read a few other interesting facts about strawberries that you may or may not know.
These juicy red fruits are in peak season spring and early summer which is why May is the perfect month to celebrate them. Whether you pick your own at a local farm or visit the grocery store for yours – strawberries are a simple yet versatile treat that can be eaten alone or in a recipe.
From breakfast to dessert and everything in between, celebrate National Strawberry Month with some Muy Bueno favorite strawberry recipes as well as some from my foodie amigas.
Chocolate Cupcakes with Strawberry Cream Cheese Frosting
Celebrate National Strawberry Month with these moist and tender chocolate buttermilk and coffee cupcakes with homemade strawberry cream cheese frosting.
Strawberry and Passion Fruit Caipirinha
Muddle strawberries, lime, mint, and sugar to create this mojito-like drink made with cachaça rather than rum. Yummy!
Creamy Mango Strawberry Gelatin
Tasting similar to flan this colorful dessert requires no baking and is easy to make with your kids.
Rustic Apple and Strawberry Galette
This delicate apple and strawberry tart, or open-faced pie, is beautiful, easy to slice, and simple to eat (pizza-style). Perfect for a spring gathering with friends and family.
Chicken Strawberry Salad Wrap
Use leftover chicken to whip up this chicken salad wrap studded with creamy avocado, sweet strawberries, and crunchy almonds perfect for school lunches or a picnic.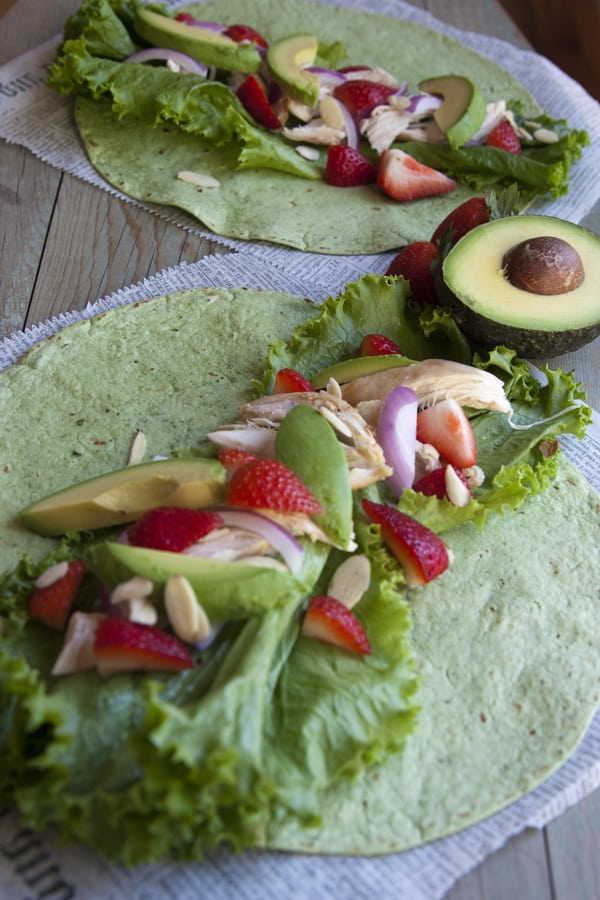 Bourbon Mint Julep Strawberry Shortcake with Mascarpone Topping
This aint no ordinary shortcake! This pound cake is moist, rich, decadent, and drizzled with a boozy bourbon whiskey butter sauce, finished with fresh mint and lemon zest.
Rustic Tartlets Filled with Dulce de Leche, Strawberries, and Mango
One of my favorite bite-sized desserts that impress! These tartlets are filled with a creamy dulce de leche filling and topped with fresh strawberries and mangos. These bite-sized juicy, sweet tartlets are ideal for a buffet or party.
Berry Brownie Pizza
Sweeten any summer potluck or picnic with this brownie dessert topped with light and fluffy cream cheese frosting and strawberries.
Strawberry-Filled Crepes Drizzled with Boozy Dulce de Leche
These crepes are filled with delicious and sweet strawberries then drizzled with a warm dulce de leche infused with orange liqueur. They are a little bit French, and a little bit Mexican, and perfect for breakfast.
Strawberry Carlota
Oh my, oh my! This dessert by Ericka is also known as Charlotte Russe or more commonly known as "icebox cake." It requires few simple but key ingredients and no oven is needed. The perfect centerpiece for your spring celebration spread.
Peach Strawberry Salsa
I could eat this entire bowl of salsa all by myself, but would gladly share with Isabel. This Peach Strawberry Salsa is super fresh, sweet yet savory and tastes great with chips and salsa. Also makes a great topping for tacos, salads, and grilled meats.
Winter Fruit Salad with Honey-Lemon Dressing and Pistachios
This salad by Kate might be called a winter salad but would be beyond amazing all year-round. This salad is a gorgeous combination of thinly sliced fennel, juicy strawberries, and floral clementines tossed in a lemon and honey dressing and sprinkled with roasted pistachios.