Red Chile Chilaquiles (Chilaquiles Rojos)
This post may include affiliate links. As an Amazon Associate I earn from qualifying purchases.
These Red Chile Chilaquiles are made using homemade enchilada sauce, corn tortillas, and melty cheese. Feel free to serve chilaquiles with eggs if you desire. This is a perfectly easy, cheap, vegetarian breakfast recipe using leftovers. Chilaquiles Rojos are fancy enough for company and simple enough for lazy weekend brunch.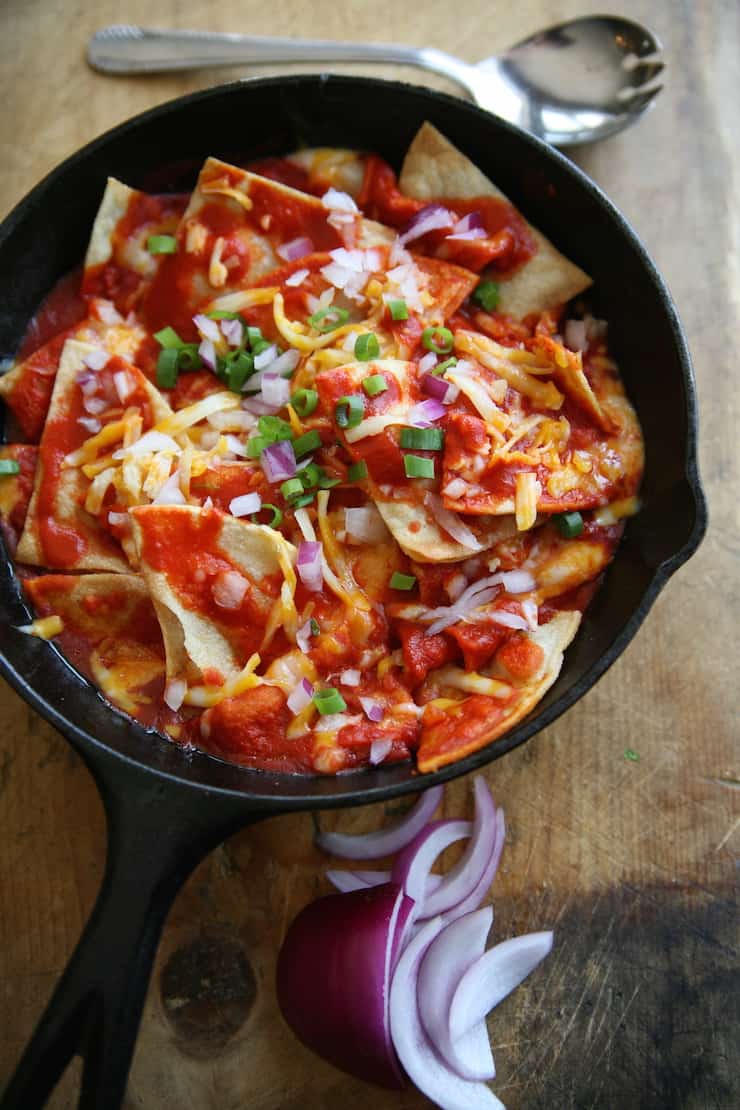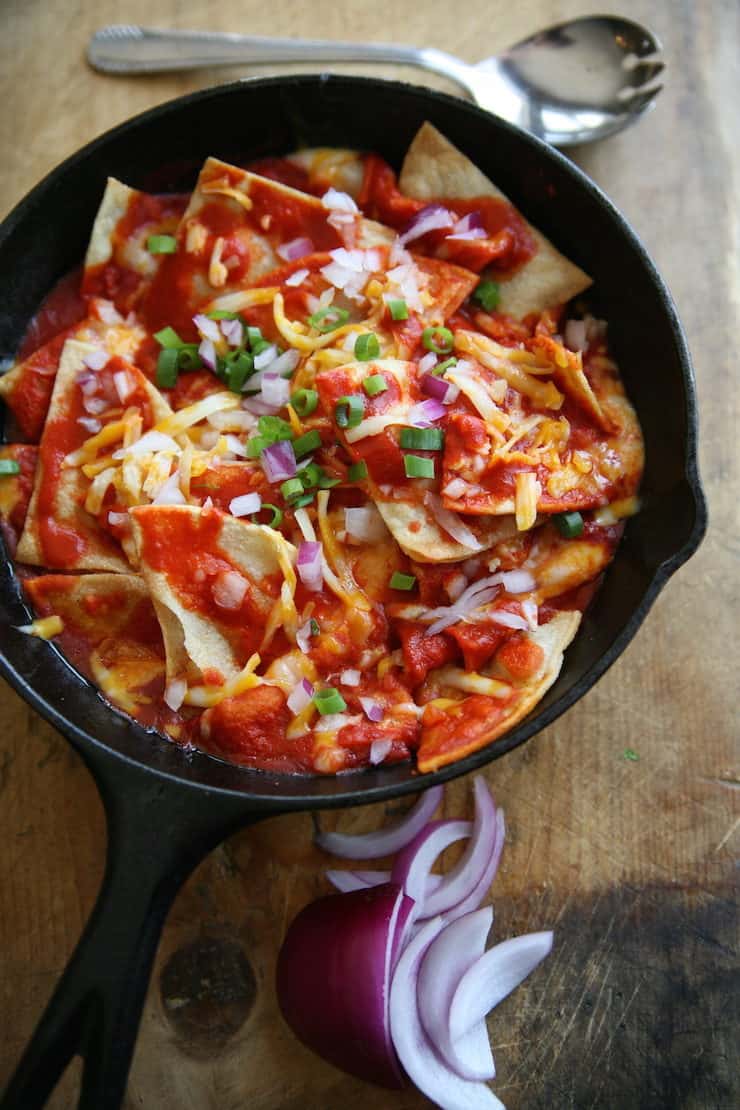 Every Friday growing up, we had red enchiladas. And if there happened to be leftover sauce, I would always hope my grandma would make chilaquiles rojos for breakfast the next day.
Chilaquiles are Mexican comfort food at its finest. If you have 10 minutes to spare in the morning, you can enjoy a big plate of hearty, delicious, perfectly spicy chilaquiles for breakfast. Trust me, it'll set you off on a great path for the day!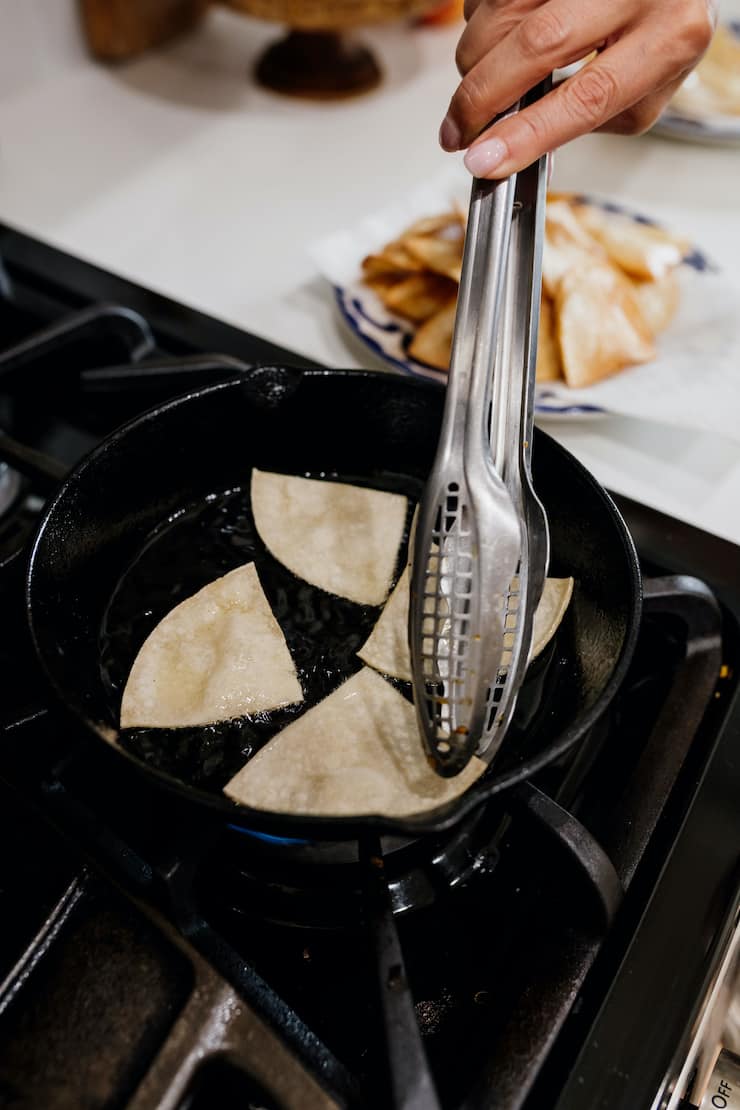 What are chilaquiles?
Pronounced chee-leh-kee-les, chilaquiles is made of corn tortilla wedges that are fried, simmered in sauce and sprinkled with cheese. Often served for breakfast, popular toppings include eggs (scrambled or fried) or shredded chicken or a combination of the two. Think of them as the breakfast version of nachos.
How to make chilaquiles rojos
This chilaquiles recipe comes together in a flash. As a bonus, it only requires one pan! First up, you'll need to quarter your corn tortillas. Warm oil in a cast iron pan over medium heat until shimmering. Fry the tortilla pieces until crunchy.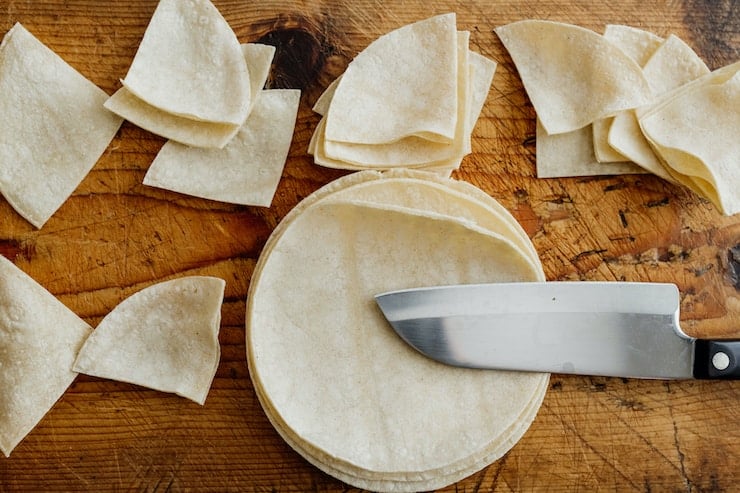 Crispy Tortilla Chips
As tempting as it may be, I do not recommend substituting homemade tortilla chips with store bought corn tortilla chips. Making homemade tortilla chips literally takes a few minutes and the flavor and texture is so much better.

Sauce and toppings
Next up, add the red chile sauce and mix only long enough to coat all the tortillas. Top with cheese while still over a low flame and cook just long enough for the cheese to melt. Top with chopped red and green onions for freshness, and serve with eggs any style. Easy, right?

Why you should make a big batch of homemade enchilada sauce today
The sauce for this chilaquiles recipe is made with dried red chiles, and is the same sauce my grandma and my mother made while we were growing up in El Paso, Texas.
It's a treasured recipe that is very special to me. Straining the boiled and blended red chiles in a conical sieve or chinois takes some time, but the resulting sauce is so velvety, making it well worth the extra work.

While many Americans think that homemade red chile sauce is only for enchiladas, nothing could be further from the truth! "Enchilada sauce" is not only way better when you make it yourself, it's also incredibly versatile.
Check out this video on how to make red chile sauce at home to see how simple it is! Once you make your own, I can guarantee you'll never want to go back to the canned stuff.
Making this sauce has me craving anything and everything that can be made with red chile sauce. It's used in this chilaquiles recipe, but also in stews, soups, braised meat dishes and tamales. Seriously. Go make a batch!
How should I serve chilaquiles?
While they're often eaten as breakfast, chilaquiles are great any time of the day. You can also mix and match the toppings to your preferences. This chilaquiles recipe calls for green and red onions, there are a ton of other toppings you could use.
Have some leftover carnitas or chicken? Throw it on there! Love cilantro? What's stopping you? Want some sour cream on there? I'm not going to judge. Have salsa verde on hand, but not red enchilada sauce? Make chilaquiles verdes instead! Again, consider these the breakfast-y equivalent of nachos and go nuts.

Love Chilaquiles recipes? Try these out:
I hope you'll enjoy this traditional Mexican dish, shared from my family to yours. If you made these red chilaquiles, please rate and review the recipe below! If you want more authentic Mexican food inspiration in your feed, be sure to follow me on Instagram!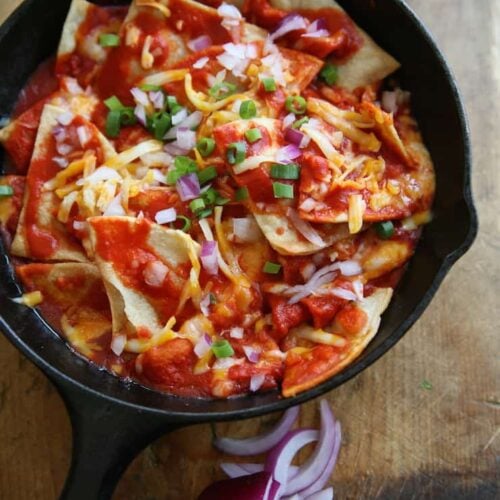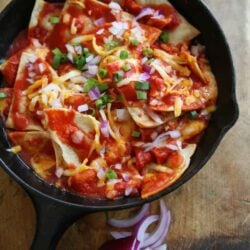 Red Chile Chilaquiles
Mexican comfort food at its finest, this family recipe for chilaquiles is a must-try.
Ingredients
8 corn tortillas
1 tablespoon canola oil
2 cups Red Chile Sauce
1 cup shredded queso quesadilla or Colby cheese
1/3 cup diced green or red onions
4 eggs, cooked any style
Instructions
Cut corn tortillas into quarters. In a large skillet heat oil and fry corn tortilla pieces until crunchy. Lower heat to low.

Add red chili sauce and mix only long enough to coat all the tortillas. Top with cheese while still over a low flame and cook just long enough for the cheese to melt.

Remove from heat and sprinkle with onions. Serve with eggs any style.
Notes
Alternatively, you can make this recipe with salsa verde for Chilaquiles Verdes. 
Want to spice things up a bit? Feel free to add carnitas, chicken, cilantro, sour cream or any other toppings you might have on hand.
Calories: 463.62kcal, Carbohydrates: 52.49g, Protein: 15.68g, Fat: 18.54g, Saturated Fat: 7.83g, Cholesterol: 193.34mg, Sodium: 6073.63mg, Potassium: 204.59mg, Fiber: 8.29g, Sugar: 21.85g, Vitamin A: 520.66IU, Vitamin C: 0.99mg, Calcium: 273.51mg, Iron: 1.6mg
Photography by Jeanine Thurston & Jenna Sparks
Originally published: May 2018. This recipe is also published in the Muy Bueno cookbook.