Spicy Roasted Pepitas Recipe (Pumpkin Seeds)
This post may include affiliate links. As an Amazon Associate I earn from qualifying purchases.
Plain pumpkin seeds get a kick from chili powder, making them a delightfully crunchy and addictive appetizer for your Día de Muertos celebration. This easy roasted pepitas recipe is sure to become a fall favorite!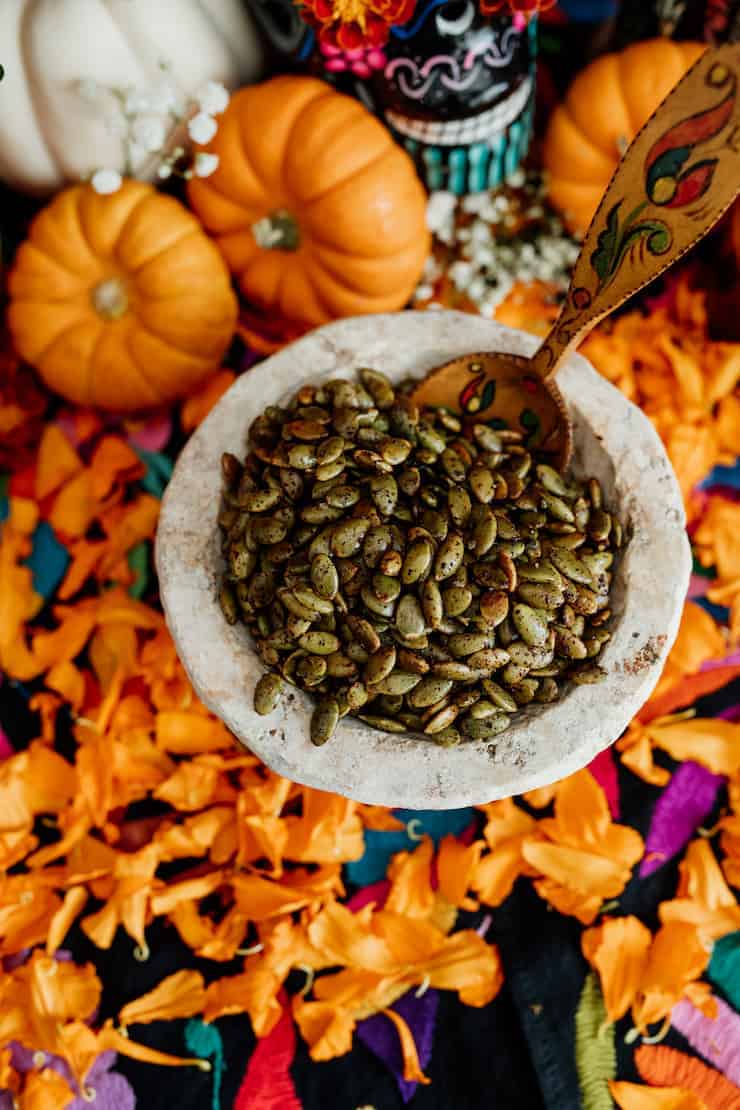 These hulled pumpkin seeds are tossed with a combination of chili and garlic powder for spice and then toasted until aromatic. After roasting, the pepitas are drizzled with fresh lime juice for some zing. Eat them by the handful or use them to add crunch to any fall salad or as a garnish on your favorite winter squash soup.
What is Día de Muertos?
Literally translating to "Day of the Dead," Día de Muertos is the tradition of honoring deceased family members and friends. It is a two-day holiday in Mexico that harkens back to the Aztecs at least 700 years ago. Typically, the festivities now start on October 31st and end on November 2nd, like the Christian holidays of All Saints' Eve, All Saints' Day and All Souls' Day.
Rather than being viewed as a sad holiday, Día de Muertos is a time of celebration! It is believed that during these three days, the dead may awaken and be with their living families to remember each other and celebrate the lives lived.
It is typical in Mexican culture to build altars to the departed members of the family. These ofrendas are filled with photographs, flowers, gifts, food and beverages to welcome the spirits while they come back to commune with the living during this three day period.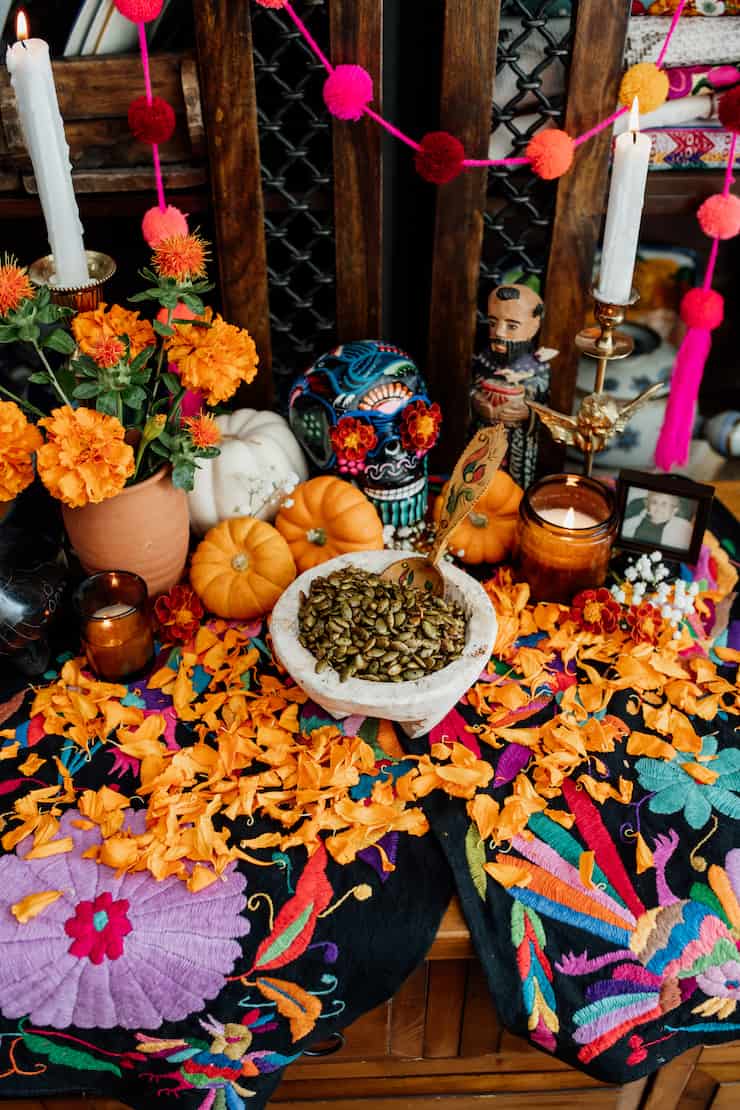 Food as an Offering
Because Día de Muertos is a time for remembrance, and because food is such an integral part of the celebration, I decided to share a recipe that reminds me of my dear grandma. Pumpkins always remind me of my lovely abuelita.
Once I carved a jack-o'-lantern, she would save the seeds. After Halloween was over she would make delicious pumpkin empanadas with my carved pumpkins. I dedicate this spicy roasted pepitas recipe to her this season.
If you remember from following my earlier blog posts, food is one of the elements to place on an altar. These spiced pepitas will be on my abuelita's ofrenda all season long.
While Día de Muertos doesn't officially start until the end of the month, you can feel free to kick things off early to honor your loved ones all month long.
Making This Roasted Pepitas Recipe
One of the things I love the most about this pepitas recipe is how economical it is. And better yet, all of the ingredients you need will be available at your local Kroger store. Make them all season long! They are also perfect for game day, when you can wash them down with a refreshing Michelada.
TIP: You can shell the seeds yourself, or you can find hulled pumpkin seeds at the grocery store. Ain't nobody got time for shelling them all! This is meant to be a fast and easy appetizer, folks. Do yourself a favor and get them pre-shelled.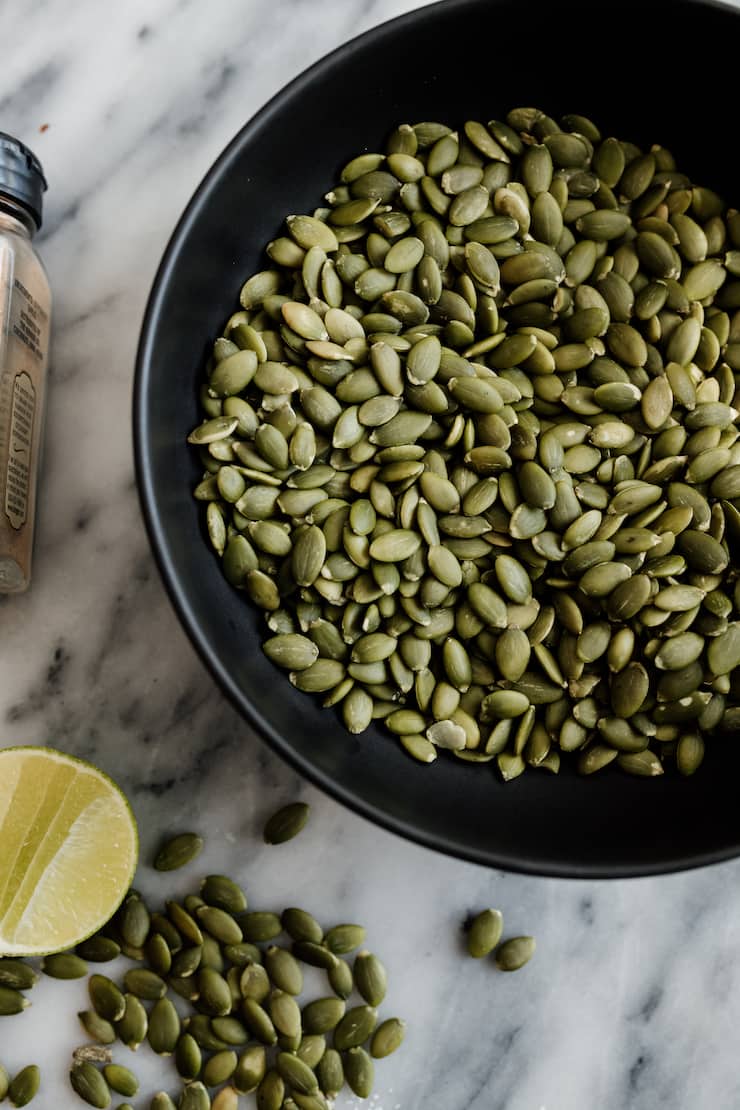 This recipe is as easy as 1-2-3! Simply add your pepitas to a large bowl. Add the spices and olive oil, and toss to coat. Spread the seasoned pepitas in a single layer on a sheet pan, then roast for about 12 minutes. That's it!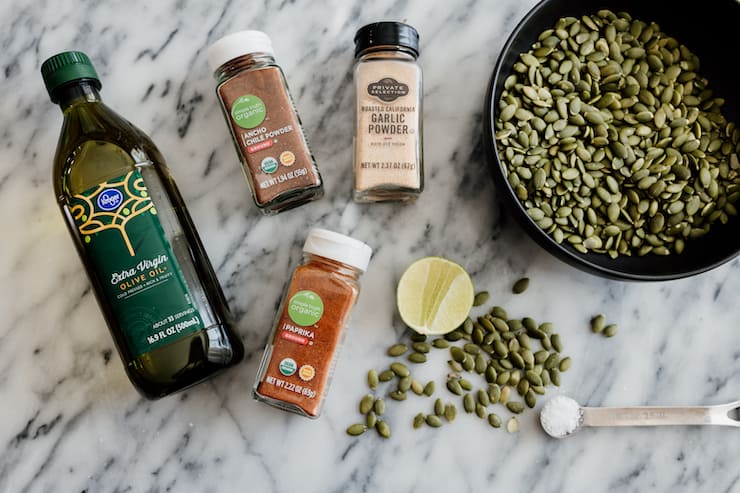 TIP: Line your sheet pan with parchment for super simple clean up!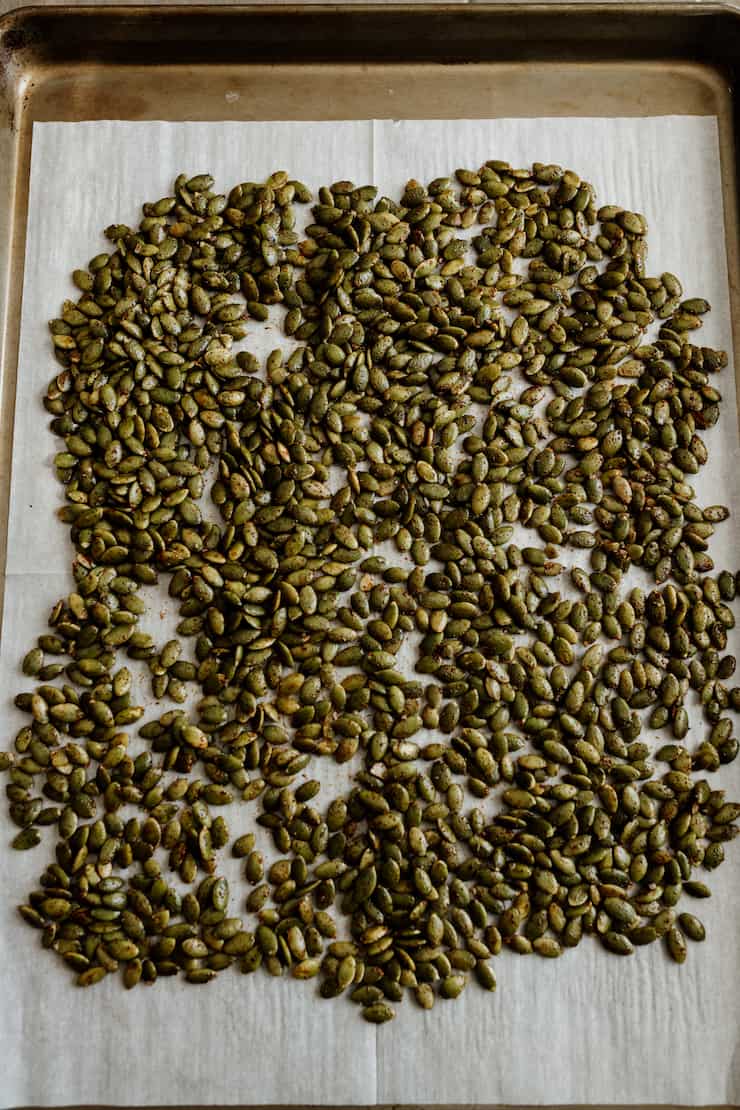 If you don't believe me, you can watch this video to see how quickly this appetizer comes together.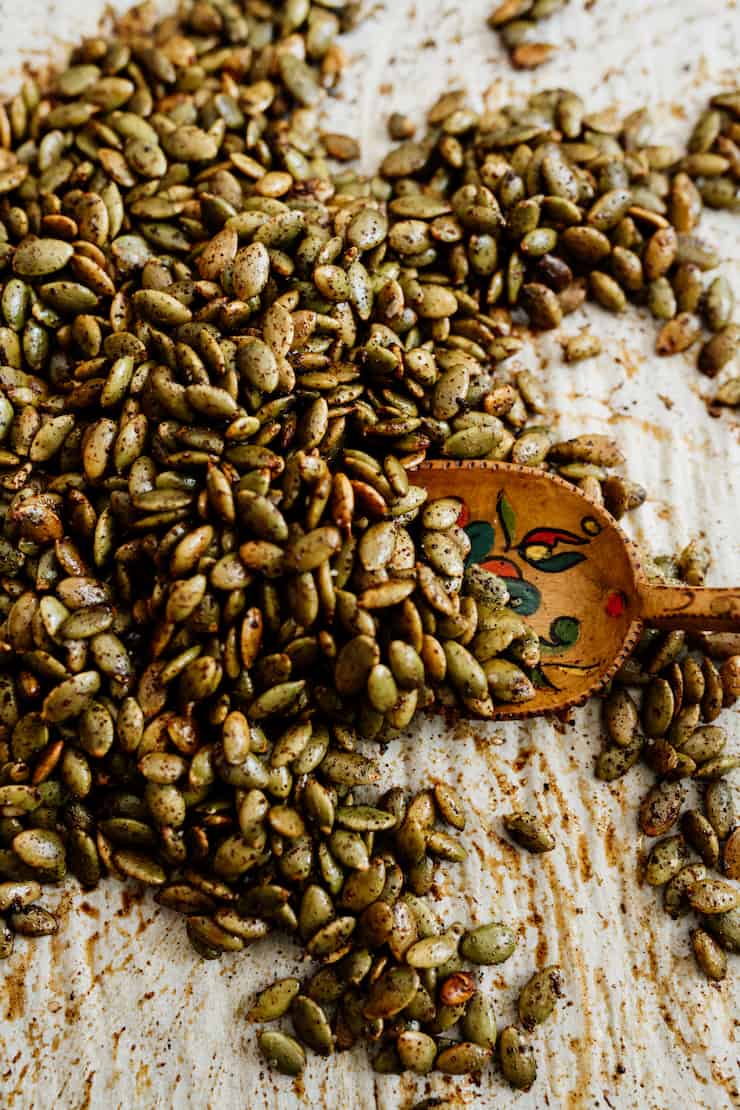 Frequently Asked Questions
Are pepitas healthy?
YES! Pumpkin seeds are a great source of magnesium, zinc, and Omega-3 fatty acid. They have been associated with heart health, prostate health, and even protection against certain kinds of cancers. This is an appetizer you can feel good about indulging in!
How should I store these pepitas?
Roasted pepitas should be kept in an airtight container for the best preservation of flavors. If you want to give them as gifts, I love small glass mason jars. The weck tulip jar is probably my favorite for gift giving because of its elegant design.
Wrap a ribbon with a small tag denoting what they are and the many ways they can be used. They make a perfect hostess gift during this time of the year!
How long will pepitas last after roasting?
While this sounds like more of a philosophical question to me because they don't last very long at our house, these will easily keep for up to one week in an airtight container at room temperature.

How should I use these roasted pepitas?
There are so many ways to eat these deliciously salty spicy little snacks. From eating them by the handful to adding to your favorite salad, the sky is the limit. Here's a list of different recipes you could add these beauties to:
Did you love this recipe and want more inspiration? Check out these other Día de Muertos classics:
If you made this recipe, please rate and review it below so I know how it turned out for you! And if you want more beautiful, authentic Mexican food inspiration in your feed, be sure to follow me on Facebook, Instagram and Pinterest.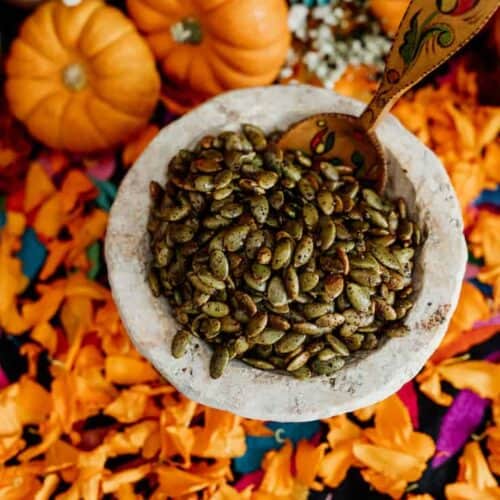 Spicy Roasted Pepitas Recipe (Pumpkin Seeds)
Plain pumpkin seeds get a kick from chili powder, making them a delightfully crunchy and addictive appetizer for your Día de Muertos celebration. 
Ingredients
8 ounces pepitas (pumpkin seeds), hulled
1 teaspoon ancho chile powder
1 teaspoon ground paprika
1/8 teaspoon garlic powder
1/2 teaspoon kosher salt
1 tablespoon olive oil
2 teaspoons lime juice
Instructions
Preheat an oven to 350 degrees F.

Add the hulled pepitas to a large bowl along the spices and drizzle with olive oil and toss. 

Line a large baking tray with parchment paper. Spread the pumpkin seeds out onto the tray and roast until the seeds are lightly toasted, about 12 minutes, stirring halfway through. Drizzle with lime juice and serve.
Notes
The toasted, spiced pepitas can be kept in an airtight container for 1 week.
Photography by Jenna Sparks
This post is in partnership with Kroger. As always, thank you for reading and for supporting companies I partner with, which allows me to create more unique content and recipes for you. All opinions are always my own.