Calabaza en Tacha (Candied Pumpkin)
This post may include affiliate links. As an Amazon Associate I earn from qualifying purchases.
If you're a fan of sweet potato casserole, you're going to love this classic Mexican dish of candied pumpkin. Creamy sweet pumpkin is cooked with warming spices, covered in a brown sugar syrup, then drizzled with sweetened condensed milk. Give this Calabaza en Tacha recipe a try next time you're craving a sweet side!
Will you be making sweet potatoes or candied yams for Thanksgiving? If you want to try a twist on the American classic dishes try making calabaza en tacha or candied pumpkin. This is a traditional Mexican recipe that is commonly prepared for Dia de Muertos, but would make a lovely dish for your holiday table.
As the calabaza slow simmers with cinnamon and cloves, it becomes rich, sweet, and tender. The pumpkin slices are then served in spiced piloncillo syrup and then drizzled with sweetened condensed milk. I was ready to lick the plate after I finished my serving. It is rich, creamy, and delicious. The skin softens while cooked and is also edible.
About Calabaza en Tacha
While the flavors in this classic Mexican dish are similar to American style candied yams or sweet potato casserole, it isn't intended as a side dish. Candied pumpkin is more often served as a snack, dessert, or even as a breakfast dish in Mexico, and is often made to celebrate Dia de Muertos as an offering suitable for ofrendas.
Authentic Mexican calabaza en tacha is usually made using calabaza de Castilla, a particular variety of tough skinned pumpkin that is native to Mexico. While I haven't been able to find that particular type of squash, we still make this candied pumpkin dish every October to celebrate my grandma.
Mexican candied pumpkin is the epitome of comfort food. The fall flavors are very similar to comotes enmielado (candied sweet potatoes), which my grandma used to make, but instead of sweet potatoes this dish is made with pumpkin. Both are deliciously festive.
How to make Mexican candied pumpkin
This recipe for calabaza en tacha is quite easy, requiring just 5 to 10 minutes of prep time. First up, you'll need to halve the pumpkin and scoop out the pulp and seeds. A serrated knife is best suited for the pumpkin's tough skin.
TIP: If you want, save the pumpkin seeds to make roasted pepitas! Just be sure to rinse all the pulp off of them first and dry them for later use.
Next up, cut the pumpkin into 3 to 4 inch slices. Place the pumpkin in a large pot with water, cinnamon sticks, and cloves. Cover to steam for 20 to 40 minutes, until the flesh is fork tender.
TIP: If you want, add 1 to 2 whole star anise to the pot with the pumpkin. This will impart a bit of licorice like aroma to the pumpkin.
Next up, make the piloncillo syrup. Simply place a quarter cup of water in a small saucepan with the piloncillo and a cinnamon stick. Bring to a simmer and cook until the piloncillo dissolves.
To serve, plate a few slices of the candied pumpkin on a plate, then spoon a hefty amount of syrup over it. Finally, drizzle with some sweetened condensed milk and dig in!
Frequently Asked Questions
What is piloncillo and where can I find it?
Piloncillo is known by many names in different cultures. It is known as jaggery in Indian cuisine and panela or dulce de panela in other Latin American countries, to name a few. It is the sugar that is left behind after boiling and evaporating sugarcane juice. It's also used to make atole, capirotada and café de olla.
If you visit any Mexican supermercado, you should be able to find piloncillo in cones or blocks. You can also purchase piloncillo online or you can substitute with brown sugar. Just note that brown sugar does not have all of the caramelly, smoky, and earthy flavors that piloncillo offers.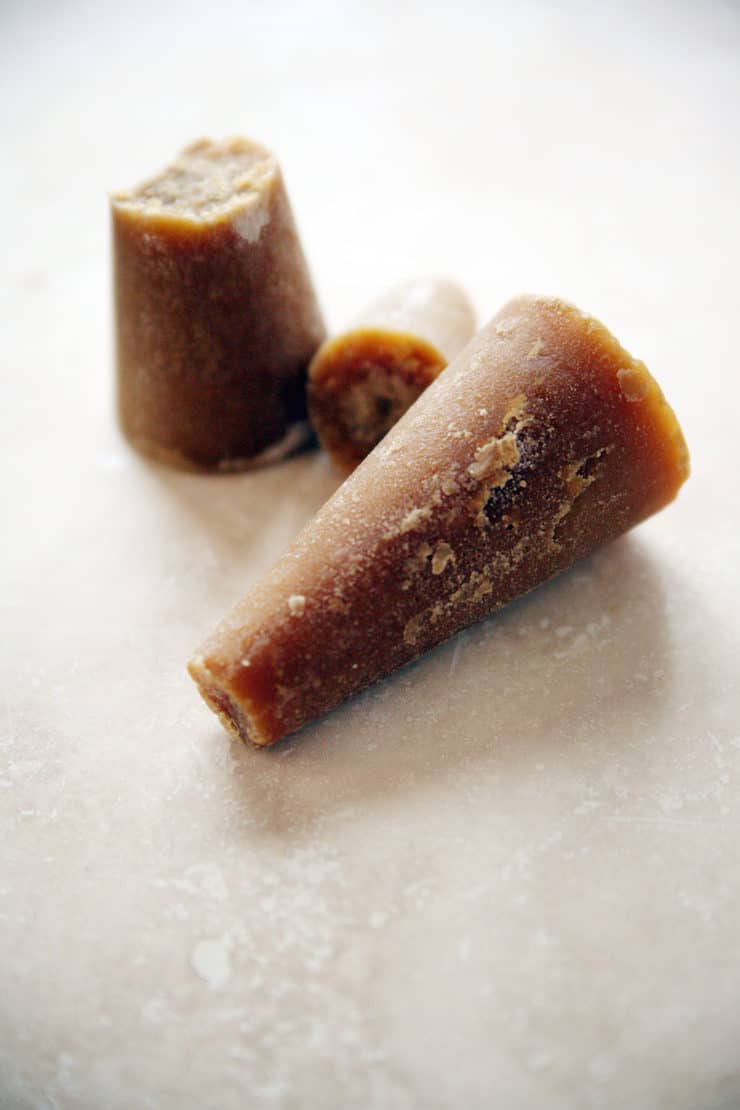 What kind of pumpkin or squash should I use?
I honestly usually make calabaza en tacha out of normal orange halloween style or sugar pie pumpkins, but there are plenty of varieties out there that would work. Cinderella pumpkin, kabocha, buttercup, acorn squash would all be fine substitutions.
How and when should I serve Calabaza en Tacha?
This authentic Mexican candied pumpkin recipe would be a lovely dish to honor your loves ones on Dia de los Muertos and a delicious side for your Thanksgiving or Christmas dinner tables. You can also eat this as a deliciously indulgent breakfast, as a sweet treat at the end of the night, or appetizer.
I highly recommend serving the candied pumpkin warm with the piloncillo syrup and a drizzle of sweetened condensed milk to highlight all of the sweet, creamy flavors.
Need more squash inspiration? Check out these other delicious recipes:
If you tried this calabaza en tacha recipe, please be sure to rate and review it below! You can also sign up for my email newsletter to get more delicious authentic Mexican recipe inspiration delivered straight to your inbox.
Calabaza en Tacha (Candied Pumpkin)
If you want to try a twist on the American classic dishes try making calabaza en tacha or candied pumpkin. This is a traditional Mexican recipe that is commonly prepared for Dia de los Muertos, but would make a lovely dish for Thanksgiving or Christmas.
Ingredients
4-to 5 pound pumpkin
2 cups water
Spiced Piloncillo Syrup
¼ cup water
8 ounces piloncillo , or 1 cup packed dark brown sugar
Toppings:
Instructions
Rinse off the exterior of the pumpkin in cool or warm water, no soap. Using a serrated knife cut the pumpkin in half and scoop out the pumpkin seeds. Scrape out the stringy layer (pulp) with a spoon. Discard seeds and pulp. Cut the pumpkin into 3- to 4-inch slices leaving the skin on.

In a large pot, steam the pumpkin in water, cinnamon, and cloves making sure to keep the lid on tight, for 20 to 40 minutes, or until pumpkin is tender. The pumpkin is ready when your fork slides easily into the flesh.

In a small saucepan place water, cinnamon stick, and piloncillo on a very low heat until the piloncillo melts. Be sure to stir frequently.

Serve slices of pumpkin with syrup and drizzle with sweetened condensed milk.
Notes
The skin softens while cooked and is also edible.
Sometimes star anise is added along with the cloves and cinnamon. Feel free to try add 1-2 star anise to the pot.
Calories: 165kcal, Carbohydrates: 41g, Protein: 2g, Fat: 1g, Saturated Fat: 1g, Sodium: 6mg, Potassium: 777mg, Fiber: 2g, Sugar: 31g, Vitamin A: 19307IU, Vitamin C: 20mg, Calcium: 75mg, Iron: 2mg
Originally published: November 2014.