What Tamalera Should I Get? Find The Best Tamale Steamers For Your Needs
This post may include affiliate links. As an Amazon Associate I earn from qualifying purchases.
If you're someone who loves to make tamales for the holidays or who wants to host a tamalada (tamal-making party) this year, you are going to need a Tamalera, or tamale steamer. But with so many options to choose from, which tamale pot should you choose? Here I discuss how to pick the best tamale steamer pot for your needs. Don't worry, there's something here for every budget!
"If you really want to make a friend, go to someone's house…the people who give you their food give you their heart." ~César Chávez
What is a Tamalera?
Tamal-making can be labor intensive, however not difficult to make if you have the proper kitchen tools, and the perfect company in tow. Making tamales is as much about cooking together as it is about eating together. The point is to strengthen the bonds between family and friends and create memories that are passed through generations.
As such, we like to host tamaladas (tamal-making parties) every holiday season. It gives the members of our household plenty of opportunity to catch up with friends and family we don't get to see much during the year, and it lightens the cooking load. I also love hosting a party where everyone gets to go home with lots of food to stock their freezers — I know that every time they eat a tamal, they'll think of the time we got to spend together!
The main piece of equipment you'll need for hosting a tamalada of your own is a tamalera, or a tamale steaming pot.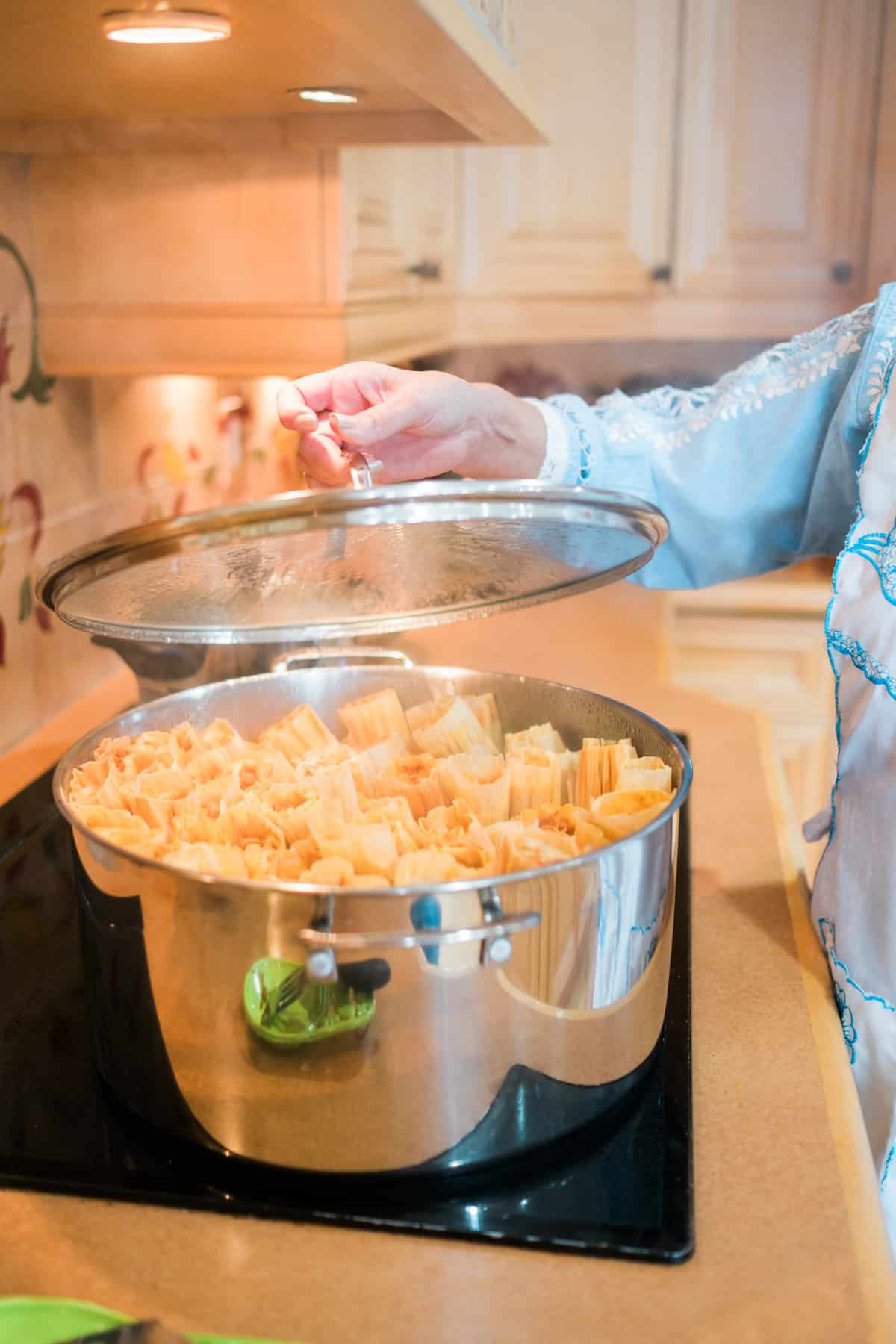 What should I look for in a tamale steamer pot?
When it comes to making tamales, you need to find the appropriate tamale pot. There are so many to choose from, but which one is right for you? Do you want one that is stainless steel with a glass lid and includes soft-touch handles, or a good old-fashioned tamalera made of enamel or aluminum?
When shopping for a tamale steamer pot – make sure to look for one that at minimum consists of these three parts:
a large enough capacity pot (see below for sizing recommendations),
a tight fitting lid (preferably glass), and
a removable steamer insert.
Aside from that, you'll want to consider the SIZE, MATERIAL, and FEATURES of the tamaladas that are on the market, then compare them to find one that fits in your budget. Here are some notes to consider:
SIZE — How many tamales are you making?
Making tamales for a family of 4 is a much different proposition than making tamales for 10 families of 4. Consider how many tamales you want to make for each person in attendance, then reverse engineer which capacity you'll need for the steamer pot.
Here is a handy guide to help you figure out what size tamale steamer is right for you:
Remember that you can use multiple tamale steamer pots at once if you have multiple burners, so you should also consider seeing if any of your guests have a steamer that they can put on loan for the party. Also, remember that you're going to need to store the pot at some point; make sure you consider where the tamalera can live when it's not being used to steam tamales.
MATERIAL — Is cost or versatility more important?
Aluminum – The main "pro" of getting an aluminum pot is that they are very inexpensive, so you can grab even a large pot for a small amount of money. Note that aluminum is reactive with acidic ingredients like lemon juice or tomatoes, so you will be limited with how much you can use the pot for. Aluminum pots are also more prone to scorching and cannot be washed in the dishwasher.
Stainless Steel – Stainless steel is a step above aluminum in terms of quality, so you should be prepared to pay slightly more than if you chose aluminum. The trade-off is that stainless steel is dishwasher safe and can safely be used with acidic or reactive ingredients.
Enamel-Coated – Enamel-coated cookware is generally the most expensive of the bunch, but it's also extremely easy to clean. You'll also be able to repurpose any enamel-coated cookware for other uses like making soups, stocks, or sauces.
FEATURES — How fancy do you want your tamale steamer pot to be?
Soft-Touch Handles. While not necessary, having soft-touch handles is a nice feature and helps to prevent burning your fingers.
Induction Capable. If you have an induction cooktop, make sure you're grabbing a pot that will work with the magnet. Aluminum, copper, or glass pots are not suitable for induction.
Electric Steamers. While these steamers are typically much smaller in terms of capacity, having features like multiple compartments, a see-through steaming chamber, and automatic turn-off capabilities makes electric steamers a great choice for some households. They're also a great way to give you an extra steamer if you've run out of burners on the stove.
Where should I shop for my tamalera?
Tamaleras are available at Mexican and other Latin American markets, as well as cooking stores, and online. Please note that if you purchase any of the tamale pots I recommend via the links on this page, I'll earn a small affiliate fee at no added cost to you.
What else do I need to host a tamalada?
Stand mixer: I can't live without my KitchenAid! The key to delicious tamales is fluffy masa, and whipping lard in a stand mixer will be your best friend.
Blender: A high powered blender is a great time saver to make homemade Red Chile Sauce.
Strainer: You don't need this if you have a high-powered blender, but I use it anyway. Your red sauce will be extra strained and smooth when you use this chinois.
Slow cooker or Pressure Cooker is a must to cook chicken or pork.
Electric Burner: An extra burner is always welcome to warm up Mexican Hot Chocolate.
Muy Bueno and Muy Bueno Fiestas: There are lots of great recipes and tips for your tamal-making adventures.
Corn husks: You'll need plenty of corn husks! Trust me!
Apron: I ask all my guests to wear aprons and I host an apron contest. Its a lot of fun! Check out Etsy for lots of beautiful Mexican embroidered aprons and traditional aprons.
What are different types of tamales?
You can make tamales with fresh masa (nixtamalized corn dough) or masa harina (corn flour). Tamales come in all shapes, sizes, wrappings, and fillings. The possible fillings for tamales are endless. Here are a few of my favorites:
If you want to host a tamalada it's not too late. You can serve tamales for Christmas, New Year's Eve, Dia de los Reyes, and Dia de la Candelaria. Lots of wonderful excuses to keep eating tamales.
Now sit back and enjoy the delightful aromas filling your home as your little bundles of deliciousness steam away in your perfect-sized tamalera.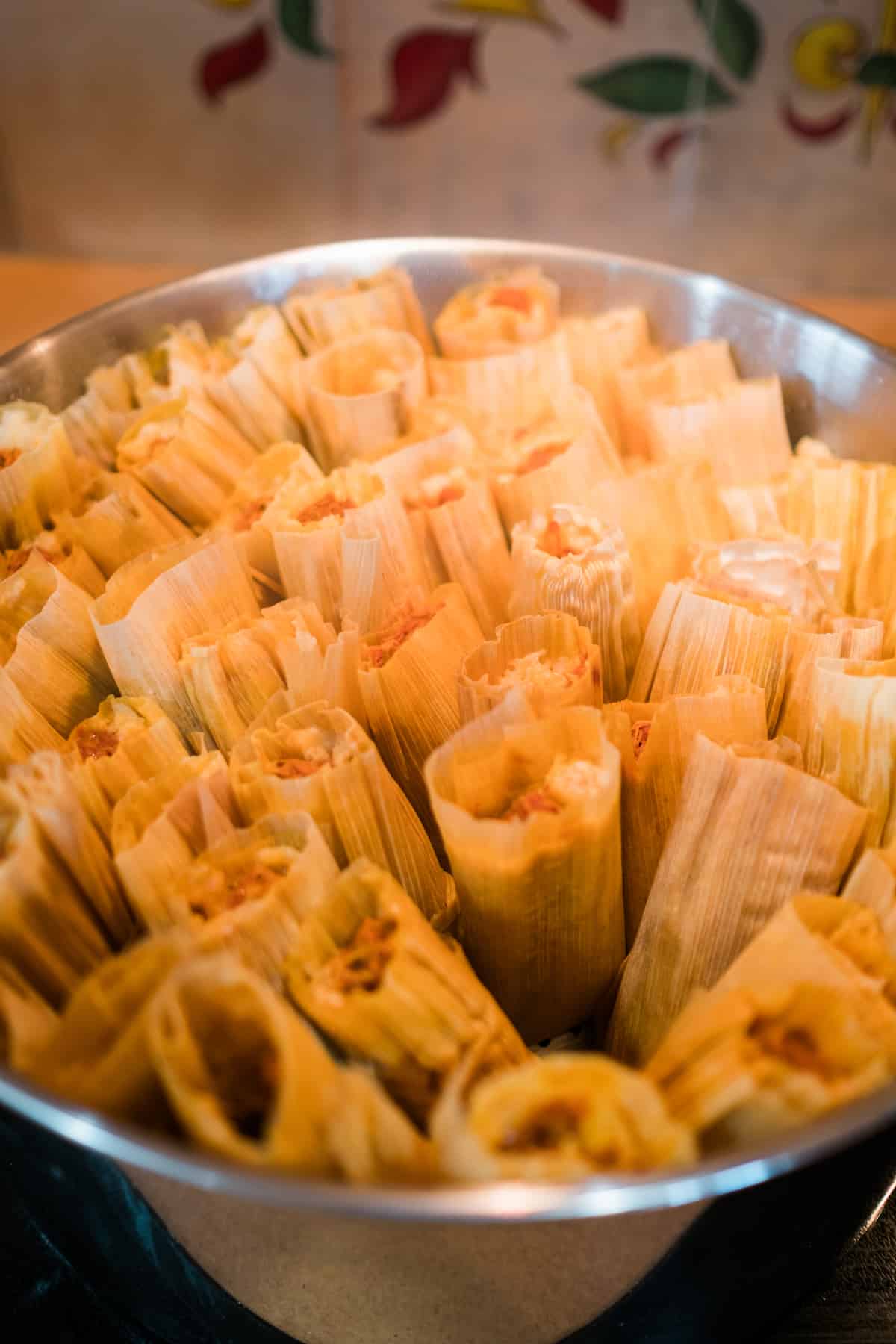 Originally published: December 2017.