Western Caribbean Cruise Bloggers Retreat + Video
This post may include affiliate links. As an Amazon Associate I earn from qualifying purchases.
How would you like to wake up in a new country? That is what I love best about a cruise. I went on a 7-day voyage exploring three countries: Honduras, Belize, and Mexico.
While at sea on our Carnival Vista Western Caribbean cruise, I co-hosted a bloggers retreat with my business manager, Johanna Voss.
We hand selected eight folks to join us and while at sea, Carnival reserved a private room (the Piano Bar) for us to each present in our area of expertise.
Each guest was treated to a fabulous cruise experience, different culinary venues each evening, shore excursions, and most of all inspiring hands-on workshops, roundtables, brainstorming sessions, and networking – all while at sea.
As a blogger/influencer, small business owner, and entrepreneur, I can't tell you how beneficial small retreats have been for me both personally and professionally.
While I still attend and love larger conferences and workshops, there is something so unique, special, and incredibly productive about spending a few days in an intimate setting with like-minded go getters.
I went on my very first cruise with my family a year ago and while at sea I kept envisioning an intimate conference retreat — a bloggers retreat cruise. It is so amazing to realize how that idea came to fruition.
While at port we selected our choice of hosted excursions. Not only was this a conference while at sea, but an excursion experience to network, relax, and have fun.
Roatán, Honduras
While in Roatán, Honduras we ventured into the jungle with iguanas, parrots, and monkeys, oh my!
Plus, a relaxing day soaking up the sun on white sandy beaches and swimming in pristine Caribbean water.
Belize
In Belize we boarded a speed boat to ceremonial ruins and climbed a 100-foot high temple while learning all about ancient Mayan culture.
Cozumel, Mexico
In Cozumel, Mexico we shopped, drank margaritas, ate delicious grub, and swam in turquoise water.
I didn't want to leave this magical place.
Do you want to attend a bloggers retreat?
Are you an influencer, work in public relations, public speaker, or brand interested in sponsoring the next retreat and want to learn more?
At this time, nothing is confirmed but we are gathering information of people who have expressed interest in knowing about the next one – apply here.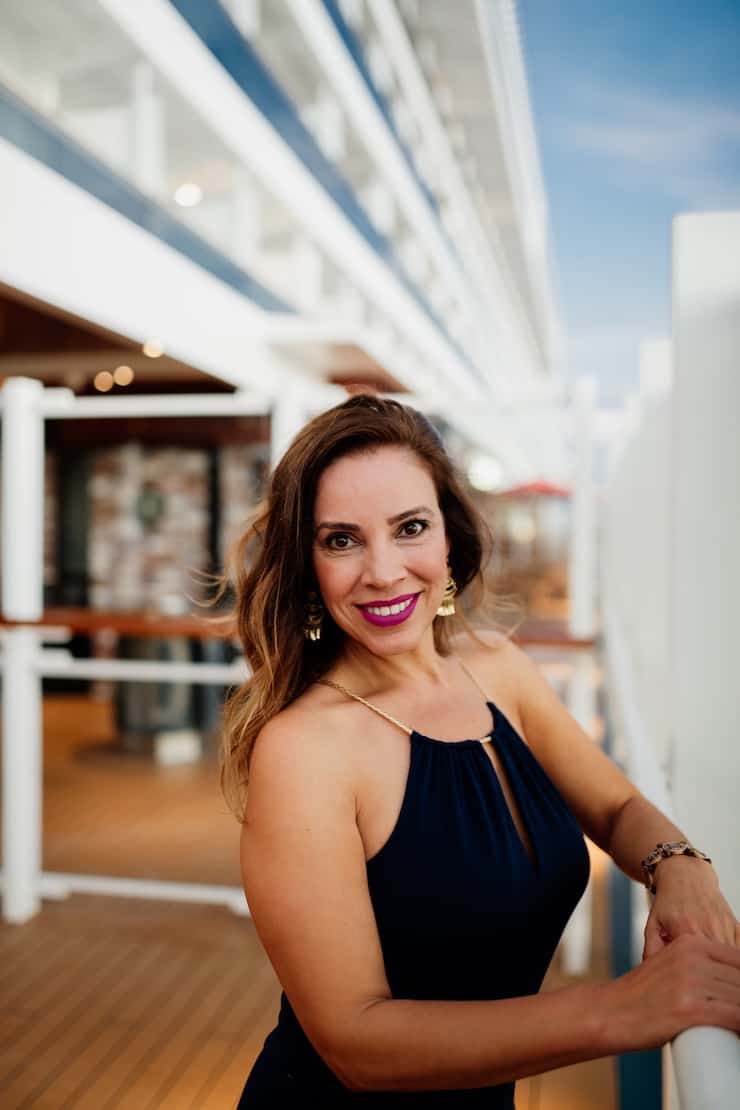 Thank you to Carnival for hosting the first 2019 Bloggers Retreat Cruise, and to all the brands who sponsored: Vivo Barefoot, Eye Bobs, Exotico Tequila, Mediavine, and Tastefully Simple.
Special thanks to the wonderful mastermind group. They are all so inspiring – follow them on Instagram:
Watch this video to see all the fun highlights.
If you have questions about a cruise or bloggers retreat, ask away in the comments below.
Photography: Jenna Sparks