Ysleta Mission History and Festival + Video
This post may include affiliate links. As an Amazon Associate I earn from qualifying purchases.
As some of you might know, my grandma was a very proud Guadalupana (female group devoted to the Virgen de Guadalupe).
She would volunteer at our neighborhood catholic church, Our Lady of Mt. Carmel every chance she had.
Every year there was an annual kermes (church bazaar), now called the Ysleta Mission Festival complete with food, music and fun. It is the main fundraiser for the church and has grown throughout the years.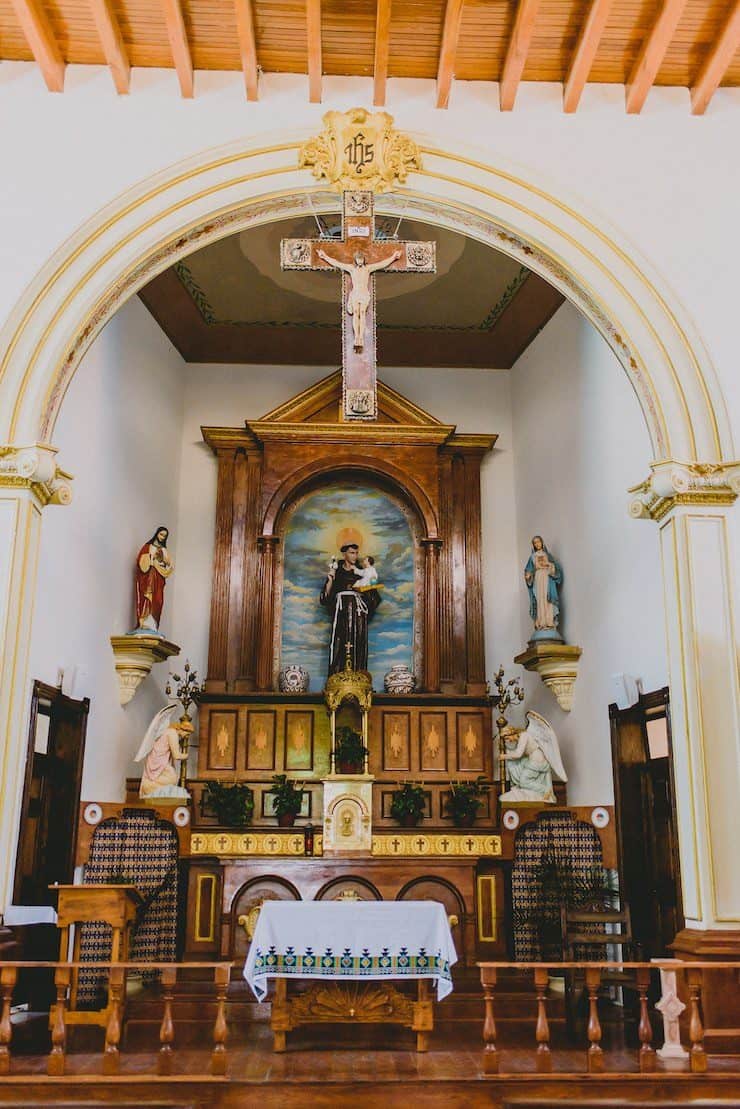 When I was a little girl, I used to walk to the church with my grandma and she would go inside the church kitchen and make gorditas for hours. Gorditas are corn masa pockets that are traditionally filled with picadillo. They were always the hit of the festival.
I would peek in the kitchen to check in on her and she always had a sweet smile on her face as she molded patties of masa to make gorditas. She loved being in the kitchen volunteering with all the Guadalupanas.
While she was busy in the kitchen, I would enjoy the festival and join in on the cakewalk or I would venture outside and play carnival games. It was a sweet little festival that I used to look forward to every year.
I would meet up with neighborhood friends and family and we would eat all of our favorite festival treats. My favorites were always grilled corn and funnel cakes.
When it started to get dark, I remember looking forward to seeing the Matachines, a religious dance group that dates back to Spanish colonialism in Mexico.
In the distance, I would hear them dancing and I would run to watch them – I was mesmerized by their colorful feathers and costumes, and hypnotized by the sound of the rattles, bells, and drums.
A Matachin is a person who expresses through his body his gratefulness to God and the Virgen de Guadalupe. The dance of the Matachin is a very important dance amongst the El Paso community – it is heritage, tradition, and devotion.
As the sun would go down the long lines began to form at the gorditas booth. The long lines were a testament to their popularity. Everyone knew they were worth the wait — they continue to be an El Paso tradition.
My grandma was a Guadaluapana for many years and made gorditas up until the age of 90. My grandma passed away at 98 years old and treasured the life-long friendships she made in the church.
A few years after my mom retired she took the promise to follow in my grandmas' footsteps and also became a Guadalupana. She has now been a Guadualpana for five years.
I hope you enjoy this video with Father Miguel sharing the history of the Ysleta Mission.
My mom also shares her sweet memories of the festival and shares why she volunteers. The video is filled with old family photos as well as footage of my late grandma, which makes this video beyond special.
Ever since my mom became a Guadalupana, I knew I wanted to capture her story and the story of my grandma as church volunteers as well as the history of the Ysleta Mission and the festival. The Ysleta Mission is the oldest continuously active parish in the state of Texas.
I want to thank Chris (Pure Cinematography) for making the trip to El Paso and filming this very special project! Special thanks to Zane Chaffee for sound, Cristina Navarro for photography, my sisters Gracie and Kat for weathering the heat and helping behind the scenes, and to my son Blake who was a little super star assistant.
Gracias to Father Miguel for sharing so much of the history of the mission, a big abrazo to my mama for sharing why she volunteers just like grandma, and thank you to the Tigua dancers and community of El Paso, and to everyone who helped make this video possible!
Gracias El Paso, te amo.