Where to Eat in Mexico City
This post may include affiliate links. As an Amazon Associate I earn from qualifying purchases.
It is so hard to believe that it has been over a month since I returned from my fabulous trip to Mexico City.
The days are flying by way too fast. I can't even begin to express the beauty of it all. The food was beyond incredible — not only all the street food, but fine dining and high-end restaurants, and then of course there is the proud culture of Mexico and the history.
While I was in Mexico City I kept telling myself that I wanted to write a detailed blog post of where to eat, what shops and markets to visit, what to do, where to stay, and finally I am sharing my first blog post of where you must eat in Mexico City.
This post is a combination of street food, affordable restaurants, as well as high-end fine dining.
Is the food safe in Mexico City?
Number one question I am sure you are wondering, "Is the food safe in Mexico City?" The best advice someone gave me was, use your best judgment and common sense. If there's a crowd, if everything looks and smells good, then it's probably very safe. If there's not many people or if the food looks sketchy or smells weird, then it's probably a place you don't want to take a chance on.
Eat Mexico Food Tour
I highly recommend booking a culinary tour to taste the best of the best of Mexico. I can't say enough great things about Eat Mexico! Lesley Tellez is a food blogger over at The Mija Chronicals and co-founder of Eat Mexico.
She started Eat Mexico in 2010 as a way to introduce tourists to Mexico City's fantastic street food and market scene. Not only do they offer tours in Mexico City, but also offer tours in Puebla and the Riviera Maya. She also published a beautiful cookbook by the same name, Eat Mexico.
We went on two tours with Eat Mexico: Navarate at Night and Gourmet San Juan Market and Street Food Tour.
Both tours were beyond exceptional and I highly recommend them for a delicious and safe food journey all while learning the culture and history of each stop.
In this blog post, I share not only the food I enjoyed on those tours, but also other favorite places we dined at and highly recommend.

Uber in Mexico City
Before we begin on the food, I want to share that the Uber system in Mexico City is beyond amazing. First of all, it's crazy affordable with the average trip across Mexico City costing an average of six US dollars. I also highly recommend Uber for their reliability and safety.
Ok, let's talk food…
Quick Bites
All of these places, we visited and enjoyed on Eat Mexico's Gourmet San Juan Market & Street Food Tour.
Marisqueria El K-Guamo
Craving seafood? Order seafood tostadas piled high with octopus or shrimp, plus lime and spicy hot sauce.
Location: Ayuntamiento between López and Aranda
Tortillería La Caprichosa
Want freshly made corn tortillas? Visit La Caprichosa Tortillería and eat a simple but delicious warm taco de sal (corn tortilla with salt) from one of the oldest tortillerías in the neighborhood.
Location: Aranda between Vizcaínas
Fonda Mi Lupita
You must eat mole if you visit Mexico. I highly recommend ordering their sweet-and-savory mole enchiladas.
Location: Buen Tono 22
Street Food
The street food in Mexico City is so much more than just tacos! Stay tuned for a detailed guide of Mexican street food coming soon.
Tlacoyos & Quesadillas

Have you ever heard of Tlacoyos? Tlacoyos are thick, oval-shaped corn patties stuffed with beans, cheese or fava beans. These Tlacoyos made by Doña Rosa are made with blue corn and stuffed with fava beans and topped with nopales, onion and cilantro and sprinkled with queso cotija. They are beyond extraordinary!
Doña Rosa also makes quesadillas with huitlacoche (corn smut), squash flowers, or quelites (native Mexican greens).
Location: Corner of López & Delicias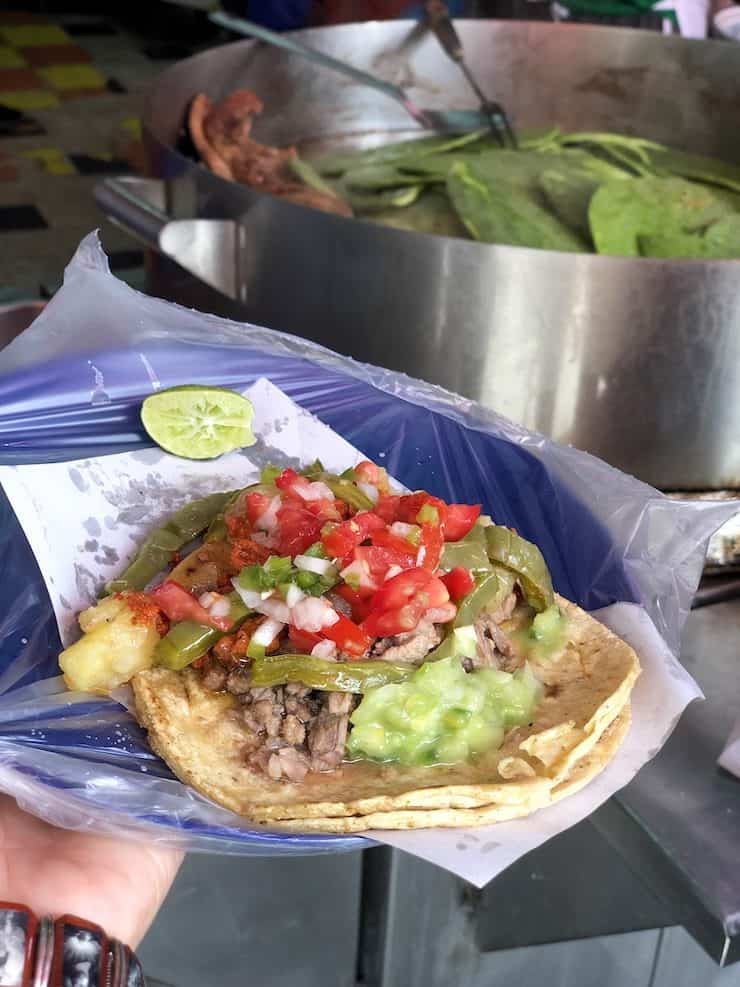 Tacos
Taquería Gonzalez
The taco campechano is a can't-miss dish in Mexico. It is unique in the taco world for combining several meats, usually beef and pork, into one delicious package. These tacos also had potatoes and nopales!
Location: Corner of López & Vizcaínas

La Costilla
Wood-fire cooking at its finest. Crispy charred corn tostadas with a stunning garlic sauce were simple but delicious and the Volcán Tostada topped with grilled ribeye, poblanos, and cheese was outstanding.
Location: Cumbres de Maltrata 352
El Vilsito
Have you seen Taco Chronicles, the docu-series on Netflix? El Vilsito is an auto repair shop by day and taco joint by night. They serve the absolute best tacos al pastor — perfect balance of sweet and savory. This experience is something you can only find in Mexico City. They have three taqueros carving and serving tacos from 8pm to 4am.
I learned a little secret from our Eat Mexico guide — the head taquero is always standing in the middle. Each spit has 175 pounds of meat, that's 6,000 tacos per spit, making 18,000 tacos a night! That's a lot of delicious tacos al pastor.
Location: Universidad at the corner of Petén
Tacos Tony
Tacos Tony is open 21 hours a day. Order their famous slow cooked Tacos de Suadero (Sous Vide Brisket Tacos).
Location: Across the street from Vilsito, on the corner of Universidad and Torres Adalid, Narvarte

Taqueria El Greco
These are some classic tacos with a fusion of Greek and Mexican food. You can order tacos on Pan Arabe (pita bread). Amazing tacos arabes and the Gringa tacos are their specialty tacos and a must eat.
Drinks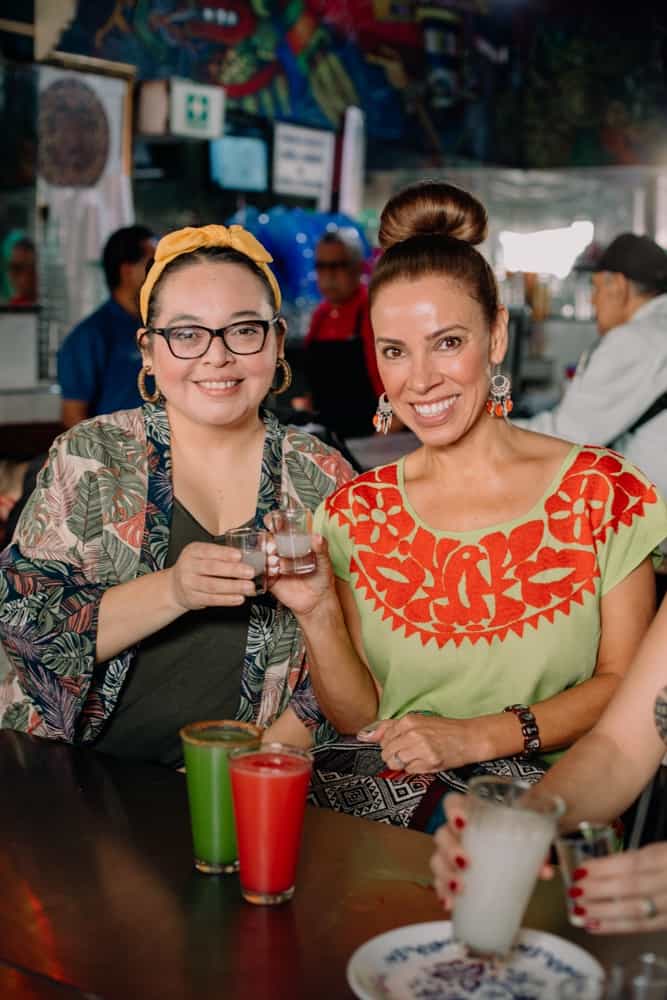 Pulquería Las Duelistas
Pulque is the fermented sap of giant agaves, with a slightly viscous texture, many well-documented nutritional qualities, and about the same potency as beer.
Order plain, celery, and guava flavored pulque and share with a friend while you admire the graffiti style art.
Location: Aranda 28
Cantina Los Cuates
Experience the true Mexican cantina culture. Order a cerveza and classic Mexican comfort food such as caldo.
Location: Dr Jose María Vertiz, 823
Piloncillo & Cascabel
Want to taste artisan sotol and mezcal? Reserve a tasting with an appetizer platter.
Location: Torres Adalid 1263
Beer Bros.
If you love microbrew beer I highly recommend you stop for a cerveza at Beer Bros.
Location: On the corner of Luz Savigñon and Juan Sanchez Azcona
Casual Dining
Eno is a mini-franchise of casual and affordable cafes owned by Chef Enrique Olvera who owns Pujol, which I didn't have a chance to visit. Ingredients at Eno are locally sourced, seasonally available, and ethically grown. Chilaquiles are always a must when I visit Mexico. I highly recommend Eno for great coffee, breakfast, brunch, or appetizers.
If you visit the Teotihuacan pyramids you must stop at Restaurante Mayahuel for traditional Mexican and prehispanic food. Order their specialty Xochonostle Prickly Pear Margarita, Choriqueso, and the Plato Mayahuel with sopes, tlacoyos, and quesadillas. Enjoy the view of the Pyramid of the Sun, the great service, and live music.
Churros are a must and you have to visit El Moro for the best churros ever! They have multiple locations and have been making churros since 1935. Don't forget to order a cup of Mexican hot chocolate.
Fine Dining
This restaurant reminded me of Oaxaca. I highly recommend a bowl of their Sopa de Milpa and Chiles en Nogada and for dessert order the Pan Frances con Fruta.
If you want to experience a very upscale restaurant be sure to make reservations to experience chef Lucho Martinez infuse Mexican and Japanese ingredients and flavors.The best seat in the house is at the bar to witness all the chefs in action as they prepare 12 courses. Be prepared for a delicious 3-hour experience.
Do you have any questions about Mexico City?
If you have any questions I'd love to hear them in the comments below. I'll be sure to continue to edit this blog post with up-to-date information so that it is a useful guide for anyone wanting to eat their way through Mexico City.
Thank you, colorful Mexico, for inspiring me!
Photos by Sandra Mosqueda & Yvette Marquez