A Juicy Secret
This post may include affiliate links. As an Amazon Associate I earn from qualifying purchases.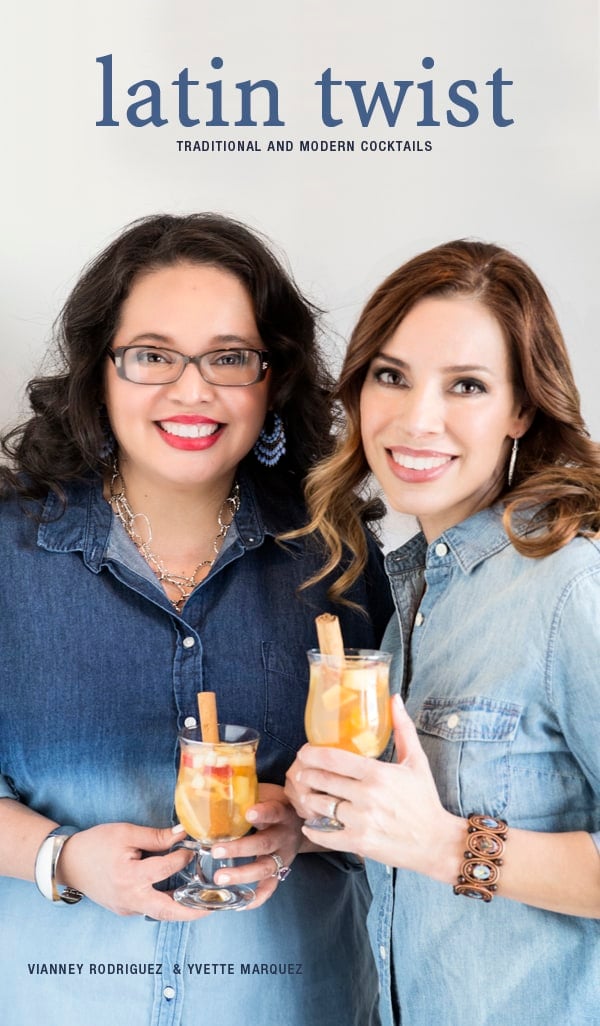 Feliz Cinco de Mayo! I'm so excited and I just can't hide it! I've been working on a secret project and busting at the seams wanting to share the news. Anyone who knows me knows that I'm not good at hiding a juicy secret, so it's been very hard to keep this under wraps, but I can now finally spill the frijoles…
I am extremely pleased to announce that I am writing a new book called Latin Twist: Traditional and Modern Cocktails. I am actually a co-author and writing this book with a blog hermana named Vianney, the Tejana behind Sweet Life Bake. After drooling over her creative margaritas and reading about her love of cocktails and entertaining I knew she would be the perfect Latina lush to collaborate with on this project. We first toyed with some ideas a couple of years ago in California over some cocktails (shocker), and then we really got serious about it over phone calls and lots of emails. Then we met up in New York a year later and while in New York we met up with Hippocrene Books (publisher of Muy Bueno) and pitched them our idea and they loved it.
Fast forward a few months later and we signed the contract and have been hard at work researching, prop shopping, writing recipes, shaking up cocktails, styling and shooting photos, and hosting cocktail parties to test recipes.
Vianney recently made the trip to Colorado and while she was in town we hosted a cocktail party at Jeanine's Denver studio. We served some of the cocktails that will be in the book, and we finally shared the big news with some friends as we watched this video with some of the photos you can expect to see in Latin Twist: Traditional and Modern Cocktails. Thank you to all my friends who came over to support us in our new venture.
And speaking of Jeanine (today is her birthday), happy birthday Jeanine! We are thrilled to announce that Jeanine Thurston (photographer of Muy Bueno) is the photographer of Latin Twist, so you can guarantee it's going to be a beautiful book full of gorgeous photos. Be sure to check out her new website: lensandpalate.com
Latin Twist will be published spring 2015 and Vianney and I will be asking for your input throughout the process. Our goal is to have our readers really involved, such as helping us pick the final book cover. We will also be sharing some recipes on our blogs before the final book is published for those of you thirsty for more. Follow Muy Bueno and Sweet Life Bake on instagram as we share behind the scene photos (#LatinTwist) and virtually sip away with us.
Just one taste of a luscious lime-kissed caipirinha from Brazil, a perfectly muddled and minty mojito from Cuba, or a refreshing sweet and tart paloma from Mexico and you'll be transported to the tropical destination of your dreams. Magical, elegant, sexy, and above all, delicioso. From Latin America and Spain, these cocktails are the perfect party primer and resource for the modern, busy homemaking host.
With more than 100 freshly squeezed cocktails, Latin Twist is inspired by the classics of each Latin country for everyday entertaining, holidays, and special occasions. With its gorgeous full color photos, this book will be a treat for the eyes and will tantalize your taste buds as you sip around the world. Whether you are preparing for a Latin inspired fiesta, entertaining for your significant other, hosting a few friends, throwing a big party, or want to tuck something special under your arm for that special hostess on your social calendar, Latin Twist will have you raising your glass.
Salud!
Please keep in touch and subscribe to Muy Bueno and follow me on Twitter, Facebook, Instagram, Pinterest and subscribe to Muy Bueno on YouTube.
Special thanks to: Photos and Video: Jeanine / Makeup and Hair: Samantha Koch and Logan Ellis / Flowers: Mulberries Flowers / Stylist: Isabelle Kline Design / Produce: Melissa's Produce / Antiques: The Pink Attic Cat