Instant Pot Black Beans
This post may include affiliate links. As an Amazon Associate I earn from qualifying purchases.
Using the trusty Instant Pot, you can cut down a several hour process into a single hour and completely cut out the soaking process. This recipe for Instant Pot Black Beans is about to be your weeknight savior!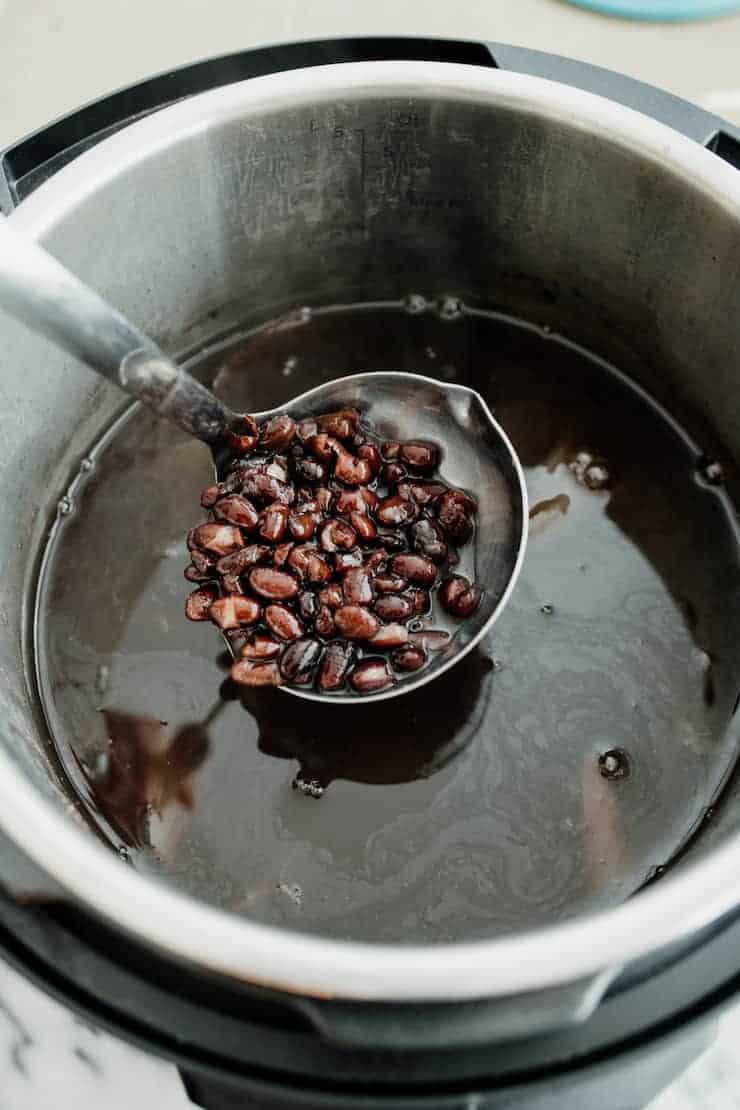 If you have been following the blog for a while, you know I'm all for making things from scratch rather than buying store bought. Flavorful black beans are no exception! While you can purchase canned black beans that have been cooked and "seasoned," they are honestly no match for the homemade kind.
Canned black beans are often 3 to 4 times more expensive than if you make them yourself from dried. And of course, you can't beat the flavor of homemade black beans.
To Soak or Not to Soak
If you've ever cooked any dried beans, I'm sure you're familiar with the process of soaking the beans prior to cooking. Soaking helps to cut down on cooking time, and can result in a better consistency.
But cutting down on cooking time doesn't really make up for the fact that the beans usually have to soak for 12 hours for it to have a good result. So, is it worth it? This article is an interesting read for all of you food nerds out there!
But all of that soaking business doesn't apply here, because we are making our beans in an Instant Pot. I keep asking myself – is there anything this magical appliance can't do? Check out my Instant Pot recipes. From cooking meat from frozen to making perfect brothy beans in under an hour, I am truly in love. If you haven't yet, get yourself an Instant Pot pronto!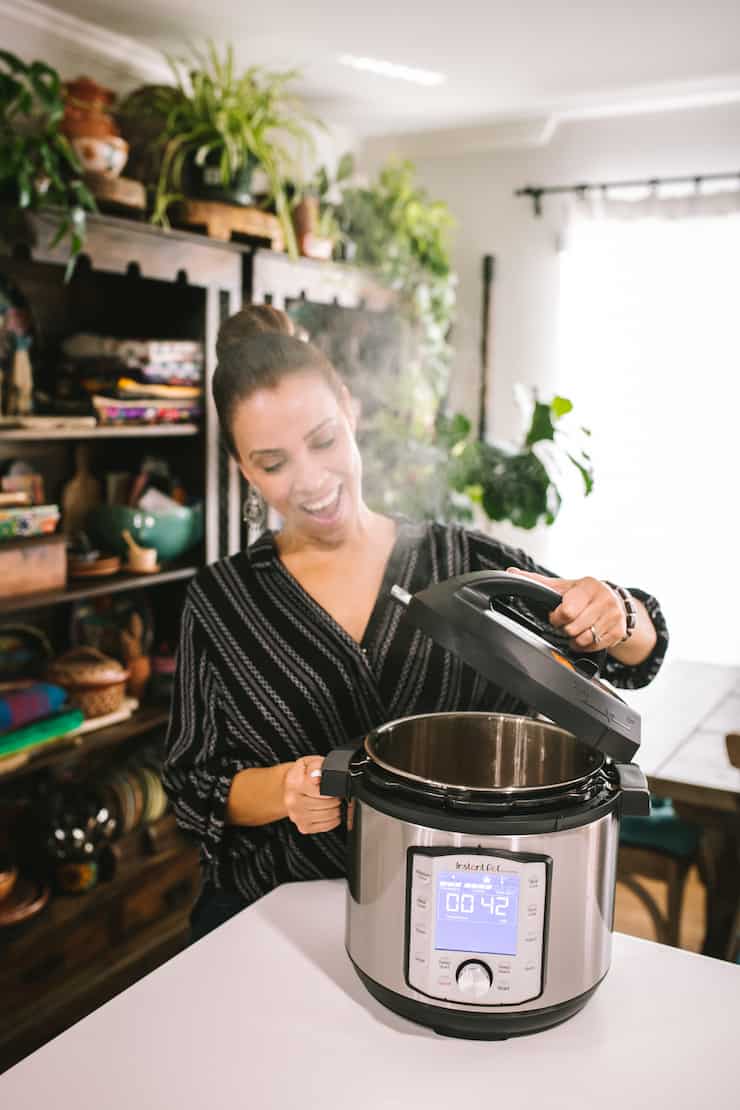 How to Make Black Beans in the Instant Pot
While the Instant Pot means that you don't have to wait 12 hours worth of soaking time to start cooking, there are still two steps that are necessary when working with dried beans.
Sort beans: First, you're going to need to sort through your beans. You'll likely find a few misshapen or discolored beans that you'll want to remove, and it's possible that you'll also find a stone or two.
Rinse beans: Next, toss the beans in a colander and give them a good rinse. While this won't affect the texture or flavor of the beans in any way, it'll remove any dirt, insects, or animal droppings that might've made their way into the grain silo where beans are stored.
Cook beans: Now, all that is left to do is cook the beans! Put the black beans into the Instant Pot with water, garlic, onion, salt, and bay leaves).
How Long Does it Take to Cook Black Beans in the Pressure Cooker?
Secure the lid, then set the machine to Manual/Pressure Cook on high for 30 minutes. Allow the pressure to naturally release for 30 to 40 minutes, and voila! You're ready to eat!
How to Store Cooked Beans
Beans can be refrigerated for up to 5 days and also freeze well in these plastic containers. I definitely recommend freezing some, as they come in very handy for later use.
What Dishes Call for Black Beans?
The thing I love about Mexican style black beans is their versatility. In Latin cuisine, we eat them with just about everything!! If you're unsure, check out these recipe ideas:
Frequently Asked Questions
Will this recipe work for other kinds of dried beans?
Absolutely! Similarly sized beans like navy beans and frijoles de la olla (pinto beans) should all have roughly the same cook time in the Instant Pot. If you are cooking something smaller – like a lentil – or something larger – like a lima bean – you may need to adjust your pressure cook time up or down.
What if I don't have an Instant Pot?
If you don't have an Instant Pot, you can still make these delicious and simple black beans the way generations of people have in the past – on the stovetop. The process will take quite a bit longer, but the result will be the same.
First up, soak the beans for about 12 hours, then drain the water.
After draining the soaked beans, add the remaining ingredients to a dutch oven. Bring to a boil, then reduce to a simmer. Simmer covered, stirring roughly every 30 minutes, until the beans are al dente. This will likely take one hour and a half to two hours.
If you made these simple Instant Pot Black Beans, please rate and review them below so I know how they turned out for you!
If you'd like more tasty and authentic Mexican recipes delivered straight to your inbox, sign up for my email newsletter here. If you'd like to see what I'm up to in the kitchen, follow me on Instagram, Pinterest, or Facebook to witness my adventures in the kitchen on a daily basis. You can also subscribe to my YouTube channel.
Instant Pot Black Beans
Using the trusty Instant Pot, you can cut down a several hour process into a single hour and completely cut out the soaking process. This recipe for Instant Pot Black Beans is about to be your weeknight savior!
Ingredients
Black Beans:
1 pound dry black beans
1 teaspoon salt
1/2 onion, quartered
2 garlic
2 bay leaves
2 liters water
Instructions
Black beans:
Spread the beans over your counter so you can look for beans that are broken, discolored, or shriveled and remove them. There will also be small stones or pebbles that should be sorted out of the beans during this phase. Discard all of the undesirable pieces.

Place beans in a colander. Rinse the beans thoroughly with cool water for about 3 minutes.
Instructions for Instant pot: 
Place beans (soaked or un-soaked), salt, onion, garlic, bay leaves, and water in Instant Pot. 

Use "manual" setting for 30 minutes of pressure.

Allow pressure to naturally release, approximately 30 to 40 minutes. Season beans to taste.

Enjoy warm or let cool completely and store in individual containers.
Notes
1 pound dry beans = 2 cups dry beans.
If you are making the beans on the stovetop, add all ingredients to a Dutch oven, then bring to a boil and stir. Reduce heat to low and simmer for 2 to 3 hours, until the beans are soft enough to eat.
The beans can be frozen in small bowls for later use.
Beans can be refrigerated for up to 5 days.
Calories: 105kcal, Carbohydrates: 19g, Protein: 7g, Fat: 1g, Saturated Fat: 1g, Sodium: 406mg, Potassium: 282mg, Fiber: 7g, Sugar: 1g, Vitamin C: 1mg, Calcium: 34mg, Iron: 2mg
Photography by Jenna Sparks