Chorizo and Egg Christmas Wreath
This post may include affiliate links. As an Amazon Associate I earn from qualifying purchases.
Transform comforting huevos con chorizo into a festive breakfast for eight using store-bought crescent rolls. It's a beautiful edible centerpiece for your holiday breakfasts, and so easy! Try this beautiful Chorizo and Egg Christmas Wreath to wow your family this Christmas season.
When it comes to Christmas cooking, it seems that everyone is completely preoccupied with dinner, cookies, and dessert. I'm here to ask: What about the most important meal of the day? This easy-peasy six-ingredient Christmas breakfast will please the whole family and save your sanity during the busiest cooking season.
It's also quite inexpensive, costing about a buck per serving, meaning more of your budget can be dedicated to the big show.
Why You Should Make This Christmas Breakfast Ring
One of the things I love most about the winter holidays is the excuse to have multiple reasons to gather around the table with my family each day. During the normal hectic work and school week, breakfast is something that is eaten on the go while doing a million other things. The opportunity to slow down and savor my family is the best part of these colder, shorter days.
Not only do I love having multiple meals around the table with my family during the holidays, I also love making sure they are full, so they stay out of the kitchen while I'm whipping up dinner.
If any of you have ever been in charge of creating a holiday feast with multiple sides and a show stopping centerpiece, you know how chaotic things can get in the kitchen. Add a few hungry kids and hubby grazing the fridge and cabinets to that mix and things start to look downright cray cray.
This easy Christmas breakfast idea solves many problems with almost no fuss. Use store bought crescent rolls to transform a simple egg and chorizo scramble into a beautifully festive meal. The whole recipe takes all of 15 minutes of active time and is packed with protein to keep you satisfied.
Farm Fresh Eggs
When I was growing up, my grandma used to raise chickens. While I didn't know how lucky I was at the time, having access to farm fresh eggs was such a blessing. If you've ever had a real egg fresh from the farm, you know what a difference in flavor they have compared to conventional eggs.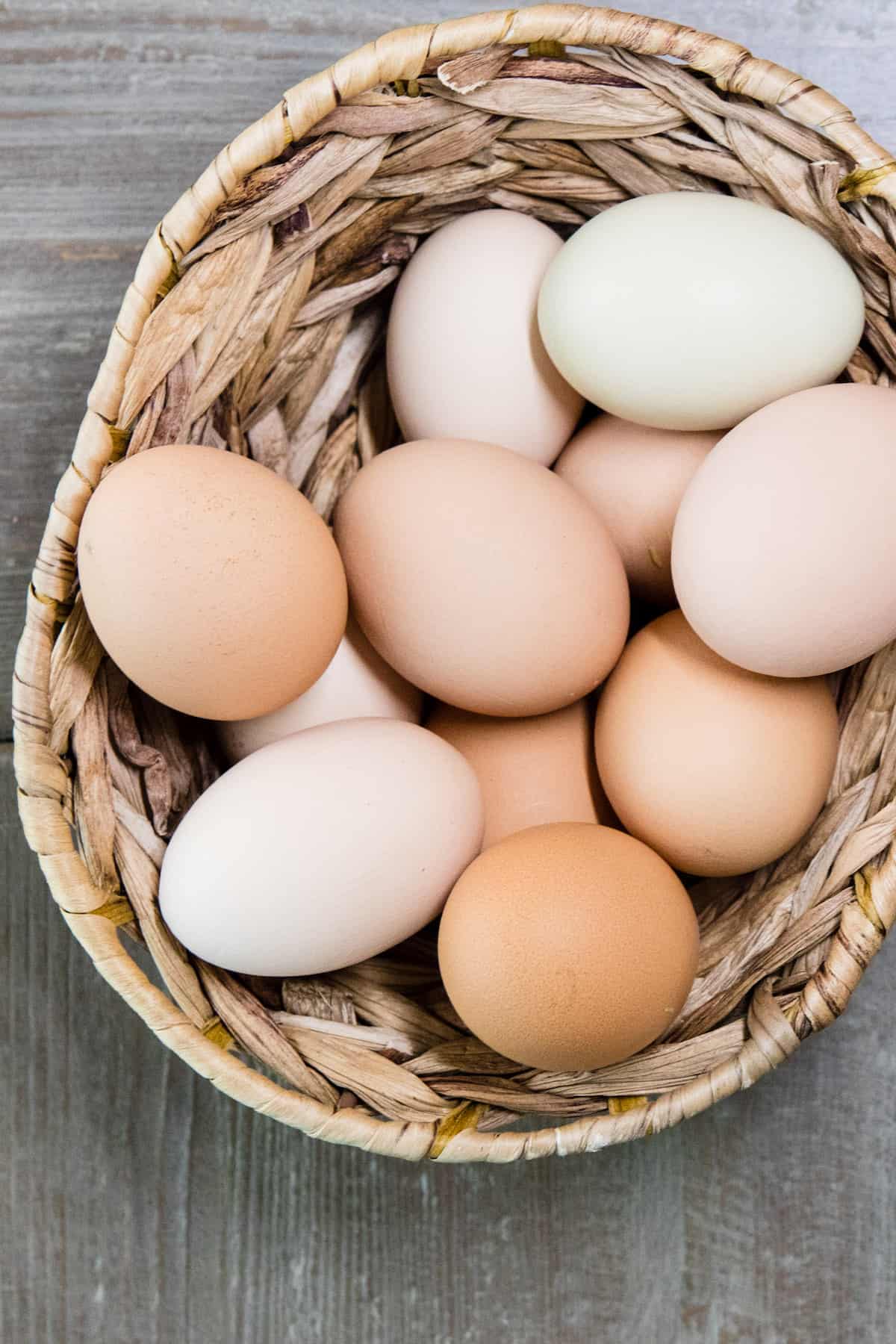 How to Make Huevos con Chorizo
Huevos con Chorizo is a popular Mexican breakfast, and for good reason. It is simple, hearty, and absolutely delicious. First up, you're going to want to cook off your chorizo. If you purchased the sausage, simply remove it from the casing and cook the meat in a skillet. This should take about 10 minutes.
In the meantime, crack your eggs into a separate bowl and whisk them vigorously. Whisking eggs not only combines the yolk and the white to create that pretty light yellow you're used to with scrambled eggs, but also adds air and volume. For best results, whisk very vigorously for at least a minute and preferably right before you pour the eggs in the pan.
Once you add the eggs to the chorizo, stir frequently to ensure the eggs cook evenly and take on all the delicious flavor of the chorizo.
How to Assemble Your Christmas Breakfast Ring
One of the things I love about this recipe is how simple it is. I am all for using store bought ingredients that pack a ton of flavor and texture into my dishes. Crescent rolls are amazing for just that purpose, and they are in every grocery store I've ever visited. They're also super cheap!
TIP: Make sure to keep your crescent rolls refrigerated until you're ready to use them. The dough is much easier to work with when it's cold.
All you need to do to transform your Huevos con Chorizo into a Christmas breakfast wreath is use a can of crescent rolls. Pop open the can and separate the dough into 8 separate triangles. You are going to create a ring on a parchment lined sheet pan by laying the shortest sides towards the center and slightly overlapping them while keeping a 4-inch ring open in the center.
TIP: Need some guidance? Place a water glass, 28-ounce can of tomatoes or medium ramekin in the center of your parchment to act as a template for where to place the triangles. Once all 8 are laid out, remove the guide.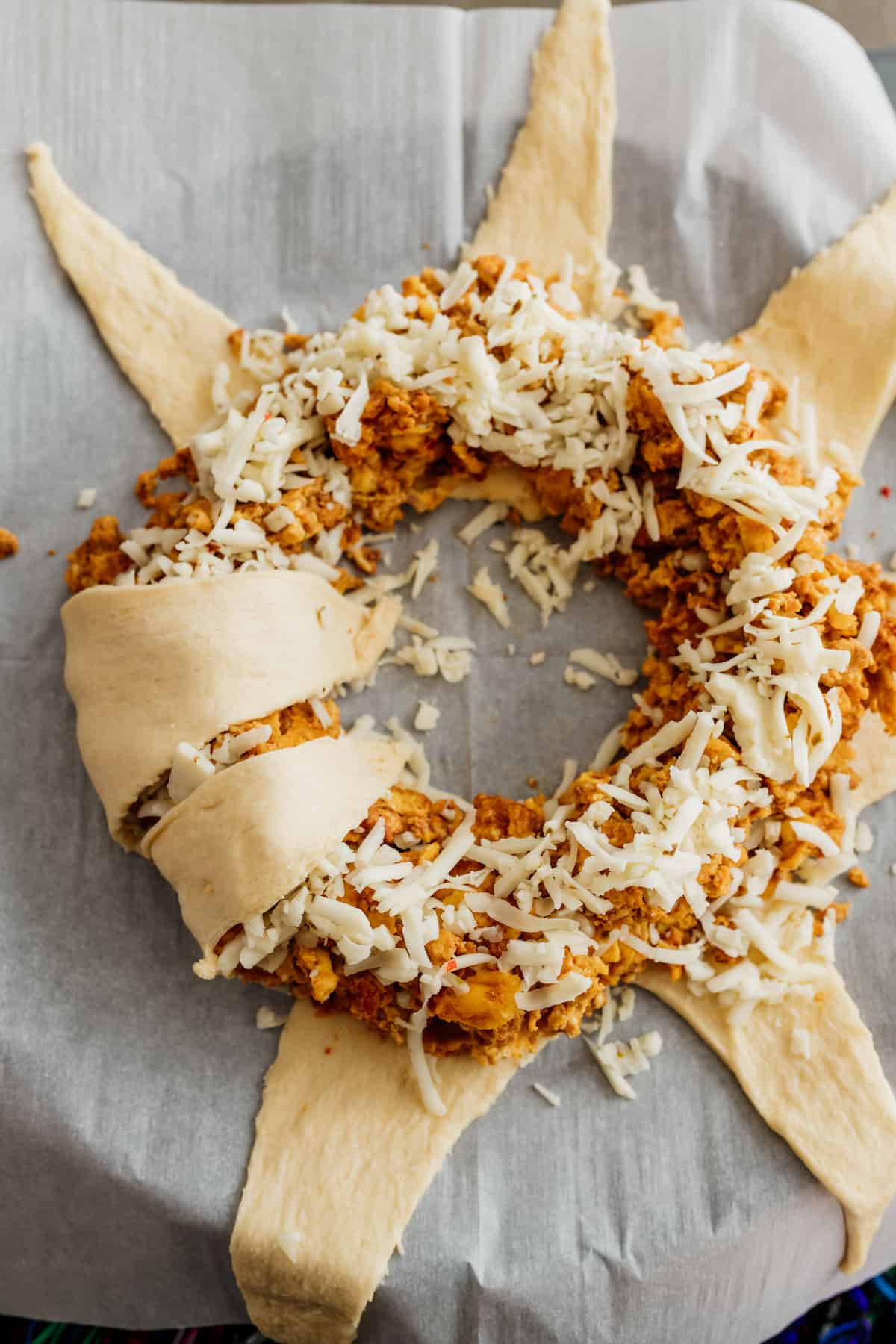 Spoon the mixture in an even ring around the widest part of the triangles, near the base. Sprinkle evenly with cheese.
Pull the endpoints of the crescent rolls over the filling and tuck under to create a wreath. Some of the filling is going to be exposed, so don't fret!
Use a pastry brush to lightly coat the tops of the rolls with olive oil, then sprinkle with sesame seeds.
Pop the sheet tray in your oven on the middle rack and bake at 350F for 17 to 20 minutes, until the crescent rolls are golden brown and cooked through.
TIP: Are your rolls browning too quickly? Simply tent them with a piece of foil to keep them from getting dark while the baking process finishes.
Remove from the oven and cool for about two minutes before carefully sliding your Christmas breakfast wreath onto a serving platter. Cut into 8 wedges, using the rolls as your guide. Serve with a side of salsa casera and enjoy!
Watch this video to see how simple this Christmas breakfast recipe comes together.
Frequently Asked Questions
Can You Make This Crescent Breakfast Ring Ahead?
Did you honestly think I would give you a Christmas recipe that you couldn't at least partially make ahead? I wouldn't do that to you, amigos!
You can either opt to a.) make your huevos con chorizo ahead of time and refrigerate and assemble and bake wreath when ready to serve. OR b.) you can make and assemble the wreath day before and then refrigerate until ready to bake.
Option A is great for people who have small kitchens and packed refrigerators, and option B is excellent for all of you who like to check off as much as possible ahead of time.
What kind of chorizo should I choose?
That is entirely up to you! You can opt for pork or beef chorizo depending on your preference, and choose either regular or spicy depending on your heat tolerance. Another option is making your own homemade chorizo, but I fully endorse those of you who want to take the shortcut and use store bought meat instead.
Is there a particular brand of crescent rolls I should look for?
Honestly, there hasn't been a tube of crescent rolls I've met that I don't like. Store brands or name brands should work just fine. My only suggestion is to use plain crescent rolls for this Christmas breakfast ring. It seems that Hawaiian crescent rolls are becoming a bigger trend lately. While they sound delicious, I'm not sure they would be a good fit for my crescent breakfast wreath.
Need more festive recipe inspiration?
Check out some of my favorites:
If you tried this recipe for my Chorizo and Egg Crescent Breakfast Wreath, please let me know how it turned out for you by commenting below.
If you'd like more yummy recipes delivered straight to your inbox, sign up for my email newsletter. You can also follow me on Instagram, Pinterest or Facebook if you're feeling social.
Till next time, Feliz Navidad!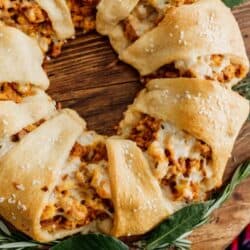 Chorizo and Egg Christmas Wreath
Ingredients
9 ounces Mexican pork chorizo
10 eggs
1 (8-ounce) can refrigerated crescent rolls 
1/4 cup shredded cheese, (recommend pepper jack)
1 tablespoon olive oil
1 teaspoon sesame seeds
Instructions
Crumble the chorizo into a skillet and cook the chorizo over medium heat for 10 minutes.

In a medium bowl whisk eggs. Add eggs to cooked chorizo; cook for 2 to 3 minutes or until eggs are cooked thoroughly.

Preheat oven to 375°F. 

Unroll can of dough; separate into 8 triangles. On a parchment sheet on a large cookie sheet or pizza stone, arrange triangles with shortest sides toward center, overlapping in wreath shape and leaving 4-inch round circle open in center. Crescent dough points may overlap edge of cookie sheet. 

Spoon mixture onto widest part of dough.

Sprinkle with shredded cheese.

Pull end points of triangles over chorizo and egg mixture and cheese and tuck under dough to form ring (filling will be visible). Carefully brush dough with olive oil; sprinkle with sesame seeds.

Bake 17 to 20 minutes or until golden brown. Cool 2 minutes. With broad spatula, carefully place wreath on serving platter and slide off parchment sheet from under. 

Slice in between each crescent to make 8 individual pieces. Serve warm with salsa.
Notes
Keep the crescent dough refrigerated until you are ready to work with it. Chilled dough is much easier to work with than dough warmed to room temperature.
If dough becomes too brown, cover outside edge with foil. Leave center uncovered so dough bakes thoroughly and is no longer doughy.
Store leftovers in refrigerator.
Serving: 8g, Calories: 198kcal, Carbohydrates: 1g, Protein: 13g, Fat: 15g, Saturated Fat: 5g, Cholesterol: 227mg, Sodium: 483mg, Potassium: 76mg, Sugar: 1g, Vitamin A: 435IU, Calcium: 51mg, Iron: 2mg
Photography by Jenna Sparks
Originally published: December 2020