Easy Cod Fish Tacos
This post may include affiliate links. As an Amazon Associate I earn from qualifying purchases.
Get ready to spice up your taste buds with these ultimate Cod Fish Tacos! Crispy, golden-brown cod fillets are nestled inside warm tortillas and topped with a zesty, creamy slaw that packs a punch of heat.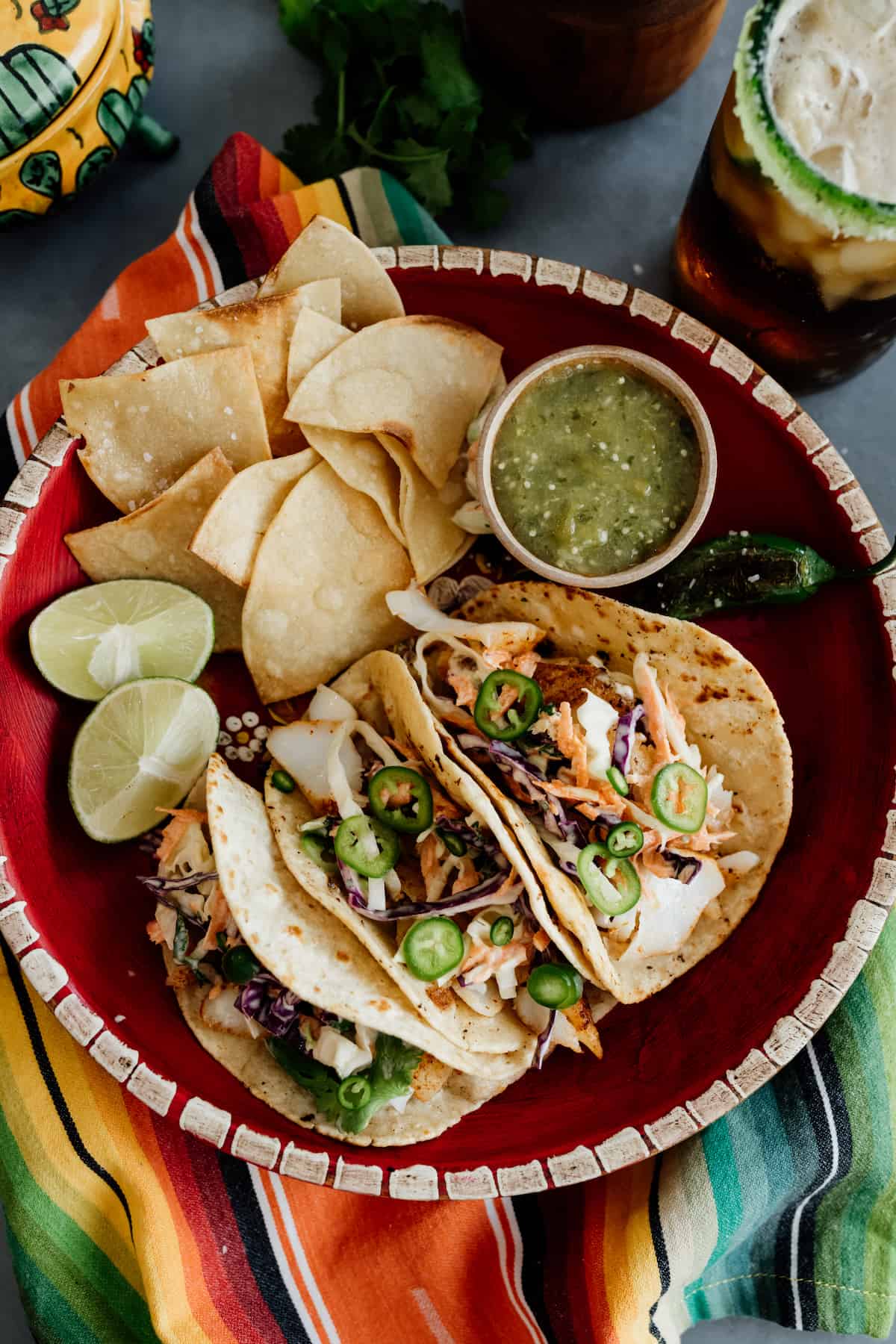 When it comes to feeding my family, I'm all about bold flavors, nutritious ingredients, and quick assembly. These cod tacos hit the trifecta! The crunchy, refreshing slaw perfectly balances out the tender, flaky fish, and the creamy, spicy sauce brings everything together for a flavor explosion that's impossible to resist. Best of all, they'll be ready in just 20 minutes!
Why You'll Love This Recipe
Fish tacos are one of my favorite weeknight meals. Not only does my entire family love them, but they're also quick to make. As an added bonus, this particular cod taco recipe doesn't call for any fussy breading or battering! All you have to do is pan-fry the fish for a few minutes on either side. Dinner will be on the table in just 20 minutes.
I think you'll also appreciate that this recipe calls for cod, which is a lean, delicately flavored fish. Not only does it pair well with a variety of spices and seasonings, but it's also low in calories and high in protein — perfect for swimsuit season.
Cod's firm, flaky consistency also makes it a great choice for seafood newbies since it holds up well during cooking. As if that weren't enough to love, cod is also a consistently affordable protein!
My addictive fish taco slaw is yet another reason to love this meal. Not only does it add fiber and nutrients, but is also incredibly simple to make. Simply blend the dressing ingredients together and toss with shredded cabbage and carrot.
If you're counting calories, you're in luck: I also lightened up the slaw dressing by using yogurt in addition to the mayonnaise. Not only does the yogurt lend a creamy, tangy flavor to the slaw, but it also just so happens to cut back on calories and fat as well. Hooray!
Ingredients & Substitutions
You only need a few, easy-to-find ingredients to make these tasty cod tacos:
Greek Yogurt – Using high-protein, probiotic-packed Greek yogurt is a great way to cut back on calories while maintaining a deliciously creamy slaw dressing. Feel free to use regular plain yogurt instead, but note that the dressing will be slightly thinner if you do.
Mayonnaise – Use a high-quality brand like Hellman's/Best Foods for the best flavor. Feel free to swap in a vegan version if you are allergic to eggs.
Lime – Fresh lime juice far outshines the bottled kind. To get the most juice from your fruit, give it a firm roll on the countertop for 10-15 seconds before cutting it open.
Cilantro – I love cilantro the way some people love chocolate: with my whole dang heart. If you're one of the unfortunate souls who taste nothing but soap, try swapping in parsley.
Jalapeño – For a touch of heat. You're also welcome to use a slightly spicier serrano pepper instead.
Garlic – Fresh is best, but I won't tell if you swap in jarred minced garlic to save some time.
Cabbage – I like to use both green and purple cabbage for the prettiest presentation (and because I like to "eat the rainbow"), but feel free to use just one or the other. Or cheat and buy a bag of coleslaw mix.
Carrot – To add extra color and sweetness to the slaw. Feel free to use yellow, orange, or purple carrots or swap in white parsnips.
Skinless Cod Fillets – Skinless fish fillets are easier to handle and cut into smaller pieces for filling tacos. Removing the skin also helps to reduce the fishy flavor and odor that can sometimes be present. That said, you're welcome to cook skin-on fillets and then remove the skin after cooking, before assembling the tacos.
Tajin – This chili-lime seasoning blend is a staple in Mexican kitchens everywhere. Feel free to swap in any other chili-lime seasoning blend you prefer.
Smoked Paprika – For a touch of smoky flavor without using the grill. You're also welcome to use sweet paprika for a more mild flavor, or hot paprika if you like things extra spicy.
Kosher Salt – I like the wide flakes of kosher salt for seasoning protein. Feel free to use any kind of salt you prefer, but note that most "regular" salts (e.g. table salt, sea salt) are more potently salty than kosher, so adjust accordingly.
Butter or Oil – I love the flavor of browned butter but prefer the heart-healthiness of olive oil. Feel free to use a 50/50 split of both if you can't decide.
Corn Tortillas – Homemade tortillas are easier to make than you'd think but feel free to use store-bought for convenience. You're also welcome to use flour tortillas if you prefer.
How to Make Fish Tacos With Cod
You'll be amazed at how quickly this yummy cod fish tacos recipe comes together. Once you see how easy they are to make, I have a feeling they'll become a part of your weekly menu!
Step 1: Make Slaw Dressing. Blend yogurt, mayonnaise, lime juice, salt, cilantro, chile pepper, and garlic in a blender until smooth.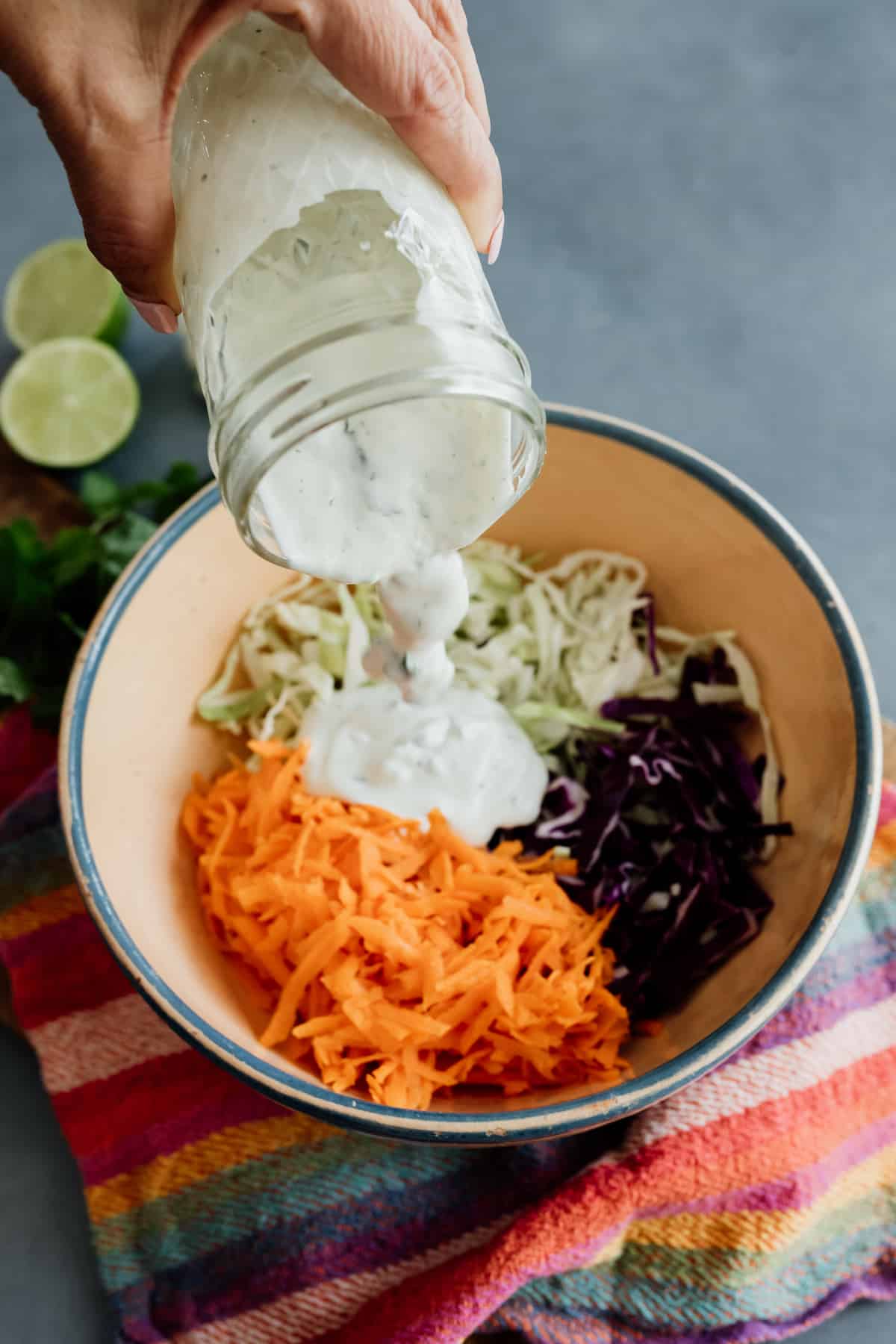 Step 2: Toss Cabbage and Carrot Slaw with the dressing. Refrigerate until ready to use.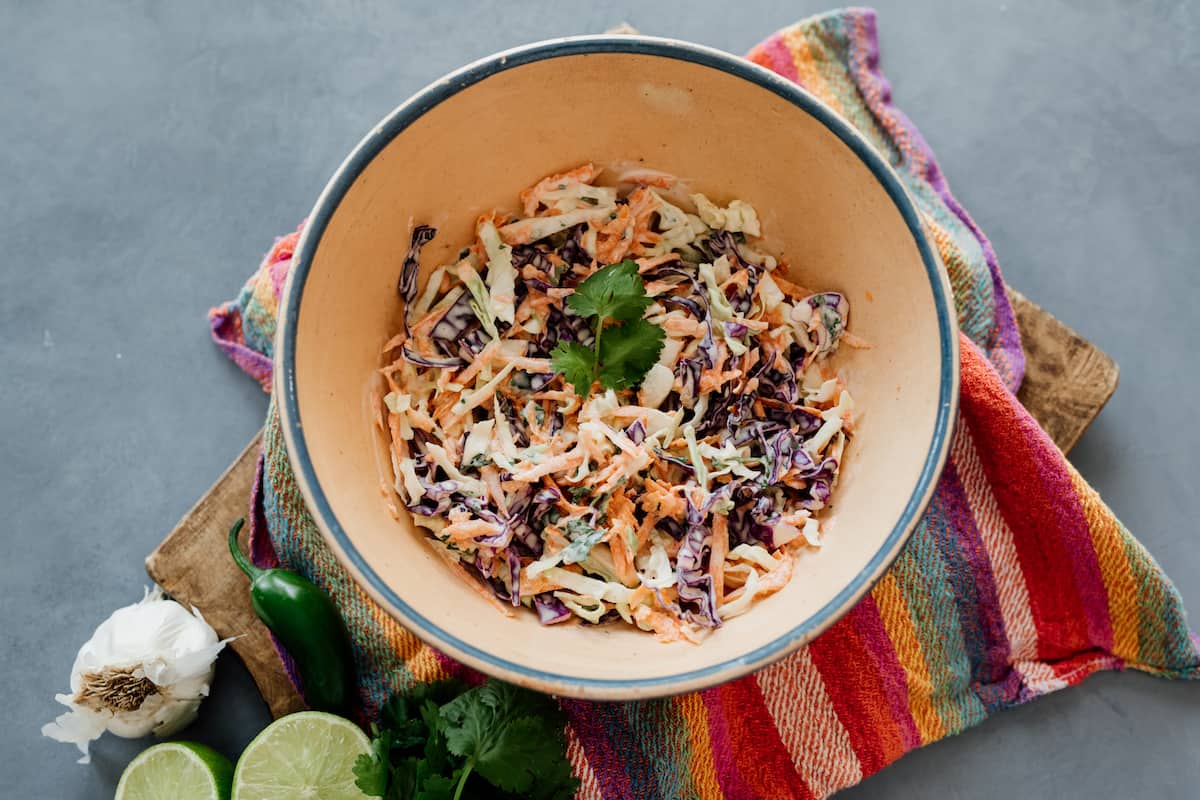 Step 3: Season the Fish with salt, smoked paprika, and Tajin.
Step 4: Pan-Fry. Place seasoned fish fillets in a preheated skillet with 1 tablespoon of butter or oil and cook for 4 to 5 minutes on each side, or just until the fish is just opaque and lightly charred.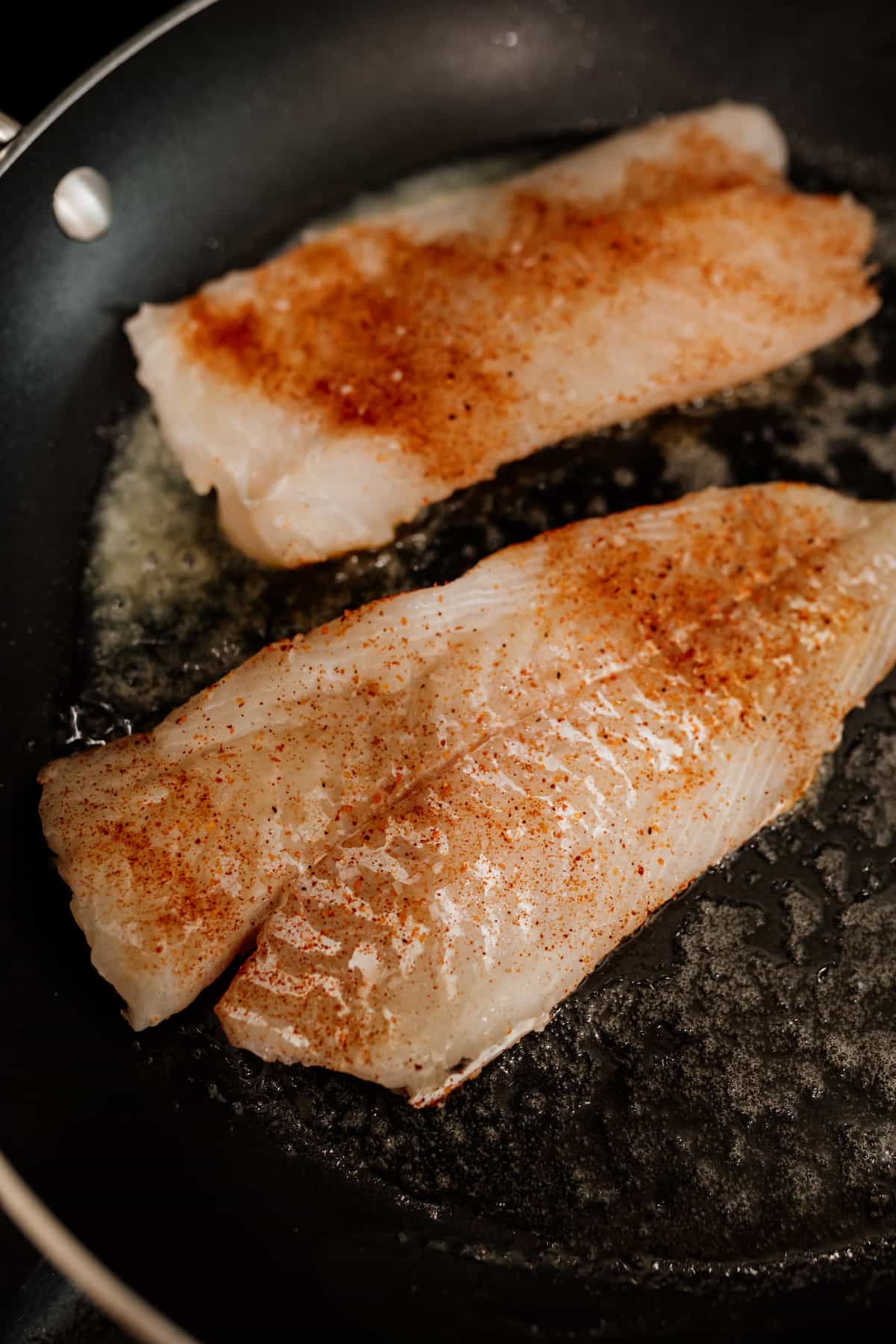 Step 5: Flake Fish by breaking it up into chunks.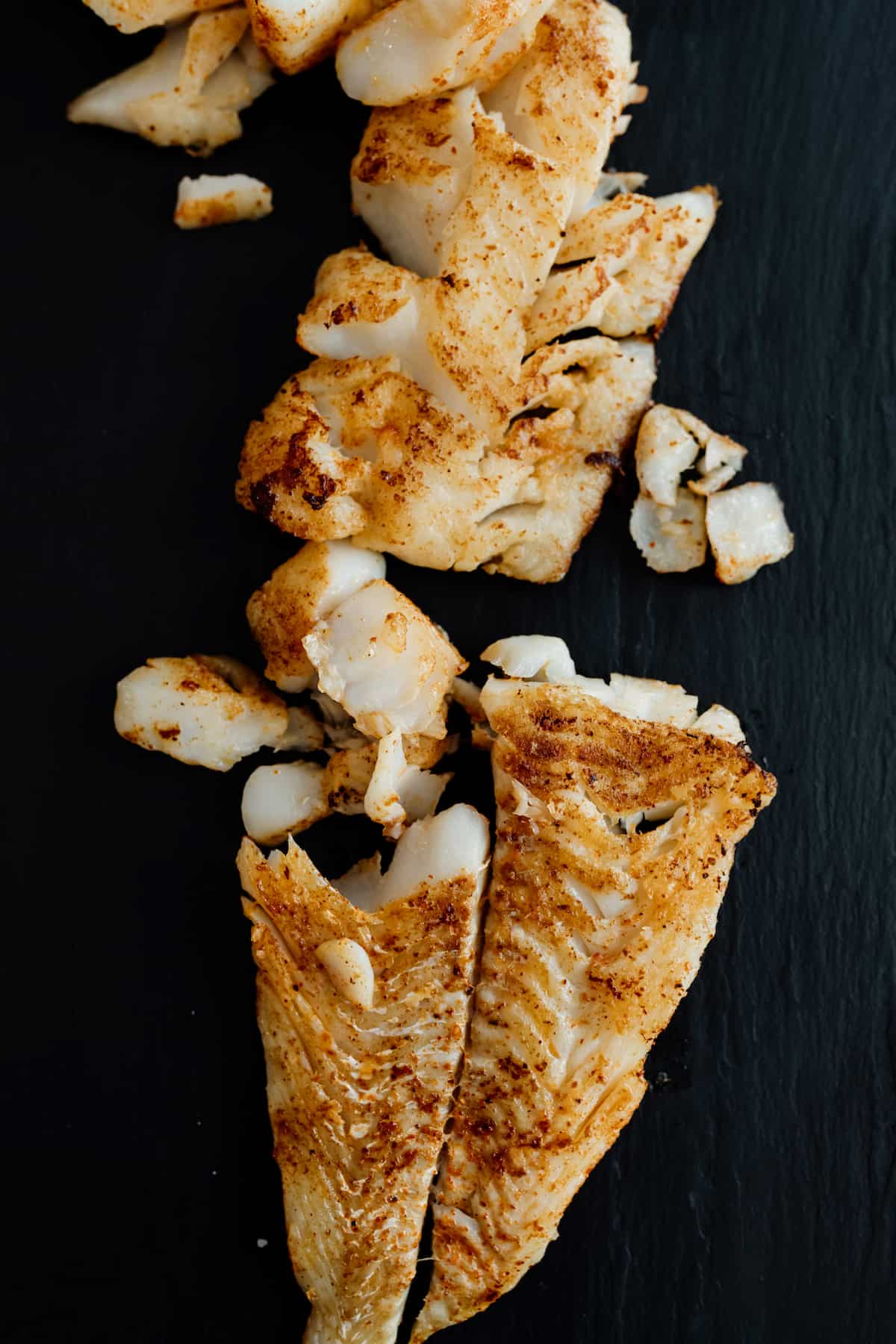 Step 6: Warm Tortillas in the skillet where the fish was cooked. They'll soak up the remaining juices and get lightly seasoned in the process. If the pan looks dry or your tortillas are sticking, add the remaining butter or oil to the skillet.
Step 7: Assemble. Place fish on the bottom of each tortilla, top with slaw, and add your favorite toppings. Enjoy!
Optional Variations
Instead of pan-frying the cod, grill or blacken it for a smoky flavor and charred texture.
You can also bake the cod in the oven instead of pan-frying it.
Use a dairy-free yogurt alternative for the creamy slaw and opt for vegan butter or oil to cook the fish.
Go low-carb. Skip the tortilla altogether and serve the cod and slaw in lettuce cups for a keto-friendly option.
What To Put On Fish Tacos
While these simply adorned fish tacos are perfect as is, you know I love adding extra toppings to my tacos. In our house, we usually add salsa verde, fresh lime, and thin slices of jalapeño, but you can add other toppings to your liking. Here are some ideas to get you started:
Hot sauce
Green onions
Avocado
Shredded cheese like crumbled cotija or queso fresco
Chopped cilantro
Feel free to get as creative as you like. If you come up with a winning fish taco topping combination, I'd love to hear about it in the comments below!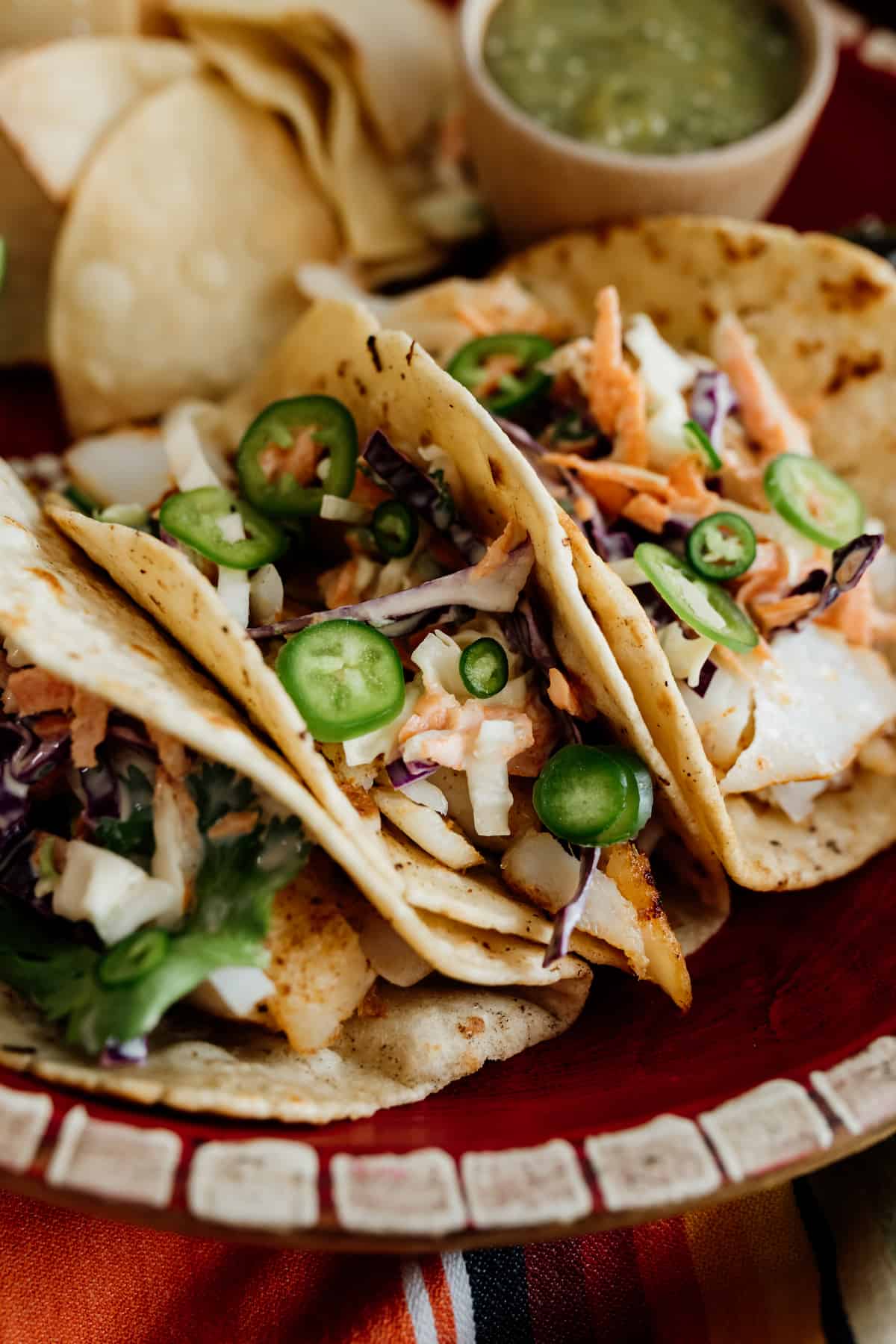 Expert Tips
Running short on time or patience? Buy a bag of coleslaw mix from the store. It'll save you an extra 5 to 10 minutes of prep, depending on your knife skills.
Pat the cod dry with paper towels before seasoning and frying it. This will help ensure that the fish browns evenly and doesn't become soggy.
Season the fish well. Cod has a mild flavor, so be sure to season it well with salt, pepper, and any other spices you prefer.
To prevent the fish from sticking to the pan, use a non-stick pan or a well-seasoned cast-iron skillet.
Avoid overcrowding the pan by frying the fish in batches. This will help ensure that each piece of fish cooks evenly and gets crispy on the outside.
Make sure the pan is hot before adding the fish. This will help the fish cook quickly and prevent it from becoming greasy.
Resist the urge to flip the fish too soon. Wait until the fish has developed a golden brown crust on one side before flipping it over.
Serving Suggestions
Imagine the scene: the sun is shining, the drinks are flowing, and you're serving up a platter of sizzling, spicy fish tacos that are bursting with flavor. Everyone gathers around the table, chatting and laughing as they pile their plates high with tender, flaky cod, zesty slaw, and all the fixings.
Whether you're having a casual summer barbecue, a game night with friends, or a family dinner with the kids, these yummy fish tacos are sure to bring a smile to everyone's face. So go ahead, break out the frozen margaritas, turn up the music, and let the fiesta begin — these cod tacos are always a crowd-pleaser!
There are many tasty side dishes and accompaniments that pair well with cod fish tacos. Here are a few ideas:
Serve the tacos with a side of cilantro lime rice and creamy black beans for a classic Mexican meal.
Add some fresh guacamole and crispy tortilla chips for a delicious and crunchy addition to your dinner spread.
Grill some vegetables, such as bell peppers, onions, and zucchini, to serve alongside the tacos for added nutrition and flavor.
Boil or grill some corn on the cob and serve it with butter and spices for a sweet and savory side dish. Better yet, make a batch of Mexican street corn by grilling corn on the cob and then topping it with mayo, cotija cheese, chili powder, and lime juice.
No Mexican-inspired meal is complete without a refreshing margarita! Whip up a batch of your favorite margarita recipe and serve it with the tacos for a perfect pairing.
Frequently Asked Questions
What is the best fish for fish tacos?
I love using cod for this simple recipe. Not only is it economical, but it is also easy to find. If you can't get your hands on it, try swapping in either snapper fillet or mahi mahi. As a side note, I should also mention that fresh fish is generally better than frozen.
Can I use frozen fish?
Yes! While I typically try to use fresh fish (I think it tastes better), you can easily use frozen instead. Just be sure to defrost it in the refrigerator prior to use.
Can I use flour tortillas instead?
Sure! These are your tacos, so make them how you like. I happen to prefer corn tortillas for fish tacos because they add some nice texture, but that is purely a personal preference.
More Fish Taco Recipes
If you tried this recipe for Cod Fish Tacos, please do me the honor of rating and reviewing it below. More ratings mean this recipe can be found more easily by other readers like you!
For more delicious Mexican recipe inspiration, order my new cookbook, Muy Bueno Fiestas, and be sure to follow me on Instagram, Pinterest, Facebook, or YouTube. You can also get first access to all of my new content by signing up for my email newsletter.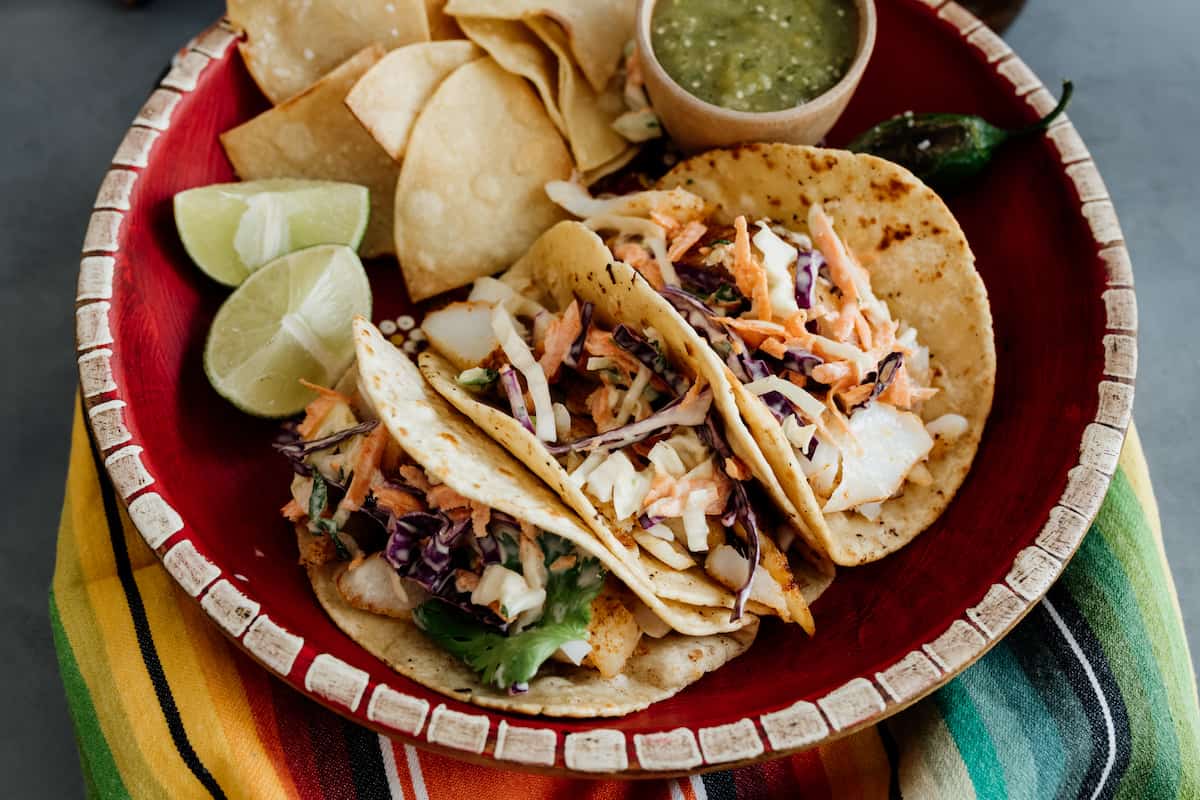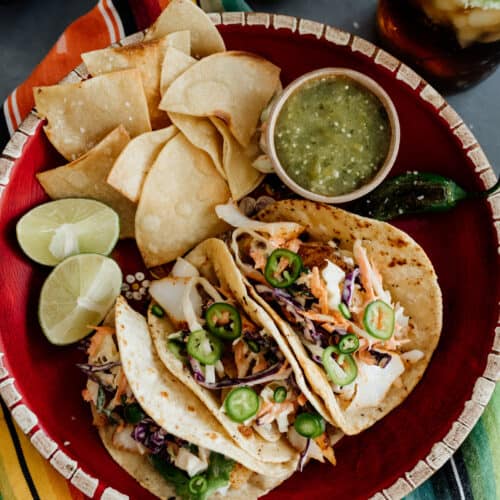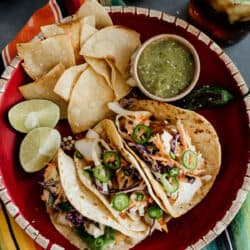 Cod Fish Tacos with Cabbage Slaw
Flaky white fish and a crunchy cabbage slaw dressed in a spicy, tangy dressing make these Cod Fish Tacos a perfectly delicious weeknight dinner that's also fast to assemble.
Ingredients
4 (4-ounce) skinless cod fillets
3/4 teaspoon chile-lime seasoning, such as Tajin
1/2 teaspoon smoked paprika
1/2 teaspoon kosher salt
2 tablespoons butter or oil, divided
8 corn tortillas
Instructions
Season fish with Tajin, smoked paprika, and salt. 

Place fish fillets in preheated skillet with 1 tablespoon of butter or oil and cook 4 to 5 minutes on each side until fish is just opaque and lightly charred. Break up into chunks.

Warm tortillas on skillet where fish was cooked. Add remaining butter or oil to skillet, if necessary.

Assemble tacos. Place fish on the bottom of each tortilla, top with coleslaw and drizzle with your favorite toppings.
Notes
If you can't find cod, try swapping snapper or mahi mahi (fresh is generally better than frozen).
Slaw
Buy packaged coleslaw to save time in place of cabbage and carrot.
Topping options
hot sauce
fresh lime wedges 
jalapeño slices
sliced green onions
avocado slices
shredded cheese or crumbled cotija or queso fresco
chopped cilantro
Calories: 253kcal, Carbohydrates: 31g, Protein: 7g, Fat: 13g, Saturated Fat: 5g, Polyunsaturated Fat: 4g, Monounsaturated Fat: 3g, Trans Fat: 1g, Cholesterol: 20mg, Sodium: 777mg, Potassium: 314mg, Fiber: 5g, Sugar: 4g, Vitamin A: 3227IU, Vitamin C: 30mg, Calcium: 103mg, Iron: 1mg
Photography by Jenna Sparks
Originally published: August 2021