Molletes Mexicanos with Refried Beans
This post may include affiliate links. As an Amazon Associate I earn from qualifying purchases.
These classic Molletes Mexicanos are made with refried beans, melty cheese and zesty salsa on butter toasted bolillos. A classic and economical Mexican dish, this hearty and filling breakfast can easily be made for a quick and filling lunch or dinner.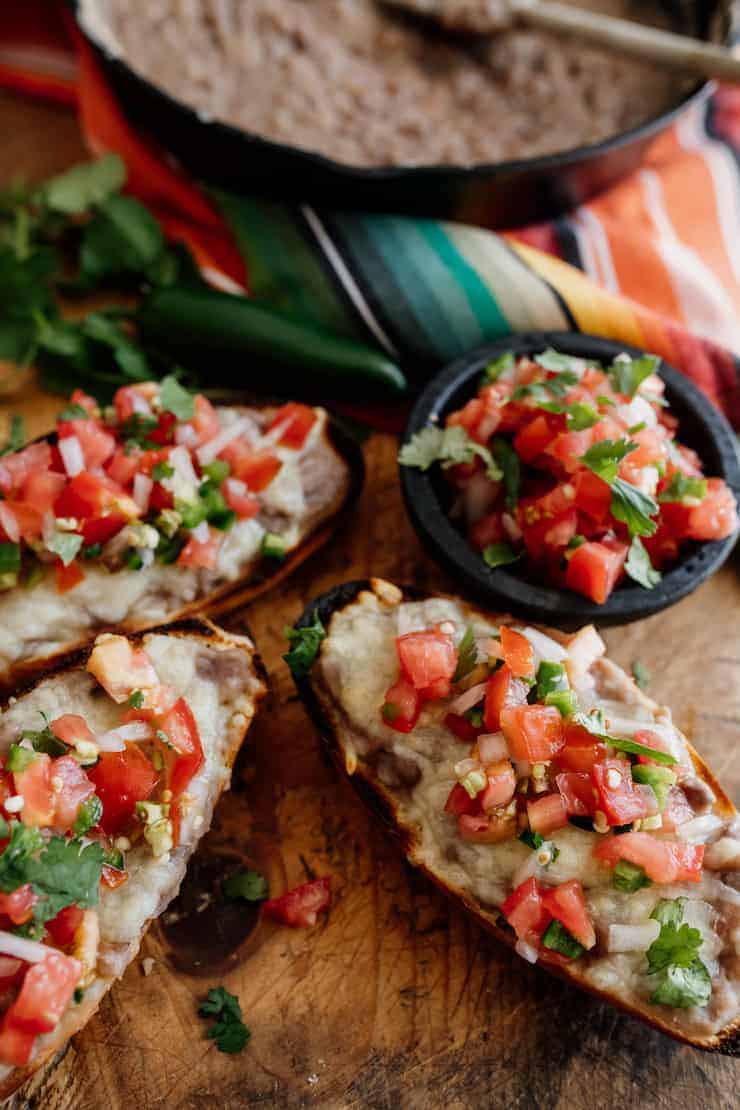 I don't know about you, but I happen to love carbs and comfort food. Remember my potato tacos recipe? Anyway, this authentic Mexican meal combines two of my favorite carbs – crusty bolillo rolls with super soft centers and refried beans topped with creamy melted cheese and bright pico de gallo.
What are molletes mexicanos?
Molletes (pronounced mo-YEH-tehs) are a traditional Mexican dish that is often served as a quick and filling breakfast. Think of it as an open-faced grilled cheese, only so much better.
Bolillos, which are essentially Mexico's version of crusty french bread buns, are split in half, toasted with butter, then slathered with refried beans and melted cheese and topped with your favorite salsa. Doesn't that sound like the best?
By virtue of the humble ingredients, molletes mexicanos are incredibly thrifty, which means they are great to serve to a crowd! Trust me, even if you've never heard of molletes before this moment, you're going to want to try this easy, filling sandwich recipe.
What you need to make this recipe
First things first, you're going to want to assemble your mollete ingredients. Bolillos can be found at any Mexican supermercado, but if you don't have access to one, any kind of crusty French bread should do the trick. Next, you'll need some room temperature butter or tub butter for easy spreading.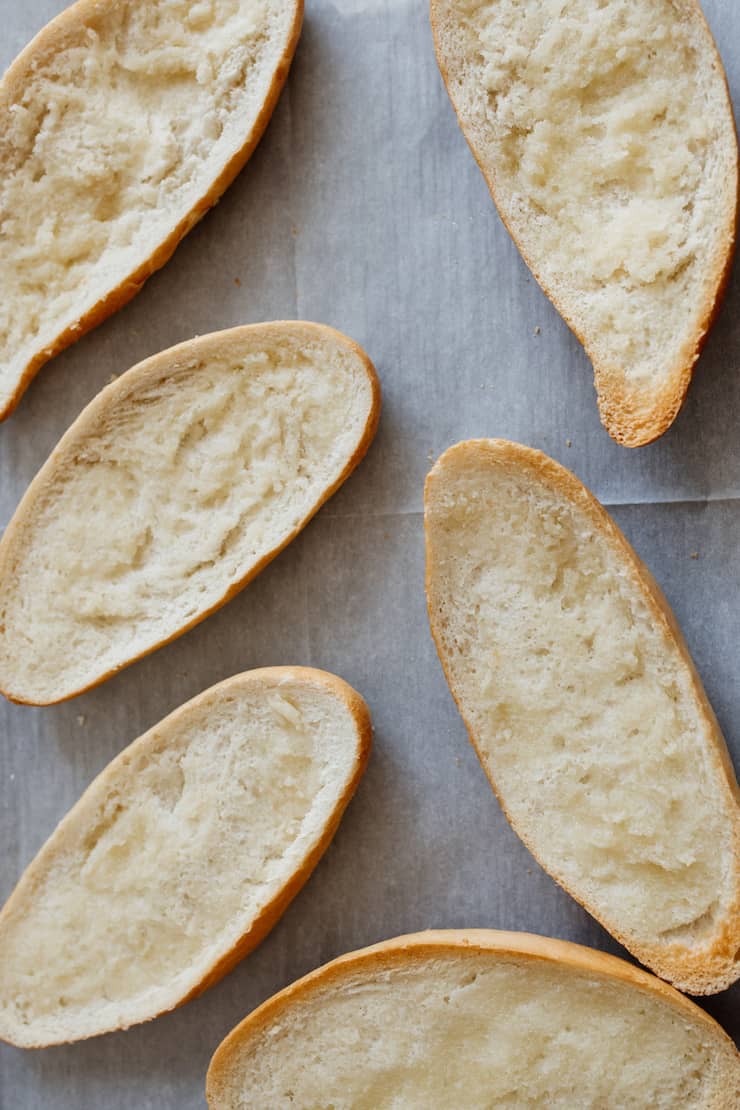 Next up, you'll want to grab your refried beans. While technically you can use canned refried beans, they are so much better when they're homemade. Check out my easy recipe here.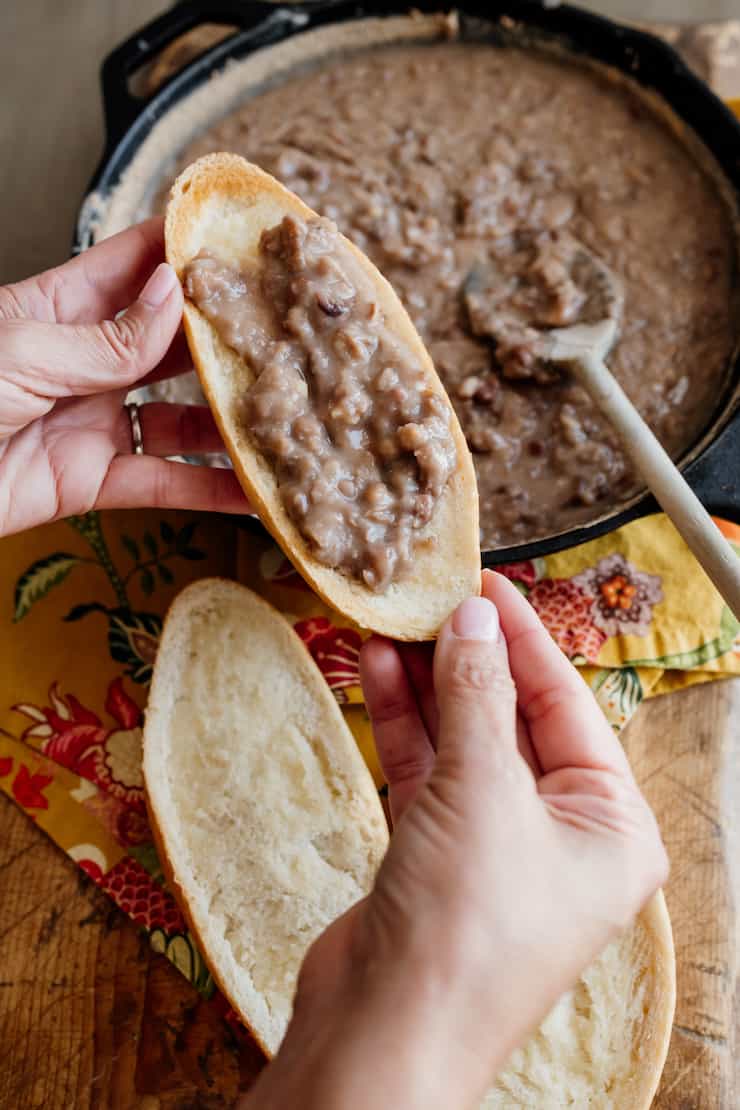 Finally, grab your favorite salsa. I personally prefer traditional pico de gallo for these classic molletes, you can certainly top with your salsa of choice.
How to assemble classic molletes
If you're in the market for a speedy meal, you've come to the right place. First, we're going to slather each piece of bread with about a half teaspoon of butter. Next, we're going to get it nice and toasty by quickly broiling it in the oven on a sheet pan.
TIP: As with all sheet pan cooking, parchment paper is your best friend! It makes cleanup a snap by catching all the spills.
Also, since the toast requires very little cooking, and the broiler gives off an enormous amount of heat, be sure to carefully watch your bread for the 1 to 2 minutes that it is in the oven to prevent burning.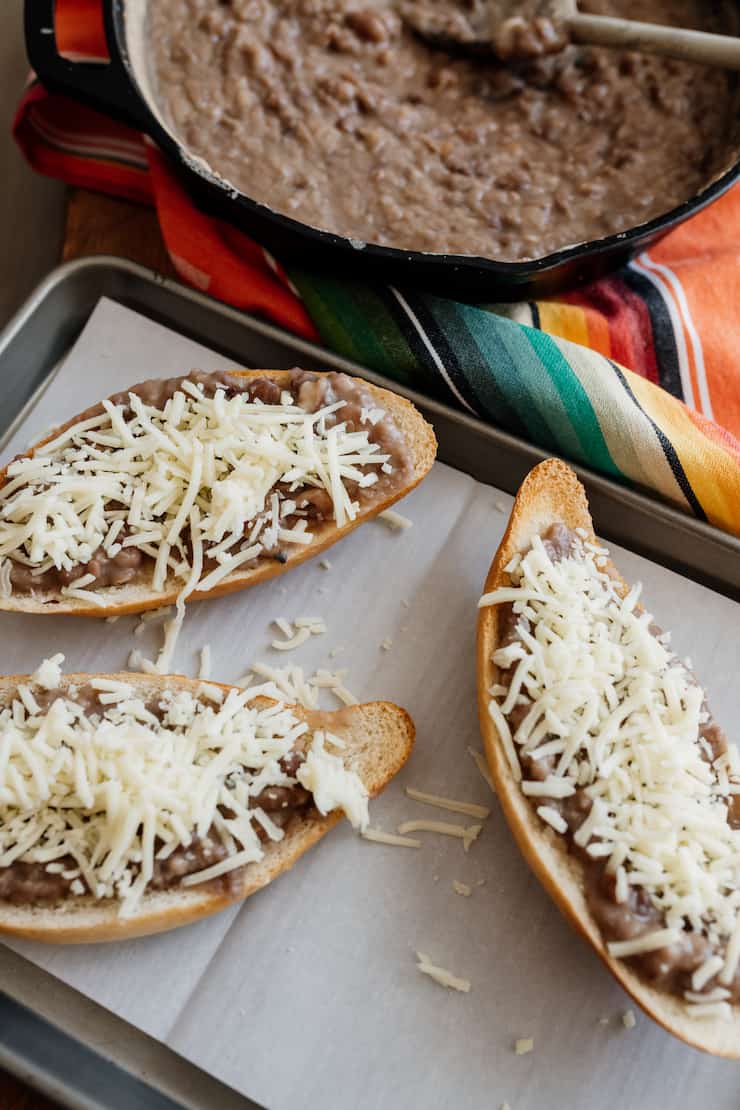 When the bread is nice and toasty, pull it out of the oven and smear about a half cup of refried beans over each slice. Finally, top each slice with shredded cheese, then return the sheet pan to the oven.
Again, keep a close eye on the molletes, as they only take about 1 to 2 minutes to get bubbly, golden, and perfect. Pull them out of the oven and top with salsa and serve immediately. Prepare yourself for inevitable bliss as your mouth hosts a real flavor party.
Frequently Asked Questions
What if I can't find bolillos?
If you don't have access to a supermercado or panadería, you can always substitute a nice, crusty roll with a soft interior. French bread or Italian bread is a fine swap.
What kind of cheese is best for molletes?
No matter what cheese you decide to use, you want it to be nice and melty. The traditional cheese used is queso Oaxaca, but if you can't find that, Monterey Jack, or Mozzarella would make fine substitutes. If you're looking for something a little spicier, Pepper Jack could be a fun option. Colby or Cheddar would also do just fine.
What kinds of salsa would be good on this?
Traditionally speaking, mollete recipes call for mild pico de gallo. Other great options include salsa verde, salsa casera, or chile de arbol.
How should I serve this dish?
Classic molletes are about as simple and basic as you can get. Serve them open faced and feel free to eat them with your hands like a slice of pizza! If you're looking to spice them up a bit, you can always add sliced avocado or a fried egg.
Need more delicious sandwich inspiration?
Check out these other recipes:
If you tried this recipe, please rate and review it below so I know how you liked it! If you'd like more authentic Mexican recipes delivered straight to your inbox, be sure to sign up for my email newsletter. You can also follow me on Pinterest, Instagram or Facebook for yummy recipe inspiration in your feed.
Authentic Molletes Mexicanos
These classic Molletes are made with refried beans, melty cheese and zesty salsa on butter toasted bolillos. A classic and economical Mexican dish, this hearty and filling breakfast can easily be made for a quick and filling lunch or dinner.
Ingredients
3 bolillos, Mexican rolls
3 tablespoons butter, softened
3 cups refried beans
1 cup shredded cheese (queso Oaxaca or Monterey Jack)
Instructions
Slice bolillo rolls in half lengthwise. Spread 1/2 tablespoon of butter on each slice.

Place rolls, buttered side up on a baking sheet lined with parchment paper, and broil, until lightly golden brown and crispy, a minute or two.

Spread a thin layer (roughly ½ cup) of refried beans over the toasted side of each roll. Top with shredded cheese

Place molletes in oven and broil for 1 to 2 minutes, until cheese has melted and is bubbly. 

Top each mollete with salsa. Serve immediately.
Notes
Cheese: Feel free to choose your favorite cheese -- Monterey Jack or Mozzarella would make fine substitutes. If you're looking for something a little spicier, Pepper Jack could be a fun option. Colby or Cheddar would also do just fine.
Bolillos: Can't find bolillo bread rolls? You can use French bread or Italian bread.
Beans: Instead of traditional refried beans, you could try chorizo refried black beans
Calories: 273kcal, Carbohydrates: 30g, Protein: 12g, Fat: 11g, Saturated Fat: 6g, Cholesterol: 30mg, Sodium: 1003mg, Potassium: 14mg, Fiber: 6g, Sugar: 5g, Vitamin A: 401IU, Calcium: 139mg, Iron: 6mg
Photography by Jenna Sparks