Brisket Nachos
This post may include affiliate links. As an Amazon Associate I earn from qualifying purchases.
If you're on the hunt for a delicious and stress-free appetizer, dinner, or game day spread, stop your search! These Brisket Nachos are quick, easy, and totally customizable depending on your topping preferences.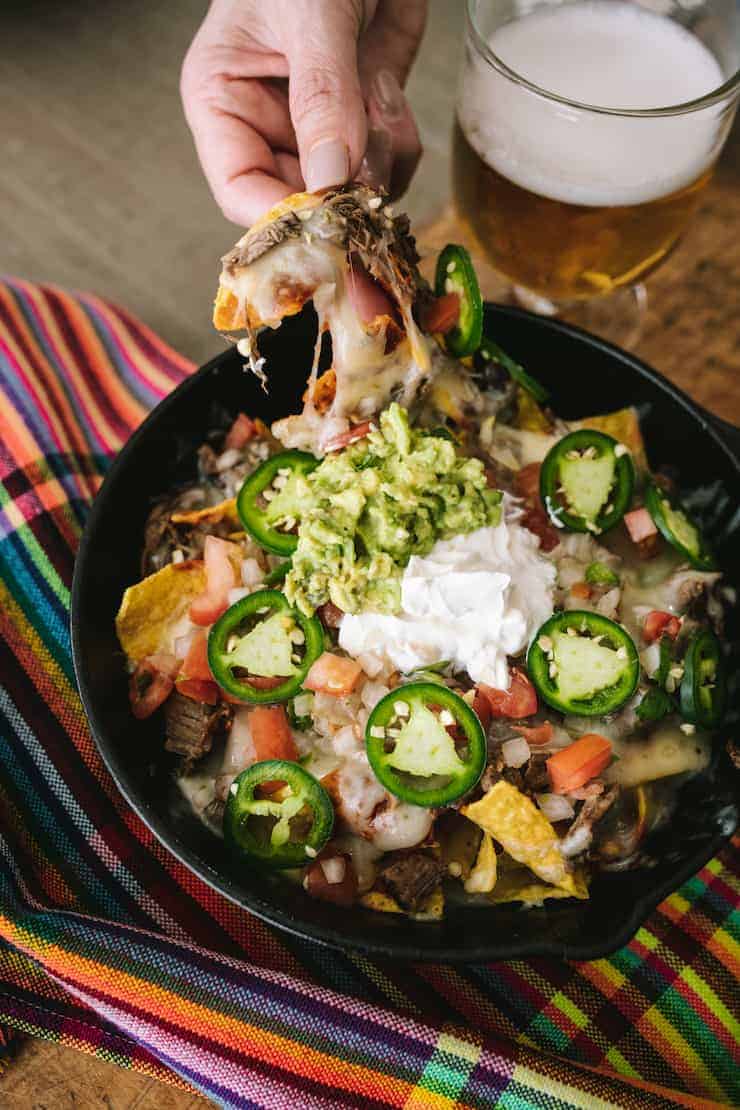 My nachos recipe is simple to scale, meaning you can make a gigantic spread just as easily as a single serving for your solo dinner at home. What could be better than crunchy tortilla chips topped with tender shredded beef, melty cheese, and your favorite toppings? Nothing. That's what.
Where Did Nachos Come From?
Legend has it that nachos are named after Ignacio "Nacho" Anaya, a Mexican maître d' at a restaurant in Piedras Negras, Mexico. He apparently invented this appetizer in 1940 to feed a group of hungry regulars who wanted something different from their usual order.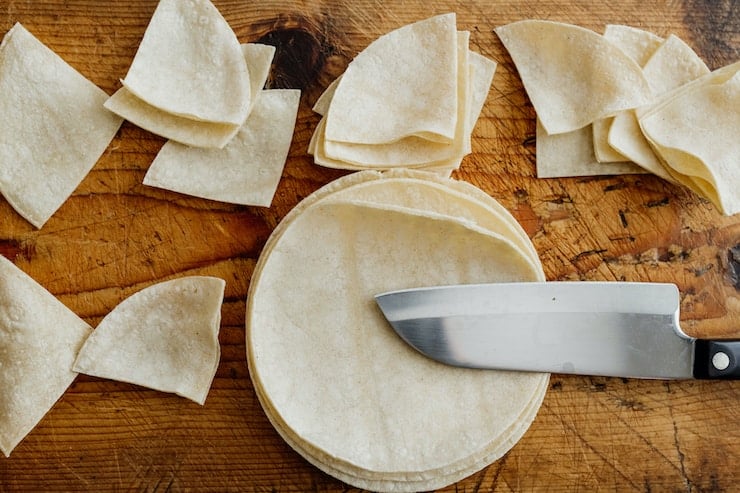 Ignacio saw a pile of tortillas, some cheese, and jalapeños in the kitchen and was suddenly inspired. He cut the tortillas into triangles and fried them till crisp, then topped the warm chips with shredded cheese and jalapeño slices and popped them in the oven.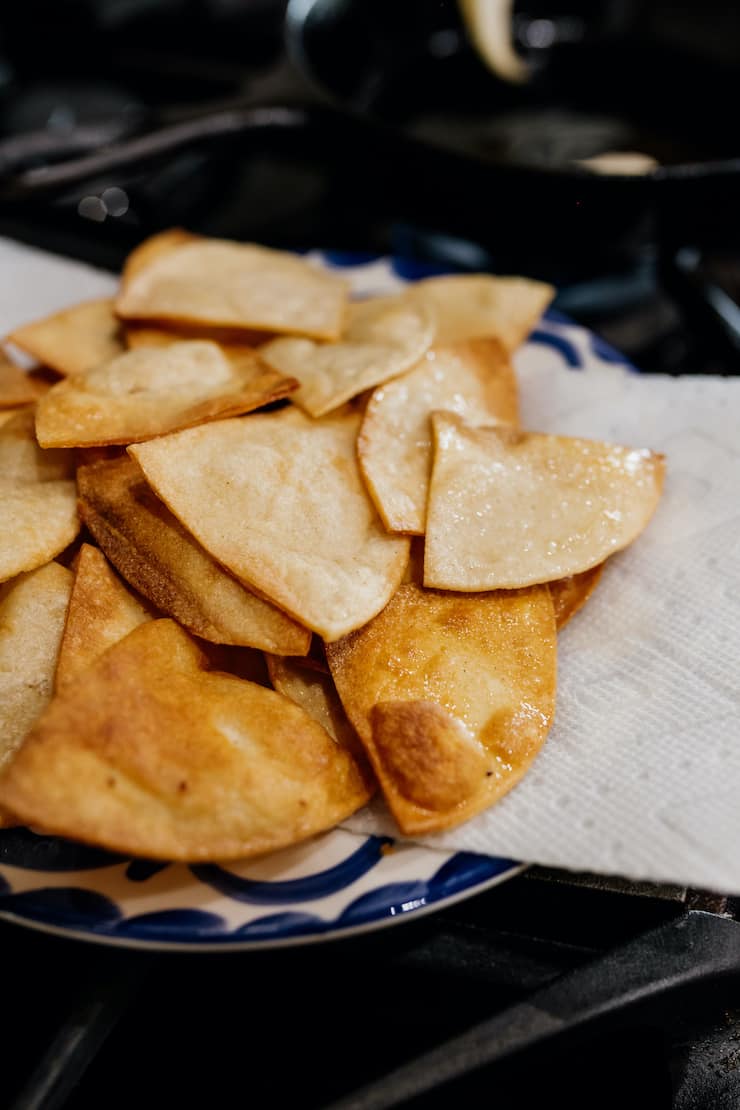 "Nacho" himself may not often be remembered, but his brilliant memory lives on in this famous snack. And that, my friends, is the rest of the story! Read The Legendary Tale of Nachos.
A great way to use leftover brisket
These brisket nachos can be made using homemade or store bought tortilla chips, your favorite melty cheese, and all the toppings you can handle. While nachos are a perfect vehicle for using leftover brisket, you might have on hand, don't fret if you're without.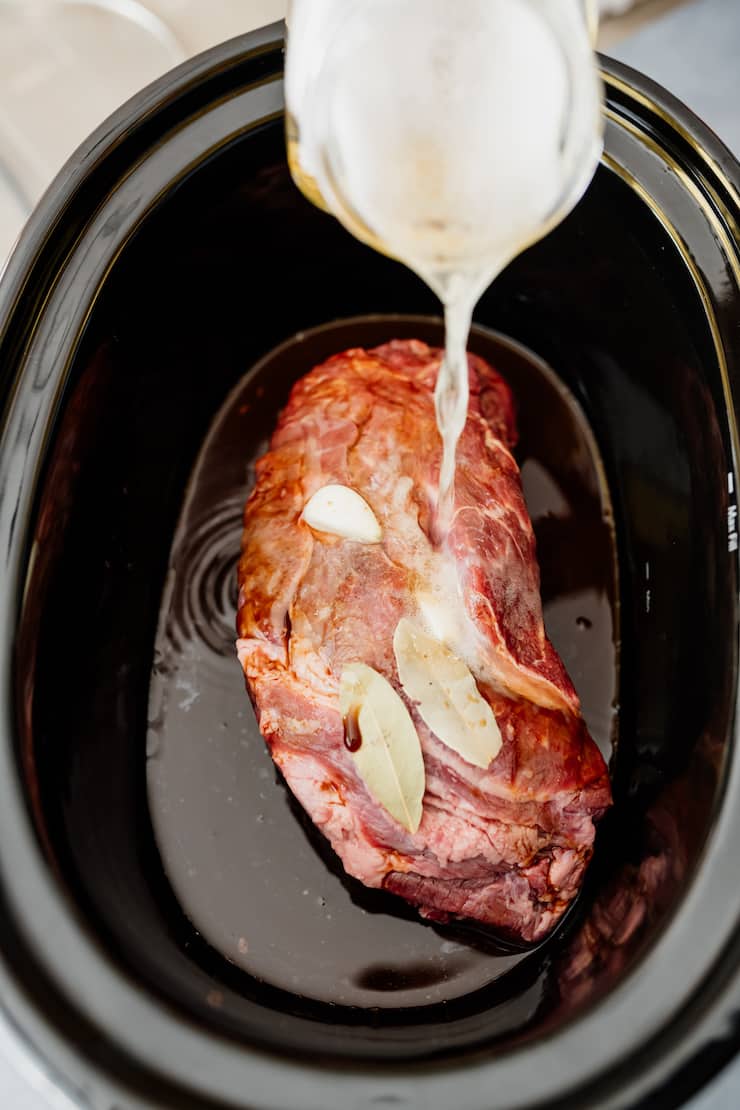 My slow cooker beef brisket is so hands-off that you can set it and forget it in the morning and have the perfect nacho topping ready by kickoff.
Or if you happen to have some pulled pork, shredded chicken, picadillo (ground beef) on hand instead of brisket, just swap it out! These nachos are completely customizable with whatever you might have on hand.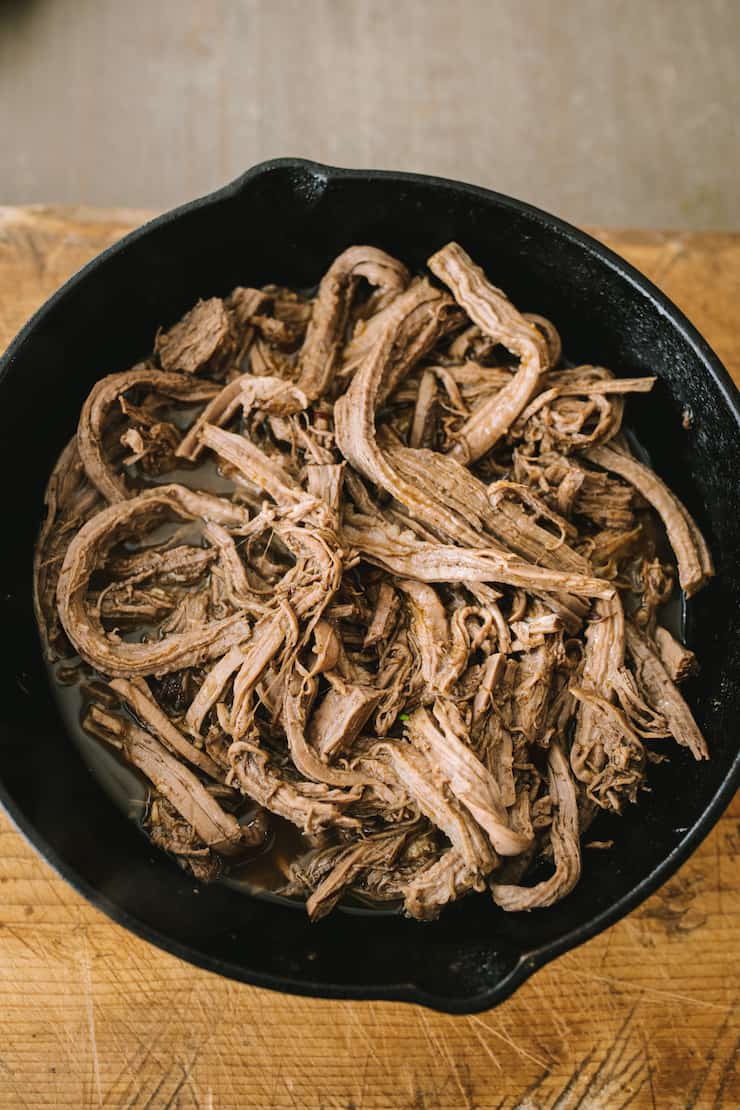 Making Nachos in a Cast Iron Skillet
While many people opt for a baking sheet, I've found that cast iron does a better job of retaining heat. That means that you can enjoy hot, melty nachos for longer!
I made these nachos in a small cast iron skillet, making a perfect meal for two. Who am I kidding? It's a great personal serving of nachos.
Layer chips in the base of your skillet, top with shredded brisket (or the meat of your choice), and sprinkle with cheese. Pop the whole thing in the oven for about 15 to 20 minutes, until everything gets nice and warm.
When the hot plate of nachos comes out of the oven, have your favorite toppings at the ready. For my brisket nachos, I tend to go pretty traditional with pico de gallo, sour cream, fresh jalapeño slices, and my all-time favorite chip topper, guacamole.
Making Nachos for a Crowd
Oftentimes, nachos are made on a baking sheet. While this is great for serving a larger portion of everyone's favorite party food, I find that everyone likes to make their own nachos with their toppings of choice.
TIP: If you want everyone to make their own personal nacho platter, aluminum pie trays make for excellent single servings.
Can I make nachos ahead of time?
Unfortunately, nachos have a fleeting moment where they are exceptional. Once they have lost their heat, they're never quite the same again. That said, there are some easy ways to prepare yourself ahead of time:
cook your meat
shred your cheese (or buy pre-shredded, but it won't melt quite as well)
chop your veggies
make your salsa
When it comes time to eat, all you have to do is assemble and bake!
Nacho toppings
One of my favorite things about nachos is that they're basically just a vehicle for all the tasty toppings you can think of. Here are some common toppings.
Need more game day inspiration?
Check out these other delicious recipes:
If you made my brisket nachos recipe, please let me know how they turned out. I love reading your comments and ratings below. You can also tag me on Instagram so I can see your delicious creations.
If you'd like more recipes delivered straight to your inbox, sign up for my email newsletter here. You can also follow my kitchen adventures on Instagram, Pinterest, or Facebook!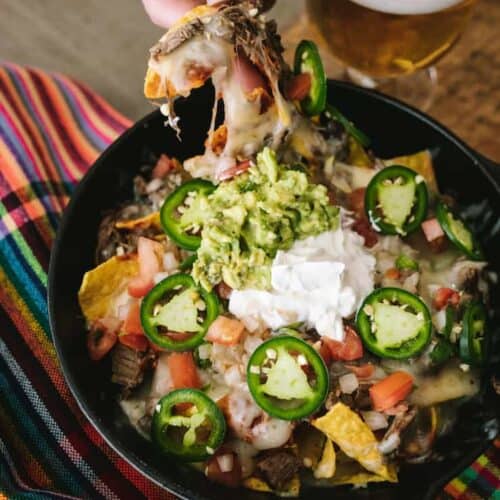 Brisket Nachos
Ingredients
Toppings
sour cream
jalapeno slices
Instructions
Layer chips in the base of your skillet, top with shredded brisket (or the meat of your choice), and sprinkle with cheese. Pop the whole thing in the oven for about 15 to 20 minutes, until everything gets nice and warm.

Add your favorite toppings and enjoy!
Notes
Nutrition does not include additional toppings.
Here are some common toppings.
Calories: 956kcal, Carbohydrates: 76g, Protein: 47g, Fat: 53g, Saturated Fat: 17g, Trans Fat: 1g, Cholesterol: 124mg, Sodium: 880mg, Potassium: 683mg, Fiber: 6g, Sugar: 1g, Vitamin A: 438IU, Calcium: 628mg, Iron: 5mg
Photography by Jenna Sparks