Quesadillas de Flor de Calabaza (Squash Blossom Quesadillas) + Video
This post may include affiliate links. As an Amazon Associate I earn from qualifying purchases.
If you have ever had the pleasure of tasting a cheesy stuffed and fried squash blossom, you know what a delight they are to eat; they're sadly also tedious to make! This recipe for Squash Blossom Quesadillas (also known as Quesadillas de Flor de Calabaza) leaves all the breading and frying fuss behind, leaving nothing but simple tastiness instead.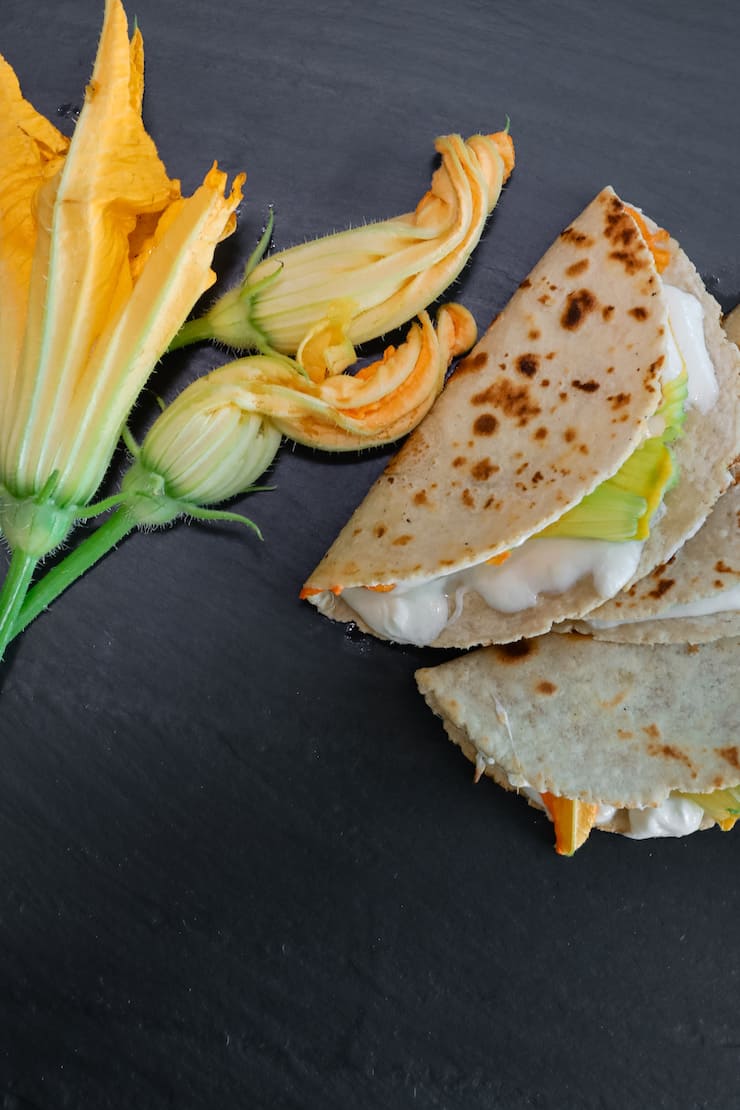 I wouldn't consider a quesadilla a "recipe", but I have to remind myself that not everyone grew up making and eating quesadillas like I did. In fact, quesadillas were one of the first meals I learned to make on my own. This fancy version of my favorite quick comfort meal is just as simple to create, but feels like a real treat to eat.
Why I Love This Recipe
To be completely honest, I have a slight obsession with quesadillas. They are my go-to meal when I'm feeling tired, stressed, or lazy. A simple corn tortilla or flour tortilla – either homemade or store-bought – that is heated on a comal and topped with your choice of cheese is a thing of beauty.
Less than a handful of ingredients can be magically transformed into a warm, ooey-gooey, quick, and comforting lunch or dinner in 10 minutes or less. What's not to love?
Quesadillas are not only easy enough for a tween to make, but they're also completely customizable based on whatever you have on hand. When I have leftover meat or veggies, I sauté them and add them to my quesadilla like these Roasted Squash and Portobello Mushroom Quesadillas, Carne Asada Chayote Quesadillas, and Carne Asada Spinach Quesadillas.
This time of year, I have an abundance of squash blossoms on the vine. If you, too, are growing your own garden, then you just might have some squash blossoms that you can pick and add to your quesadilla. Yes, they are totally edible and look so exotic in a quesadilla.
NOTE: If you do not have a garden, visit your local Latin market or farmers market and look for these garden beauties.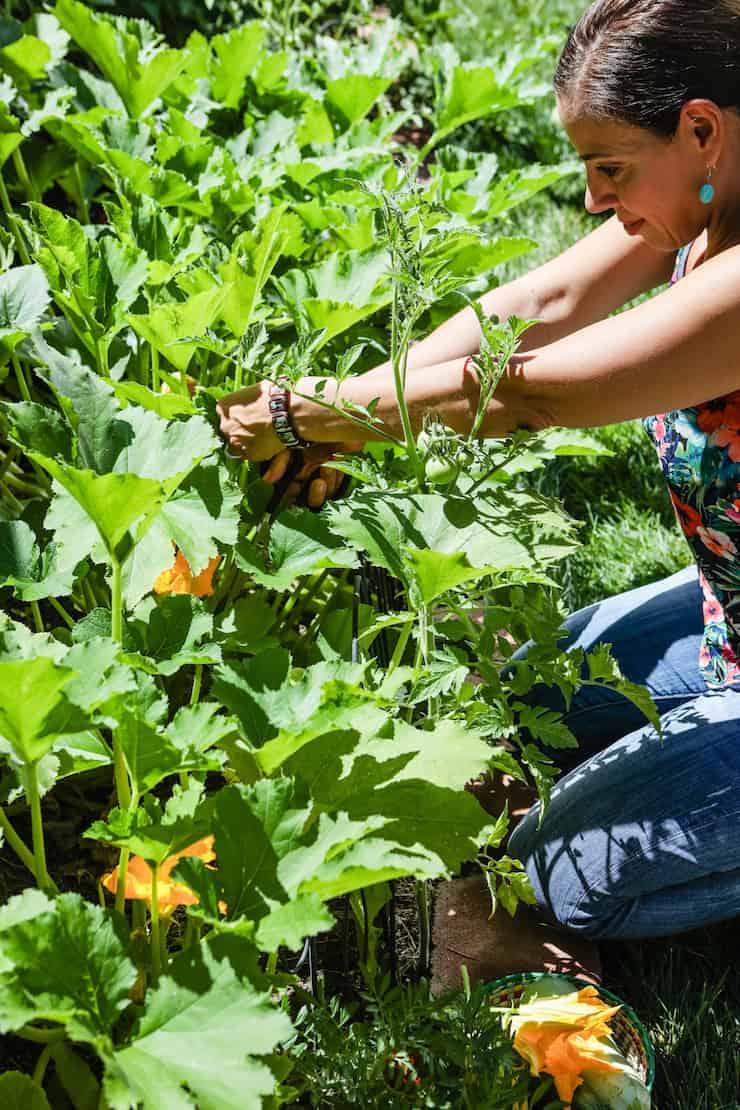 This recipe tastes a whole lot like stuffed squash blossoms, but without all the hassle of filling, securing, dipping, frying and draining; whew, just writing that out made me feel exhausted!
The delicate squash blossoms meld perfectly with the melty cheese and fresh tortillas, making this simple and beautiful meal feel *just* fancy enough to enjoy with a summer cocktail. One bite and I'm immediately transported to Oaxaca.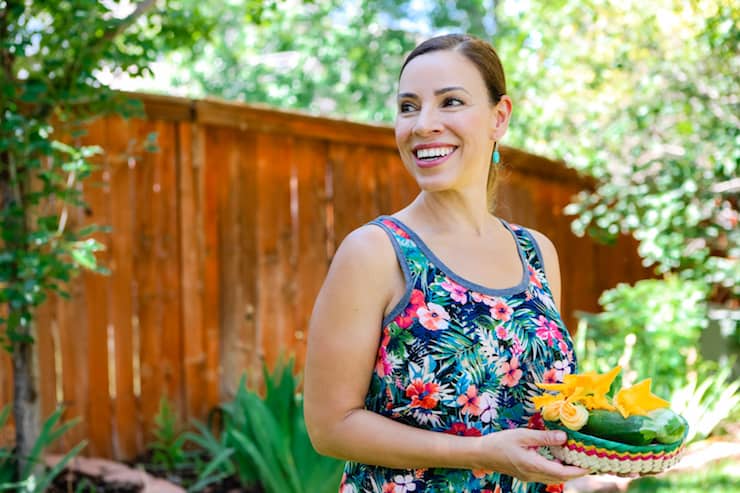 How to Make Quesadillas with Squash Blossoms
This simple squash blossom quesadilla recipe takes just a few minutes to throw together, but tastes like a million bucks. Here's how to do it:
Prepare Flor de Calabaza
First, prepare the squash blossoms for cooking. Don't worry, this is a very easy process.
Remove the woody stems. Pluck out the stamen/pistil from the inside of the squash blossom. Be careful, as there might be bugs or bees inside!
Trim off the sepals (the small, wavy leaves that grow from the base of the blossoms). Discard stems, stamen, and sepals. Shake off the blossoms and you're ready to go! There's no need to rinse them.
Watch this video to learn How to Prepare Squash Blossoms (Flor de Calabaza).
Assemble and Grill Quesadillas
Rub a little olive oil on a comal and heat on medium heat. Place a tortilla on the pan and heat on both sides for half a minute or so, until bubbles begin to form in the tortilla.
Sprinkle tortillas with cheese. Add 1 to 2 squash blossoms over cheese. Fold the tortilla in half. Reduce heat and cook until light golden, about 2 to 3 minutes or until cheese melts. Flip over and cook until golden brown.
Serve warm, with salsa if desired. Enjoy!
Frequently Asked Questions
Should I use flour or corn tortillas for making quesadillas?
The answer is EITHER! Whatever you have on hand will be delicious. If possible, I recommend using homemade corn or flour tortillas, but store bought will work too. I love these store-bought blend of yellow corn and wheat blend tortillas.
What does squash blossom taste like?
The flowers of the squash plant don't actually taste floral like other edible flowers. Instead, they taste faintly of squash. They're very mild and a little sweet, and they're simply gorgeous to look at. Want to learn more about squash blossoms: How And When To Pick Squash Flowers.
What is the best cheese for this recipe?
I prefer melty Oaxaca cheese, but you can opt for any type of melty cheese that you like. Quesadilla, monterey jack, colby or mozzarella will all work just fine.
More Summer Recipes
Did you try this simple recipe for Squash Blossom Quesadillas? Be sure to rate and review it below – your star ratings make it easier for other readers to find! Leave a comment below and tag @muybuenocooking on the gram!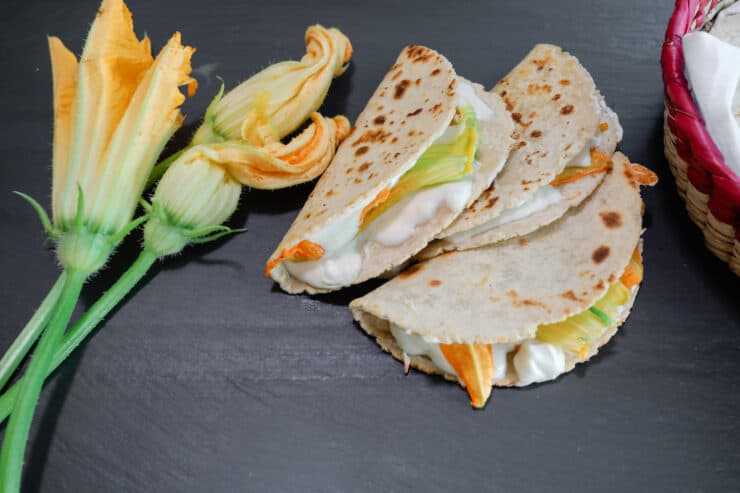 Photography by Raemi Vermiglio / Video by Pure Cinematography