Delicious and Hearty Soups to Warm the Soul
This post may include affiliate links. As an Amazon Associate I earn from qualifying purchases.
January is National Soup Month, but don't let February stop you from eating soup. What a better way to ward off cold weather than with a delicious bowl of warm and hearty soup? Did you know that people have actually been eating soup since 20,000 B.C. however, heated rocks and animal hides were used to cook the soup until the invention of the clay pot came about.
With National Soup Month almost over I felt it only necessary to share with you some of my favorite soup recipes from years past. Whether you're in the mood for a meaty soup, one that has a bit of spice, or simply one that will warm your belly—you'll find it here in this blog post. Add some corn tortillas for dipping, some salsa casera for spice, and you have yourself a robust and flavorful meal.
Soup is also great to serve up as leftovers. It freezes well in these plastic containers, which comes in very handy when you are not feeling well, and need comforting. The soup recipes below are easy to prepare, full of fresh ingredients, and all homemade.
Grab a spoon and get ready to keep your family warm and healthy all winter long with these ultimate comfort food meals.
Caldo de Res (Beef Soup)
Warming you from the inside out this rustic soup is easy to make and perfect for a cold winter's day. Filled with simple ingredients such as carrots, celery, potatoes, zucchini, tomatoes, corn, and cabbage, complete this meal with a side of Mexican rice.
Caldo de Pollo (Homemade Chicken Soup)
Have you seen the new video for this recipe? This soup is often referred to as medicine for the soul. It is delicious and customizable and one of my favorite soups to make, topped with salsa casera and fresh lime juice.
Wild Mushroom Soup
Made with more than two pounds of chopped mushrooms this elegant and velvety soup is bursting with an earthy flavor that is best served with slices of crusty baguette bread.
Chicken Tortilla Soup
The combination of roasted tomatoes and fried chiles in this soup adds a special kick and goes great with a tall mountain of homemade tortilla strips and an ice cold cerveza.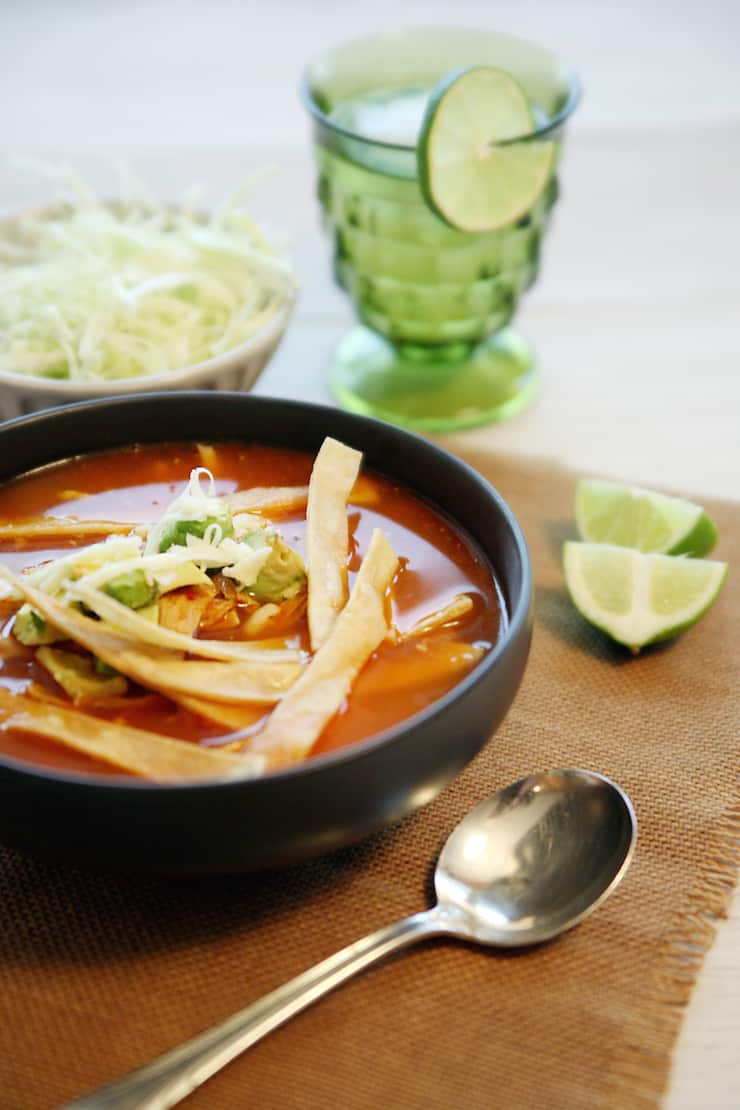 Caldo de Albondigas (Mexican Meatball Soup)
The unique balance of fresh herbs, tomato broth, and unique spices gives this tomato meatball soup its delicate flavor.
Chicken Pozole Verde
Not to be mistaken with my pozole rojo made with pork, this shredded chicken and hominy-based Mexican stew is slow simmered in a salsa verde made with tomatillos, cilantro, and jalapeños giving this soup a beautiful green hue, and the pumpkin seeds add a nutty flavor and creamy texture.
Chile Verde con Carne y Papas (Green Chile with Beef and Potatoes)
Eat as an entrée or use as a topping, this fragrant dish is similar to a beef stew, but with a punch of spice from the roasted green chiles that gives you all the comfort and flavor of old-world Mexico.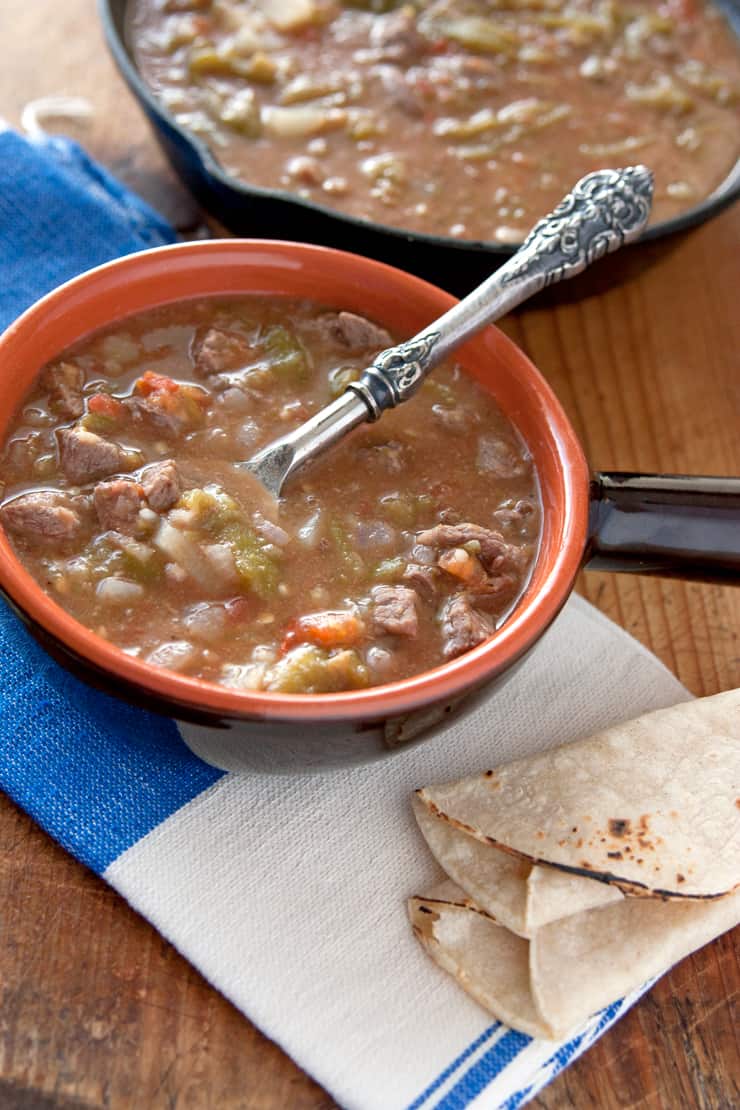 Pozole Rojo (Red Pork and Hominy Stew)
Getting its distinct color from our red chile sauce this rich and tender pork-filled pozole has a thick, velvety consistency that everyone loves. A one-pot meal that goes great with bolillos stuffed with spicy cream cheese.
Spicy Acorn Squash and Apple Soup
Served up in a small pumpkin this comforting yet sophisticated soup adds just the right amount of spice and flavor perfect as a first course for entertaining.