My Memorial Day Top Picks
This post may include affiliate links. As an Amazon Associate I earn from qualifying purchases.
Can you believe that Memorial Day is just around the corner?! And who doesn't love Memorial Day? It's not only a day to honor and thank our veterans but it's also the perfect opportunity to unofficially kick off summer. But are you ready for the big BBQ day?
If you're still deciding what to make for your cookout or what to bring to a friend's party and need last minute recipe ideas – you're in luck! I've put together a roundup of my top pick recipes that will leave you and your guests wanting more reasons to have another BBQ or picnic. I think you'll find a lot of yummy things to make.
So break out the grill this Memorial Day weekend and start cooking out with your family and friends and serve up some delicious food and fun. Here's to sunshine and grilling.
Mango Lime Beer Margaritas
Fizzy, tart and sweet, but not too sweet, these margaritas are the perfect drink to pair with your favorite Mexican dish or to serve at your next picnic.
Sandia Burro (Watermelon Mexican Mule)
You can't kick off summer without watermelon. A little spicy and a little sweet, this flavorful, Mexican spin on the Moscow Mule substitutes traditional vodka for tequila.
Citrus, Mango, and Avocado Salsa
Nothing beats the taste of freshly chopped fruits with a hint of spicy chile. Celebrate fresh salsa with this tasty and simple season starter.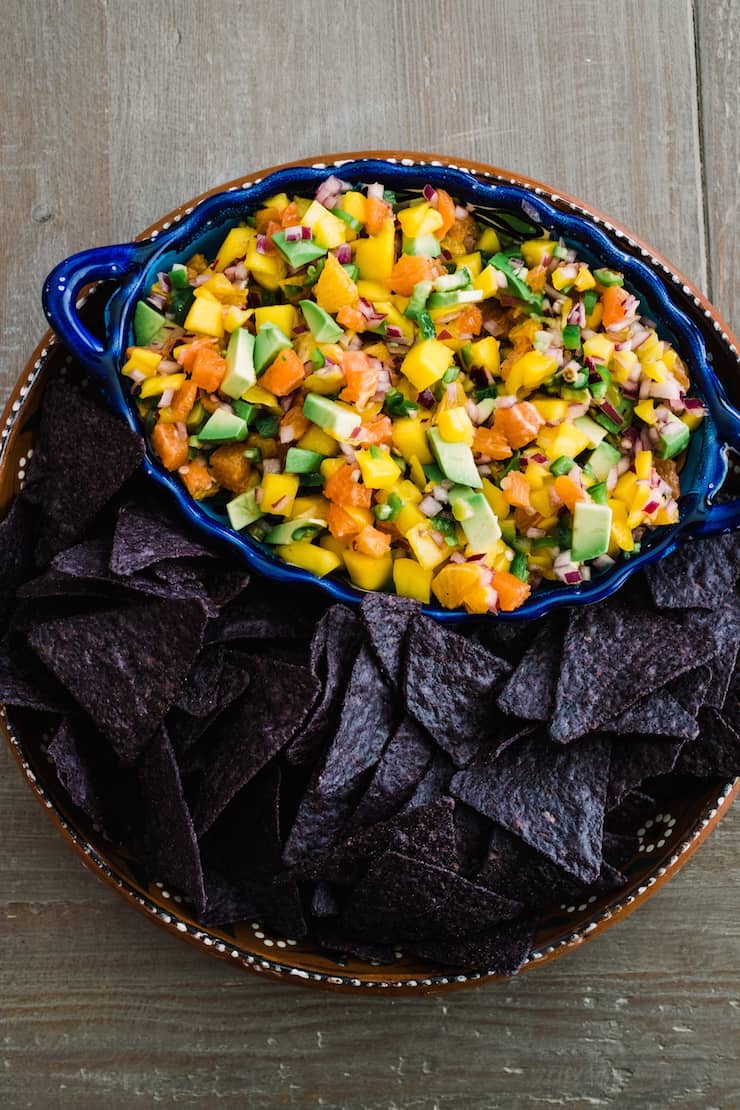 Cowboy Caviar
I guarantee this dish will be the hit to a Memorial Day potluck. This budget-minded salad is chockfull of colorful veggies and black beans in a tangy and spicy dressing that really hits the spot. The longer this salad sits the better the flavors marinate.
Mexican Street Corn
This street corn is sweet, spicy, salty, and tangy, all in one glorious bite. It's an explosion of Latin flavors that you will crave all summer long.
Mango, Jicama, and Cucumber Salad
This is my go-to summer salad – It's a refreshing side dish made with chopped mango, jicama, cucumber, lime juice, and spice. The longer the salad sits, the more flavorful it becomes.
Carne Asada
Impress your guests this Memorial Day with thinly sliced steak that is buttery, rich, and juicy, with a nice charred, smoky flavor from the grill. This tender, grilled meat is full of authentic Mexican flavor.
Green Chile and Avocado-Mayo Burger
You can't have a BBQ without burgers. This one has a little bit of old America and a little bit of our Mexican heritage all wrapped up in a tall heap of yumminess.
Steak and Bacon Shish Kebabs
Celebrate the grill season with these easy to make kebabs made with marinated steak, roasted veggies, and slices of grilled bacon on a stick. These shish kebabs scream summer.
Cebollitas Asadas
Cebollitas is Spanish for little onions. It's a Latin staple when it comes to grilling.
Mini Berry Goat Cheese Cakes
Elegant, rustic, and oh so yummy — these not-too-sweet mini desserts have the richness of cheesecake but without the hassle. Just what you want on a hot day; perfect with fresh, juicy berries.
Paletas de Horchata
Horchata is a creamy cinnamon infused rice agua fresca that becomes a great dessert when frozen into popsicles.