Cowboy Caviar (Texas Caviar)
This post may include affiliate links. As an Amazon Associate I earn from qualifying purchases.
This budget-minded dish is chock-full of colorful veggies and black beans that have been dressed with a tangy and spicy homemade dressing. Whether you call it Texas Caviar or Cowboy Caviar, it is perfect as a side dish or an appetizer served with tortilla chips.
Are you looking for a tasty side dish to contribute to a picnic, potluck, or party? Texas Caviar hits all those notes, and is also perfect as a light lunch option.
Why I Love This Recipe
Every time I make this recipe for Cowboy Caviar, everyone raves about it. The best part is that it is truly simple to make and is practically a no-cook dish.* It also just so happens to be super inexpensive, meaning you can make a big ol' batch without breaking the bank.
*Note: I roasted the corn for added flavor, but if you want a shortcut, feel free to use drained canned corn or pre-roasted corn kernels in the frozen section.
Cowboy Caviar is similar to my black bean salad published in the Muy Bueno cookbook, but loaded with lots more veggies. It's a versatile and healthy dish that can be thrown together in under 20 minutes.
As we head into warmer weather, I love keeping a bowl of this colorful and yummy dip-meets-salad on hand in the refrigerator. It makes for a wonderful after school snack, as well as an excellent quick lunch for me.
While it tastes great next to a perfectly grilled skirt steak, fajita skewers, or baked chicken breast, it is also completely delicious on it's own. I also love that my recipe for Cowboy Caviar is completely vegan and gluten free, making it an excellent side to bring to any kind of potluck or cook out. Everyone can enjoy it!
Finally, this tasty bean salad is perfect for meal prepping. Feel free to make this dish ahead (minus the avocado). The longer this salad sits the better the flavors marinate. Brilliant!
How to Make Texas Cowboy Caviar
Pull out your best knife for this Cowboy Caviar recipe. This budget-minded salad is chock-full of colorful vegetables and black beans (canned or homemade) in a tangy and spicy dressing that really hits the spot. Get ready to do some chopping!
Roast Corn on the Cob
While this step is technically optional, I highly recommend you take the little bit of extra time to do it. The charred kernels get extra sweet when exposed to heat, making their flavor intensify. It's also super easy to do!
I usually roast corn on my stovetop on an open flame rather than firing up my grill outside. If you don't have a gas stove, you can do this on a gas or charcoal grill outside.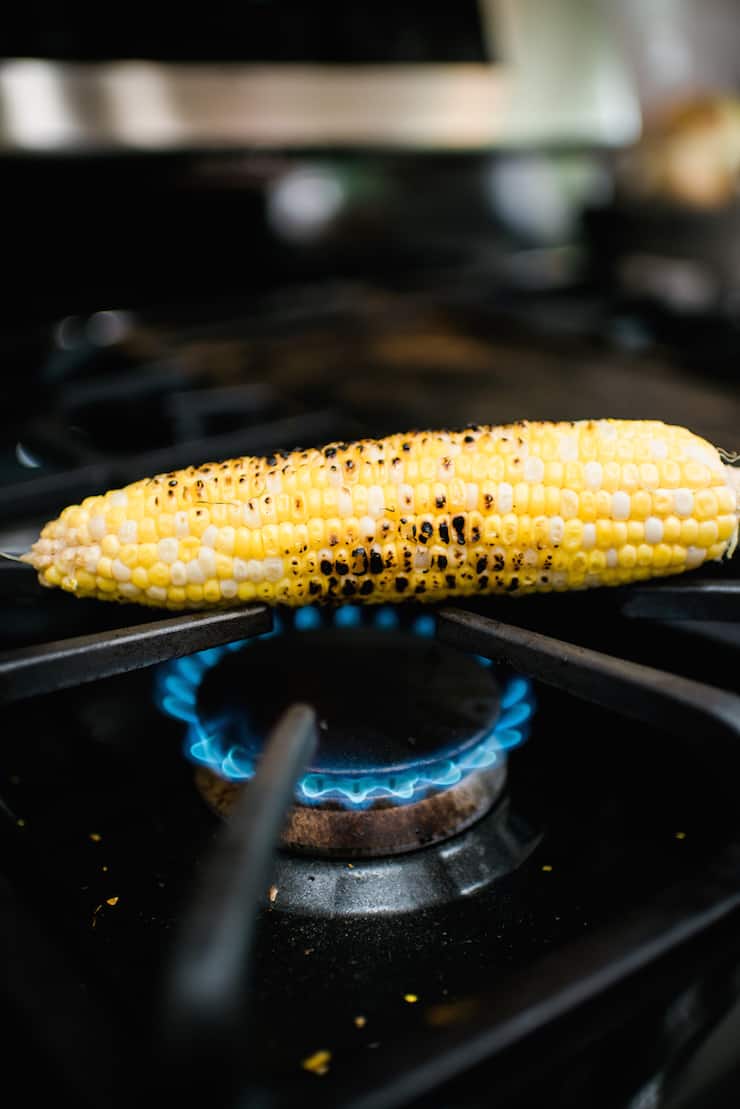 To properly roast the corn, simply shuck the ears and discard the leaves and silk. HINT: If you're looking for ways to get little ones involved in the kitchen, this is a task that is perfect for little hands.
Place the ear of corn over flame on either your gas range or on your gas or charcoal grill. When the kernels get a bit of char color on them, use tongs to flip the corn. Add as much or as little color as you like!
When you're done, strip the kernels by using a chef's knife to cut them off. If you're someone who likes to get the most bang for your buck, the cobs can be used to make a simple corn broth that makes for a killer corn chowder or be tossed in the compost.
TIP: Using a bundt pan is very helpful when removing kernels from fresh corn on the cob. Simply stand your cob in the center and slice. The wide bowl around the center core will easily catch all the kernels and keep your mess to a minimum.
Prepare Other Ingredients & Assemble
Drain and rinse your canned beans. (Or, if you're being super budget conscious, make your own black beans in the Instant Pot.)
Chop all of your veggies to roughly the same size as a black bean. When all of the ingredients are nice and small, you'll get a better shot at getting all the tasty goodness in every bite. If you need a little primer on how to dice ingredients, this article by The Kitchn does a great job.
Next, prepare your salad dressing. Whisk all of the ingredients together until combined. Easy peasy!
Now simply toss all of your veggies and beans together with the homemade dressing. Taste and season with salt and pepper as needed. I recommend allowing the flavors to meld for at least an hour for best results, but you can also jump right in. Enjoy!
How to Serve
As a salad: If I'm being completely honest, I love eating Texas Caviar by the spoonful. It's great cold or at room temperature, making it a perfect picnic or packed lunch salad.
As a condiment: You can also use this bean and veggie mix as a kind of relish/salsa to serve with your favorite meats. It goes beautifully with chicken, steak, and salmon. It's also great used in wraps, salads, or omelettes.
As an appetizer: If you want to serve it as a dip, tortilla chips are my go-to vehicle for shoveling it into my mouth! If you are gluten free, just be sure to choose a chip brand that is safe for you.
No matter how you decide to enjoy Cowboy Caviar, I'm certain you're going to love it.
Frequently Asked Questions:
Can you make this ahead of time?
Heck yes! This dish actually tastes better after it marinates overnight in the fridge. Just be sure to hold off on adding the avocados until you're ready to serve to avoid browning.
How long can I refrigerate this dish?
This makes a great meal-prep dish that can be stored in the refrigerator for up to 3 days. Whether you're preparing for a party ahead of time or looking for easy and healthy packed lunch options, this is a wonderful recipe.
TIP: Do not add the avocado prior to refrigerating, or it will oxidize and turn brown.
Do I need to add cilantro?
If you hate cilantro, feel free to omit or replace with fresh parsley.
What kind of beans should I use?
I use two cans of black beans, but you can substitute other types of beans. Instead of black beans, try pinto beans or feel free to use a combo of black beans and black-eyed peas to bring good luck.
What kind of vinegar works best for this recipe?
My recipe calls for red wine vinegar, but you can use apple cider vinegar, rice wine vinegar, or plain white vinegar if that's all you have. The flavor of this dish is always a hit no matter which kind of vinegar you use.
What kind of corn is best?
If it's in season, I like to use fresh corn that has been grilled and cut off the cob for a naturally sweet crunch and roasted flavor.
Feel free to use regular canned sweet corn (not creamed) that has been drained or thawed frozen corn.
TIP: You can still roast frozen corn! Just preheat the oven to 400 degrees F, spread a bag's worth out on a foil lined cookie sheet and roast for 20 to 30 minutes, stirring occasionally. When it's golden, you're ready to roll.

Whether you want to call this Texas Caviar or Cowboy Caviar, the results are all the same: delicious, crunchy and oh-so-satisfying. Be sure to whip up a batch and let me know how it goes in the comments below!
Need more bean-spiration?
Check out these other easy bean side dish recipes:
Love my Texas Cowboy Caviar recipe? Be sure to pin it for later use!
If you'd like more recipes delivered straight to your inbox, be sure to sign up for my email newsletter. You'll get an email each time I post a new yummy idea!
Cowboy Caviar (Texas Caviar)
I guarantee this dish will be the hit at your next picnic, potluck, or party! This budget-minded salad is chock-full of colorful veggies and black beans in a tangy and spicy dressing that really hits the spot. Serve it as a side salad or with tortilla chips for an awesome dip.
Ingredients
2 15 ounce cans black beans, rinsed and drained
1 ear corn, roasted and kernels removed or 1 (11-ounce) can of corn
1 small red onion, diced
1 green bell pepper, diced
1 yellow bell pepper, diced
1 red or orange bell pepper, diced
2 cups cherry tomatoes, quartered
2 avocados, chopped
1 to 2 jalapeños, seeded (to taste), minced
tortilla chips, for serving
Dressing:
1/3 cup olive oil
1/3 cup red wine vinegar
Handful cilantro leaves, chopped
2 tablespoons hot sauce, such as Valentina
1 teaspoons kosher salt
½ teaspoon pepper
Instructions
In a small bowl, whisk together olive oil, lime juice, vinegar, cilantro, hot sauce, salt and pepper. Set aside.

In a large bowl, combine remaining ingredients. Toss with dressing until well combined.
Notes
This dish calls for red wine vinegar, but you can use apple cider vinegar, rice wine vinegar or even plain white vinegar.
Feel free to use corn on the cob, canned sweet corn (not creamed), or thawed frozen corn. 
You can easily make this dish ahead of time, just omit the avocados until you're ready to serve.
Refrigerate leftovers up to 3 days.
Nutrition facts do not include tortilla cups / chips
Calories: 73kcal, Carbohydrates: 7g, Protein: 2g, Fat: 5g, Saturated Fat: 1g, Sodium: 103mg, Potassium: 179mg, Fiber: 3g, Sugar: 1g, Vitamin A: 220IU, Vitamin C: 21mg, Calcium: 9mg, Iron: 1mg
Photography: Jenna Sparks
Originally published: May 2018.