Orange, Avocado and Mango Salsa
This post may include affiliate links. As an Amazon Associate I earn from qualifying purchases.
This bright, beautiful Orange, Avocado and Mango Salsa is sweet and spicy, tart, and juicy with just a hint of creaminess from the avocado. In short, it's delectable! Make a batch as soon as you can get your hands on some fresh mango and watch it disappear before your eyes.
It's really hard to pick my favorite fruit, but if I had to pick one it would be mangos. But, technically avocados are fruits too…so also avocados. This tropical themed salsa uses BOTH of my favorite fruits, making it one of my favorite summertime treats.
While it's intended for eating with chips or spooning over grilled meat, I promise not to tell if you opt to eat it by the spoonful straight from the bowl.
Why This Recipe Works
This salsa pairs my two favorite fruits – both avocado and mango – plus piquant red onion, spicy jalapeño, fresh cilantro, and two kinds of citrus for one of the zippiest salsas around! Sweet and tangy with a spicy kick? That's basically my dream palate.
This tropical salsa is great served as an appetizer with tortilla chips and is a game changer when served grilled chicken, pork, and my favorite Pan-Fried Tilapia. It's sure to be a huge hit at your next grill out!
I also love how bright and fresh this salsa is. While the jalapeño does give it a spicy, savory touch, this fruit forward salsa is a huge hit with the kiddos because it's so sweet and juicy!
Feel free to cut back on the heat by removing the seeds and membranes of the peppers (where the capsaicin lives), or cutting back on how many you add to the batch. In fact, you can even make a separate batch just for the kids by making it completely pepper free!
I'm also a fan of any recipe that is so well received by the masses, especially when it takes just ten minutes to throw together! That's right, amigo. In just ten minutes, you'll have a salsa the whole party will be gabbing about.
So grab your fruit and a sharp knife and meet me in the kitchen to make this stellar Orange Avocado Mango Salsa!
How to Pick Good Avocados and Mangos
Since this fresh recipe is made with just a few ingredients, it's important to pick good ones! (Oh, and in case you need a refresher, here's how to dice a mango and how to cut and dice an avocado.)
Generally speaking, I prefer Haas avocados, preferably from Mexico. These fruit have dark skins when they are ripe. They should yield to firm pressure from your thumb, but should not feel mushy in any way.
If you plan on using your avocado the day you buy it, flick the little nub off the stem side of your avocado – if it releases easily and is green underneath, it's ready to go. Here are even more tips on how to pick the perfect avocado.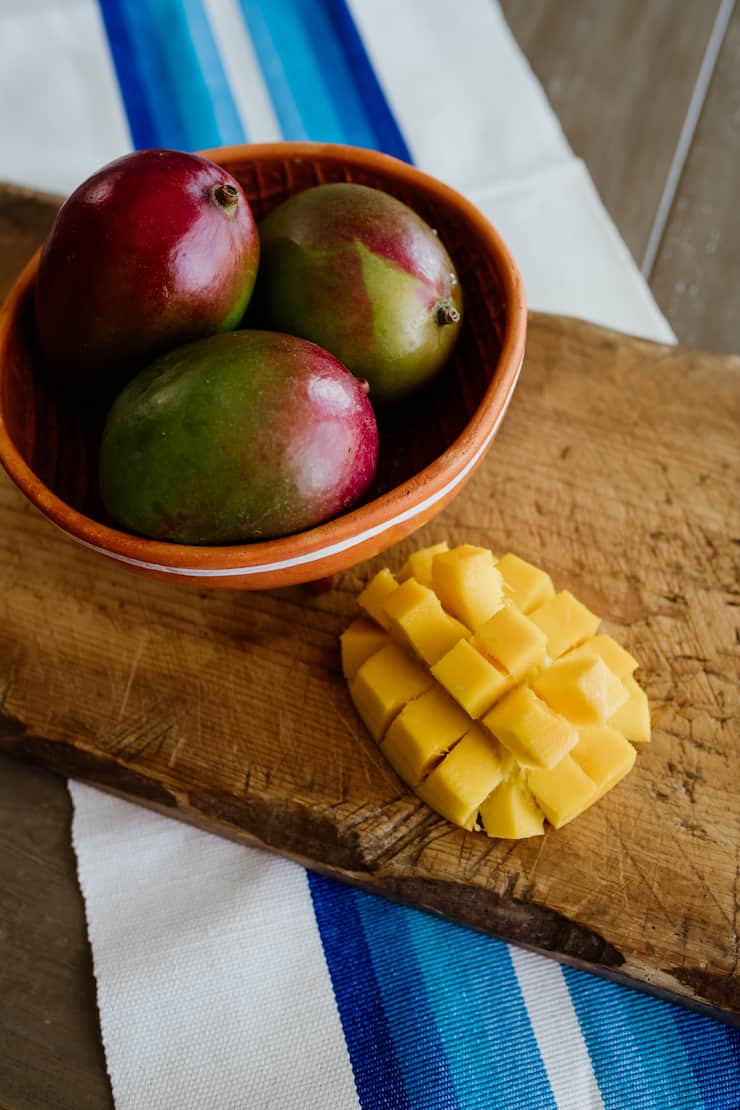 There are many types of mangos out there, so the colors can vary quite widely. Instead of relying on your eyes, rely on your touch. Similarly to avocados, ripe mangoes should give a bit under firm pressure. They should also smell sweet, especially at the stem end.
How to Make Salsa With Mango and Avocado
This recipe is so simple, you're going to FLIP! Simply combine the chopped mango, red onion, avocado, orange, mandarin, and chile peppers in a bowl.
Add the lime juice and olive oil and toss gently. Add salt to taste.
Set aside and let all the flavors come together at room temperature. I'd recommend giving the salsa about ten minutes prior to serving.
Serving Suggestions
I'm not going to lie here. While this is technically a salsa, I often will eat at least a few spoonfuls just as is. I mean, this salsa has jalapeño, avocado, AND mango, people! It's like the holy grail of fruit salads in my book!
All that said, this makes for a lovely appetizer to serve with your favorite tortilla chips. It also goes well with a whole host of different dishes. This list is to get your brain revved up, but don't limit yourself just to what is here!
No matter what you pair with this delicious mango avocado salsa, prepare yourself to hear a lot of "mmmmms" and "oooohhhhs" and "ahhhhhhs."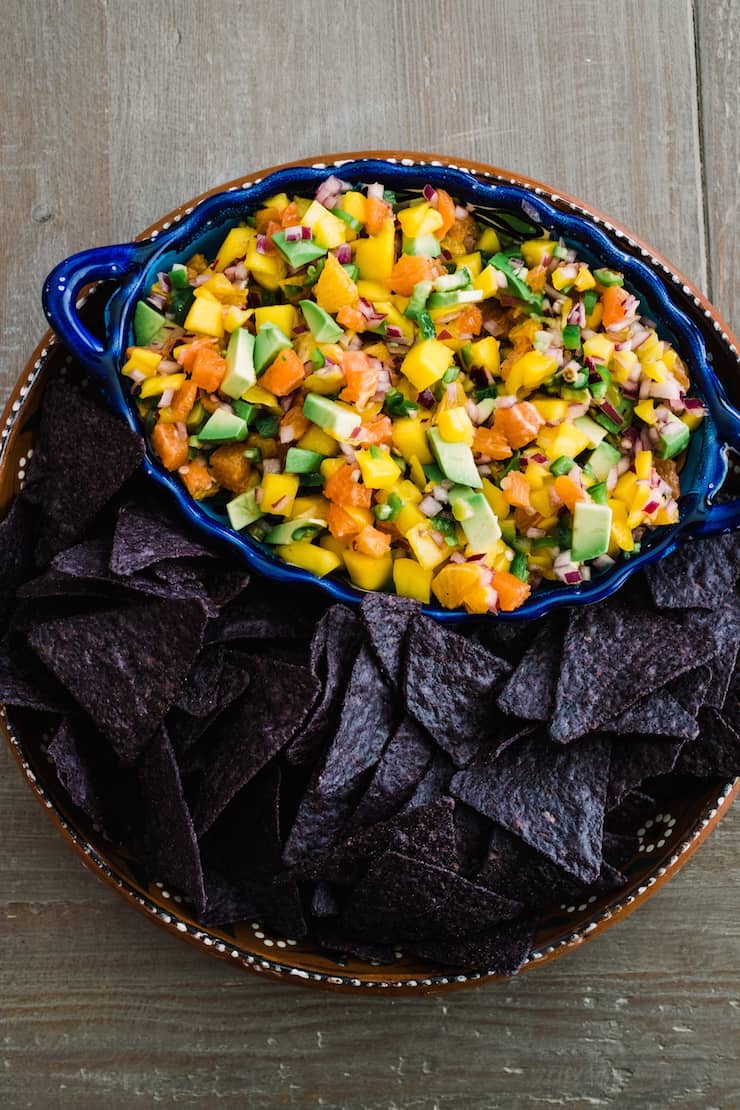 Frequently Asked Questions
Can I use frozen mango or avocado for this salsa?
Unfortunately, I don't recommend either frozen mango or frozen avocado for fresh applications. While they taste great in smoothies and frozen cocktails, both types of fruit undergo a textural change during the freezing process and your salsa will end up being mushy and watery if you opt to use them.
How long will avocado mango salsa keep?
While the orange, tangerine, and lime juices will help to keep the avocado from oxidizing too quickly, the fact is that oxidation is inevitable when the avocado is exposed to air. I recommend eating mango avocado salsa on the day that it's made, but any leftovers can keep in the refrigerator for up to two days.
Do I have to use two kinds of citrus for this salsa?
Definitely not. I love Cara Cara oranges for their vibrant pink flesh, but you can use any kind (and any mix) of sweet orange, tangerine, or tangelo you happen to have on hand. If you'd like to play around with the flavor, you can also try making this salsa with grapefruit!
Looking for more tropical recipes?
Check out some of my favorites:
If you tried my yummy recipe for Orange, Avocado and Mango Salsa, please be sure to rate and review it below! Don't forget to tag me on Instagram (@muybuenocooking) – I love seeing your muy bueno creations!
Please keep in touch and subscribe to Muy Bueno! I have a fun holiday newsletter you don't want to miss!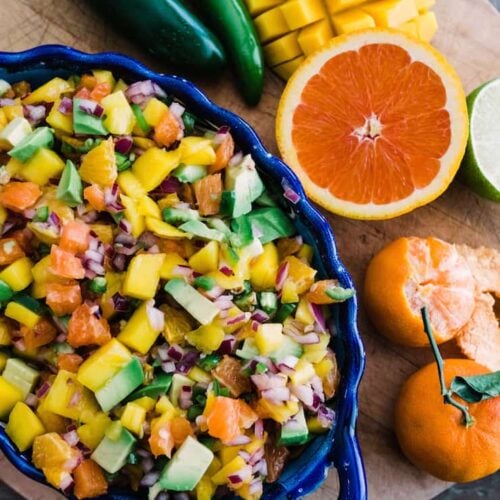 Citrus, Mango, and Avocado Salsa
This citrus salsa is made with some of my favorite tropical fruits: mangos and avocados. Spoon it over pan-fried tilapia or just set it out as an appetizer with tortilla chips and watch it disappear.
Ingredients
1 large ripe mango, peeled, pitted, and chopped
1/2 cup diced red onion
1 avocado, pitted, peeled, and chopped
1 cara cara orange, peeled, segmented, and chopped – see notes
1 tangerine, peeled, segmented, and chopped
1 to 2 serrano chile, finely chopped, or jalapeño peppers
3 tablespoons lime juice
1 tablespoon olive oil
salt to taste
Instructions
Combine the chopped mango, red onion, avocado, orange, mandarin, and chile peppers in a bowl.

Add the lime juice and olive oil and toss gently. Add salt to taste.

Set aside and let all the flavors come together at room temperature.
Notes
Cara Cara oranges are a type of navel orange. They have the same round shape and bright orange rind as traditional navel oranges. What really sets them apart is their distinct pinkish-red flesh.
Serving: 1cup, Calories: 200kcal, Carbohydrates: 29g, Protein: 3g, Fat: 10g, Saturated Fat: 2g, Sodium: 8mg, Potassium: 625mg, Fiber: 8g, Sugar: 19g, Vitamin A: 1161IU, Vitamin C: 70mg, Calcium: 50mg, Iron: 1mg
Photography by Jenna Sparks and Raemi Vermiglio
Originally published: April 2018.