Paleta Recipes to Keep You Cool!
This post may include affiliate links. As an Amazon Associate I earn from qualifying purchases.
With summer coming to an end, I'm sharing my favorite paleta recipes of the season. In my house these are paletas, but you can call them popsicles or ice pops. Whatever you choose to call them, they are the perfect frozen delight for hot summer days!
For those of us in hot-weather climates, this is a welcome change…but we know many are trying to squeeze out every last drop of summer. These paletas are a refreshing snack or after dinner sweet, and there are so many ways to make them!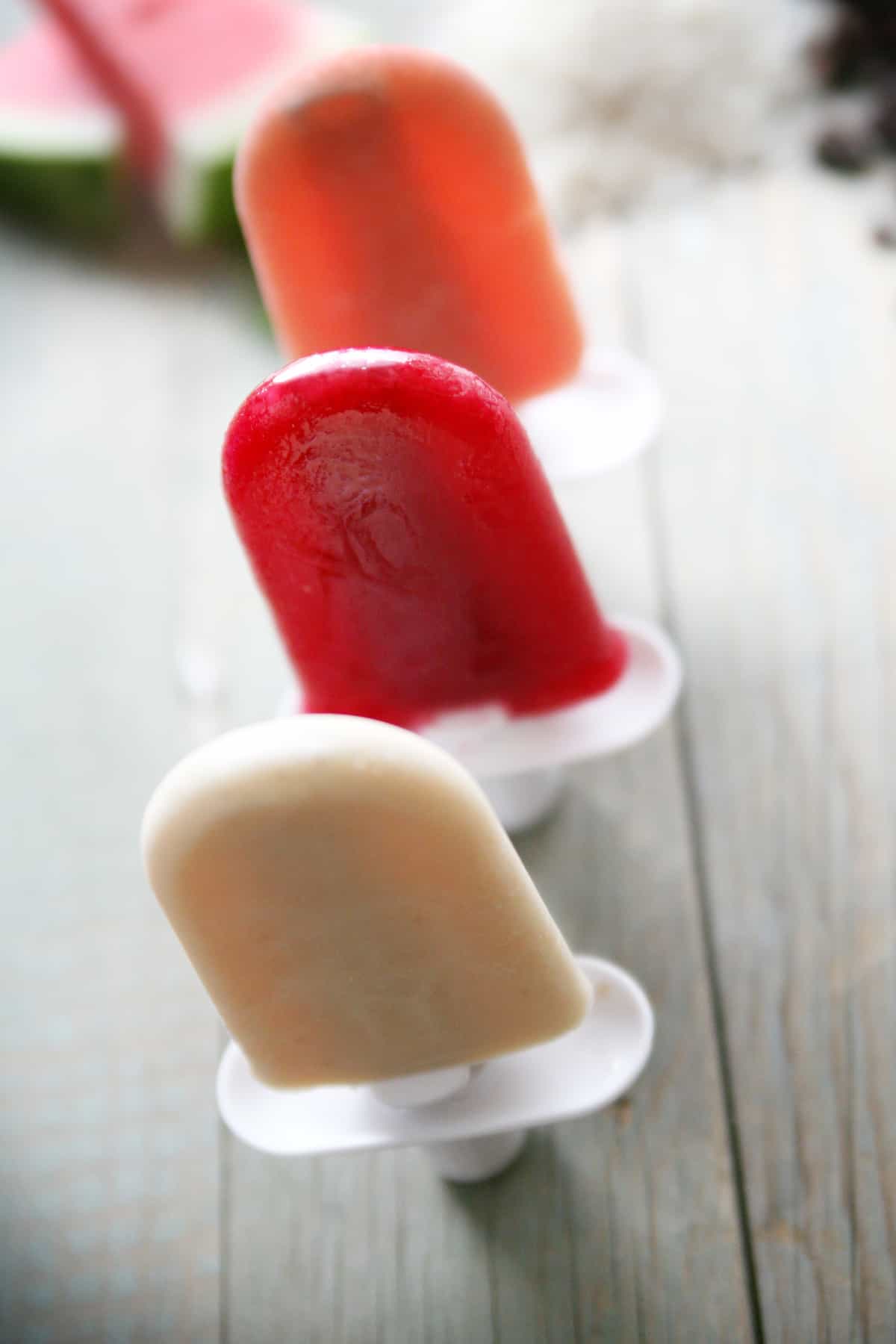 What Are Mexican Paletas?
Paletas are one of my favorite parts of summer, and for good reason. While they're similar to American popsicles, one thing that truly sets paletas apart is that they're made with fresh, real ingredients. You won't find a lick of artificial coloring, preservatives, or HFCS in these bad boys.
The word paleta can be roughly translated to "little stick," which references how you get these tasty frozen treats to your mouth. While fresh fruit paletas are perhaps more widely known in the culinary world, the flavors vary widely and can be either juice or milk based.
Once you get started on making these yummy ice pops, you're not going to want to stop! So let's get started, shall we?
Equipment Needed For Making Paletas
When it comes to making Mexican paletas, you don't need a ton of fancy kitchen equipment. That said, you'll need some basic items and freezer space. Each recipe will be a little different, but if you have the following items you should be covered. I have linked my favorites kitchen appliances and gadgets below:
Basic kitchen utensils (e.g. whisk, spatula, funnel)
Saucepan
When it comes to the actual paletas molds, I find that variety is fun. Start with one shape and build your collection as necessary! I like this shape, this shape, this shape, and for quick paletas in minutes try this pop maker.
My Favorite Paleta Recipes
Paletas are one of those wonderful treats that you can customize in literally millions of ways! If you need some inspiration to get you started, here are some of my very favorite paletas recipes:
Chili Mango Paletas (Mexican Popsicles)
These paletas reminds me of the mangos on a stick with chile powder we would buy from street vendors in Juarez, Mexico.
Get the Recipe
Paletas de Jamaica y Canela + Paletas de Melón
Fruity agua de melon and a floral and spicy agua de Jamaica make delicious traditional Mexican paletas.
Get the Recipe
Dairy-Free Paletas de Horchata
Horchata is a creamy cinnamon infused rice agua fresca that becomes a great dessert when frozen into paletas.
Get the Recipe
Paletas de Tamarindo
These beautiful amber colored paletas de tamarindo taste like sweet tea on a stick and are very refreshing, especially on a sweltering hot day.
Get the Recipe
Paletas de Piña con Chamoy
Fresh pineapple popsicles drizzled with sweet, spicy, and tangy chamoy sauce.
Get the Recipe
Paletas de Aguacate y Coco (Avocado and Coconut Popsicles)
You will love the hint of coconut and lime – you will never guess these creamy paletas are made with avocado.
Get the Recipe
Paleta de Papaya y Coco (Papaya and Coconut Popsicle)
Fresh papaya, lime juice, and cream of coconut make for beautiful, refreshing, and delicious paletas.
Get the Recipe
Strawberry Margarita Popsicles
Nothing tastes better than ripe summer strawberries and these strawberry margarita popsicles are the perfect easy summer dessert to showcase their flavor. Adult and kids-approved version included.
Get the Recipe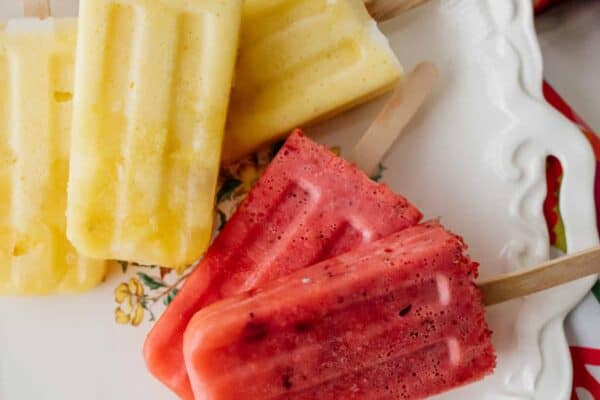 Reduced Sugar Pineapple & Strawberry Paletas
These authentic Latin American pineapple and strawberry popsicles are as simple and tasty as desserts come.
Get the Recipe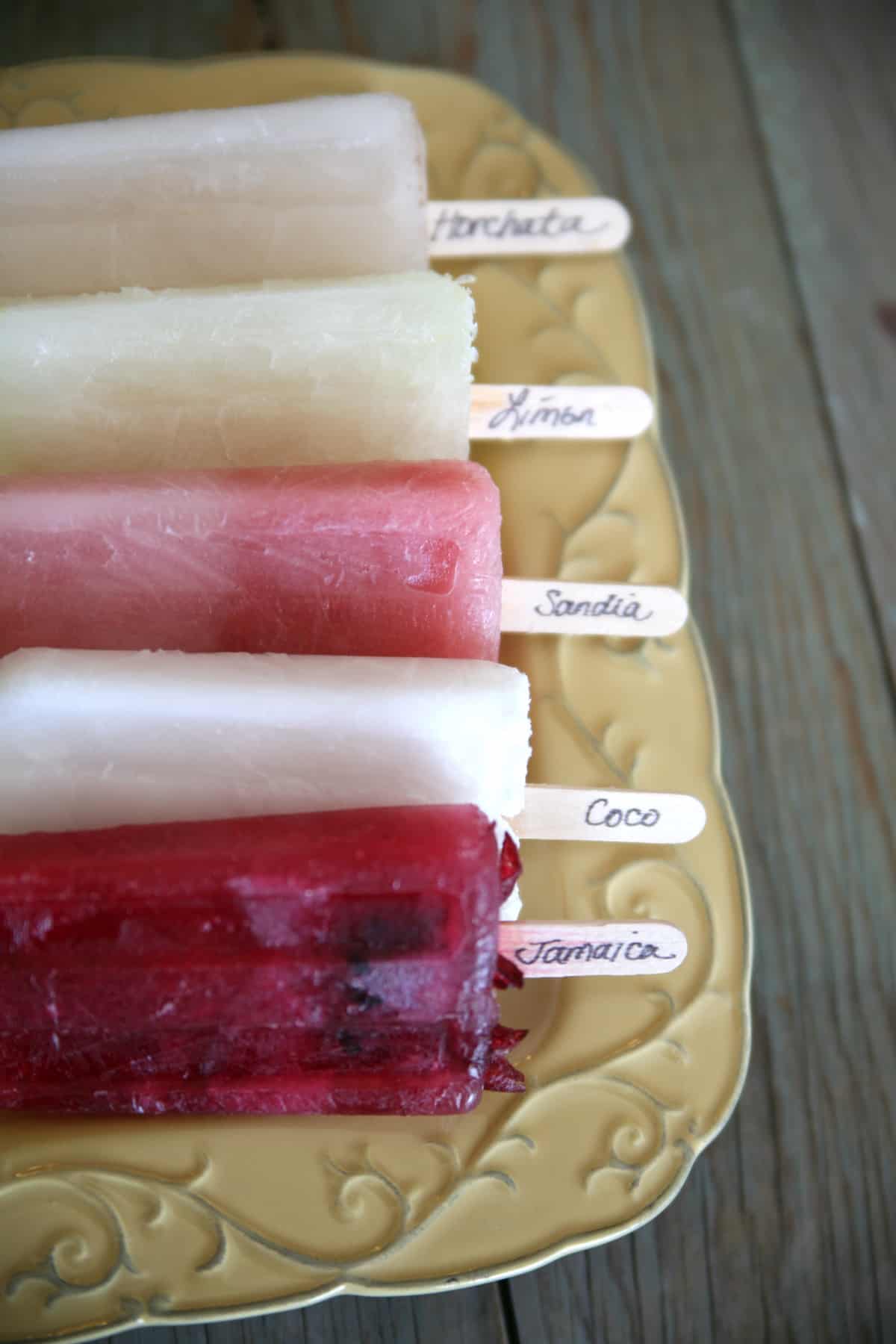 Horchata, Limon, Sandia, Coco, and Jamaica – Oh my! You can find all of these recipes in our printed Muy Bueno cookbook.
My Favorite Paletas "Cook" Books
If you need even more inspiration for making your very own Mexican paletas, don't you fret! I told you there were millions of flavor opportunities to make your own popsicle dreamland and I wasn't kidding.
I recommend checking out the books below. Both women offer dozens of delicious recipes to get your paleta game on point!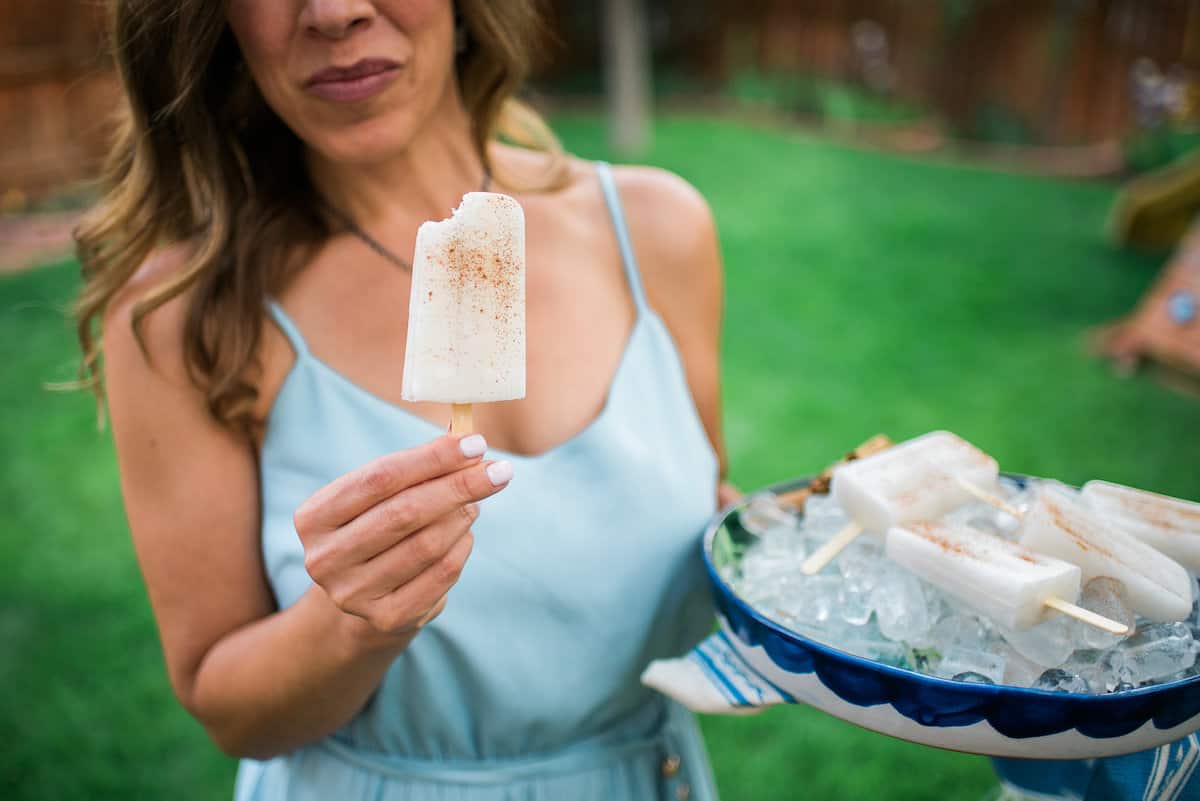 Frequently Asked Questions
Are Mexican paletas healthy?
While I always recommend consulting a certified health professional about any dietary advice, I'm confident in saying that paletas can absolutely be incorporated into a healthy diet.
Since they are made from fresh, real ingredients and have no artificial preservatives or colors, I feel good about serving these sweet treats to my family – in moderation, of course.
Can dogs eat paletas?
Honestly, it depends on the paleta. Certain ingredients like grapes and avocados should never be fed to dogs. That said, as long as the ingredients are Fido-safe, they can get in on the frozen action too!
If you want to make a pet sized snack, I recommend omitting the popsicle sticks and freezing them in ice cube trays instead.
How do you say "paleta?"
It sounds just like it looks – pa-LEH-ta!
Please keep in touch and subscribe to Muy Bueno and follow me on Twitter, Facebook, Instagram, and check out the Muy Bueno cookbook.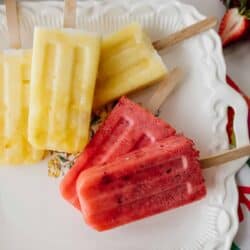 Mexican Paletas
These authentic Latin American paletas or Mexican-style popsicles are as simple and tasty as desserts come.
Ingredients
3 cups diced, ripe fresh fruit, (strawberries, pineapple, papaya, mango, watermelon, etc.)
1/2 cup superfine sugar
1/3 cup water
1 tablespoon fresh lime juice
Instructions
Place half of the fruit and all of the sugar, water, and lime juice into a blender and blend until smooth.

Spoon about 1 tablespoon remaining fruit into each popsicle mold, then add the blended mixture, leaving about ½-inch of headspace for expansion.

Insert a popsicle stick into each mold and freeze until pops are solid, about 6 hours or overnight. To release ice pops from molds, run the bottom of the molds briefly under cold water.
Notes
Nutrition facts are approximate and will change depending on the type of fruit you use.
Instead of granulated sugar, use brown sugar, piloncillo, stevia, agave nectar, or artificial sweetener. Or omit sweetening altogether.
Add some spice such as Tajín. Mango or watermelon with chili-lime seasoning are traditional and a favorite. 
Try other flavor boosters such fresh mint, edible flowers, vanilla, and cinnamon. 
Make boozy popsicles spiked with a splash of alcohol.
Calories: 31kcal, Carbohydrates: 8g, Protein: 1g, Fat: 1g, Saturated Fat: 1g, Sodium: 1mg, Potassium: 70mg, Fiber: 1g, Sugar: 6g, Vitamin A: 37IU, Vitamin C: 30mg, Calcium: 9mg, Iron: 1mg