Mashed Sweet Potatoes with Chipotle
This post may include affiliate links. As an Amazon Associate I earn from qualifying purchases.
If you're looking for a fun new twist for your holiday table, check out this easy recipe for Mashed Sweet Potatoes with Chipotle! Featuring a deliciously creamy texture and a savory-sweet, spicy, and smoky flavor profile, these make-ahead sweet potatoes are sure to be a hit. They're so good, they even made it into my newest cookbook, Fiestas!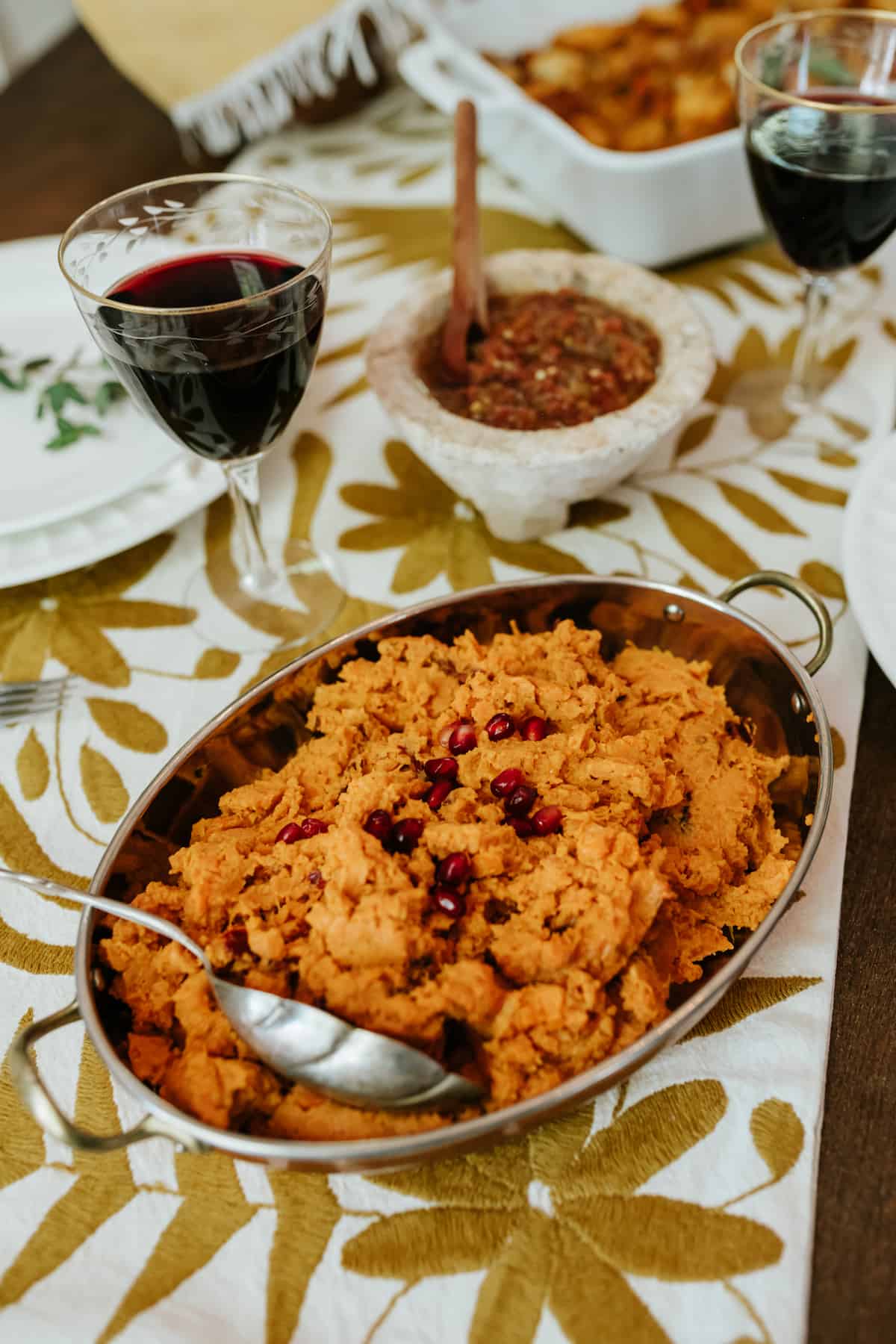 Why You'll Love This Chipotle Mashed Sweet Potatoes Recipe
Prepare your palates for a sumptuous twist on a classic side dish that promises to take your festive feasts to new heights of deliciousness—introducing my chipotle sweet potatoes. Here's why it's the perfect companion for your holiday table, no matter the star protein:
Made With Only 8 Simple Ingredients – With just eight simple ingredients, this dish is a symphony of sweet and smoky notes, a perfect complement to the festive array of flavors found at any holiday meal.
Make-Ahead-Friendly – ​​I honestly think these mashed chipotle sweet potatoes taste even better after a day in the fridge to let their flavors meld. Getting a day or two ahead on your Thanksgiving or Christmas prep is an easy way to help make the holiday rush feel more manageable.
Perfect Pairing for Turkey, Ham, & More! Whether they're served alongside a golden-brown turkey, a succulent ham, or a robust beef entree, these mashed sweet potatoes are versatile enough to stand their own with any centerpiece.
Ingredients & Substitutions
As promised, you only need a few simple ingredients to make these sweet n' spicy sweet potatoes. Here's what to grab:
Sweet Potatoes – When you're at the market, keep an eye out for sweet potatoes that feel heavy for their size, with taut, smooth skins that are free of soft spots—these are the gems that will mash up beautifully into that creamy, dreamy consistency we're after.
Oranges – You'll want both the zest and the juice, so grab a few fresh ones from the store. To get the most juice from them, roll them firmly on your work surface for 10-15 seconds before slicing them open and juicing.
Greek Yogurt – Adding Greek yogurt is a brilliant hack for both adding creaminess and taming the heat. I tend to opt for low-fat yogurt anyway, plus I love that it helps lighten up what would otherwise be a heavy dish made with cream. Feel free to use vanilla yogurt for some added sweetness.
Unsalted Butter & Salt – Starting with unsalted butter allows you greater control over the end seasoning of your dish. If you only have salted butter, make sure to taste the mix before adding any salt.
Canned Chipotle Chiles – This pantry staple not only ensures your chipotles are soft and ready to serve without much prep (all you have to do is mince them) but also has the added benefit of including adobo sauce. This smoky flavor-booster is responsible for adding tons of flavor to these spiced mashed sweet potatoes.
Piloncillo – Any stocked Mexican kitchen has at least one cone of piloncillo on hand for grating into sweet, molasses-flavored flakes. Feel free to swap in regular brown sugar if you prefer.
Vanilla Extract – For added warmth and depth of flavor. Feel free to use an equal amount of vanilla paste instead!
Pomegranate Seeds – After baking these chipotle mashed sweet potatoes, you can add a festive touch by sprinkling pomegranate seeds on top.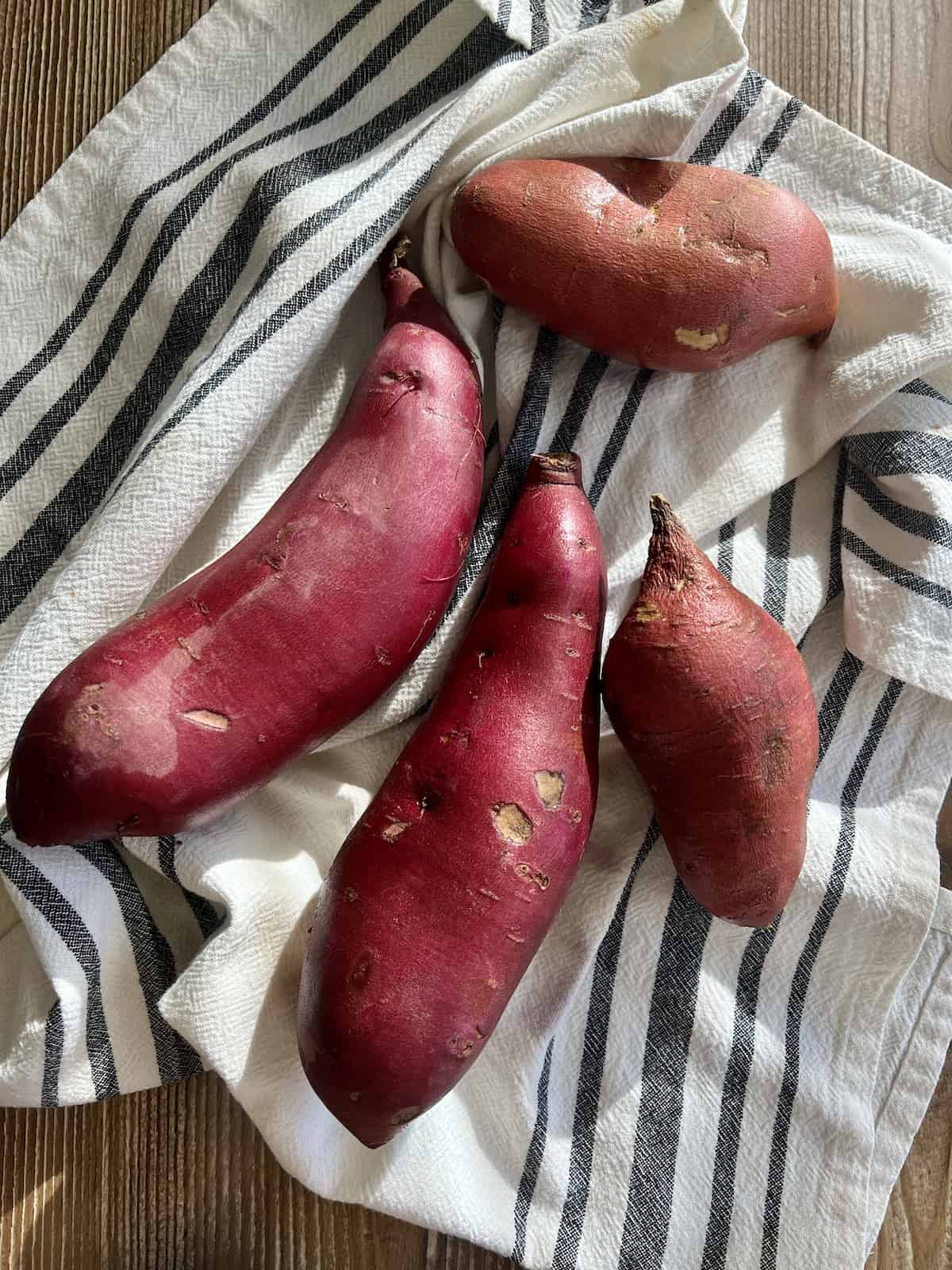 How To Make Sweet & Spicy Mashed Sweet Potatoes
This simple spicy mashed sweet potato recipe comes together in a flash. Here's how:
Step 1: Boil Sweet Potatoes. Place sweet potatoes in a large stockpot; add water to cover. Bring to a boil. Reduce heat; cook, uncovered, 10 to 15 minutes or until tender.
Step 2: Drain, then place the hot sweet potatoes in the bowl of an electric mixer fitted with the paddle attachment.
Step 3: Mash. With the mixer on low speed, add orange juice and orange zest, yogurt, butter, chipotle chiles and sauce, piloncillo, vanilla, and salt. Mix until the potatoes are coarsely puréed or to your desired consistency.
Step 4: Bake. Pour into an 8-inch square oven-to-table baking dish and bake for 20 minutes, until heated through. Sprinkle with pomegranate seeds and serve hot.
Make ahead instructions:
The sweet potato mixture can be made up to 3 days in advance, spooned into the buttered baking dish, covered, and refrigerated. Bake at 350 degrees F for 30 to 35 minutes, until hot. Garnish with pomegranate seeds.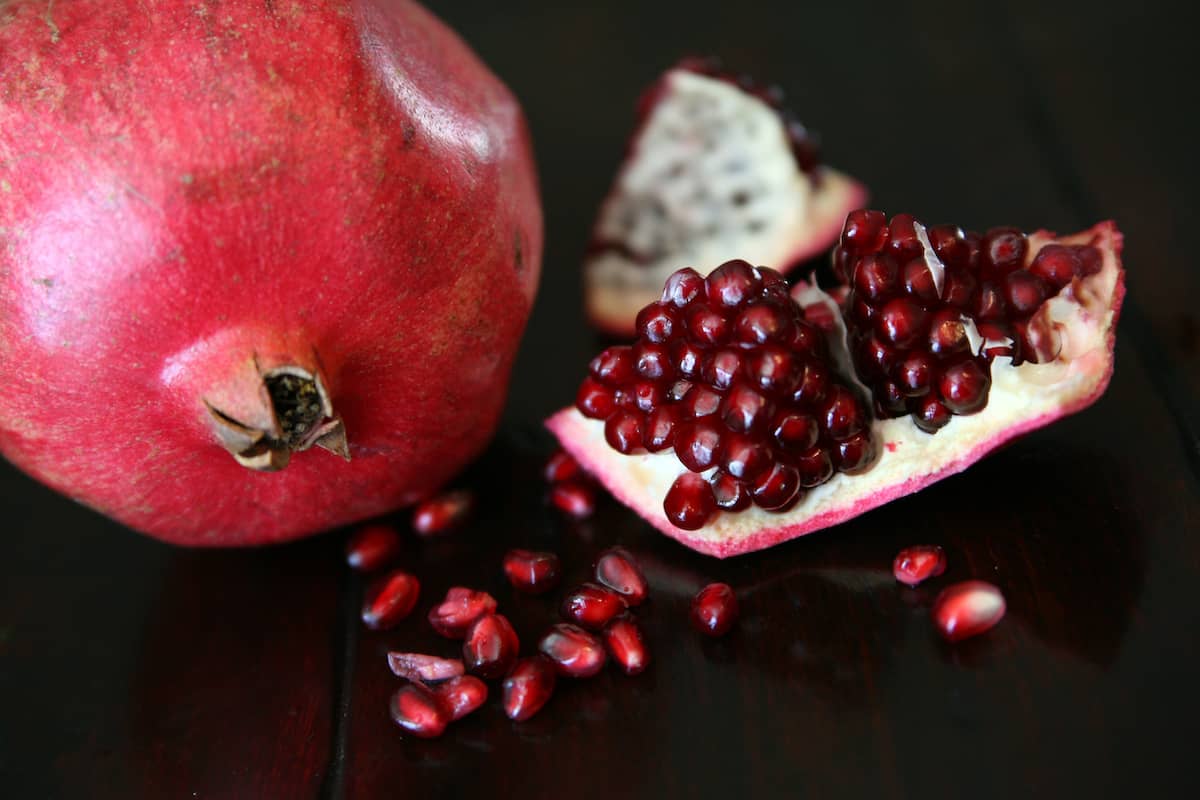 Optional Variations
As much as I love this recipe for spiced sweet potato mash just the way it is written, there are plenty of ways for you to make it your own. Here are a few ideas to get you started:
Dairy-Free/Vegan – For our vegan amigos, swap out the dairy. Simply use a rich coconut yogurt and a dab of your favorite plant-based butter. The coconut will add an extra layer of tropical goodness that pairs surprisingly well with the chipotle's kick!
Refined Sugar-Free – Replace the piloncillo or brown sugar with a splash of maple syrup or a drizzle of agave nectar to make these sweet and spicy sweet potatoes paleo-friendly.
More Sweet – Make this savory mashed sweet potatoes recipe lean more into the dessert realm by adding a crunchy pecan and oat crumble on top. You can also swap in vanilla-flavored yogurt for an added sweet boost!
More Spicy – For those who like their mashed sweet potatoes spicy, an extra chipotle pepper will turn up the heat and the smokiness. You can also add a drizzle of hot honey as a garnish to double down on the spicy-sweet vibes!
Expert Tips
Follow these tips, and you'll be dishing out comfort by the spoonful with a side that's sure to impress:
Sweet Potato Selection: Go for the gold—choose sweet potatoes with vibrant orange flesh for the sweetest, creamiest result. Make sure they're firm and free from bruises or blemishes for the best quality.
Uniform Pieces: Cut your sweet potatoes into even pieces to ensure they all cook at the same pace. This way, you avoid some pieces turning to mush while others are still trying to catch up.
Low and Slow: When adding your ingredients to the mashed sweet potatoes, start with your mixer on a low setting. This prevents the hot potatoes from splashing out and helps the flavors meld together beautifully as they slowly get whipped up to perfection.
Spice to Your Taste: If you're new to chipotle chiles, start with one and taste before adding the second. It's easier to dial up the heat than it is to tone it down!
Sweetness Balance: The piloncillo or brown sugar adds a lovely molasses depth, but if you prefer things less sweet, start with half the amount and adjust to taste. Remember, the natural sweetness of the potatoes and the orange juice already contribute sugar.
Get Zesty: Don't shy away from the orange zest; it adds an aromatic freshness that cuts through the richness and brings a zing to the dish. Use a fine grater to avoid the bitter white pith.
Serving Suggestions
Wondering what to serve with these mashed chipotle sweet potatoes? Here are some of my favorites:
Festive Feasts: During the holidays, these sweet potatoes are a natural fit with a classic roast turkey or spiral-cut ham. They'll hold their own next to stuffing, cranberry sauce, salsa casera, and all the trimmings. Oh, and don't forget the sangria!
Grill Master's Dream: Picture serving these spicy sweet potatoes mashed with a grilled skirt steak or barbecued brisket. The smokiness from the grill and the chipotle in the potatoes will sing in harmony on your plate.
Poultry Pairing: A citrus-herb marinated grilled chicken or a duck breast with a balsamic reduction can offer a lighter, yet equally satisfying, accompaniment to the rich potatoes.
Fish with a Twist: Serve this spicy sweet potatoes recipe alongside cedar plank salmon or a blackened cod to introduce a lovely contrast between the sweet and spicy potatoes and the delicate, flaky fish.
Casual Eats: Even for a casual setting, they're great with pulled pork sliders or a rack of smoky ribs—ideal for that upscale backyard BBQ vibe.
Frequently Asked Questions
Are mashed sweet potatoes good for you?
While I'm more about culinary concoctions than doling out dietary wisdom, I think it's safe to suggest that this recipe—with its hearty ingredients and zest for spice—is a step towards a healthier rendition of the time-honored sweet potato casserole. 

Rather than using heavy cream like many recipes call for, I use yogurt instead. This nifty swap not only infuses a delightful tang but also gracefully trims the fat, giving a playful wink to a more health-conscious choice.

Yes, there's still that half stick of butter because, honestly, what's life without a little buttery love? It's the equilibrium of flavor and nutrition that we're after. With each forkful of these aromatic, chipotle-kissed sweet potatoes, you're not just indulging in taste but also scooping up a wealth of nutrients.
Do mashed sweet potatoes taste good?
Oh, do they ever! Especially when we're talking about these chipotle mashed sweet potatoes—imagine the naturally sweet, velvety flesh of the sweet potatoes, getting a lively kick from the smoky chipotle, and a hint of citrus zest. It's a symphony of flavors that makes them not just good, but absolutely irresistible!
How can I spice up mashed sweet potatoes?
Why, with this spicy mashed sweet potato recipe, obviously! Chipotle chiles are the star, but orange juice, orange zest, and yogurt bring their own deliciousness to the plate. For even more spice, sprinkle a spicy chili powder to the mix, like cayenne pepper. 
More Festive Side Dish Recipes
If you make this recipe, please let me know! Leave a ⭐️⭐️⭐️⭐️⭐️ rating on this recipe below and leave a comment, take a photo and tag me on Instagram with #muybuenocooking.
Chipotle Mashed Sweet Potatoes
These sweet potatoes are combined with fresh orange juice and orange zest for a citrus hint, yogurt and butter making them smooth and creamy, and piloncillo and chipotle chiles for a sweet and spicy kick.
Ingredients
5 tablespoons unsalted butter, plus more for the baking dish
4 sweet potatoes, peeled and cut into 1-inch cubes
¼ cup fresh orange juice, plus zest of 1 orange
½ cup plain Greek yogurt
2 chipotle chiles in adobo sauce, minced, plus 1 tablespoon adobo sauce
1/4 cup grated piloncillo or brown sugar
1 teaspoon vanilla extract
1 teaspoon salt
pomegranate seeds, for garnish
Instructions
Preheat the oven to 350°F. Butter an 8-inch square oven-to-table baking dish.

In a large saucepan or a stockpot over high heat, combine the sweet potatoes with water to cover and bring to a boil. Reduce the heat to medium and cook, uncovered, until tender, 10–15 minutes. Drain the potatoes into a colander and then return them to the pan.

Add the orange zest and juice, yogurt, 3 tablespoons of the butter, chipotle chiles and adobo sauce, piloncillo, vanilla, and salt to the potatoes. Using a potato masher, mash the potatoes, mixing them well with all the other ingredients, until smooth.

Spoon the potato mixture into the prepared baking dish, spreading it evenly. Cut the remaining 2 tablespoons butter into small bits and dot the top. Bake the potatoes until heated through and the top is slightly darker, about 20 minutes.

Remove from the oven, sprinkle with the pomegranate seeds, and serve hot.
Notes
Make Ahead: The sweet potato mixture can be made up to 3 days in advance, spooned into the buttered baking dish, covered, and refrigerated. Bake directly from the refrigerator in a preheated 350°F oven until heated through, 30–35 minutes. Serve as directed.
Festive Feasts
: During the holidays, these sweet potatoes are a natural fit with a classic roast turkey or spiral-cut ham. They'll hold their own next to stuffing, cranberry sauce, salsa casera, and all the trimmings — like sangria!
Calories: 204kcal, Carbohydrates: 31g, Protein: 3g, Fat: 8g, Saturated Fat: 5g, Cholesterol: 21mg, Sodium: 581mg, Potassium: 370mg, Fiber: 3g, Sugar: 17g, Vitamin A: 12808IU, Vitamin C: 7mg, Calcium: 71mg, Iron: 1mg
Originally published: November 2018. This recipe is also published in Muy Bueno Fiestas.
Photography: Jenna Sparks