Kettle-Chip Nachos
This post may include affiliate links. As an Amazon Associate I earn from qualifying purchases.
It's hard to improve on classic nachos, but by swapping in kettle potato chips and no-cook toppings this kettle-chip nacho bar is next level!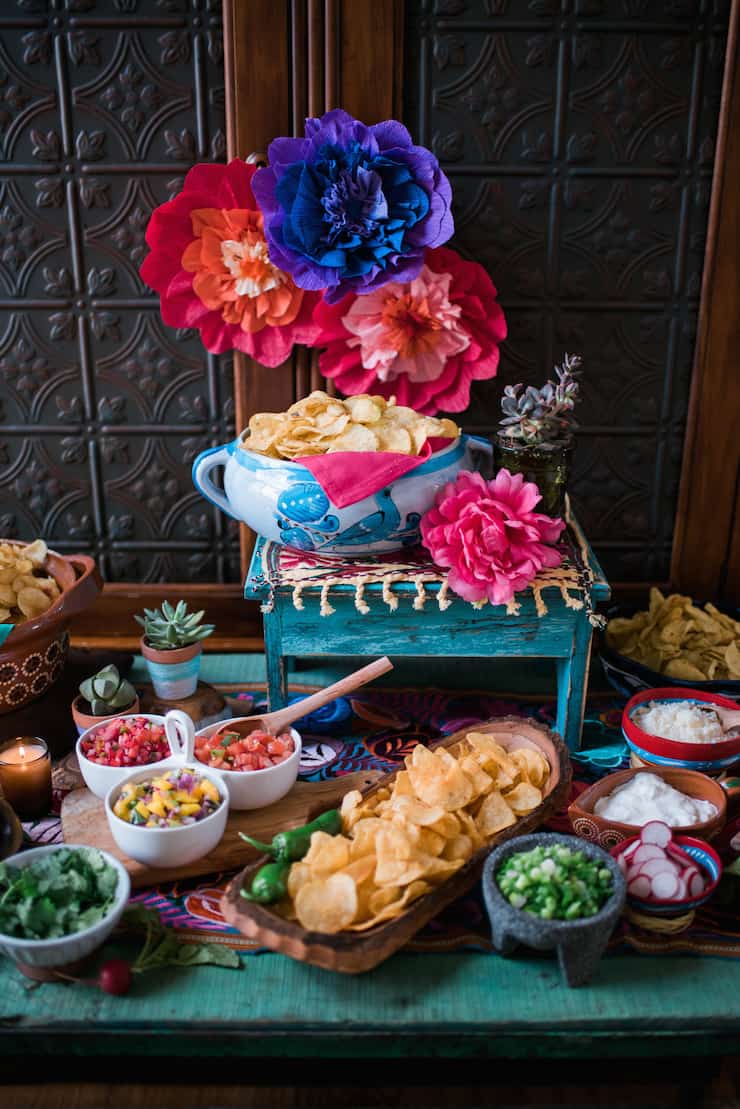 I once ordered kettle-chip nachos at a Southern barbecue restaurant and thought that was a very unique idea. I couldn't wait to give it a try at home.
For those of you who know me, know I'm obsessed with ooey-gooey cheesy nachos. I love hosting parties and setting out a nacho bar. This nacho bar is a little different, and to be honest a lot easier. It's a cold nacho bar, similar to a salsa bar, with no need to bake these nachos.
I chose ingredients that are terrific cold making this nacho bar the perfect idea for an indoor or outdoor Cinco de Mayo fiesta.
Instead of using traditional corn tortilla chips, I stocked the bar with kettle potato chips: Avocado Oil Chili Lime, Avocado Oil Tropical Salsa, Chile Verde, and Jalapeño (which is my favorite with crema Mexicana or sour cream.)
Kettle-chip nacho toppings
The next step to the nacho bar is the toppings. I made some of my favorite salsas:
Next, I set out traditional and unique ingredients, including:
shredded rotisserie chicken
crumbled queso fresco
crema Mexicana
sliced radishes
pomegranate seeds
green onions
sliced jalapeños
cilantro
lime wedges
The best thing about a nacho bar is enjoying it – No need to be stuck cooking in the kitchen. Once the nacho bar is set up you can grab a cerveza or a prickly pear margarita, sit back, relax, and grub.
If you haven't tried kettle chips, you have got to try them, they are so delicious.
Don't forget the decor – these Mexican paper flowers are the perfect backdrop. Hope you are inspired to set up a nacho bar and celebrate Cinco de Mayo in style.
If you like these kettle chip nachos, you might also like:
Will you be celebrating Cinco de Mayo? I'd love to hear your plans in the comments below.
Kettle-Chip Nachos
It doesn't get much easier or tastier than this nacho bar that's ideal for any fiesta. Instead of corn chips, swap with kettle potato chips for a twist along with crumbled queso fresco and other unique ingredients.
Ingredients
Kettle Brand Fiesta Pack:      
Avocado Oil Chili Lime
Avocado Oil Tropical Salsa
Chile Verde
Jalapeño
Toppings:     
Shredded rotisserie chicken
Crema Mexicana
Sliced radishes
Pomegranate seeds
Green onions
Sliced jalapeños
Cilantro
Lime wedges
Instructions
Place a layer of chips on a plate.

Have fun layering with various toppings.
Notes
Nutrition facts based on 1 serving = 1 cup chips, 2 tbsps guacamole, 1/2 cup pico de gallo, 1 tbsp queso, 2 tsp jalapenos, and 1/2 cup chicken. 
Calories: 815.7kcal, Carbohydrates: 95.07g, Protein: 27.87g, Fat: 39.58g, Saturated Fat: 7g, Cholesterol: 64.44mg, Sodium: 1590.98mg, Potassium: 560.89mg, Fiber: 8.46g, Sugar: 12.74g, Vitamin A: 759.03IU, Vitamin C: 21.42mg, Calcium: 283.75mg, Iron: 2.98mg
Originally published: May 2017.
Photography by Jenna Sparks / Small talavera plates by Zinnia Folk Arts