La Calavera Catrina
This post may include affiliate links. As an Amazon Associate I earn from qualifying purchases.
The most famous symbols of Día de los Muertos are calacas (skeletons) and calaveras (skulls). Día de los Muertos (Day of the Dead) is a deeply traditional and respectful celebration that focuses on the bright side of death.
Dressing as a "Catrina" is a popular costume in Día de los Muertos celebrations. Catrinas typically feature "sugar skull" make-up.
Who is Catrina and what does she represent?
The most popular calavera of all is La Calavera Catrina. You might have seen the famous drawing by Mexican artist José Guadalupe Posada. She is a skeleton lady who is elegant and well-dressed, wearing an extravagantly feathered hat — she represents rich people. Posada took his inspiration from Mictecacihuatl, goddess of death and Lady of Mictlan, the underworld.
The drawing was meant to be sarcastic to portray that we are all equal in death. She has become the most iconic symbol of Día de los Muertos.
La Catrina reminds me of a saying my grandma used to say, and now my mom often says it, "It doesn't matter how much money you have on earth, because you can't take it with you when you die."
I have celebrated Día de los Muertos for close to 10 years honoring my grandma, the matriarch of our family, and honoring other close family and friends who have passed away since then.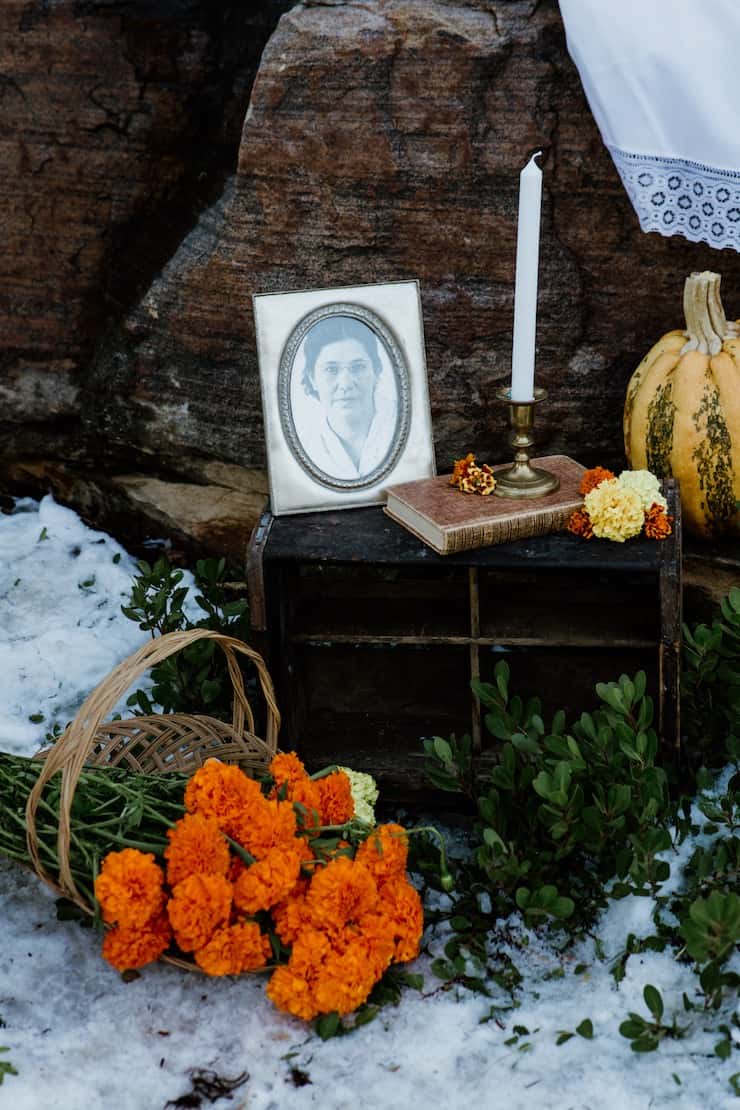 Dressing like a catrina was very spiritual and healing for me. Every time I saw my reflection in the mirror I didn't recognize myself. As the evening went on I was reminded to live my true self. Not to pretend to be someone I am not. No matter what we all look like and where we come from, we all end up a skeleton in the end.
Why is La Catrina important?
In the legend, the goddess served the same purpose as La Catrina does today: to honor and protect those who have passed and to symbolize the relationship Mexicans have with death.
Honor your loved ones who have passed away
Día de los Muertos is a holiday rich in culture and history and manifests itself in bright and visual ways and the tone is positive – it is a time to pray and remember friends and family who have passed away, not to grieve. But to remember them at their best with the hope that the deceased soul will hear these prayers and celebrations made just for them.
Loud and vibrant celebration
Behind all the color and good humor – is serious belief. It's a belief that the souls of the departed are still around and needing waking up. This is the reason for the bright costumes, music, prayers, and stories – it's all meant to be picked up by the spirits.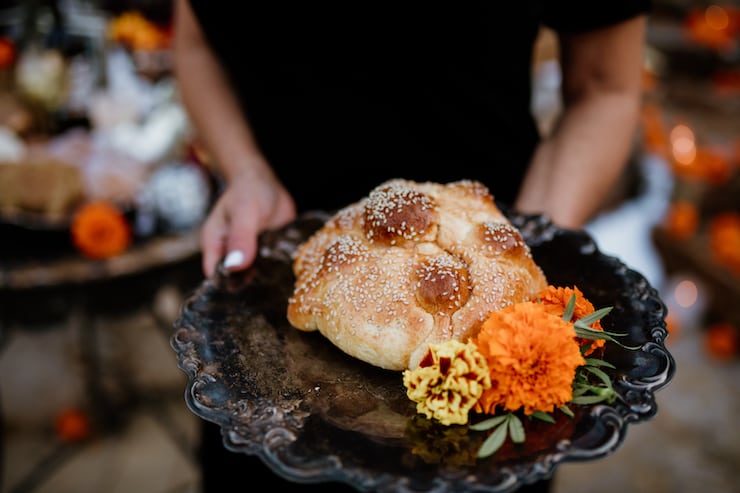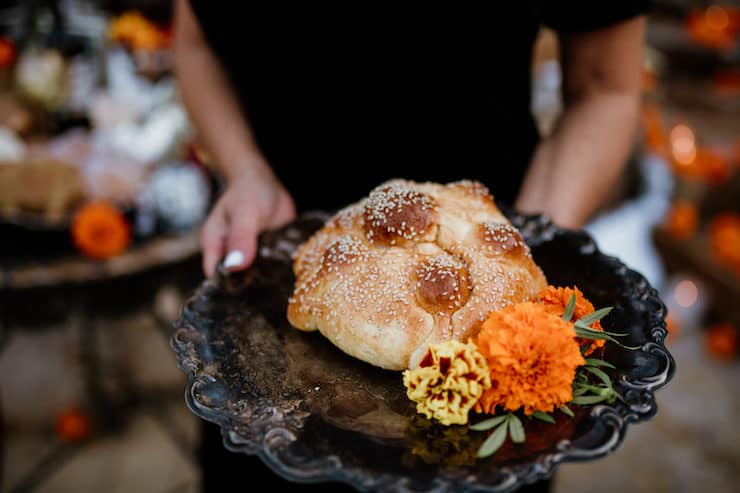 Food and decor
The foods, the decorations, and the candles are designed to entice the spirit back. To spend that short amount of time with their loved ones who remain on earth.
The favorite foods of the departed and traditional marigold flowers are for exactly the same reason – to help them return home.
It is believed that the spirits consume the essence of the food and drinks – Then those celebrating can eat the food afterwards.
Are you wanting to celebrate the holiday, but not sure how or where to start?
These articles might help you understand this amazing tradition: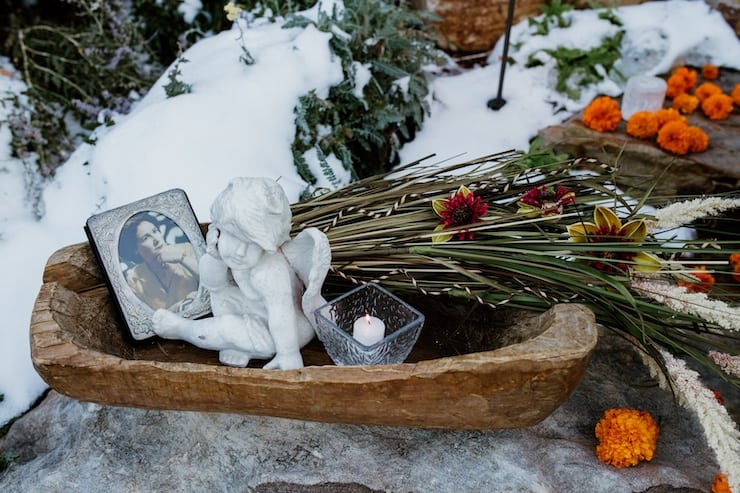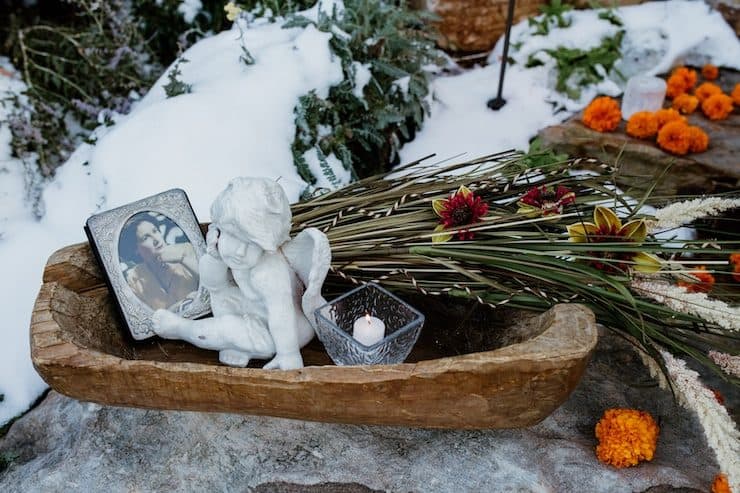 Thank you to everyone involved on this shoot. I couldn't have done it without you.
Design, Styling & Floral Design: Donna Luna and Juliet Luna / Photography: Jenna Sparks / Location: Private Ravenna home (Ivette Dominguez Drawe) / Landscape: Flora Distinctive Landscapes / Papel Picado (perforated paper): Mesa Chic / Paloma Dress: Nativa Shop / Black Dress: Goodwill / Red Headpiece & Dried Flower Headpiece: Anel Sancen / Gold Headpiece: Headpiece Heiress / Pan Dulce (sweet bread): Panaderia San Antonio / Hair & Makeup: Barbie Gallegos / Fruit & Flowers: Kroger / Florist: Amato's Wholesale Florists / Business Manager: Johanna Voss